This post may contain affiliate links.
Instant noodles Were a modern marvel of technology when they were invented. They saved millions of poor college students time and money. The downside is that they are not very healthy. These 10 Easy and Healthier, Instant Noodle Alternative, dishes give you better options.
What is wrong with Instant Noodles
Instant Noodles, are usually high in fat, and sodium and are made with simple carbohydrates that convert to blood sugar too fast, making them hard on your body in several ways. Instant noodles are also devoid of many vitamins and nutrients, filling you up with empty calories.
Habit Forming?
Instant noodles are also habit-forming because of how easy they are. They spoil you with easy preparation and no cleanup and you can end up eating more than a healthy amount. For more see this interesting article, showing the downside of instant noodles.
Are there Healthy Versions of Instant Noodles?
You can increasingly find healthier versions of instant noodles, especially at places like Whole Foods and health food stores. We have also been pleasantly surprised by finding them in the Asian section. Another option we have used a lot is just whole grain pasta like whole wheat spaghetti.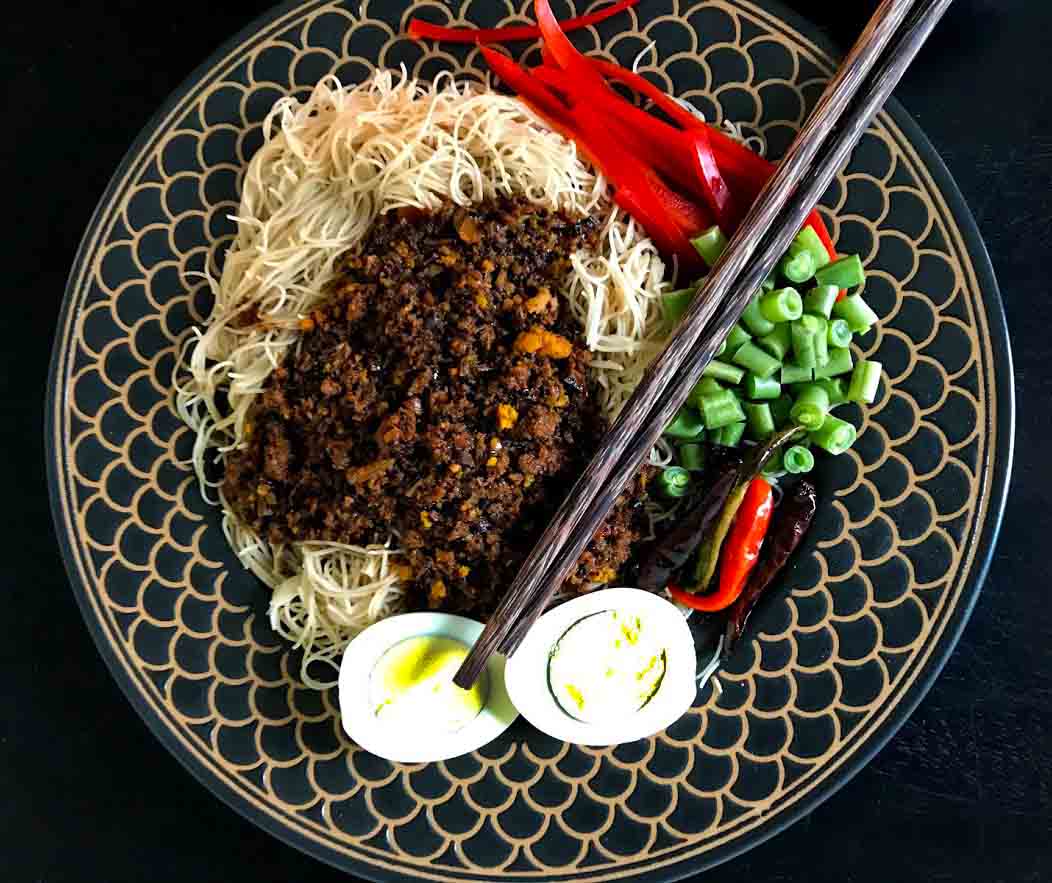 What are Ramen Noodles?
Ramen noodles are Japanese in origin and really refer to a recipe consisting of Chinese wheat noodles. The name has been bastardized, with companies calling their, dried, instant noodles ramen noodles and westerners, not knowing the difference, thinking that it's what they are. You can actually get some varieties that are made with more whole grains now. Check out this brand on Amazon which is actually not horribly expensive and is made with buckwheat and brown rice.
If you're a fan of ramen but want to mix things up with a healthier option, there are plenty of alternatives to try. One option is soba noodles, which are made from buckwheat and are a good source of protein, fiber, and vitamins. They also cook quickly, making them a great option for a fast and healthy meal.
Ginger Soba Noodle Soup
I love and obsess over noodles and I also love soup.  This week my husband hasn't felt good with a lot of holiday parties wearing us down, so he asked me to make some comfort food for him.  Speaking of post-party comfort food, noodles soup is perfect with a little hint of fresh ginger to soothe his stomach.  I came up with ginger soba noodles soup.
Check out this recipe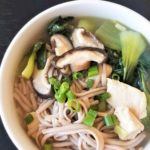 Coconut Curry Buckwheat Noodles
This is a very simple coconut curry recipe using whole-grain, buckwheat noodles. The first time I ate at a Peiwei, I had a version of whole-grain buckwheat soba noodles. I was so sad when they discontinued it. I guess the general public just prefers more fried options. When you are more disciplined than most it just gets lonely at the top. You can make them at home more easily now though thanks to increased connectivity.
Check out this recipe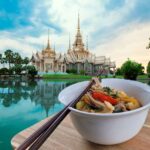 Rice Noodles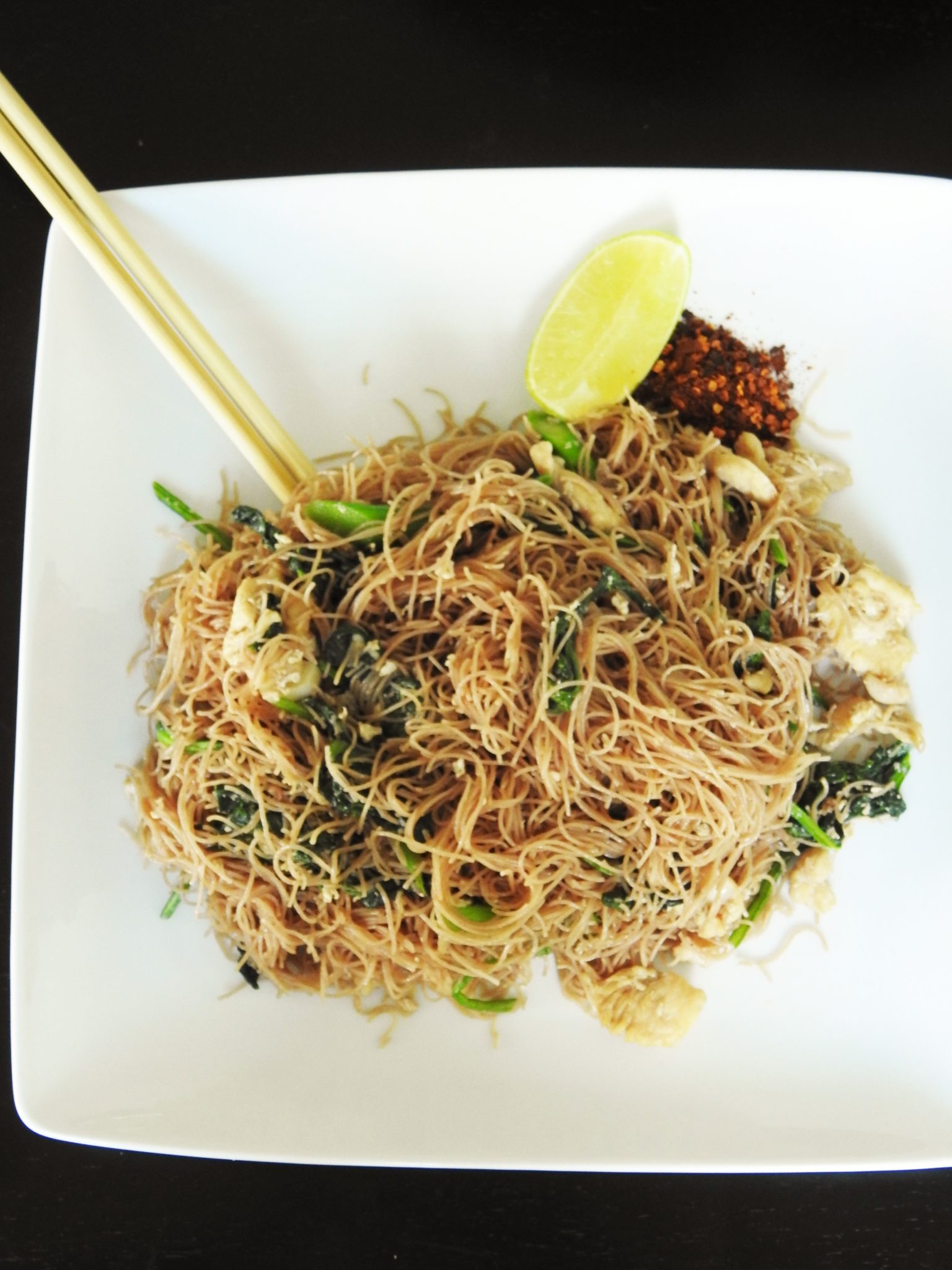 Another option is rice noodles, which are made from rice and water and are naturally gluten-free. They have a slightly chewy texture and can be used in a variety of dishes, from soups to stir-fries.
What exactly qualifies? What are rice noodles and are they the same as glass noodles?
So rice noodles are technically any noodles made with rice. They can be clear, like glass noodles with gelatinous corn or tapioca starch added for the appealing transparent look. You have to really watch the ingredients because it doesn't take much to set your trajectory on a path to ruin an otherwise gorgeous physique.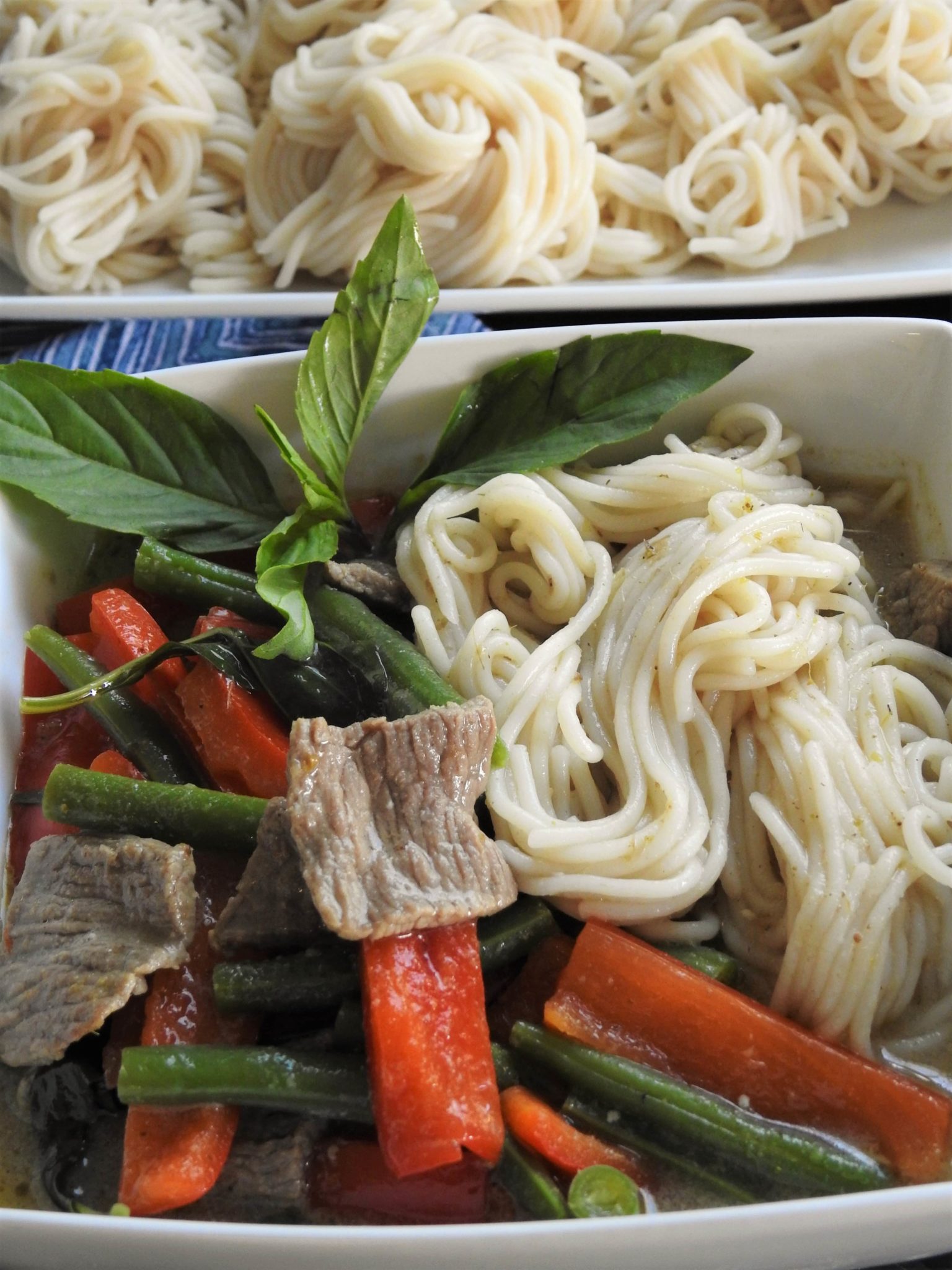 Like a rocket aimed at Mars, a small error in details can set you on a path to miss by millions of simple calories. (If you have ever watched documentaries on space travel, it's amazing how a small miscalculation in math can be a fatal error). Nutrition is science too!
What are the best brands for whole-grain rice noodles?
We like Mama brand for Thai food because it's a Thai brand. They have several varieties like this vermicelli. The variety we always have in our pantry is this 4 pack, which actually looks like traditional instant noodle blocks.
Easy Red Curry Steak Vermicelli
This Easy Red Curry Steak Vermicelli Recipe combines the luxurious feeling of steak with the ease of a quik heat and eat noodle recipe.
Check out this recipe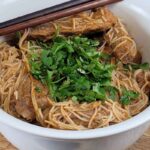 Glass Noodles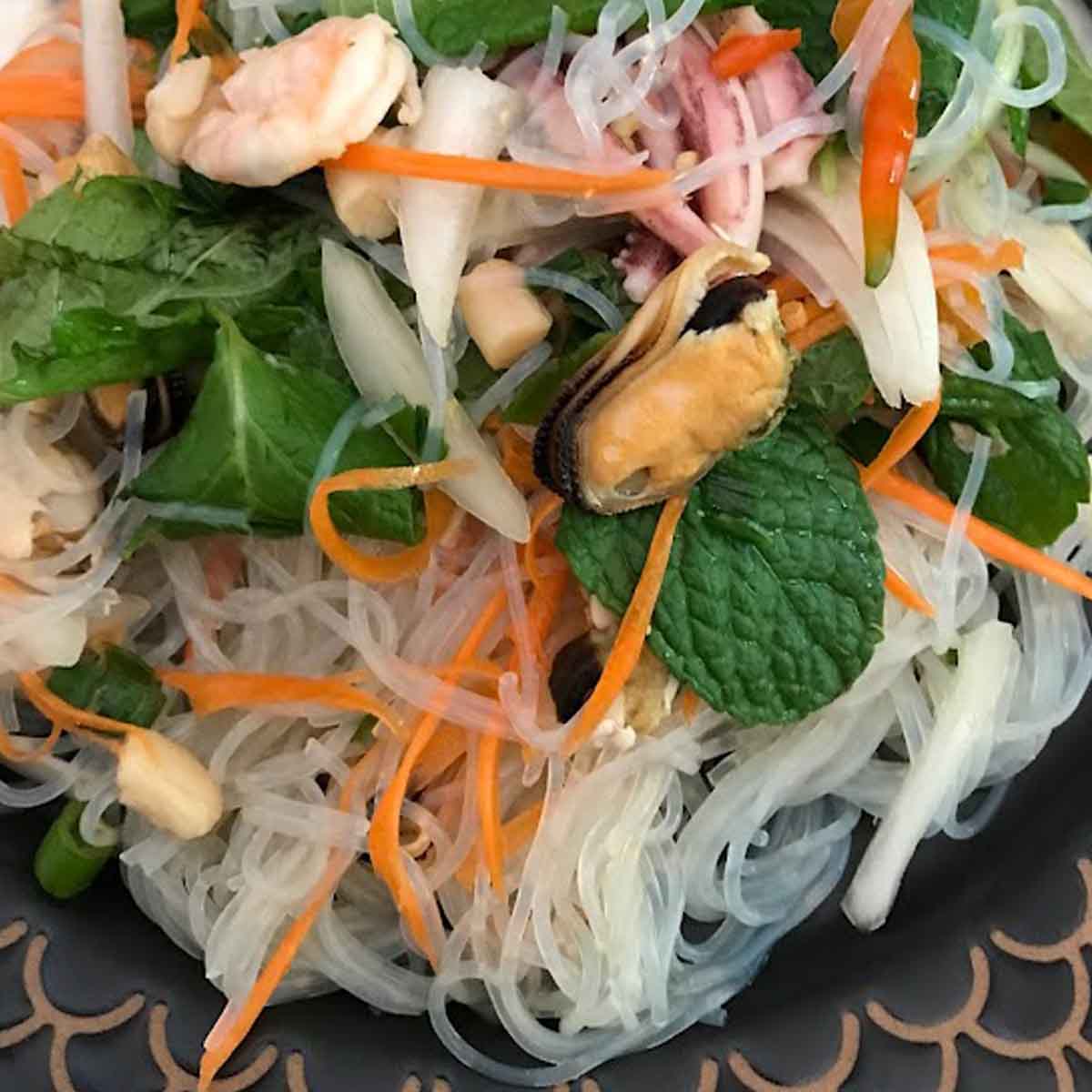 What are glass noodles and how are they different from rice noodles?
So glass noodles or cellophane noodles are clear noodles made from starches like healthier ones like mung bean starch, but also less healthy ones. You have to look at the ingredients again to see if they are made with bean starch or whole grains, such as brown rice. We like these noodles because they're made from Mung Beans and it is a brand from Thailand. These glass noodles made from sweet potatoes are another sweet option!
Buyer Beware
You also, can't trust what they say on the front of the package, Made with Whole Grain! They are not being very ethical when they put that and then you read on the ingredients, in the first ingredient, enriched refined white rice. I will not vote for a company that does that with my dollars.
Thai Mom's Ginger Shrimp and Glass Noodles, Goong Ob Woonsen
Glass Noodles With Shrimp and Ginger, Goong Ob Woonsen, or กุ้งอบวุ้นเส้น in Thai is one of the most popular dishes my Mother-in-law makes at home in Chiang Mai, Thailand. It is the favorite dish of my niece and is known to be a favorite amongst kiddos across Thailand. It's pretty healthy as is if you choose the right ingredients.
Check out this recipe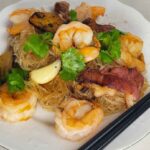 Zoodles!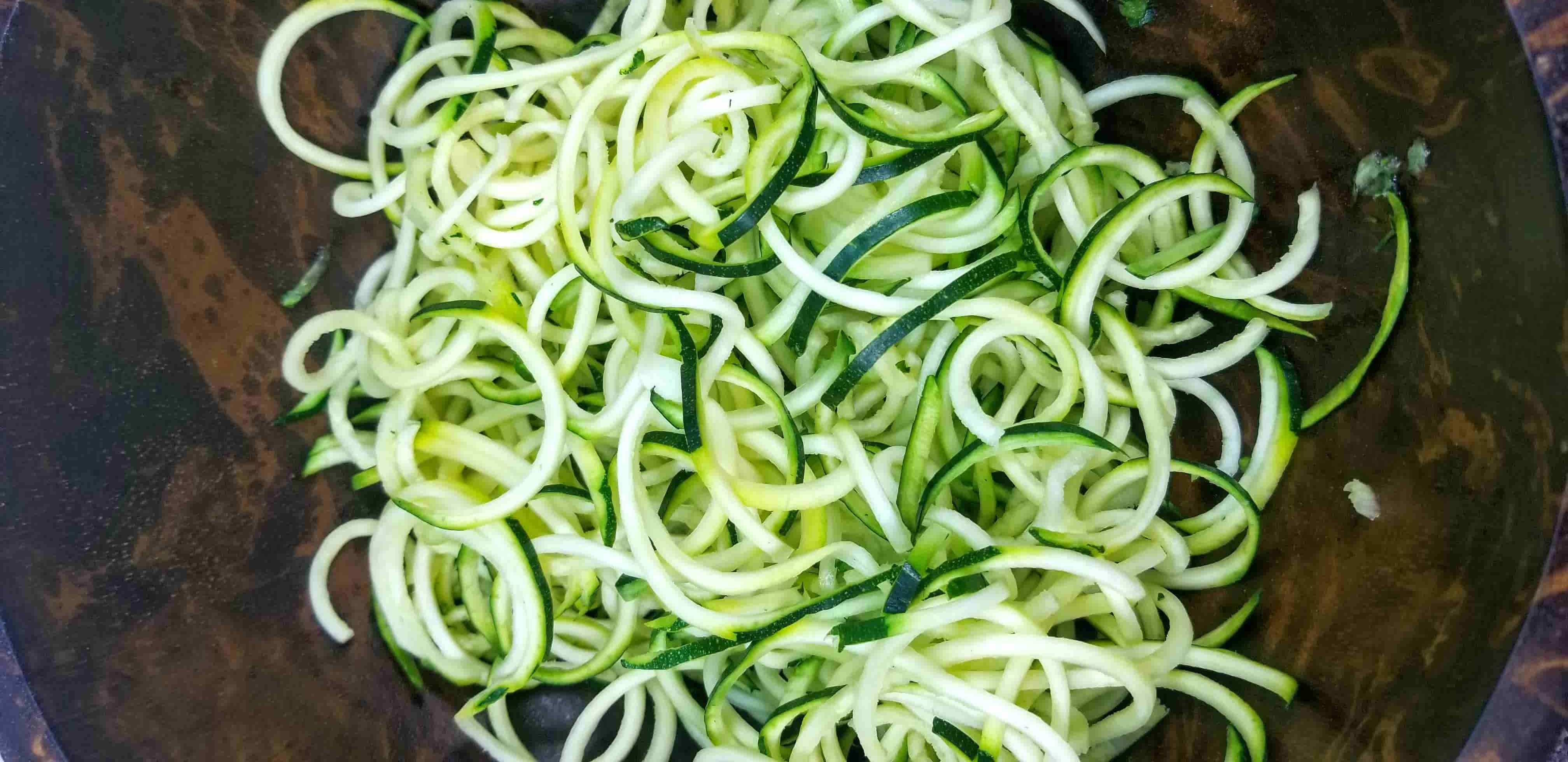 If you're looking for something even healthier, try zucchini noodles, also known as zoodles. These are made by spiralizing zucchini and can be used in place of traditional pasta in dishes like spaghetti or pad thai. Zucchini is low in calories and packed with nutrients, making zoodles a great choice for a healthy meal.
Where do you get zoodles?
Now you can find them in a lot of produce sections in the United States. They are perishable so if you can buy them online, not sure you would want to. We just make our zoodles using a cheap, space-saving little gadget similar to this one.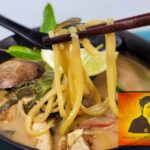 Copycat B. Good Thai Noodle Salad, Made with Zuccini Noodles
I recently discovered this restaurant, B. Good and their Thai noodle salad at a restaurant near me. It is a new concept restaurant where they claim to use only Whole Foods ingredients sourced ethically. I really love the niche of healthy Thai recipes because there are so many good recipes that keep coming out of the niche. 
Check out this recipe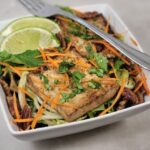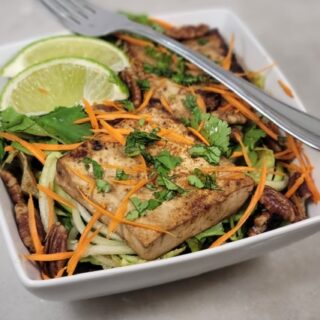 Bean Noodles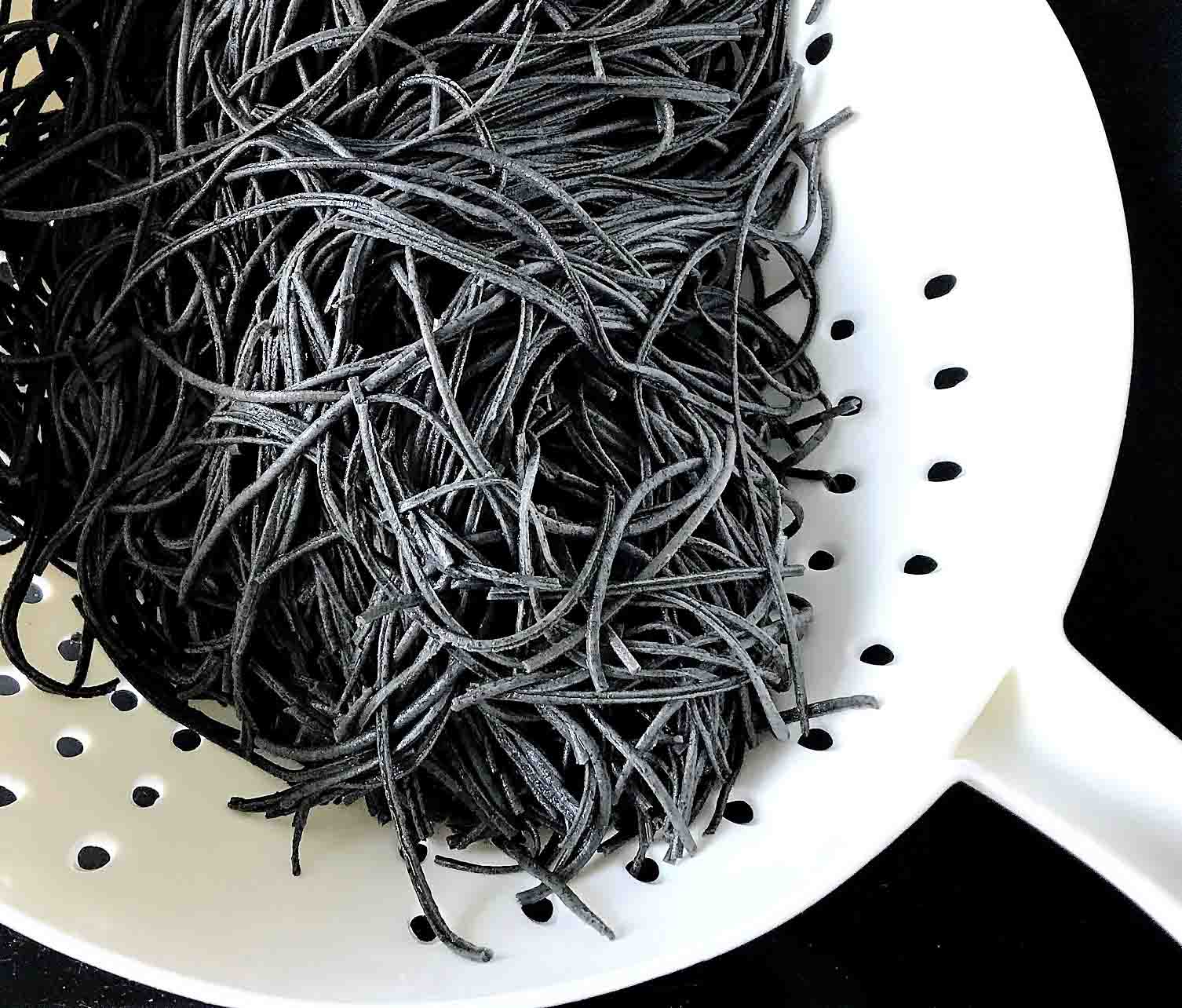 You can find noodles made out of beans at a lot of places now. They add some beautifully contrasting colors to any dish and they are high in fiber too. You may have a little more gas, so if you have GI issues you might want to avoid this one. On a more positive note, the added protein and lower simple carbs make this an obvious choice for anyone who cares about their health and appearance. We used these black bean noodles from Explore Asian.
Pad Thai Made With Black Bean Noodles
Pad Thai made with black bean noodles is a high protein, lower carb alternative to regular noodles.  Pad Thai just means stir-fried, Thai.  It was invented during World War II to differentiate Thailand as a nation with something distinct to the country.   This video does a good job of showing how it was invented and then went viral.  I made this recipe using a pre-made Pad Thai sauce/paste.
Check out this recipe
Or check out these beautiful soybean spaghetti noodles by the same company!
Can use or substitute healthier versions of regular pasta for Thai noodles?
We have actually done this several times. There are so many interesting new brands of noodles made from alternative sources like beans, chickpeas, and bean protein, but the list keeps getting longer. Use your imagination as we did in a couple of these recipes.
We used whole-grain lasagna noodles for this one, click to get them from Amazon.
Mod used whole-wheat spaghetti noodles for this one, click to get them on Amazon.
In Summary, Making healthier choices a habit to reset your calorie intake habits
Regardless of which type of noodle you choose, the key to making a healthy meal is to balance it with plenty of vegetables and lean protein. So, whether you opt for soba, rice, or zucchini noodles, be sure to add a colorful array of veggies and a protein source like chicken, shrimp, or tofu to make a well-rounded dish.
In, general, choosing a whole grain noodle will always be a better choice than noodles made from simple flour or starches like potato starch. Read the ingredient labels, and look for whole grain ingredients for the first ingredients. If it says, refined or enriched don't be fooled. A lot of the time manufacturers will say, made with whole grains to mislead you. It's despicable in my opinion but companies still do it.
Other Considerations
Here are a few more noodle recipes using healthy ingredients. Look at the sodium and calorie content and use common sense when it comes to portions. If you are training hard athletically you can eat a lot more and get away with it. If you are pretty sedentary, you probably don't need as many calories.
A trick my Thai wife, Mod, uses to save time is that she will cook a lot of noodles at once and leave them in a colander with a damp paper towel over them. You can do that and put them in the fridge and just heat them and eat them later. Check out how my friend Jamie makes her easy boat noodles for her mixed Chinese/Thai family. I love how literal the phrase, The American Mixing Pot can be!
Jamie's Easy Guthio Boat Noodles with Bok Choy
This Super Easy and Comforting Thai Guthio is really easy and adaptable. I got it from my physical therapist friend Jamie. She makes it for her family all the time and taught me how to make it healthier. You can use whatever vegetables and noodles you want. You can just throw it together too.
Check out this recipe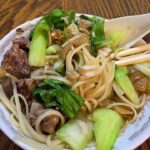 These 10 Easy, Healthier than Instant Noodle, Thai Noodle Dishes will help you replace an unhealthy instant noodle habit! This is a short summary of what we have come up with over the years. We are just a couple trying to be healthier. We aren't dieticians, nutritionists, or doctors. We would love to hear your ideas, thoughts, concerns, and any other innovative ways to build a better mouse trap you have come up with in the comments!