This post may contain affiliate links.
Glass Noodles With Shrimp and Ginger, Goong Ob Woonsen, or กุ้งอบวุ้นเส้น in Thai is one of the most popular dishes my Mother-in-law makes at home in Chiang Mai, Thailand. It is the favorite dish of my niece and is known to be a favorite amongst kiddos across Thailand. It's pretty healthy as is if you choose the right ingredients.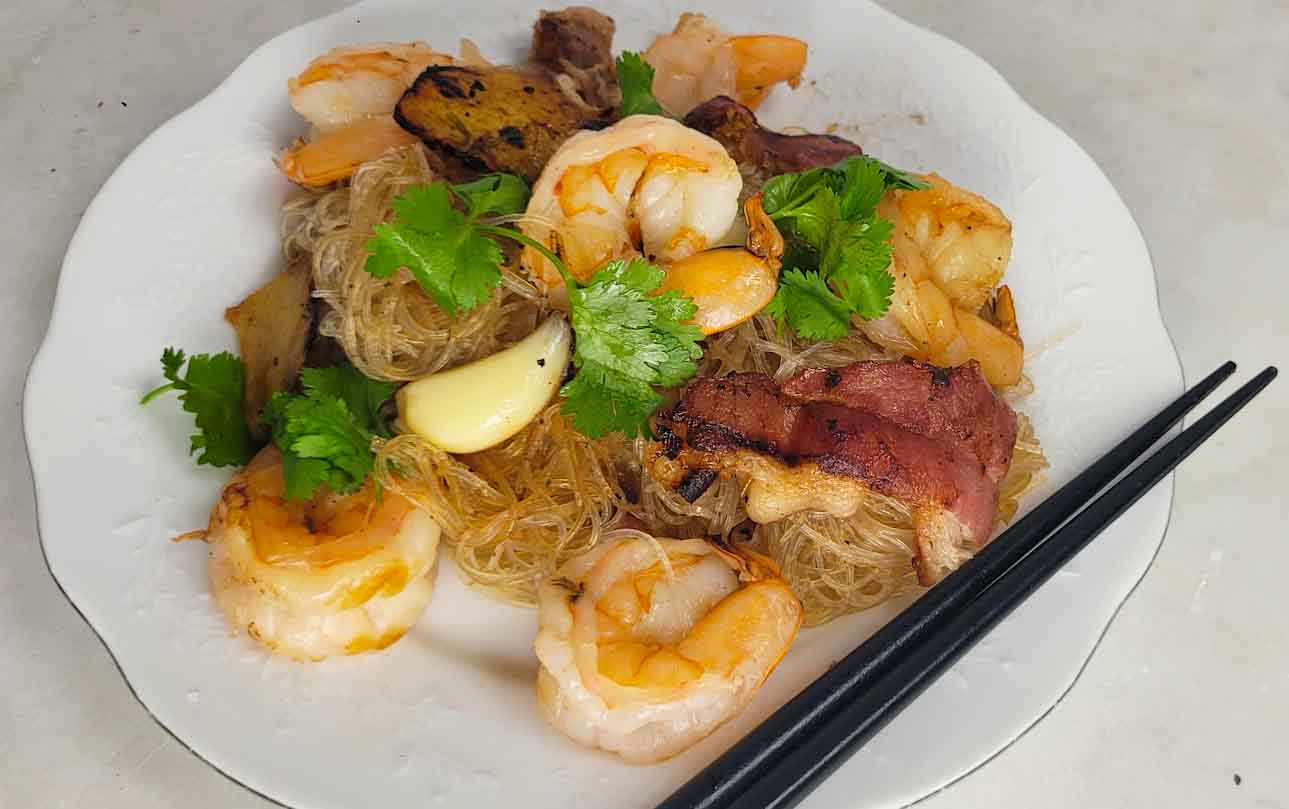 Background Content: This recipe, is like bacon or pizza in Thailand, always a favorite, especially amongst kiddos. You could have it when you would otherwise serve pizza and it'd totally fit.
This was inspired by my mother-in-law, being missed by our niece who missed her special recipe. Sangaroon, the author of the recipe, takes care of our niece and makes this just how she likes it. She also customized it to include no shell on the shrimp for my western tastes and also, decrease the cholesterol a little. If you love ginger, the following other ginger, ginger Thai recipe on this site is very similar, and pairs well with any healthy rice recipe.
Jump to:
Ingredients
Use a clear shot of the ingredients for this recipe, prepped, and labeled if necessary. Insert the ingredients into the list below, omitting quantities.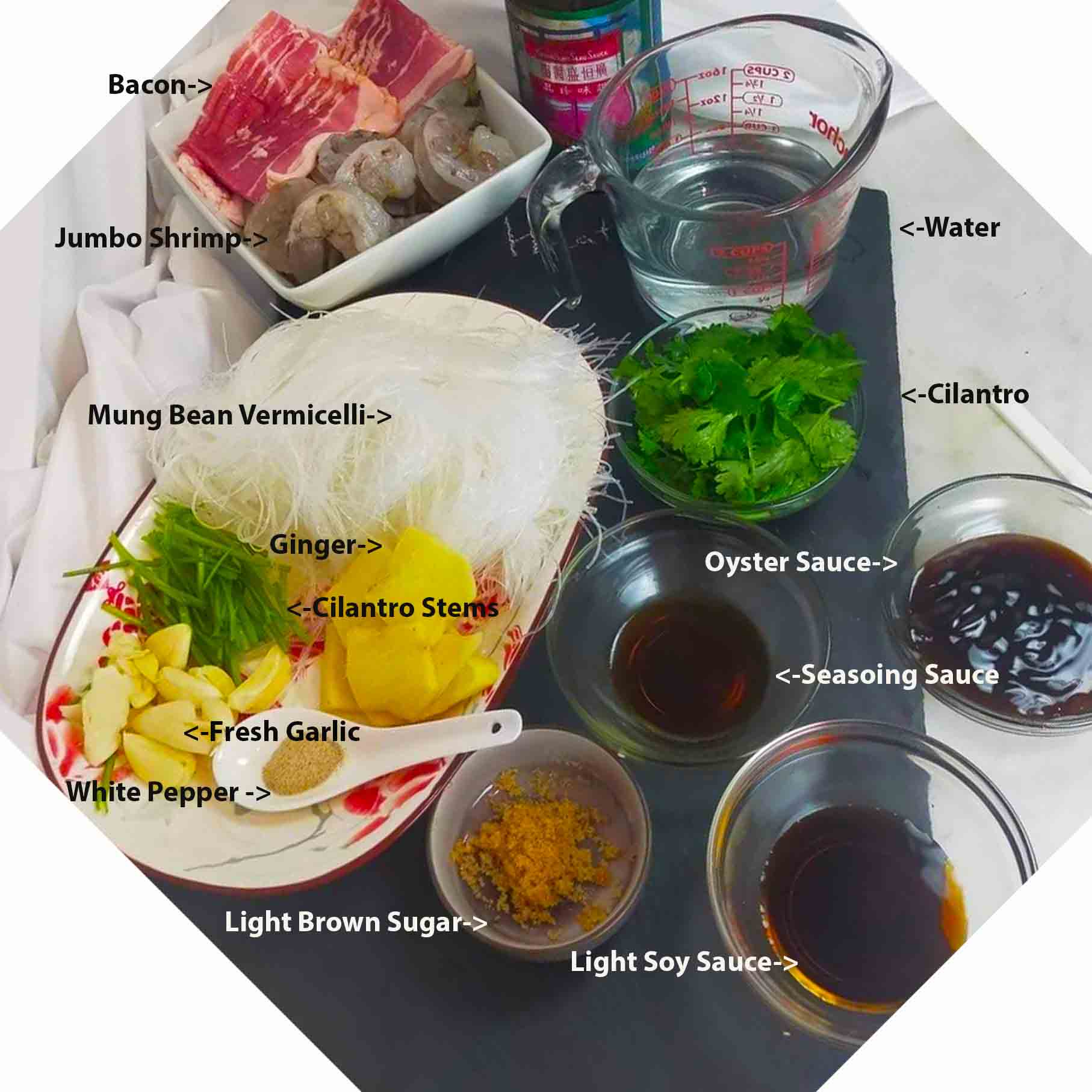 Jumbo Shrimp
Bacon or Turkey Bacon
Mung Bean Vermicelli
Water
Sliced Ginger
Cilantro
Cilantro Stems
Fresh Garlic
Light Brown Sugar
Light Soy Sauce
Seasoning Sauce
White Pepper
See the recipe card for quantities.
Jump To Recipe
Instructions
Start with getting everything ready. You will thank yourself later, with almost any recipe, especially with stir-fry, when setting yourself up for success. You can learn more about the French technique of setting yourself up for success, called Mise en place, from the wikipedia page about it. This recipe is unique in that Sangarun, places her ingredients all in the wok or skillet before turning it on.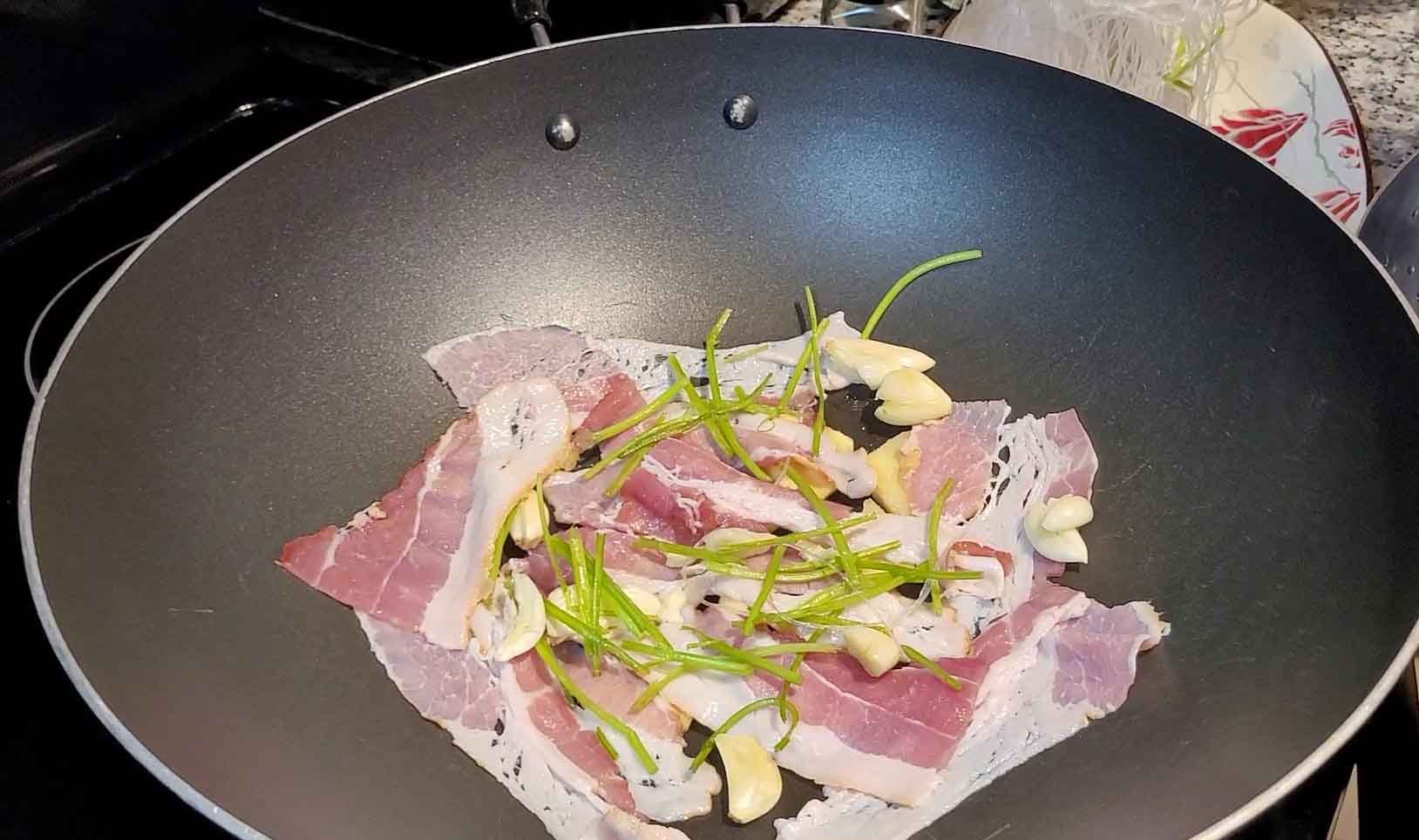 Before turning on the stove, place all ingredients in the wok or skillet, start with the bacon, garlic, a few pieces of ginger, saving the rest back, and cilantro stems.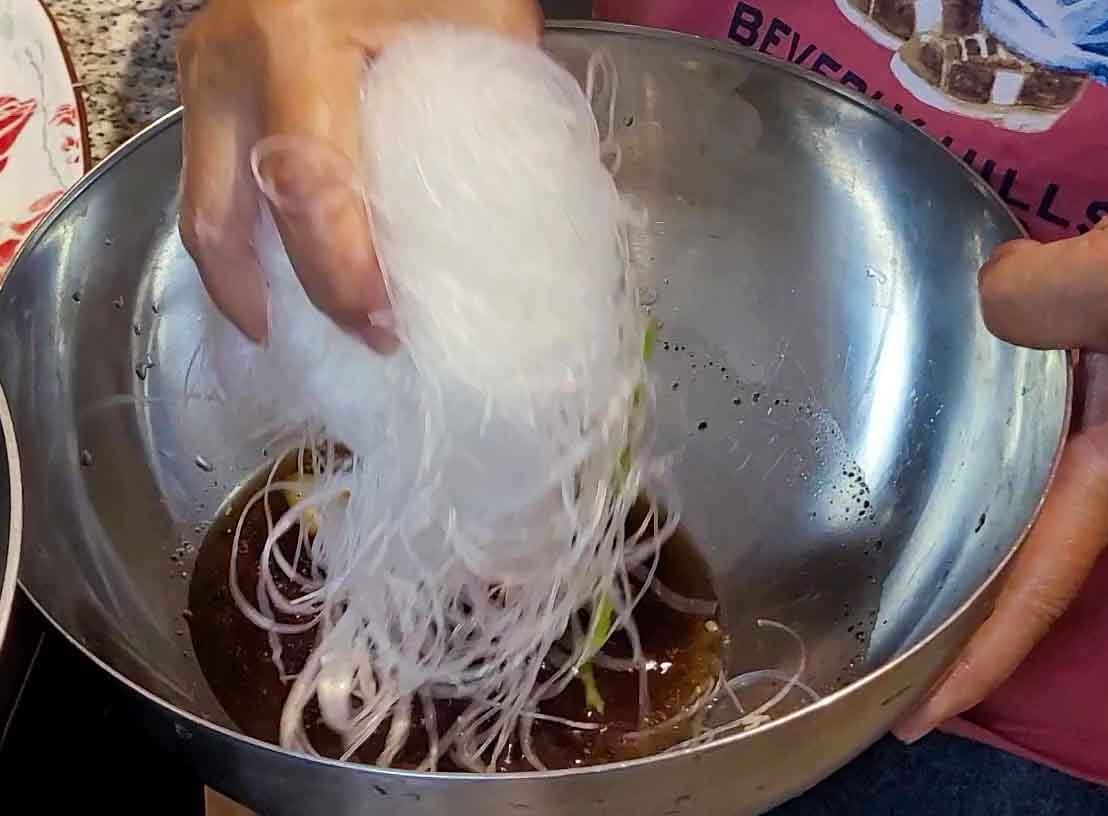 Soak the rice noodles until soft. In a large bowl, add the sauces and ginger, and then coat the noodles in the sauce.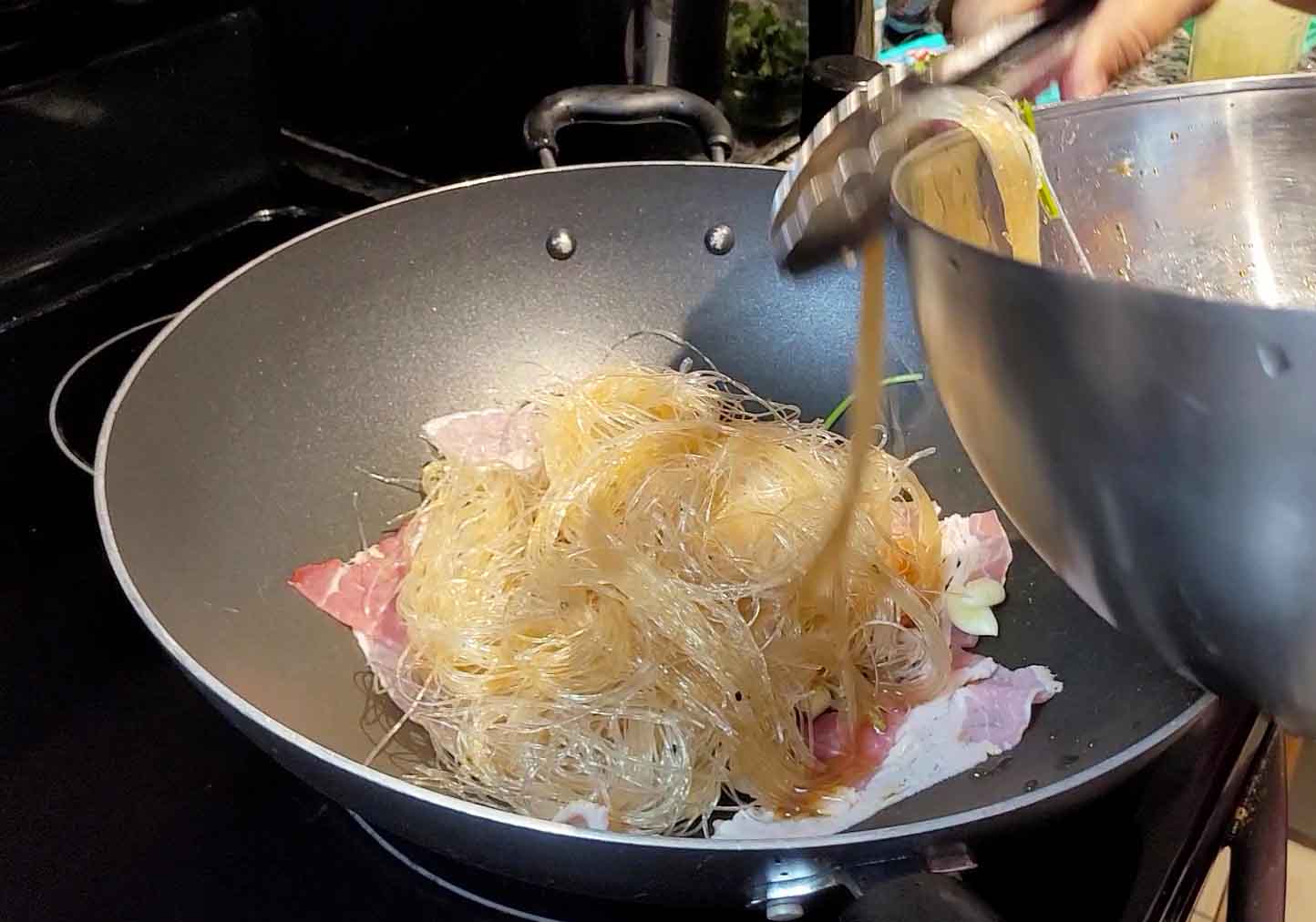 Once you have placed the bacon, garlic, and ginger, add the noodles, coated in the sauce mixture to the wok, covering the other ingredients using tongs, and save back the sauce for the shrimp.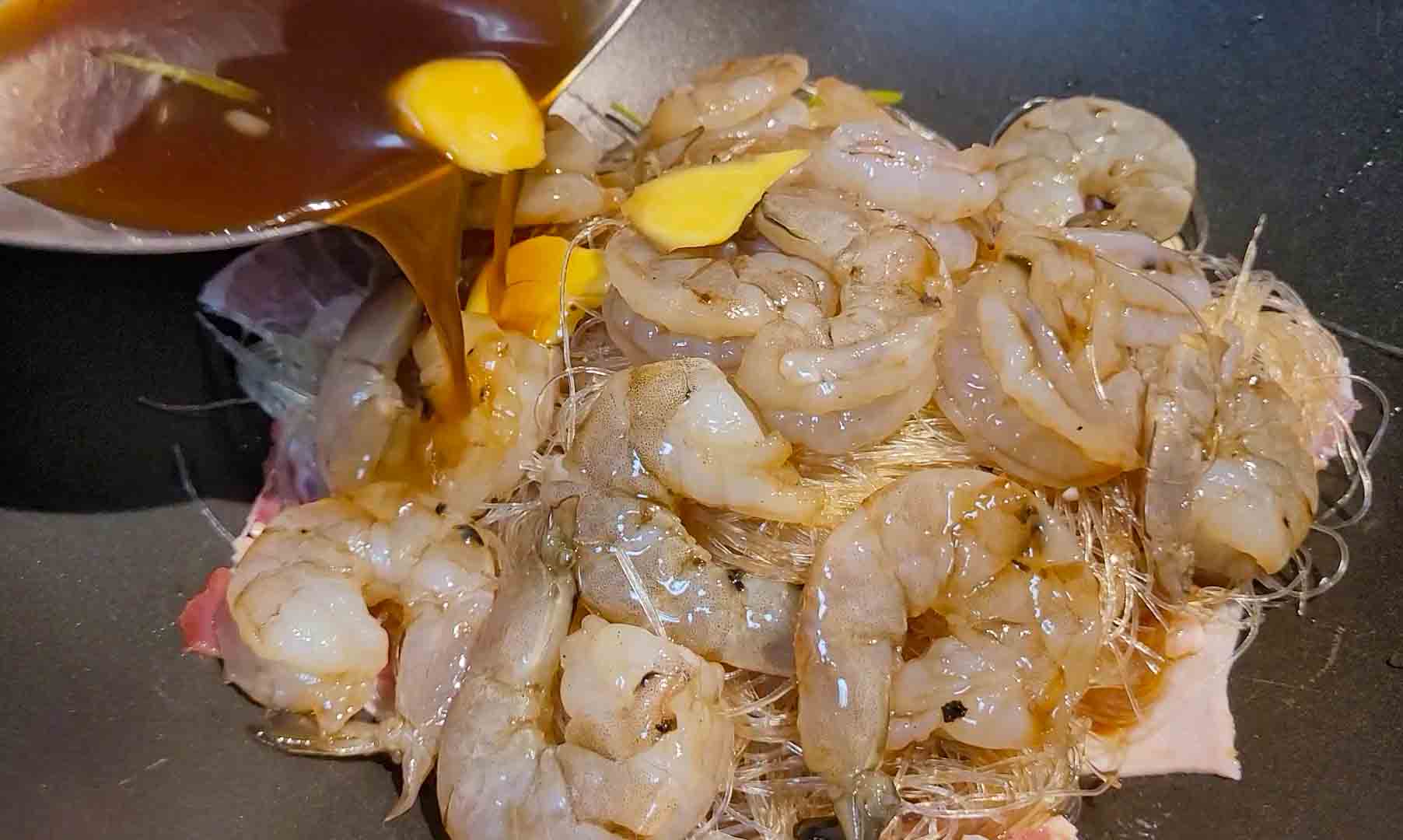 Cover the ingredients with the ginger sauce mixture.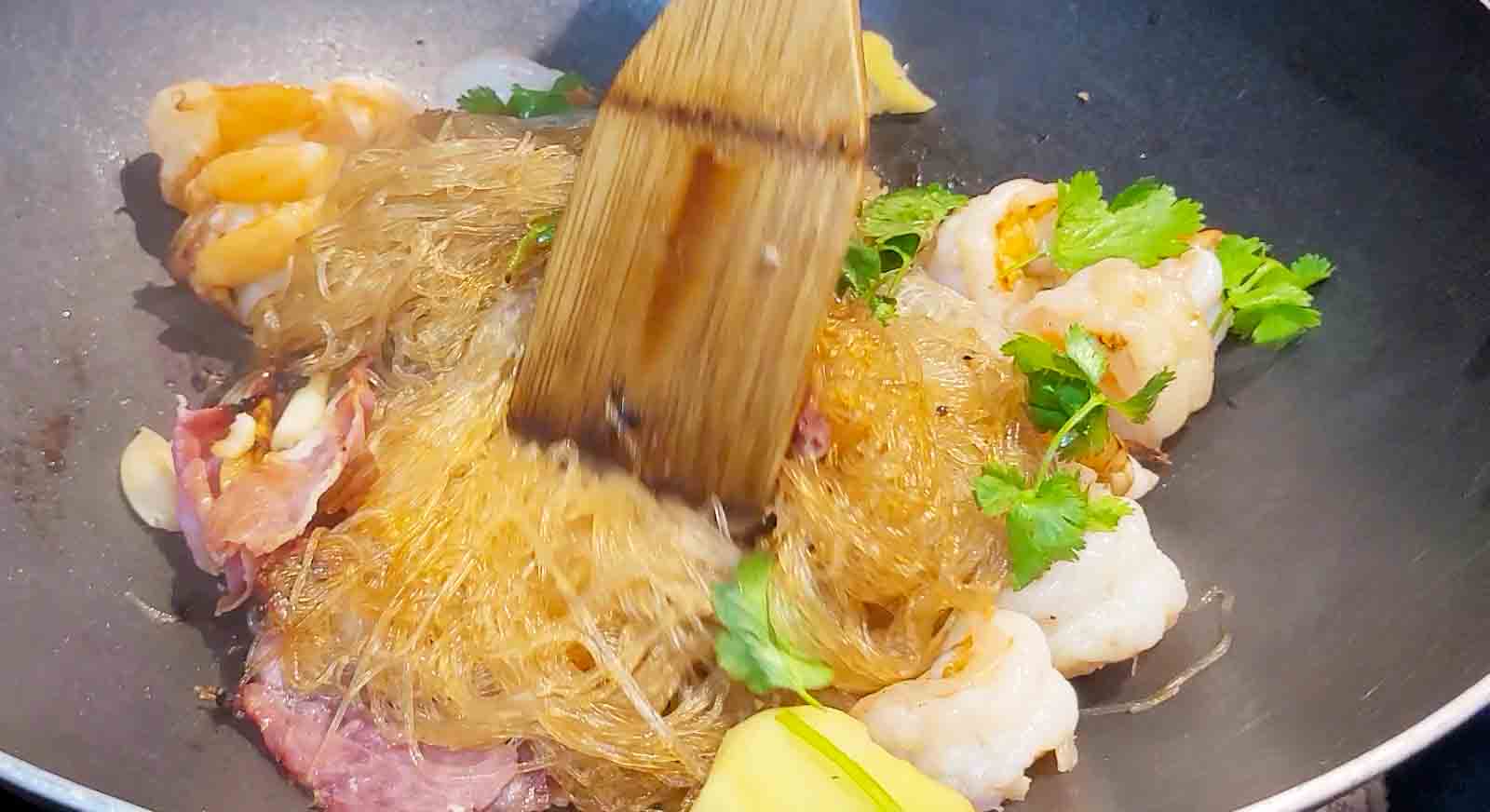 Add cilantro and mix it together. Turn the heat down to medium or low, taste and season, and serve.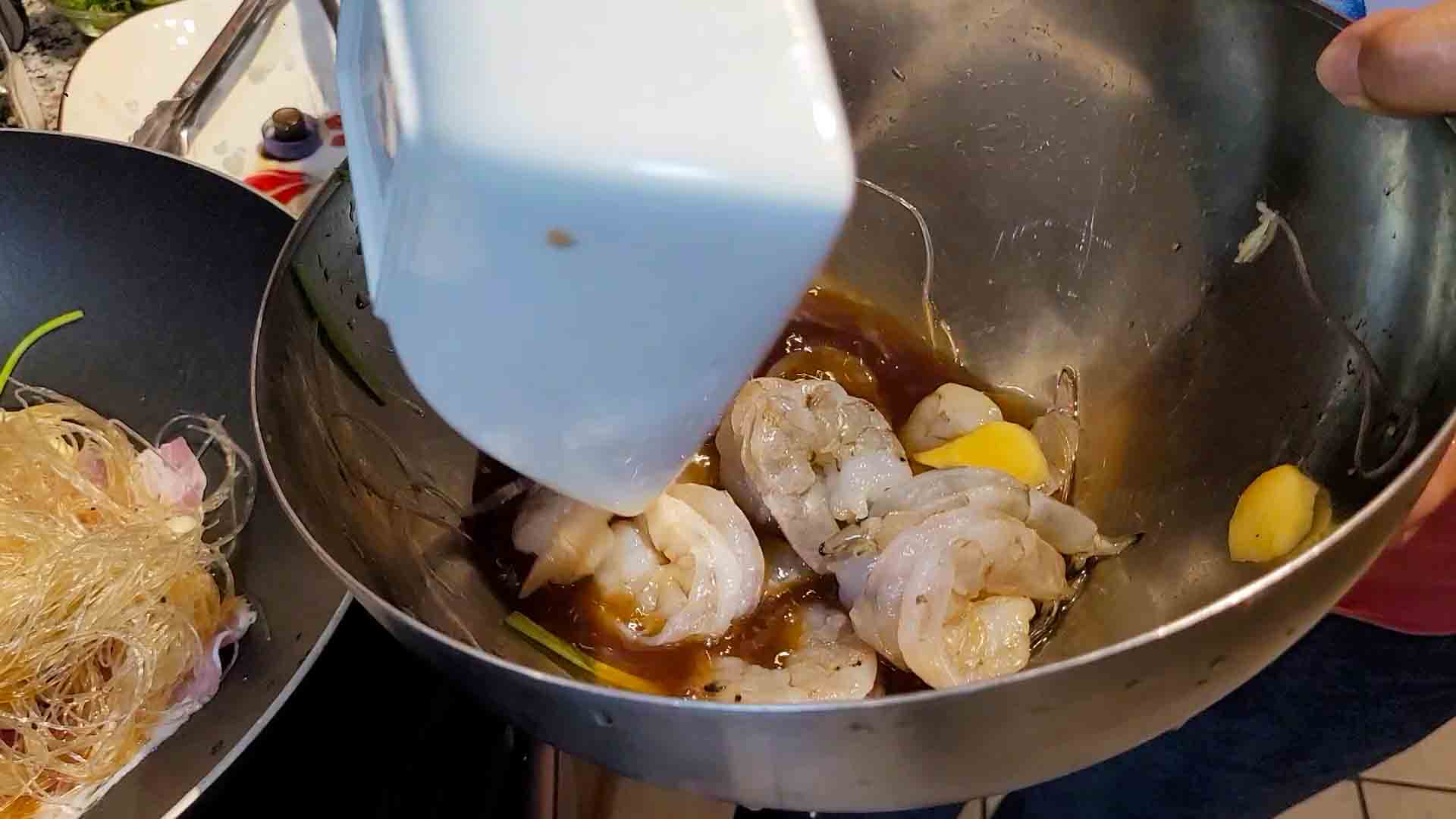 Add the shrimp to the sauce you just removed the noodles from and coat well.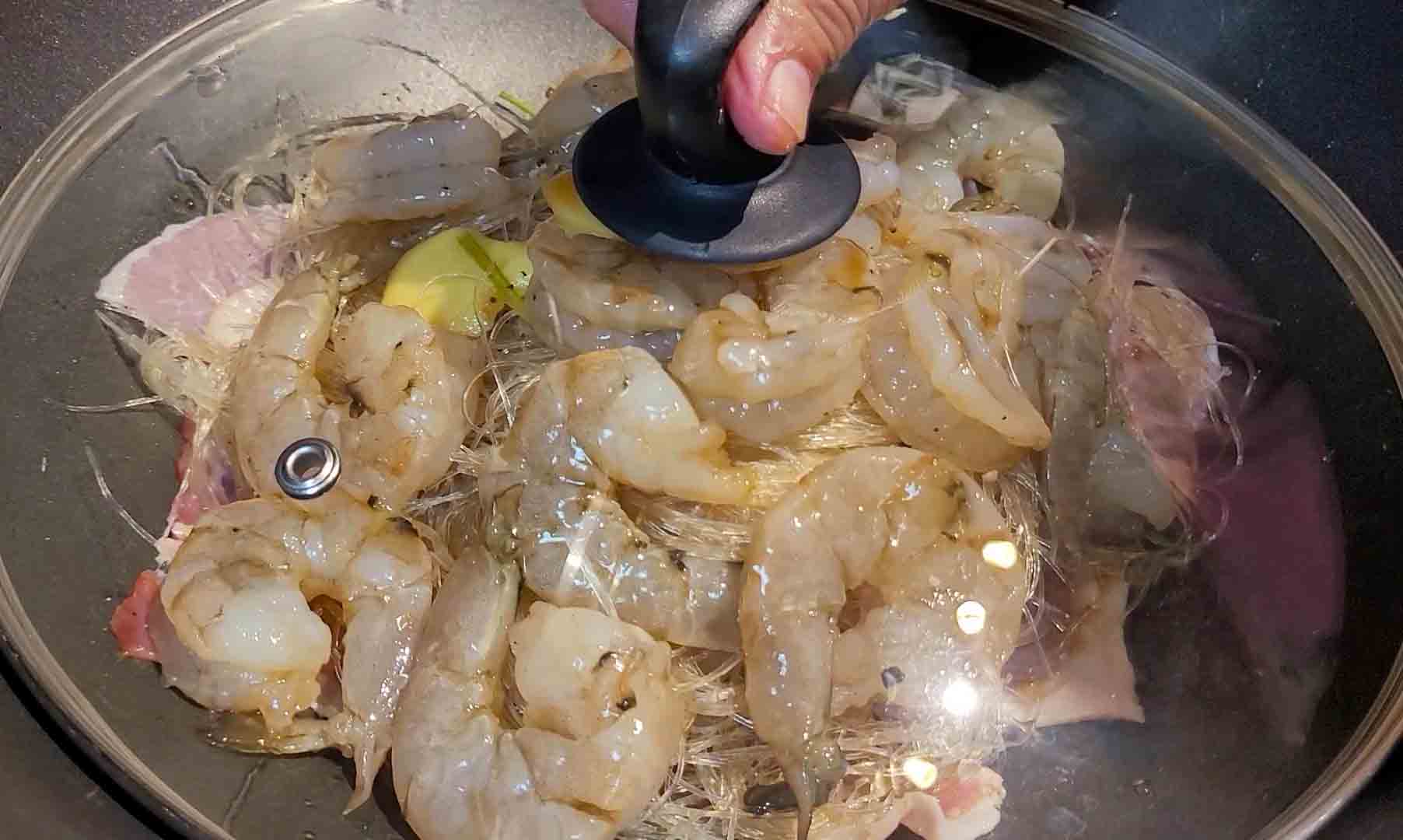 Cover and turn stove to high and cook for 8 minutes.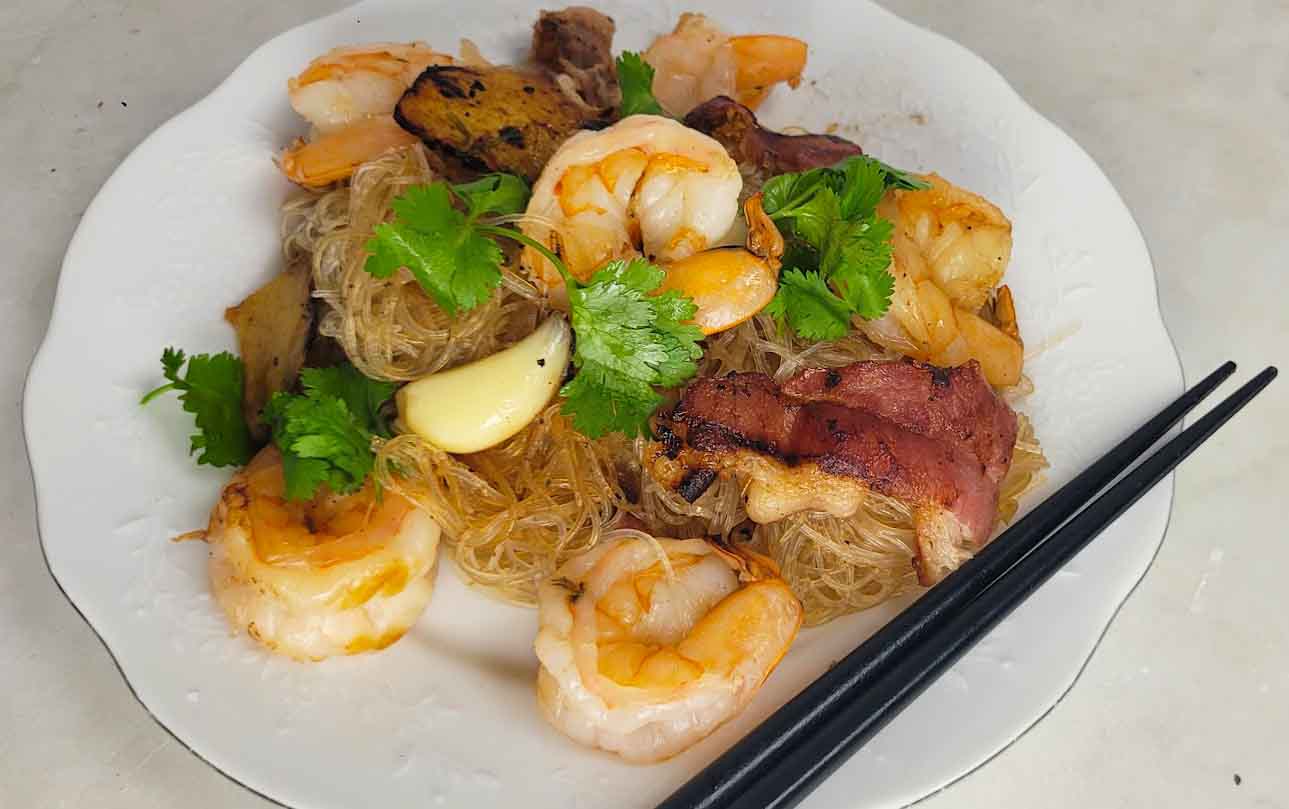 Mix together and serve, garnished with cilantro and spices and sauces on the side.
Hint: If you are using an electric stove, I recommend a large skillet. My mother-in-law always prefers a wok. They do create a nice, focused heat, in the middle, so there is a good argument either way. There is more surface area in contact with the skillet on an electric stove but a wok works fine. Woks are made for a flame really.
Substitutions
We are still in the process of teaching Sangarun how to substitute, healthier, ingredients. She made this the way she makes it at home, so we didn't want to rock the boat. That said, here are a few things I would do to make it healthier.
Alternative Bacon - Bacon is obviously one of the unhealthy ingredients most people know to clog your arteries with cholesterol. Shop around and find what does it for you. Whole Foods has some interesting, organic turkey bacon.
Glass Noodles - All glass noodles, or vermicelli, are not created equally. Make sure to pay attention to the ingredients. If you lift weights, like us,
Vegetarian - the shrimp can be replaced with vegan shrimp, yes that exists. So does vegan bacon, believe it or not. You can get it made out of portabello mushrooms. I bought some and cooked with it. It's absolutely amazing. If you are sensitive to any animal products, watch the ingredients on the sauces you choose. They tend to have fish in sauces in Thailand. Use your judgment, and replace as needed.
Head-on shrimp - If you are a purist or Thai food aficionado, you will want to use, head-on, shell-on shrimp. That is all you can find in Thailand and the cholesterol and fats in the head add flavor. I could care less about that and really have enough cholesterol clogging my arteries already. Plus, let's be real, who really enjoys pealing shrimp? Up to you, of course, but I thought I ought to mention this.
If you are sensitive to any of the ingredients, you can always hold back some of the ginger to decrease the bite. You can use your imagination to come up with variations but here are some ideas below.
Variations of this Healthy Ginger Shrimp with Glass Noodles, Goong Ob Woonsen
We have had mishaps before with making things too spicy for dinner guests. Ask your guests what they prefer to ensure they enjoy.
Spicy - add chili pepper flakes while cooking to imbue heat into the dish, here is a recipe on our site for homemade Thai pepper flakes. Keep it on the side so everyone can customize.
Deluxe - add double the shrimp and bacon.
Kid friendly - This is the national recipe of kids in Thailand, adding a little more bacon always makes them happier though. Some healthy potato chips wouldn't hurt if they're still being picky.
See this ginger lemon shrimp on my website! If you love the bite of ginger and shrimp, adding the tang of lemon is super yum. You can add some lemon on the side and try it as a variation to this dish.
Equipment
If you need equipment here is an affiliate link to purchase the wok equipment, and this one for tongs.
Storage
These ingredients stand up well to freezing for 2 X months or several days in the fridge, where they may even taste better with more time marinating.
Top tip
This is not a recipe to walk away from. it cooks fast and can easily burn on the bottom. You will want to be Johnny on the spot and make sure to be present when cooking this one! Don't worry, you won't regret it. 🙂 We put on some jazz for cooking to help us stay focused. A glass of wine or whiskey and diet coke also make it feel more fun.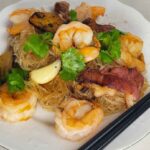 Print Recipe
Thai-Moms-Ginger-Shrimp-and-Glass-Noodles-Recipe-Goong-Ob-Woonsen
Thai-Moms-Ginger-Shrimp-and-Glass-Noodles-Recipe-Goong-Ob-Woonsen is so Yummy and the most kid friendly recipe in Thailand.
Equipment
1 Wok

1 Tongs

1 Large mixing bowl
Ingredients
1

pound

Jumbo shrimp

Peeled or unpeeled, depending on your preference

4

Nests

Glass noodles

1

Ginger

Fresh 1 to 2 inch finger, cut into 8 to 10 medalions

8

oz

Turkey bacon

Or regular bacon if you must

6

Cloves

Garlic

Fresh and crushed

¼

Cup

Cilantro

⅛

Cup

Cilantro stems
Ginger Sauce
1

Cup

Water

2

tbsp

Seasoning sauce

Golden Mountain is what she uses

4

tablespoon

Oyster sauce

4

tablespoon

Light soy sauce

1

teaspoon

Light brown sugar

¼

teaspoon

White pepper

¼

teaspoon

Black Pepper

4

oz

Sliced ginger
Instructions
In a large bowl, mix all the sauce ingredients, including most of the ginger coins and put it aside.

Soak 3-4 small nests of glass noodles until soft.

Place the fresh, crushed garlic, bacon, cilantro stems on the bottom of the wok or skillet.

Using Tongs, Remove the noodles and bath them in the ginger-sauce.

Place the noodles on top of the other ingredients in the wok or skillet.

Put the shrimp into the ginger sauce and coat well and then place on the noodles in the wok or skillet.

Cover and turn on the heat to high or medium-high if you are anxious about high heat for roughly 8 minutes.

Remove from heat and put some of the fresh cilantro leaves on top and mix everything together.

Serve, topped with the rest of the fresh cilantro on top.
Notes
As always, your situation is fact-dependent.  If you have specific dietary needs, consult with your doctor or dietician.  We are neither, doctors nor dietitians so take it with a grain of salt or salt substitute rather.  ;p  Nutrition facts were calculated by a software program and are not exact.  When in doubt, check it out with a doctor, and when it comes to fresh ingredients when in doubt, check it out.  
Nutrition
Calories:
667
kcal
|
Carbohydrates:
19
g
|
Protein:
69
g
|
Fat:
34
g
|
Saturated Fat:
10
g
|
Polyunsaturated Fat:
8
g
|
Monounsaturated Fat:
13
g
|
Trans Fat:
0.02
g
|
Cholesterol:
397
mg
|
Sodium:
6879
mg
|
Potassium:
873
mg
|
Fiber:
1
g
|
Sugar:
3
g
|
Vitamin A:
613
IU
|
Vitamin C:
4
mg
|
Calcium:
178
mg
|
Iron:
4
mg
Food safety
Cook to a minimum temperature of 165 °F (74 °C)
Do not use the same utensils on cooked food, that previously touched raw meat
Wash hands after touching raw meat
Don't leave food sitting out at room temperature for extended periods
Never leave cooking food unattended
Use oils with high smoking point to avoid harmful compounds
Always have good ventilation when using a gas stove
See more guidelines at USDA.gov.
Check out some of these recipes, if you like this Healthy Ginger Shrimp with Glass Noodles, Goong Ob Woonsen.