This post may contain affiliate links.
Pad Thai Made With Black Bean Noodles
Jump to Recipe
Pad Thai made with black bean noodles is a high protein, lower carb alternative to regular noodles.  Pad Thai just means stir-fried, Thai.  It was invented during World War II to differentiate Thailand as a nation with something distinct to the country.   This video does a good job of showing how it was invented and then went viral.  I made this recipe using a pre-made Pad Thai sauce/paste.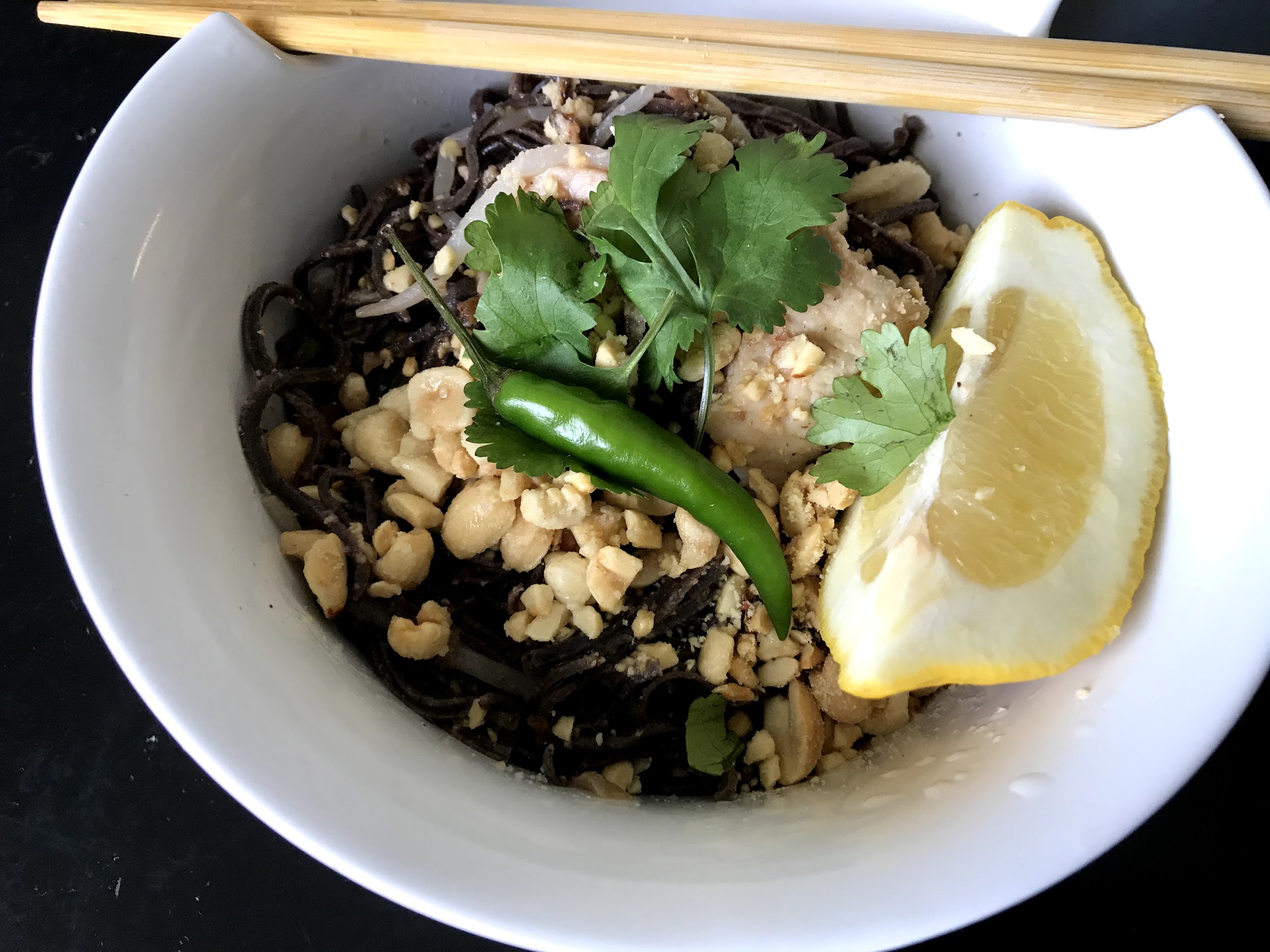 As I am writing this, I am quarantining myself from the corona-virus.  You can make your own, Pad Thai sauce or paste for the recipe if you want to be a little healthier.  It's really just a matter of following this recipe we did below, it's not something you have to have in a sauce or paste.
Making the Pad Thai with a Pre-made Sauce
The way made this recipe was using a sauce by the brand Polar.  I actually picked up the jar of it at HEB here in Houston, Texas so I imagine you can get it about anywhere.  It has a recipe on the jar but I think I found an error in the recipe.  It leaves out shrimp on the ingredients but asks you to stir it into the wok.  We used 1 chicken breast and it worked just fine.
For the Protein
I butterflied a chicken breast and then cut it into smaller bites for the protein.  I like doing it that way because the surface area that touches the wok and cooks is greater.  The heat doesn't have as far to penetrate also, making it safer that you will get it cooked through.  To do that you just slice horizontally through the chicken breast like this.
Preparing the black bean noodles
I found some explore cuisine black bean noodles in the clearance isle.  We've used them before and really enjoyed them.  They have 24 grams of protein per 2 oz serving to add to the chicken and not as many grams of carbs.   This is especially good for someone like me who has been instructed by my doctor to reduce carbs. for better cholesterol levels.  To get them ready, just dump them in a pot of warm water for 15 minutes and then strain in a colander.
Preparing the other ingredients
You will also want to crush a half cup of peanuts and garlic and set in separate little bowls.  If you can find chives you will want those, but green onions are all I could find and they work fine.  For the eggs, you can use egg whites to reduce cholesterol or the whole eggs if you aren't worried about it.   If you can find fresh bean sprouts, great, otherwise you can use canned ones.  They are usually available in the Asian section of supermarkets in the Western part of the world.  Some cut up limes and lemons, garlic chili paste, peppers and cilantro will make customization with garnish easy.
Pad Thai Made With Black Bean Noodles
Pad Thai Made With Black Bean Noodles is a lower carb way to get your noodle fix. This recipe makes it quick and painless to stay on task with your diet.
Ingredients
2

Egg whites

Or regular eggs if you aren't scared of cholesterol

⅓

Cup

Pad Thai paste

2

Limes

Sliced into wedges, and or lemons

2

cups

Bean Noodles

1 package soaked in warm water and strained

2

cups

Canola Oil

or olive oil

1

Chicken Breast

Cut into bite sized pieces

3

Garlic Cloves

Chopped and crushed

½

cup

Peanuts

Chopped

½

cup

Cilantro

For garnish

4

Thai peppers

For garnish

1 ½

cup

Bean sprouts

2

tablespoon

Lime juice
Instructions
Butterfly and cut up the chicken breast into bite sized pieces

Soak the noodles in warm water and strain

Heat the oil in a wok on medium-high heat

Add the crushed garlic and stir-fry until fragrant

Add in the chicken breast and stir-fry until opaque

Add in the noodles and mix in, trying not to break the noodles too much. I used tongs to mix it well.

Add in the tofu paste and stir in, mixing in well.

Push the noodles to the side of the wok and fry the eggs until opaque and mix into the noodles.

Add in the chives and bean sprouts and mix in evenly again.

Garnish with crushed peanuts, lime juice, lemon and lime wedges, cilantro and peppers
Notes
As always, nutrition is one of the most manipulated and bastardized sciences in existence for people out to make a quick buck.  We are not nutritionists or dietitians. Our mission at healthythairecipes.com was born from my trying to rehab my wife's native Thai recipes to be as healthy as possible for both of us.  We like the whole foods, avoid processed ingredients approach.  What is healthy for us may not be healthy for you though as your situation is fact dependent.  I like to say, when in doubt, check it out with a doctor or dietitian, if you have concerns.  When it comes to food safety, When in doubt, throw it out, if you think an ingredient is questionable.  
Let us know how we can make our healthy Thai recipes healthier in the comments section below. Nutrition calculations are an estimate.
Nutrition
Calories:
1216
kcal
|
Carbohydrates:
42
g
|
Protein:
80
g
|
Fat:
88
g
|
Saturated Fat:
10
g
|
Cholesterol:
145
mg
|
Sodium:
397
mg
|
Potassium:
1965
mg
|
Fiber:
14
g
|
Sugar:
10
g
|
Vitamin A:
816
IU
|
Vitamin C:
105
mg
|
Calcium:
169
mg
|
Iron:
6
mg
If you like this bean noodle recipe, you might like one of these as well.
Sriracha Black Bean Spaghetti (เส้นสปาเก็ตตี้ถั่วดำผัดซอสพริก)
Please share this recipe on social media and spread the love of making Thai food healthier!  As always, we are not nutritionists or dietitians and just do our best with what we know to make our recipes healthier.  Please check with an appropriate professional if you have specific dietary needs.