This post may contain affiliate links.
Thai coconut zoodle soup is a super easy, whole food, soup you can make in a jiffy.  I got the idea from this premade meal kit for simple zucchini spiral pho soup and made it from scratch.  You can modify it to be more or less complicated.  My Thai wife tried it after being hangry and my offering to cook.   She said, "It's surprisingly good! I'll eat yours if you don't finish."  Insert kiss on the cheek.
About the Ingredients
Zoodles are just zucchini cut into noodles.  The health benefits are obvious, super low carbs and lots of vitamins, not to mention fiber. The Thai Coconut Broth, by Ocean's Halo, is something I picked up at Kroger.  It's actually made out of seaweed and it's super healthy with a lot of vitamin D and Iodine.
In the spirit of using vegetable ingredients, I also used hard-packed tofu for the protein, although you can use whatever you want of course.  I just sauteed the tofu with a little bit of sesame oil and light soy sauce on medium-high, until blackened around the edges.   After that, it's mushrooms, red onions, radish, sugar snap peas, jalapeno, mint, Thai basil, cilantro, and lime wedges.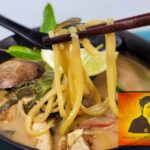 Print Recipe
Thai Coconut Zoodle Soup
Thai Coconut Zoodle Soup is an easy, low carb way to get robust flavor without too many processed ingredients.
Ingredients
1

quart

Vegetable broth

Thai coconut broth

½

cup

Mushrooms

Sliced

½

cup

Red onions

Sliced

½

cup

Radishes

Sliced

½

cup

Snap peas

1

Jalepeno

Sliced

1

Lime

Sliced into medalions

½

cup

Thai basil

½

cup

Mint

1

cup

Tofu

Hard

2

tablespoon

Canola oil

Or whatever
Instructions
Heat the oil on medium high

Sautee the Tofu on medium high in the oil until browned around the edges

Add in the quart of Thai coconut broth and continue to heat until boiling

Add in the mushrooms, red onions, radish and snap peas

Serve with the jalapenos, mint, and Thai basil and lime wedges
Notes
As always, nutrition is one of the most manipulated sciences in existence for people out to make a quick buck.  We are not nutritionists or dietitians.
Our mission at healthythairecipes.com was born from my trying to rehab my wife's native Thai recipes to be as healthy as possible for both of us. 
We like whole foods, avoid the processed ingredients approach.  What is healthy for us may not be healthy for you though as your situation is fact-dependent. 
I like to say, when in doubt, check it out with a doctor or dietitian if you have concerns. 
When it comes to food safety, When in doubt, throw it out if you think an ingredient is questionable.  
Let us know how we can make our healthy Thai recipes healthier in the comments section below. Nutrition calculations are an estimate, calculated by a computer.
Nutrition
Calories:
309
kcal
|
Carbohydrates:
22
g
|
Protein:
14
g
|
Fat:
20
g
|
Saturated Fat:
2
g
|
Sodium:
1917
mg
|
Potassium:
367
mg
|
Fiber:
5
g
|
Sugar:
9
g
|
Vitamin A:
2144
IU
|
Vitamin C:
45
mg
|
Calcium:
231
mg
|
Iron:
3
mg
If you love Thai style soups you might like one of these.
Please like, share, and comment if you have ideas to improve our recipes.