Thai Red Curry Puffs - A Great Appetizer,  Snack or Party Dish
Curry Puffs are one of the first things my wife tried to make when she moved here.  The first try was a fail, something went wrong in the baking process.  This recipe works though plus we figured out how much curry to make it super spicy or not very spicy at all.  This recipe makes approximately 30 curry puffs which is a good amount for a small social or as an appetizer for several people.
Finding Healthier Ingredients
I searched amazon for whole grain wonton wrappers and found no pre-made ones made from whole grain.   I also tried whole foods and had no luck.  But if you just google the term there are a lot of food blogs that are making them.  It's probably just a matter of time before they are at the market if that many people are thinking about it.   In the meantime here is a link for a recipe to make them.
We didn't change much else from they typical recipe.   We did switch to a low sodium soy sauce, we also used olive oil rather than the typical vegetable oil.  I also figured out which amount of the spicy ingredients made it almost too spicy for me but not too spicy.  If you don't like it that spicy you just go with 1 tsp of the curry and chili pastes.
Curry Puffs Are Great for Socials
Curry puffs are a good item for parties or socials.   Mod and I went to a rock climbing event at our climbing gym and they had some similar items in their warmers.  They were a good excuse to take a break and enjoy our friends company. 
Ingredients: 
Filling

1 medium russet potato mashed
1 tbsp fish sauce
1 tablespoon low sodium soy sauce
1 tsp chili paste for a little spice or 1 tbsp for more spice
1 tsp red curry paste for a little curry or 1 tbsp
4 tbsp peas
4 tbsp corn

Wrapper

1 egg white
30 whole grain wonton wrappers, if available, regular otherwise
1 tbsp corn starch
2 tbsp water
1 tbsp olive oil

Garnish

A few sprigs of cilantro for garnish
Sweet Thai chili sauce to dip in
Instructions:
 Boil the potato until it is soft
 While the potato is boiling mix together the tbsp corn starch and 2 tbsp water in a small bowl
 Mash the potato and combine it with the peas, curry paste, chili paste, low sodium or lite soy sauce and fish sauce into a paste
 Heat the oven to 475 degrees F
  Use the corn starch solution to make a line around each wonton wrappers with a brush or your finger to create an adhesive film to glue the edges together
 Place a tsp of the paste onto the center of each wonton wrapper and then fold them into a triangle gluing the edges together with the corn starch
 Mix the egg white in a small bowl with a teaspoon of water and oil and brush the puffs with the egg mixture or if you don't have a brush we just dipped them which worked
On a cookie sheet with parchment paper bake the puffs until they are golden brown and crispy about 7-10 minutes
 Serve hot garnished with the cilantro and served with sweet Thai chili sauce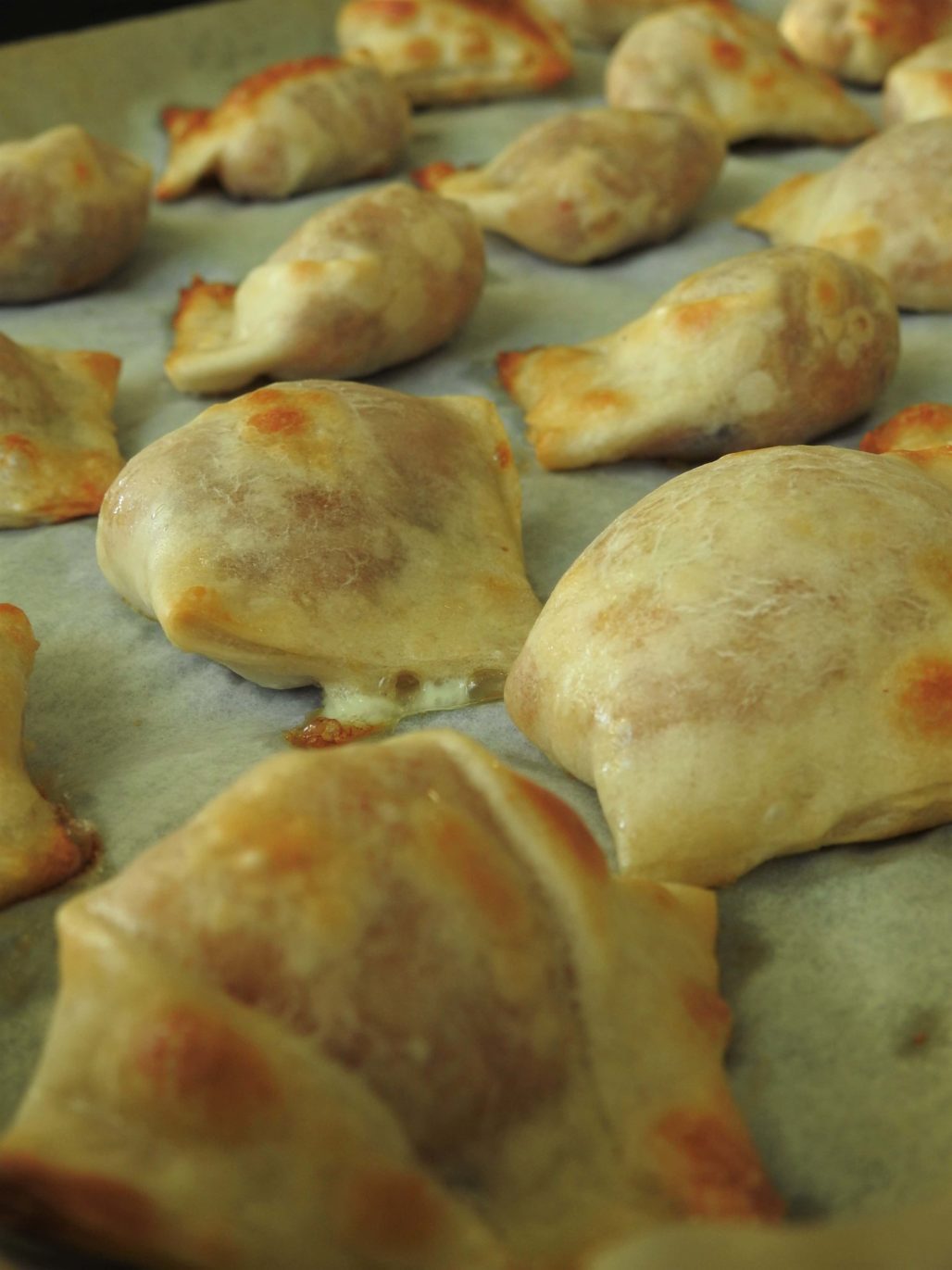 As Always, if you have special health concerns check with your health care provider if any of our ingredients are questionable for you.  When in doubt check it out.  We do our best to improve recipes my wife enjoys making from her home.  We always love hearing new ideas and learning new tricks!  Don't forget about the comments section at the bottom of the post. 
Thai Red Curry Puffs - A Great Appetizer, Snack or Party Dish
This recipe makes approximately 30 curry puffs which is a good amount for a small social or as an appetizer for several people. You can adjust how spicy you want this recipe to be.
Author:
HealthyThaiRecipes
Ingredients
Filling
1 medium russet potato mashed
1 tbsp fish sauce
1 tablespoon low sodium soy sauce
1 tsp chili paste for a little spice or 1 tbsp for more spice
1 tsp red curry paste for a little curry or 1 tbsp
4 tbsp peas
4 tbsp corn
Wrapper
1 egg white
30 whole grain wonton wrappers, if available, regular otherwise
1 tbsp corn starch
2 tbsp water
1 tbsp olive oil
Garnish
A few sprigs of cilantro for garnish
Sweet Thai chili sauce to dip in
Instructions
Boil the potato until it is soft
While the potato is boiling mix together the tbsp corn starch and 2 tbsp water in a small bowl
Mash the potato and combine it with the peas, curry paste, chili paste, low sodium or lite soy sauce and fish sauce into a paste
Heat the oven to 475 degrees F
Use the corn starch solution to make a line around each wonton wrappers with a brush or your finger to create an adhesive film to glue the edges together
place a tsp of the paste onto the center of each wonton wrapper and then fold them into a triangle gluing the edges together with the corn starch
Mix the egg white in a small bowl with a teaspoon of water and oil and brush the puffs with the egg mixture or if you don't have a brush we just dipped them which worked
On a cookie sheet sprayed with oil bake the puffs until they are golden brown and crispy about 7-10 minutes
Serve hot garnished with the cilantro and served with sweet Thai chili sauce
If you like this recipe, you might also like these recipes