This post may contain affiliate links.
Taro is just the root of the commonly known, elephant ear root. This Healthy, Easy, Air-Fried Taro Recipe is a great way to have something that is very similar to potatoes but way easier.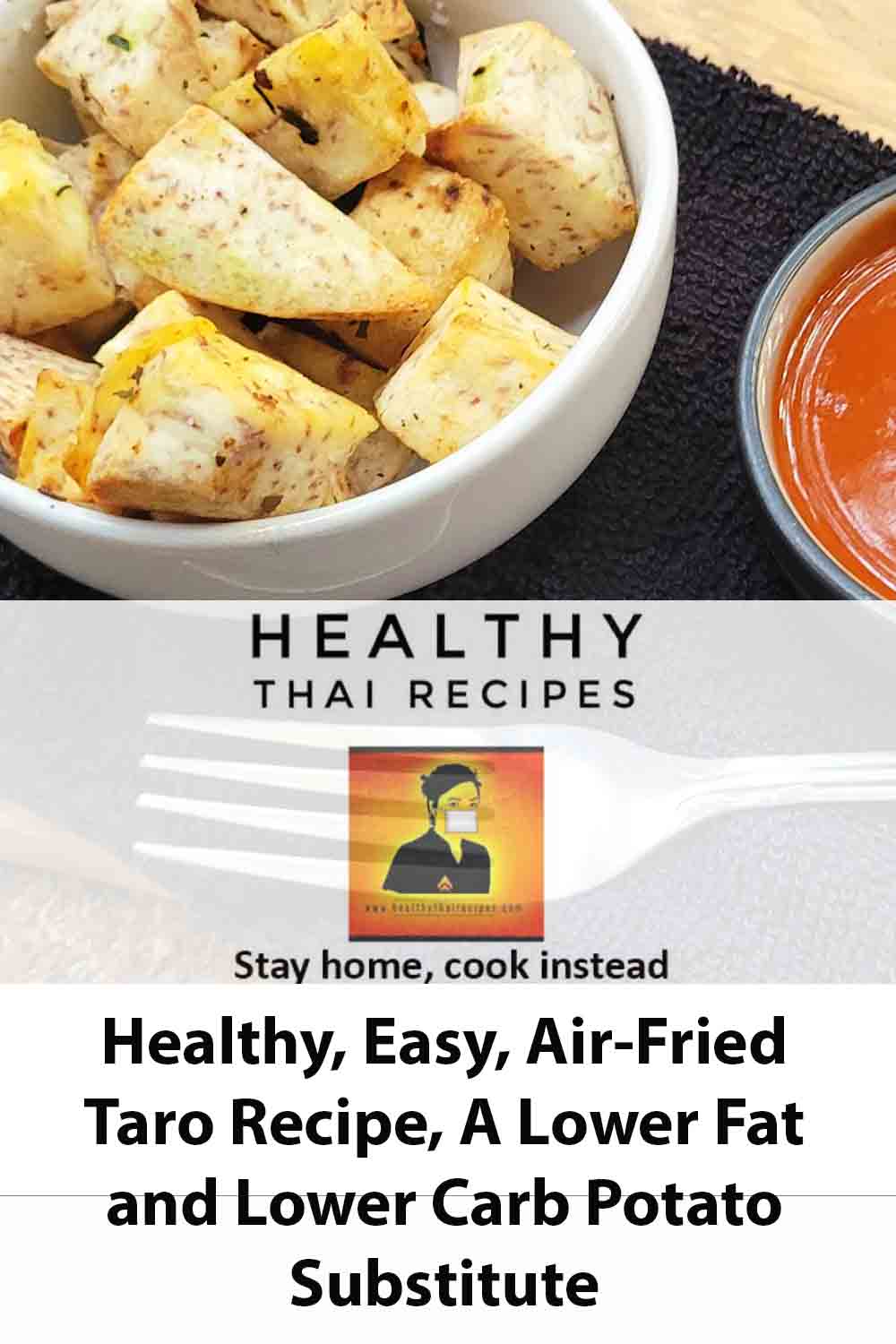 Background content: this recipe is a great substitute to skillet potatoes for something more interesting and with a lower glycemic index.
This was inspired by my article on the dangers of simple carbohydrates/sugars on this site, and pairs well with any of the dishes in our entrees category. Our easy homemade sriracha mayo is a great dipping sauce, or you can buy it premade.
An important note about eating carbs I learned, is that when you eat carbs with protein it lowers triglyceride levels produced. Going for meat like our tiger cry beef made with eye of round, as a lean option or chicken would be an ideal choice.
What is Taro and Why It's Healthier Than Potatoes
Taro is basically, the root of elephant ears, making it similar to potatoes as a root but having a lower glycemic index, which is the rate at which it converts to blood sugar.
Where does taro grow?
Taro is native to Southeast Asia but grows all over the world now as a popular plant for landscaping and agriculture. We live in Houston, Tx, USA, and have it growing on our patio. You can also buy it at local Asian markets.
What kind and size taro to buy?
We use whatever is available and it usually does fine. If it makes a significant difference what size, let me know, but to me, it is analogous to potatoes of different sizes. They are just cut up and cooked anyways. There are several varieties, as far as I know, any of them will work with this recipe.
Jump to:
Ingredients
You can modify these simple ingredients as you like and make them spicy, or leave out the Thai peppers. Below are what we used.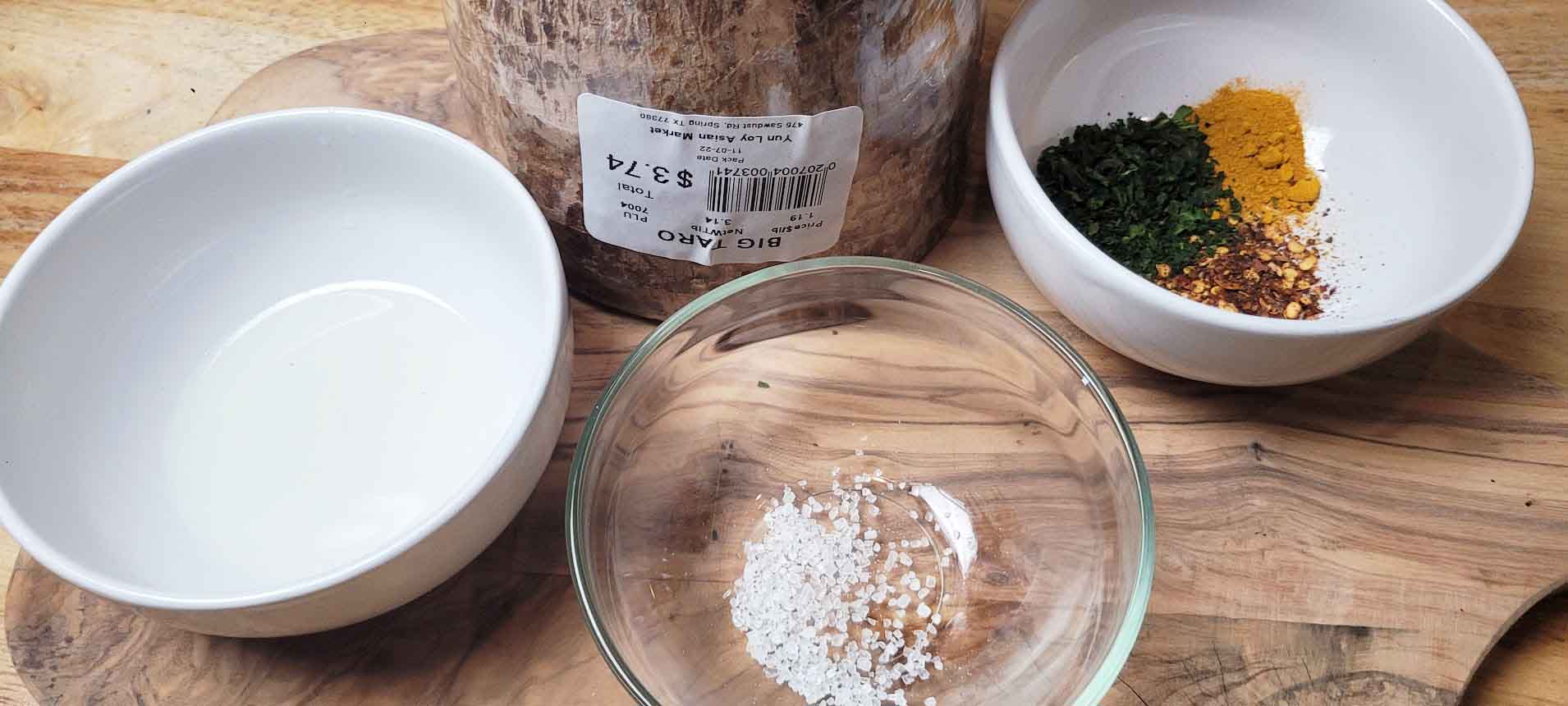 A Healthy Oil
Sea Salt
Crushed Thai Basil or Regular Basil (optional)
Turmeric (optional)
Fresh Ground Pepper (optional)
See the recipe card below for quantities.
Instructions
This is a simple recipe for the air fryer. You basically chop the taro, mix it in a bowl with the other ingredients, and air-fry for 20 minutes at 400 degrees, shaking one or two times to cook evenly. Your model may vary, so it doesn't hurt to sample the taro at about 15 minutes, so as to prevent burning it.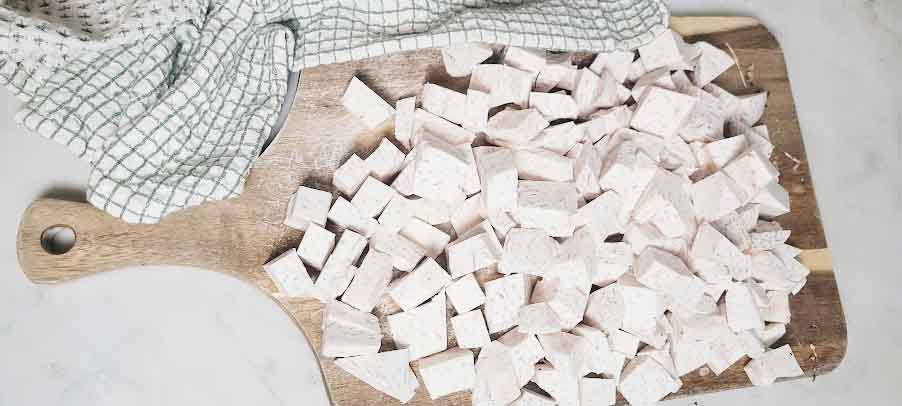 Slice the Taro, starting with slicing the skin off and carefully cutting it into bite-sized pieces.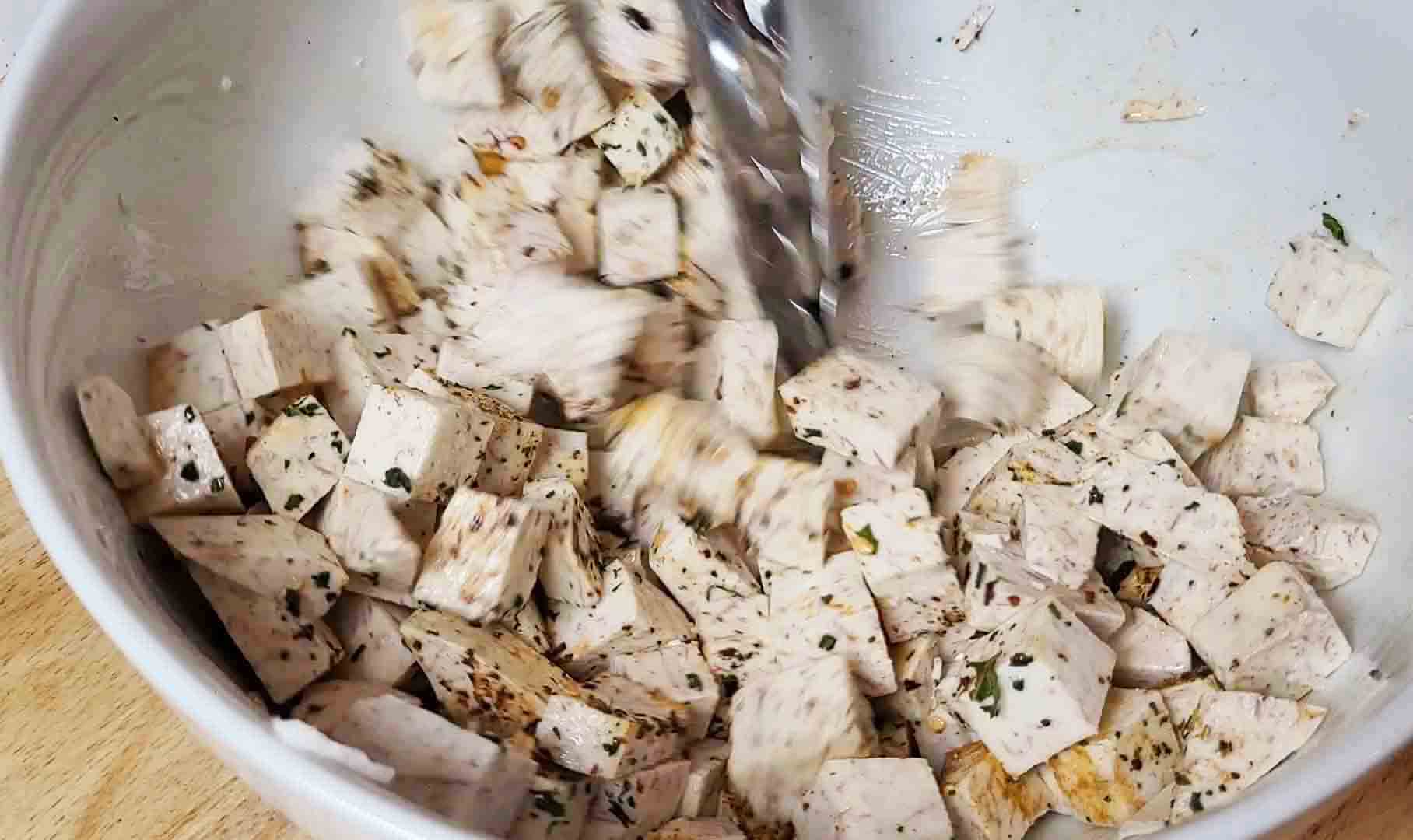 Toss the ingredients together in a large bowl.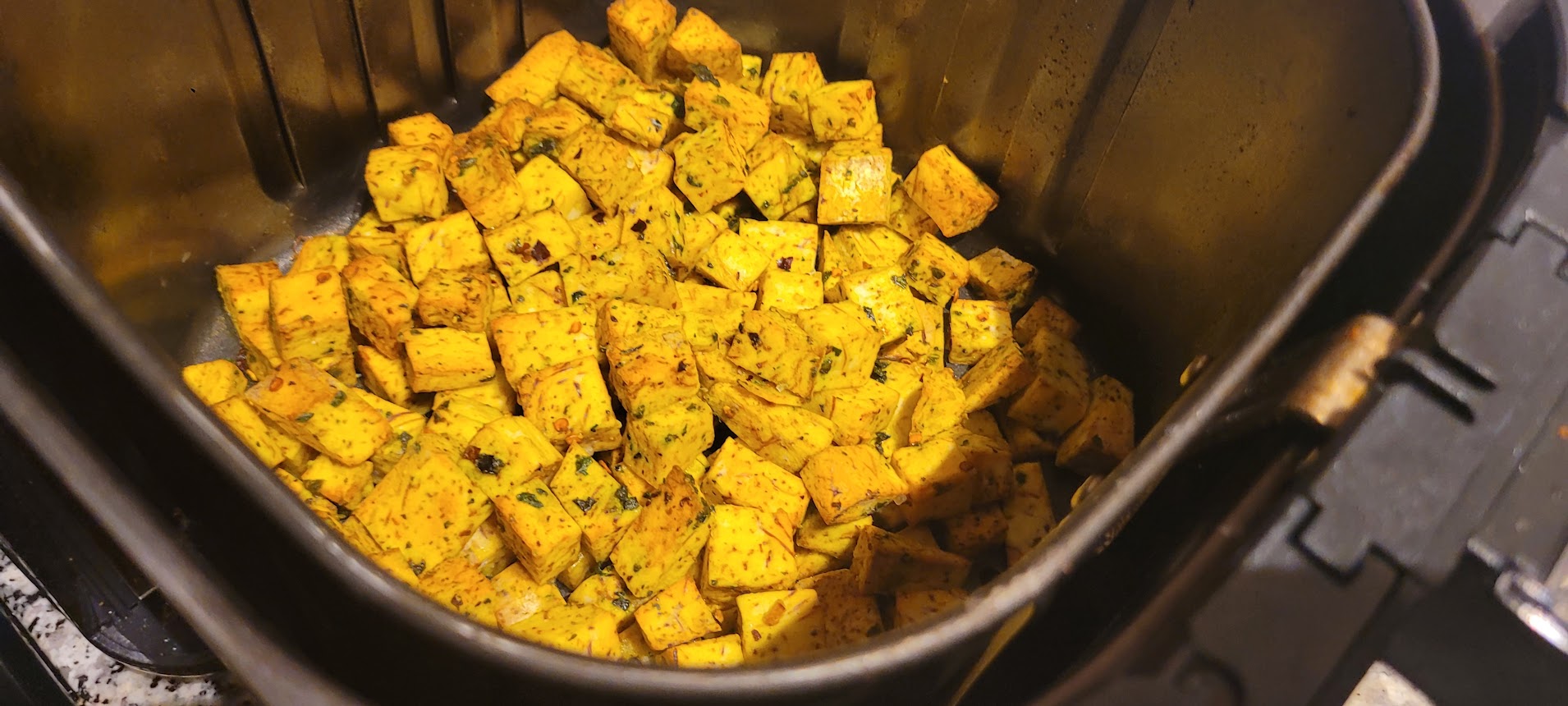 Place in the air fryer in a layer, don't pile them too high. Cook them in multiple batches for 20 minutes at 400 degrees on air-fry mode.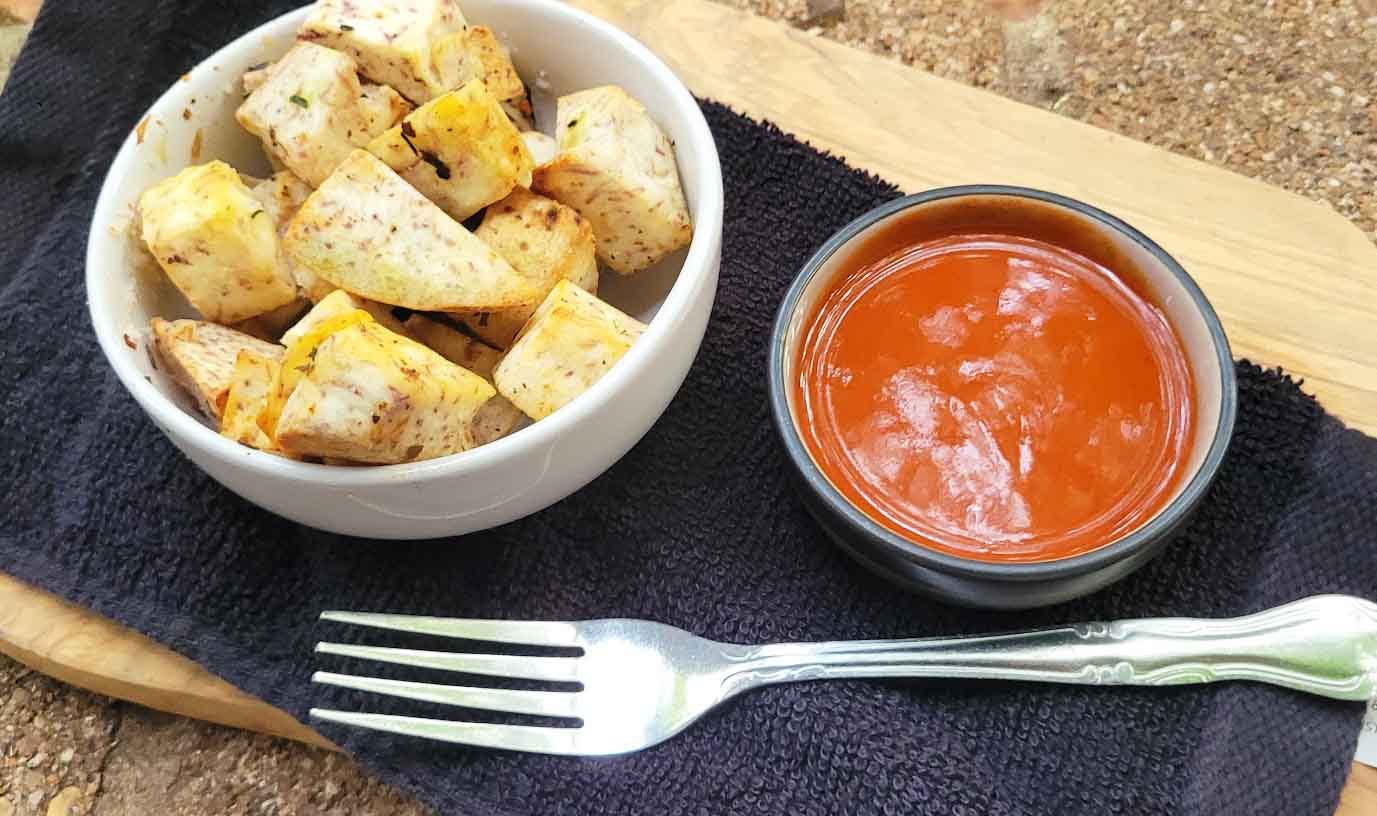 Serve it piping hot with your favorite sauce.
Hint: If you want less mess to clean, add some aluminum foil to the bottom of the air-fryer pan to make clean-up easier. It might interfere with airflow a little but we do it all the time and it's not really noticeably different with our machine.
Substitutions
Be aware of your guests' special needs.
Turmeric - turmeric makes it an interesting yellow color and adds some health benefits, like anti-inflammatory benefits.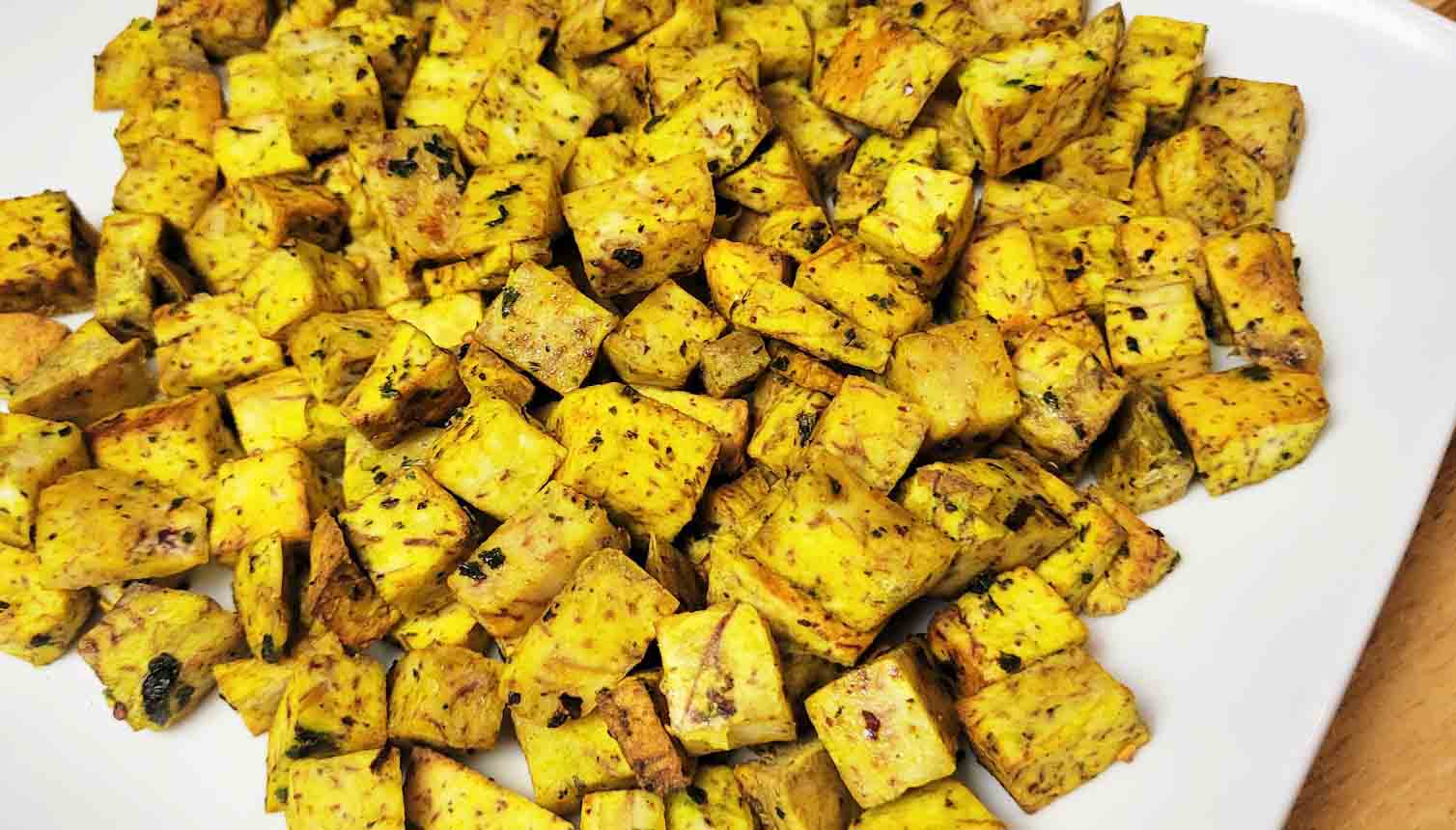 Low Sodium - use a salt substitute or just don't add salt, leave it out for folks with high blood pressure, and or other sensitivities to sodium.
Vegetarian - It's already vegetarian lol!
You can use your imagination for more substitutions. I'd love to learn them and add to this recipe if you have other ideas.
Variations
This might be a recipe you want to do over in over in different remixes. Here are a few ideas to remix it.
Spicy - add chili pepper flakes while cooking to imbue heat into the dish, or fresh chopped Thai peppers sprinkled on top to add color and burn.
Deluxe - add bacon bites, crispy onion, fried shallots, and cheese on top.
Kid-friendly - ketchup and leave out the chili flakes.
Equipment
You will obviously need an air-fryer for this recipe. You can use our affliliate link and get the exact comfee' 5.8 quart one we have. There are slight differences between brands so results may vary slightly. Just follow our parameters as closely as possible and check in on your taro to see how it's going when it's cooking.
Storage
Store, covered in the fridge for a couple of days. This is made from fresh ingredients so longer than 2-3 days you might get a little mold. When in doubt, throw it out.
Top tip
If you have company, you are serving, go easy on the pepper flakes, or put them in a shaker so everyone can customize. I made one batch so spicy I kept sneezing constantly because just the odor of the pepper flakes was going in my nose with every bite.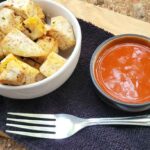 Print Recipe
Healthy, Easy, Air-Fried Taro Recipe, A Lower Fat and Lower Carb Potato Substitute
Taro is just the root of the commonly known, elephant ear root. This Healthy, Easy, Air-Fried Taro Recipe is a great way to have something that is very similar to potatoes but way easier.
Ingredients
2

Cups

Taro

Cut into bite sized pieces

2

tablespoon

Canola Oil

1

tablespoon

Sea Salt

1

teaspoon

Thai pepper

Dried and crushed

1

tablespoon

Basil

Dried flakes, optional

1

teaspoon

Turmeric

Powder, optional

1

teaspoon

Black Pepper

Optional
Instructions
Cut the taro into bite sized pieces

Mix all the ingredients in a large bowl

Air fry at 400 degrees for 20 minutes, shaking and checking on it so it cooks evenly and doesn't burn

Serve hot with your favorite sauce, ketchup, spicy mayo, or by itself.
Notes
As always, your situation is fact dependant, we're just internet people.  We make our healthy Thai recipes as healthy as we can but we are always learning.  Let us know if you have ideas to improve this recipe and when in doubt, check it out with an appropriate health care professional when you have concerns.  
Nutrition
Calories:
66
kcal
|
Carbohydrates:
16
g
|
Protein:
1
g
|
Fat:
0.2
g
|
Saturated Fat:
0.04
g
|
Polyunsaturated Fat:
0.1
g
|
Monounsaturated Fat:
0.02
g
|
Sodium:
1751
mg
|
Potassium:
354
mg
|
Fiber:
3
g
|
Sugar:
0.3
g
|
Vitamin A:
57
IU
|
Vitamin C:
5
mg
|
Calcium:
28
mg
|
Iron:
1
mg
Food safety
Please be safe when you cook, here are some tips.
Cook to a minimum temperature of 165 °F (74 °C)
Do not use the same utensils on cooked food, that previously touched raw meat
Wash hands after touching raw meat
Don't leave food sitting out at room temperature for extended periods
Never leave cooking food unattended
Use oils with high smoking point to avoid harmful compounds
Always have good ventilation when using a gas stove
See more guidelines at USDA.gov.
If you love this appetizer, try one of these: