This post may contain affiliate links.
Mangoes in tamarind chili sauce or a Whole Foods way to get your fruits and you can adapt this to make it as spicy or sweet as you like. Mangos in Tamarind Chile Purée or Sauce are a super easy way to get some whole food sweets.  One of the best things about Thai recipes is that they are often old and traditional.  That means fewer processed ingredients and more whole food ingredients.
Using Whole Food Ingredients
You can easily make a purée with basic ingredients using just Tamarind, ginger, Thai chili peppers in a food processor until it's at your favorite consistency.
Mangoes with tamarind chili sauceMangos in Tamarind Chili Sauce
Mod also uses this recipe to make the same thing she uses for Tiger Cry steak which also contains tamarind and Thai chili peppers.  You don't have to just eat this with mangos either.  You can dip pineapple, apples, Asian pears or whatever your heart desires.
Thai Chili Dipping Sauce, prik glua or substitute tahin
2 tablespoon thinly sliced shallot
2½ tablespoon tamarind concentrate
¼ Truvia
½ teaspoon Thai chili powder
1 thinly chopped green onion
1 tablespoon fish sauce
2 teaspoon Golden Mountain seasoning soy sauce
From this recipe.
Store bought chili dip
A lady we met here in the Houston area makes a more Mexican version of the same thing.  It's like the convergent evolution of foods.  You have a similar country, climate and plant wise, and you see similar recipes evolve.  This one is so similar, in fact, you can just switch them out.
Her's is more fruity than the Tiger Cry version though.  I love them both.  You won't regret it either way you go.  Here are mangos around her dip, which is what we actually used tonight.  You can find her at this Instagram account, PicaQueen, and support a small startup that deserves to go big.  She did not give me her dip, I paid for it and she didn't ask for my help, I just believe in karma.
Without Further Ado, Here is the Recipe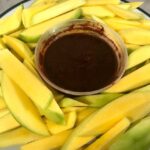 Print Recipe
Mangos In Tamarind Chili Purée or Sauce
Mangos in Tamarind Chili Purée or sauce is a whole foods approach to sweets.
Ingredients
Sauce
2 ½

tablespoon

Tamarind Concentrate

½

teaspoon

Thai Chili

Powder Form or pounded

2

teaspoon

Soy Sauce

Lite, low sodium

1

tablespoon

Fish Sauce
Optional Sauce Spices You Can Add
2

tablespoon

Shallots

Thinly sliced, Optional

1

Green onion

Thinly Sliced, Optional

2

tablespoon

Tahin

Or Prik Glua, Optional
Instructions
Slice the mango into bite sized wedges

Mix the sauce ingredients

Serve Arranged with Dipping Sauce
Notes
As always, we do our best to make all our recipes as healthy as possible.  We are not registered dietitians, nutritionists or doctors, and just aim for eating more whole foods and less processed foods.  We also have personal goals such as lowering our cholesterol by lowering carb intake.  Similarly, your situation is fact dependent so always, when in doubt, check it out with an appropriate professional if you have special dietary needs.    
Nutrition
Calories:
170
kcal
|
Carbohydrates:
33
g
|
Protein:
4
g
|
Fat:
5
g
|
Saturated Fat:
1
g
|
Sodium:
529
mg
|
Potassium:
388
mg
|
Fiber:
4
g
|
Sugar:
28
g
|
Vitamin A:
1710
IU
|
Vitamin C:
60
mg
|
Calcium:
35
mg
|
Iron:
1
mg
If you like this recipe you might also like one of these.
Please Share, Comment, and Let us Know what you think or if you have ideas to improve it.