This post may contain affiliate links.
Grilled Bananas with Sweet Coconut Milk Dipping (กล้วยปิ้งน้ำกะทิ)
Bananas are a tropical fruit that grows in every region of Thailand and is inexpensive. People love bananas and have them in their kitchen to eat it fresh or make recipes out of them. I might be one of the very few people who don't like to eat a fresh banana due to its texture, but I love bananas when they are cooked for example fried bananas, bananas in sweet coconut milk, or grilled bananas coconut dipping! Grilled bananas with sweet coconut milk dipping is an old and traditional Thai street food. There are two styles of grilled bananas that you can find. The first one is they grill whole bananas and sell them with the sweet coconut milk dipping on the side or they cut the bananas into about ½ inch then grill them and flatten them and pour the sweet coconut milk over the bananas.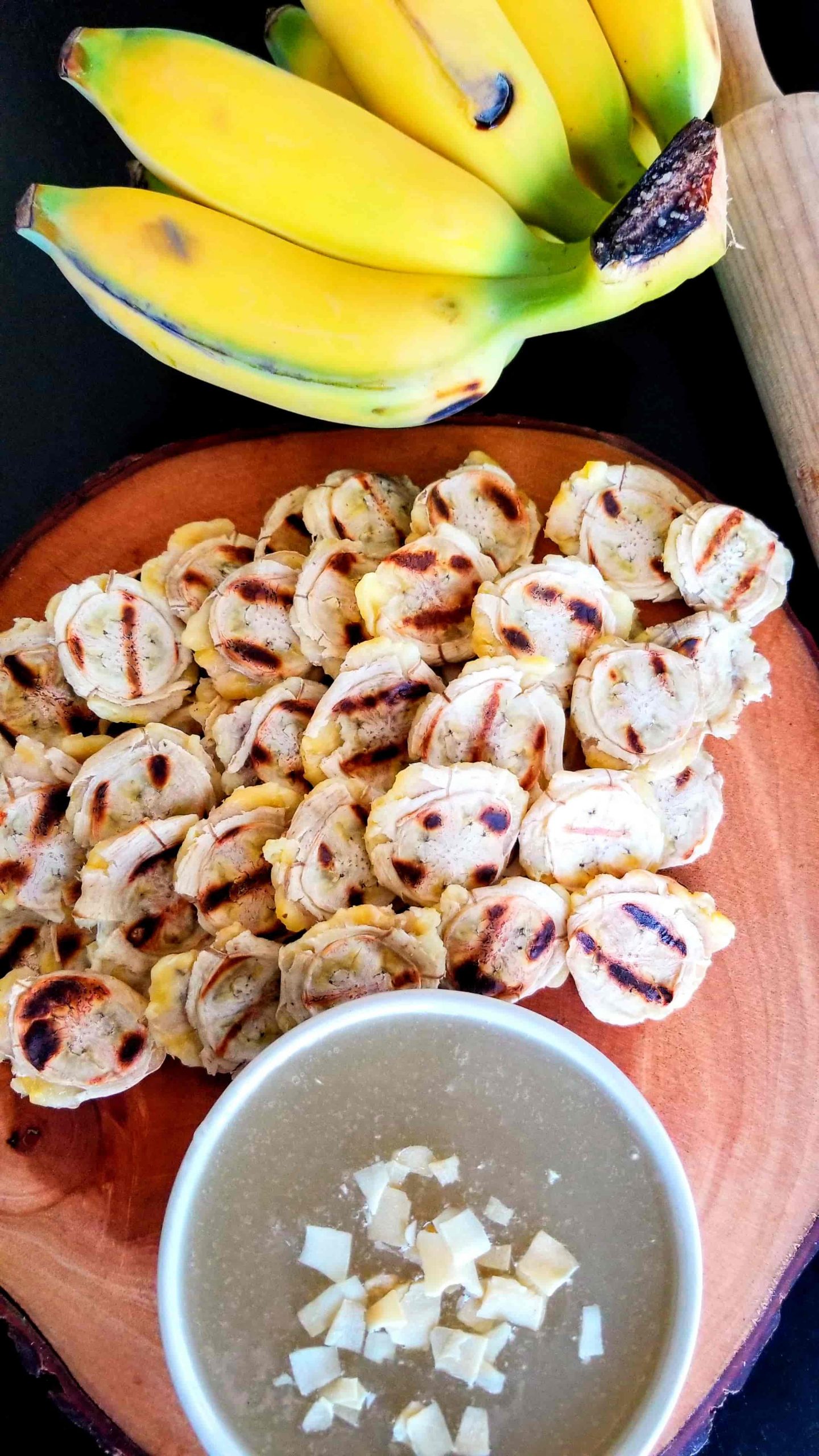 Make a simple fruit to something tastier and fancier
Serving fresh bananas to your guests sounds like a "no-no" thing; it makes you look cheap and your guests probably feel like you do not prepare yourself for their appearance. Grilled bananas with sweet coconut milk dipping are one of the genius methods to make a simple and inexpensive fruit more presentable on a table when you have guests at home. You can simply change the plain bananas into gourmet dessert with this recipe that I about to share with you.
To make Grilled Bananas with Sweet Coconut Milk Dipping
It is very easy and effortless to make this recipe. To make it, you need a grill. You can electric grill or stovetop grill or a charcoal grill to grill the bananas. For this recipe, I use a George Foreman electric grill, and I set it up to the high heat. I cut the bananas into ½ inch and grill them both sides (5 minutes on each). While I am doing that I also prepare the dipping. The dipping requires only 4 ingredients including coconut cream, olive oil butter, Stevia, and salt. Combine all the ingredients into a small pot and cook them in medium-low heat, stir the sauce occasionally so it won't burn. When the bananas are ready, use a rolling pin to flatten them and they are ready to be served!
Here's the recipe!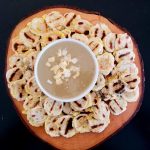 Print Recipe
Grilled Bananas with Sweet Coconut Milk Dipping (กล้วยปิ้งน้ำกะทิ)
A very easy and yummy recipe that would change simple bananas into gourmet dessert!
Equipment
Electric or stovetop grill

Rolling pin

Pot
Ingredients
1

cluster

Bananas

13.5

oz

Unsweet Coconut Cream

½

cup

Stevia

2

tablespoon

olive oil butter

⅛

teaspoon

salt
Instructions
Heat a small pot on medium-low heat.

Add coconut cream, Stevia, butter, and salt into the pot.

Simmer all the ingredients together and occasionally stir the pot, so the sauce is not burning. Simmer the sauce for 15 minutes and turn off the stove and let the sauce cool down.

Peel the bananas and cut them into ½ inch.

Turn the electric stove on high heat (450 Fahrenheit).

Grill bananas 5 minutes on each side

Serve the grilled bananas with the dipping sauce on the side or pour the sauce over them.
Nutrition
Calories:
2779
kcal
|
Carbohydrates:
83
g
|
Protein:
20
g
|
Fat:
282
g
|
Saturated Fat:
239
g
|
Polyunsaturated Fat:
4
g
|
Monounsaturated Fat:
9
g
|
Sodium:
612
mg
|
Potassium:
2109
mg
|
Sugar:
1
g
|
Vitamin C:
6
mg
|
Calcium:
100
mg
|
Iron:
13
mg
If you like this recipe, you may like