This post may contain affiliate links.
Sweet Coconut Milk Dipping Sauce
Fresh fruits and vegetables are some of the best whole foods.  It is something that we should (must) consume them every day or meal.  But sometimes eating the same things over and over again gets trite and dull.  I made the Sweet coconut milk dipping sauce the other days to pair it with a grilled bananas recipe.  We have some left-over of the dipping.  So my husband decides to heat it up and cut up some of the green apples.  He pairs those green apples with the dipping sauce instead of peanut butter like we used to do.  Voila, we have a new recipe for our snacks!!
Making the Dipping Sauce
It's very easy to make this recipe.  You need only 4 ingredients which include coconut cream (unsweetened), Stevia, olive oil butter, butter or a healthy butter alternative and salt.  Simmer all these ingredients in a saucepan for 15 minutes on medium-low heat and stir it, so the bottom part won't burn!
This dipping sauce reminds me of a caramel sauce as you would eat on caramel apples.  The big difference between these two would be the sweet coconut milk dipping uses the coconut cream, and the caramel sauce uses the heavy cream.  To be honest, both of those ingredients have pretty much the same of grams of fat (1 tablespoon serving, coconut cream has 3 grams of fat and heavy cream has 2.9 grams of fat).  The difference between these two is the coconut cream doesn't contain any cholesterol but the heavy cream contains 10 mg of cholesterol for 1 tablespoon serving.
Thank goodness for my husband's idea for repurposing the sauce, now I have another recipe that I can share with my friends.  This is an easy and budget-friendly recipe for any potluck!
Here's the recipe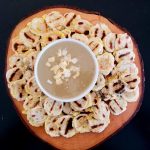 Print Recipe
Sweet Coconut Milk Dipping Sauce
Easy dipping sauce recipe with a hint of tropical taste for your next potluck recipe.
Ingredients
13.5

oz

Coconut Cream

unsweetened

½

cup

Stevia

2

tablespoon

Olive oil butter

⅛

teaspoon

salt
Instructions
Heat the saucepan on medium-low and add coconut cream, Stevia, and olive oil butter into the saucepan. Simmer the ingredients for 15 minutes and keep stirring the sauce, so the bottom portion won't get burnt.

Turn off the stove and all salt into the saucepan, stir the saucepan to dissolve the salt with the other ingredients.

Let the dipping sauce to cool down. Wahs and cut-up the fresh fruits and vegetables as your choices such as green and red apples, strawberries, carrots, celery, tomatoes, and so on.
Nutrition
Calories:
1263
kcal
|
Carbohydrates:
25
g
|
Protein:
14
g
|
Fat:
133
g
|
Saturated Fat:
118
g
|
Sodium:
306
mg
|
Potassium:
1244
mg
|
Fiber:
8
g
|
Vitamin C:
11
mg
|
Calcium:
42
mg
|
Iron:
9
mg
If  you like this, you may like