Esta receta de Mama Pad Indomie es una que se nos ocurrió, para copiar un plato que compré en Asia Market, a la salida de la I-45 cerca del centro de Houston, Tx . Es un concepto realmente interesante de un restaurante tailandés, probablemente más común en Tailandia. Puede tomar algo de comida cocinada, así como todos los ingredientes para hacer lo mismo en casa. La cocinera es una señora tailandesa que inició el híbrido restaurante/supermercado. Es difícil encontrar ingredientes como el brócoli chino y las glorias de la mañana para saltear.
¿Qué es Indomie?
Indomie , es una marca de fideos, en realidad, con sede en Indonesia. Como tantos alimentos como la Coca-Cola, la marca ha pasado a ser el nombre de la categoría en general, como ocurre con esta receta. Se puede decir, esto es algo genuino, hecho por una mamá tailandesa, su hijo era mi mesero, y creo que nos llevamos bien. De esto está hecha la comida tailandesa, las familias inventan recetas deliciosas con su propio toque.
sustituciones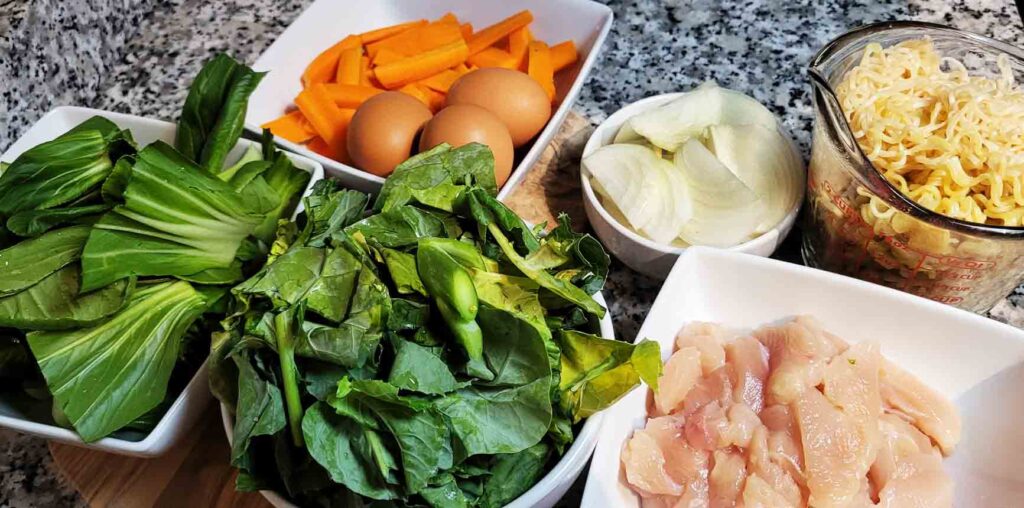 Puede hacer esto con cualquier tipo de fideos secos y rápidos, como el Ramen original, que obtiene en cualquier lugar. También puede sustituir el brócoli chino por brócoli normal o algún otro tipo de verde. No recomiendo sustituir las cebollas y el ajo a menos que no te gusten. Son la base del sabor y lo hacen tan delicioso, aromático y sabroso. Agregan sabor natural, libre de sodio y grandes olores. Las salsas son más intercambiables.
Fideos más saludables
Puedes usar fideos mama, o cualquier tipo de fideos en realidad, lo que sea que flote tu bote. Si eres como yo, querrás controlar tus carbohidratos, especialmente los carbohidratos simples. Se convierten en colesterol, bueno y malo, tengo demasiado. Puedes elegir una opción más saludable como estas hechas con arroz integral. Podría optar por una opción de frijoles como estos y disminuir los carbohidratos pero aumentar su producción de gas. 🙁
Mama Pad Indomie
This Mama Pad Indomie recipe is a stir-fried noodle, protein and vegetable dish. We copied one of our favorite Thai restaurants for this amazingly delicious, noodle dish.
Ingredientes
2

Cups

ramen noodles

3 packages of mama, instant noodles or any 3 oz dry noodle package you choose. Something whole grain preferably.

2

Cups

bok choy

Basically 2 regular bok choy, or do as you wish, sliced into bite-sized pieces.

2

Cups

Broccoli

Chinese broccoli Cut into bite sized pieces.

3

eggs

Large, or egg whites to decrease cholesterol

1

Chicken breast

Sliced to bite sized.

1

Carrot

Sliced into bite sized pieces

½

Cup

Onion

Sliced, whatever variety you prefer.
Sauces
3

tablespoon

Canola oil

1 tablespoon for cooking eggs, and the rest for stir-fry

2

tablespoon

Sweet soy sauce

2

tablespoon

Sriracha

0-1 tablespoon for less spicy 3 for more

2

tablespoon

Oyster Sauce

1

tablespoon

Thin Soy Sauce

¼

teaspoon

salt

¼

teaspoon

black pepper
Elaboración paso a paso
Prepping the noodles
Boil a couple cups of water in a sauce pan.

Cook the dry noodles until soft.

Drain the noodles and put aside.
Stir-frying
Add 1 tablespoon canola oil in a skillet or wok on high heat.

Then add 3 eggs, cook the eggs, and put them in a separate bowl.

In the same wok, add 2 tablespoon canola oil, and follow with the chicken breast. Seasoned the chicken with salt and pepper, and continue to stir-fry until cooked through.

Add in the vegetables and sauce and continue to stir-fry until mixed together.

Add in the noodles and eggs, continue cooking to your desired level of toughness.

Serve with whatever garnish and sauces you prefer on the side.
Notas
As always, we make our healthy Thai recipes as healthy as we can.  Your health is highly individual and fact dependant, so when in doubt, check it out with a professional dietician, nutritionist or doctor.  We are not doctor's or dieticians and are just a mixed couple, White guy and Thai girl, trying to rehab Thai food, and share as our healthy, Thai recipes.  Please share your ideas for improvements in our comments section below.  We love your ideas!  Please share our recipes on your favorite social media platform to help us pay our bills. 🙂 
Nutrition
Sodio:
3150
mg
Calcio:
127
mg
Vitamina C:
65
mg
Vitamina A:
4615
IU
Azúcar:
11
g
Fibra:
5
g
Potasio:
791
mg
Colesterol:
159
mg
Calorías:
703
kcal
Grasa Transgénica:
1
g
Grasa monosaturada:
9
g
Grasa polinsaturada:
3
g
Grasa saturada:
10
g
Grasa:
23
g
Proteina:
31
g
Carbohidratos:
92
g
Hierro:
6
mg