This post may contain affiliate links.
This Mama Pad Indomie recipe is one we came up with, to copy a dish I got at Asia Market, off of I-45 near downtown Houston, Tx. It is a really interesting concept of a Thai restaurant, probably more common in Thailand. You can grab some cooked food as well as all the ingredients to make the same thing at home. The cook is a Thai lady who started the hybrid, restaurant/ grocery store. It has hard to find ingredients like Chinese broccoli and morning glories to stir-fry.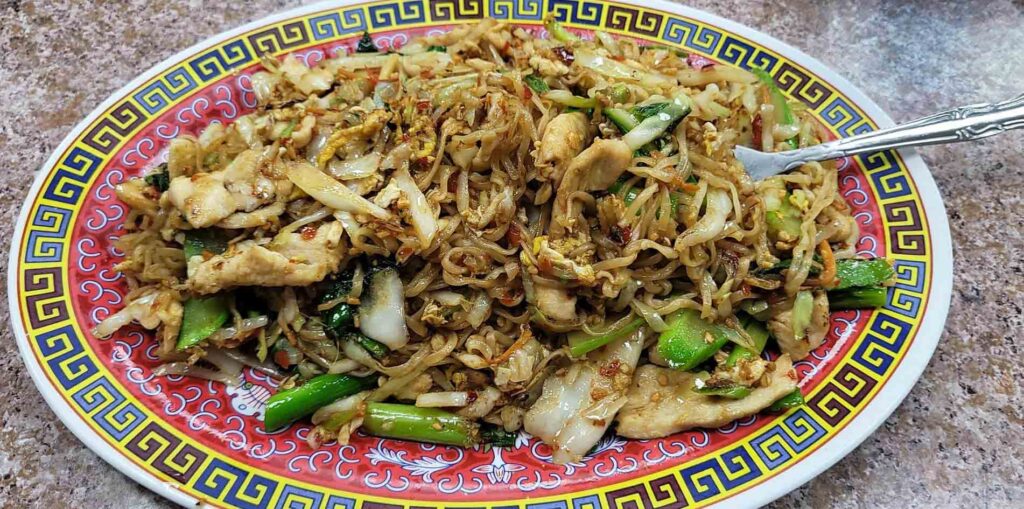 What is Indomie?
Indomie, is a brand of noodles, actually, based out of Indonesia. Like so many foods such as Coke, the brand name has come to be the name of the category in general, as with this recipe. You can tell, this is genuine stuff, made by a Thai mama, her son was my waiter, and I think we hit it off. This is the stuff Thai food is made of, Families, inventing recipes that are delicious with their own touch.
Substitutions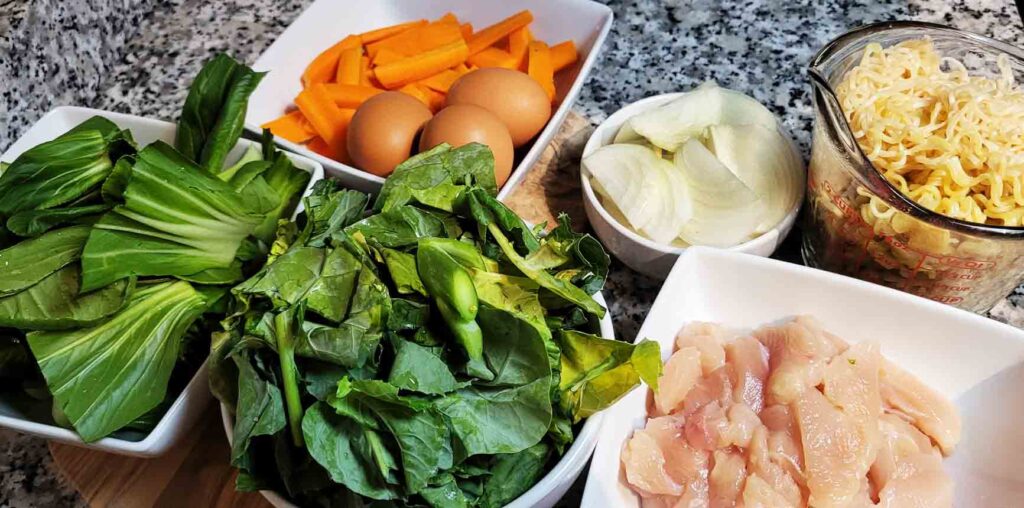 You can make this with any kind of dry, quick noodles, such as the original Ramen, you get anywhere. You can also substitute out the Chinese Broccoli, for regular broccoli, or some other kind of green. I don't recommend substituting out the onions and garlic unless you don't like those. They are the base of flavor and make it so delicious, aromatic, and flavorful. They add natural, sodium-free flavor, and great smells. The sauces are more interchangeable.
Healthier Noodles
You can use mama noodles, or any kind of noodles really, whatever floats your boat. If you are like me, you want to watch your carbs, especially simple carbs. They turn into cholesterol, good and bad, I have too much. You can choose a healthier option like these made with brown rice. You could go for a bean option like these and decrease carbs but increase your gas output. 🙁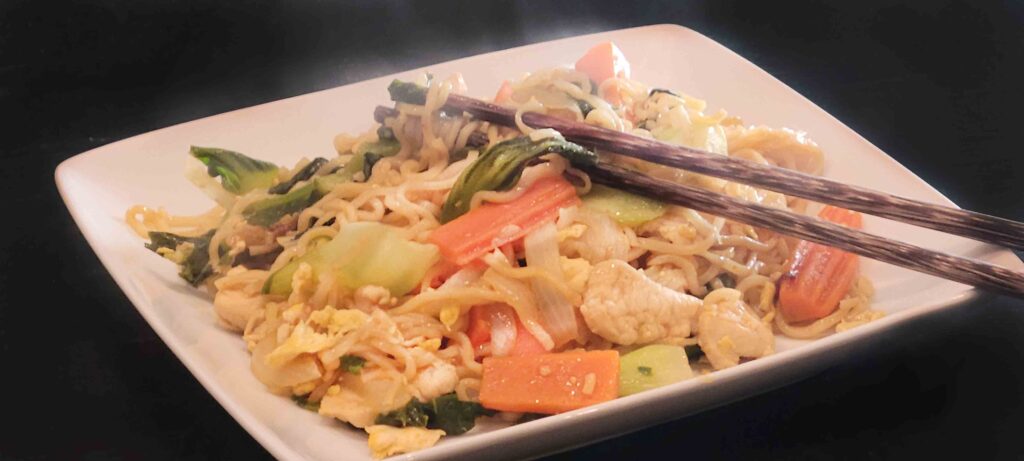 Video Walk-through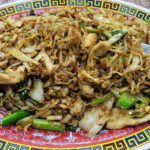 Print Recipe
Mama Pad Indomie
This Mama Pad Indomie recipe is a stir-fried noodle, protein and vegetable dish. We copied one of our favorite Thai restaurants for this amazingly delicious, noodle dish.
Ingredients
2

Cups

ramen noodles

3 packages of mama, instant noodles or any 3 oz dry noodle package you choose. Something whole grain preferably.

2

Cups

bok choy

Basically 2 regular bok choy, or do as you wish, sliced into bite-sized pieces.

2

Cups

Broccoli

Chinese broccoli Cut into bite sized pieces.

3

eggs

Large, or egg whites to decrease cholesterol

1

Chicken breast

Sliced to bite sized.

1

Carrot

Sliced into bite sized pieces

½

Cup

Onion

Sliced, whatever variety you prefer.
Sauces
3

tablespoon

Canola oil

1 tablespoon for cooking eggs, and the rest for stir-fry

2

tablespoon

Sweet soy sauce

2

tablespoon

Sriracha

0-1 tablespoon for less spicy 3 for more

2

tablespoon

Oyster Sauce

1

tablespoon

Thin Soy Sauce

¼

teaspoon

salt

¼

teaspoon

black pepper
Instructions
Prepping the noodles
Boil a couple cups of water in a sauce pan.

Cook the dry noodles until soft.

Drain the noodles and put aside.
Stir-frying
Add 1 tablespoon canola oil in a skillet or wok on high heat.

Then add 3 eggs, cook the eggs, and put them in a separate bowl.

In the same wok, add 2 tablespoon canola oil, and follow with the chicken breast. Seasoned the chicken with salt and pepper, and continue to stir-fry until cooked through.

Add in the vegetables and sauce and continue to stir-fry until mixed together.

Add in the noodles and eggs, continue cooking to your desired level of toughness.

Serve with whatever garnish and sauces you prefer on the side.
Notes
As always, we make our healthy Thai recipes as healthy as we can.  Your health is highly individual and fact dependant, so when in doubt, check it out with a professional dietician, nutritionist or doctor.  We are not doctor's or dieticians and are just a mixed couple, White guy and Thai girl, trying to rehab Thai food, and share as our healthy, Thai recipes.  Please share your ideas for improvements in our comments section below.  We love your ideas!  Please share our recipes on your favorite social media platform to help us pay our bills. 🙂 
Nutrition
Calories:
703
kcal
|
Carbohydrates:
92
g
|
Protein:
31
g
|
Fat:
23
g
|
Saturated Fat:
10
g
|
Polyunsaturated Fat:
3
g
|
Monounsaturated Fat:
9
g
|
Trans Fat:
1
g
|
Cholesterol:
159
mg
|
Sodium:
3150
mg
|
Potassium:
791
mg
|
Fiber:
5
g
|
Sugar:
11
g
|
Vitamin A:
4615
IU
|
Vitamin C:
65
mg
|
Calcium:
127
mg
|
Iron:
6
mg
Please share our recipe posts to your favorite social media, such as Pinterest!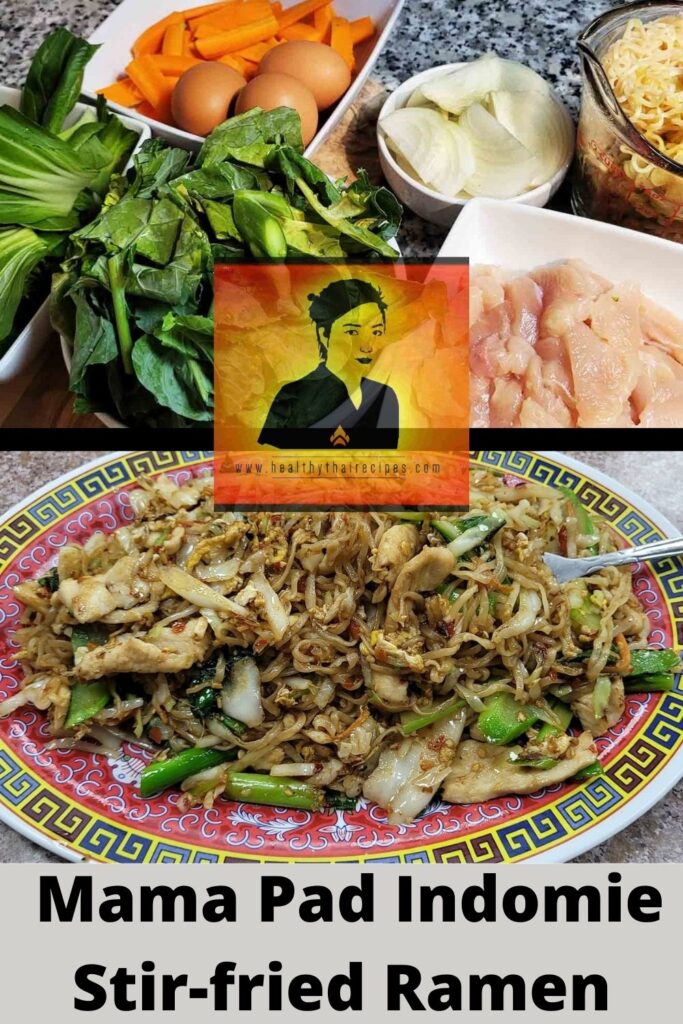 If you love stir-fried noodles, try some of these recipes below.