This post may contain affiliate links.
This easy Organic Stir-fry Recipe Using Shop Farmbox Direct
recipe idea is a way to stay safe.  You can avoid touching the fomites at the store and all the stops along the way.   You can get several size boxes of fresh, organic produce delivered.  It takes out a lot of the friction of reducing health risks.  It's also enjoyable, we enjoyed the anticipation.  You get this big box of stuff you can't find at a lot of supermarkets and it's fun not knowing exactly what you are going to get.
Jump to Recipe
Thai Stir-fry
There are some subtle differences in what makes a stir-fry Thai.  I used this recipe I found on the spruce, and my wife quickly responded that she has never seen that much sauce in Thai stir-fry.   I can always count on her to give me an honest assessment.  Last night I finished the ingredients by trying again and this time I used too much fish sauce for my second attempt.  The recipe I am sharing got completely consumed by her but the second bout was left with only a few bites taken and a response, "too salty".  Gordon Ramsey and her would get along in assessing my cooking.
The main ingredients that tend to be more unique to Thai food are galangal, Thai chilis, and Thai basil and here, coconut milk to start with a few.  I always go for light versions of ingredients, organic when possible, and low sodium as well.  You can always substitute low sodium soy sauce for fish sauce to Westernize a bit more.   I used the Spruce eats recipe as inspiration but changed several of the ingredients.
The Sauce
You don't have to make so much sauce but it's my favorite part so I go all in.  Here are the ingredients.  I have found that cooking is way more fun when you get everything cut and prepped before the time-intense part begins.
The Printable Recipe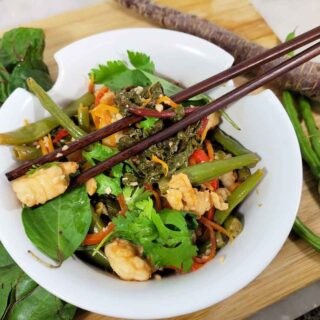 Easy Organic Stir-fry Recipe Using Farmbox Direct
This Stay Home Stay Safe Organic Stir-fry Recipe Using Shop Farmbox Direct! recipe idea is a way to stay safe.  You can avoid touching the fomites at the store and all the stops along the way.
Ingredients
1

pound

shrimp

Large, Peeled

1

cup

green onions

½

cup

galangal

2

Thai peppers

Fresh, Seeds removed and minced

1

cups

green beans

ends cut off

2

cups

red chard

1

bell pepper

Sliced into strips

1

cup

Thai basil

1

cup

light coconut milk

2

tablespoon

canola oil

½

cup

Cilantro

Optional for garnish
Sauce
1

tablespoon

Oyster Sauce

Optional

2

tablespoon

soy sauce

Can substitute fish sauce which is more typical but I was trying to reduce sodium but go for light soy sauce if you use soy sauce

1

teaspoon

stevia

3

tablespoon

lime juice
Instructions
Get all the ingredients read as imaged above so you are ready when the wok is hot.

Combine the sauce ingredients, lime juice, soy sauce, coconut milk and stevia and mix.

Mix with the shrimp and marinate for several minutes or up to a day in the refrigerator.

Heat the wok to medium-high and add the oil and then the galangal, garlic, onions, peppers and stirfry for a few minutes.

Add the chicken and green beans and cook until opaque.

Add the rest of the vegetables and stir fry until they are soft but not mushy.

Taste and adjust as needed.
Nutrition
Calories:
269
kcal
Carbohydrates:
12
g
Protein:
26
g
Fat:
12
g
Saturated Fat:
4
g
Cholesterol:
286
mg
Sodium:
1595
mg
Potassium:
409
mg
Fiber:
2
g
Sugar:
3
g
Vitamin A:
2940
IU
Vitamin C:
65
mg
Calcium:
212
mg
Iron:
4
mg
If you like this recipe please try farm box direct who we are an affiliate of and you might also like one of these recipes to use their ingredients with.
Easy Copycat Panera Asian Sesame Salad With Chicken, สลัดงาเอเชียไก่
Post Contains Sponsored Content Via Free Ingredients from Farmbox Direct.
Please comment, like, and share on social media.