This post may contain affiliate links.
Something that I learned with my Thai family is that you can eat morning glories! My wife and her mom grew up eating them. Here is my Thai mom's recipe for the beautiful flowering plants.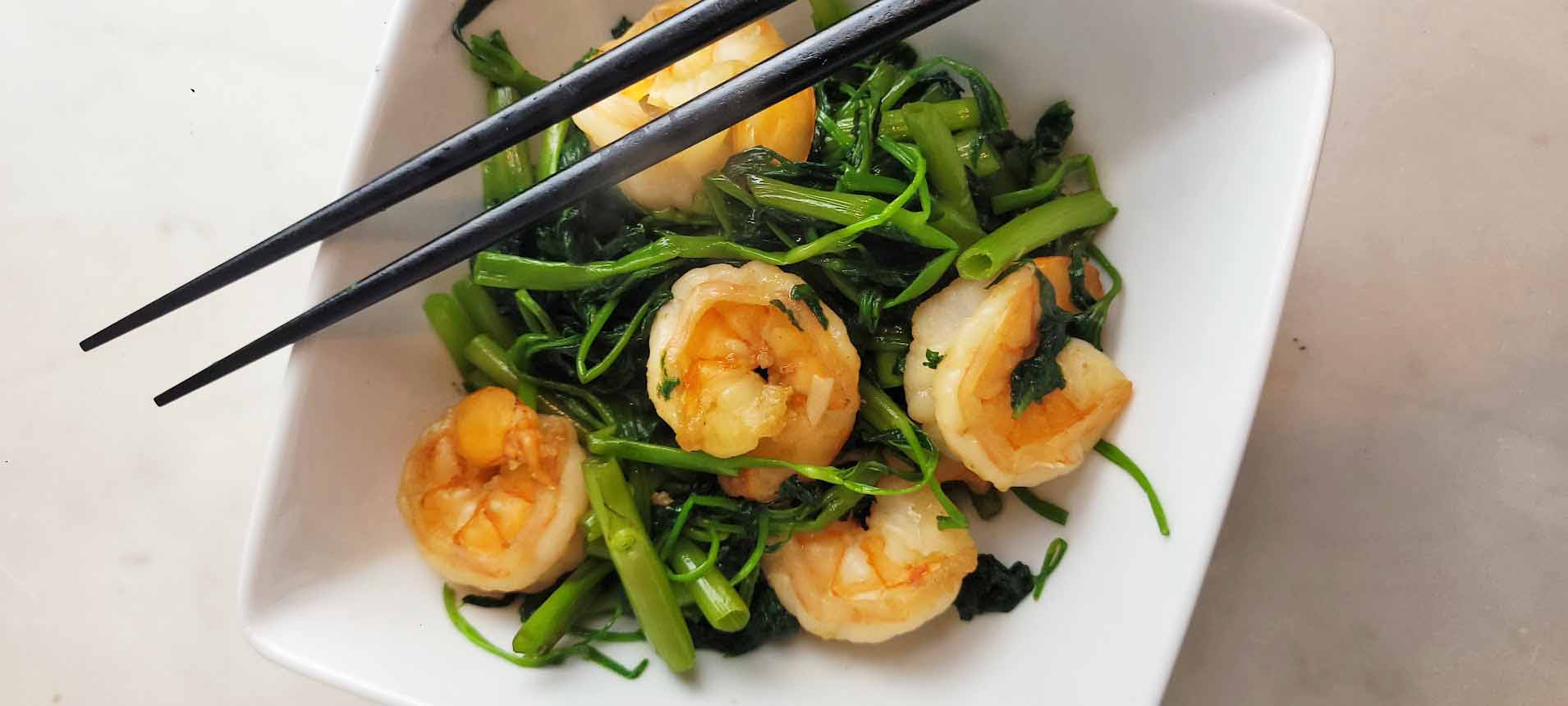 Background content: In Thailand, this is available all year round, as a crop that is actively harvested as an ingredient. It's often called water spinach, swamp cabbage, or water convolvulus. You can see it being farmed in the youtube video. It's available wherever Asian food is. We bought it in a small, mom-and-pop style, Thai supermarket here in the Houston, Texas area.
This was inspired by my Thai Mom's other stir-fried recipe on this site, which could be used exactly, just substituting in or adding in morning glory rather than, or in addition to broccoli. Morning glory pairs well with anything but we had it with basmati rice. Any healthy rice or noodles will go well, use our guide to choosing healthier types of rice to pick and cook one.
Jump to:
Ingredients
The ingredients are simple and you could use hoisin sauce instead of oyster sauce. You can also just leave stuff out if you want and just salt the veggies a little. This is how she did it though.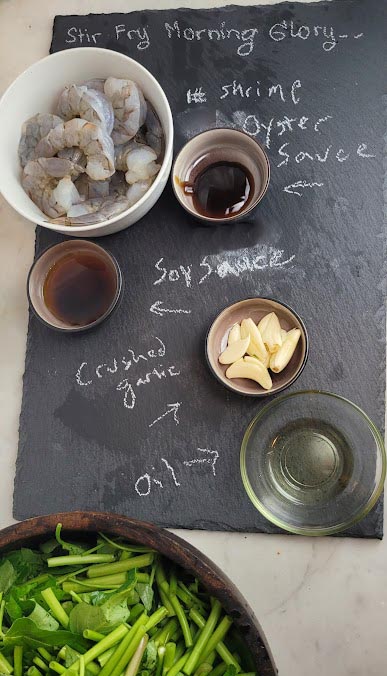 Peeled Large Shrimp
Sliced Morning Glories
Oyster Sauce
Crushed, Fresh Garlic
Canola Oil
Low Sodium Soy Sauce
See the recipe card for quantities.
Instructions
I always like to get all the ingredients ready prior to cooking. You will want to be ready, so you don't overcook anything, especially with stir-fry, because it goes fast.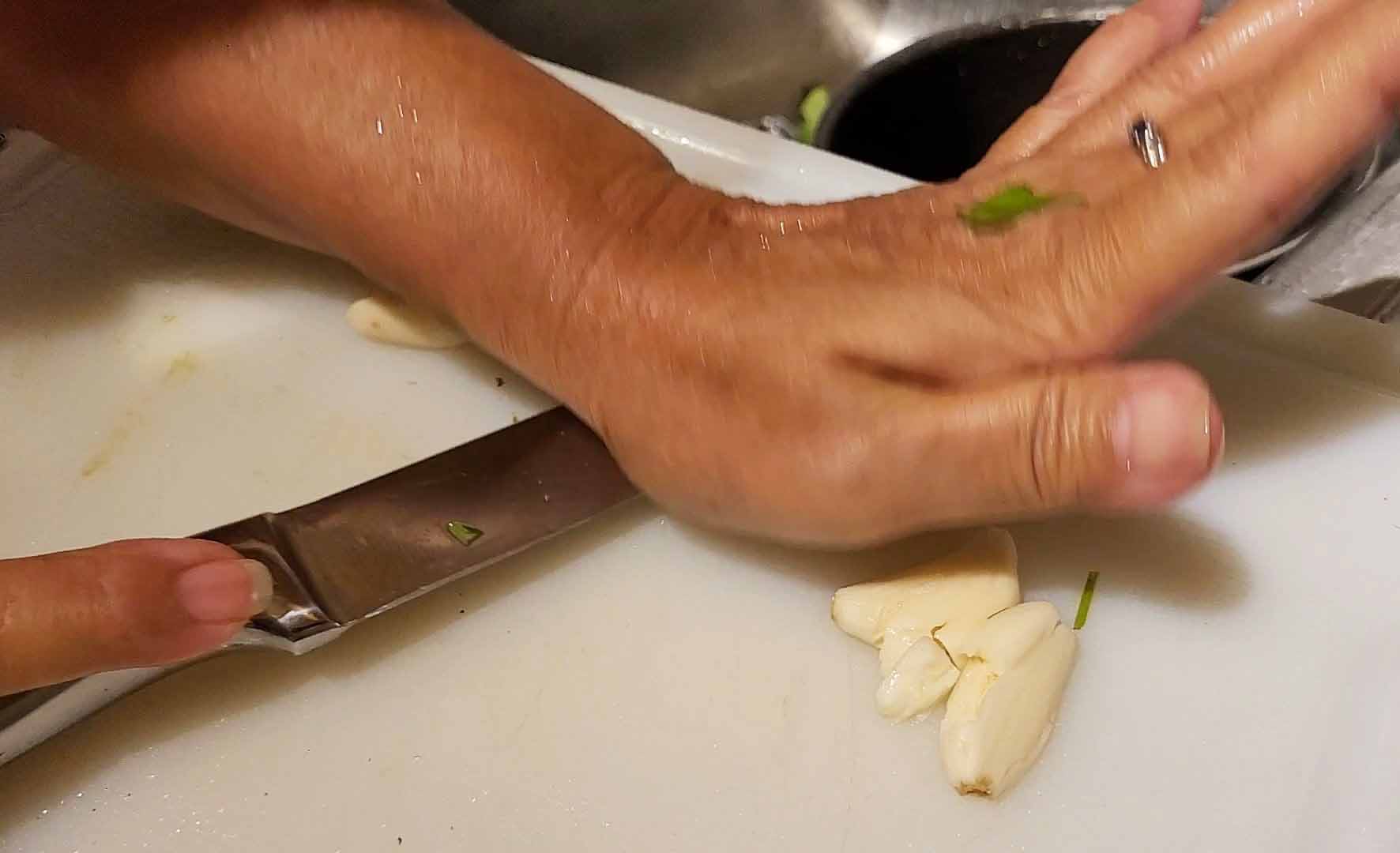 Carefully using a knife or garlic crusher, crush several peeled garlic cloves to release all their aromatic and delicious oils.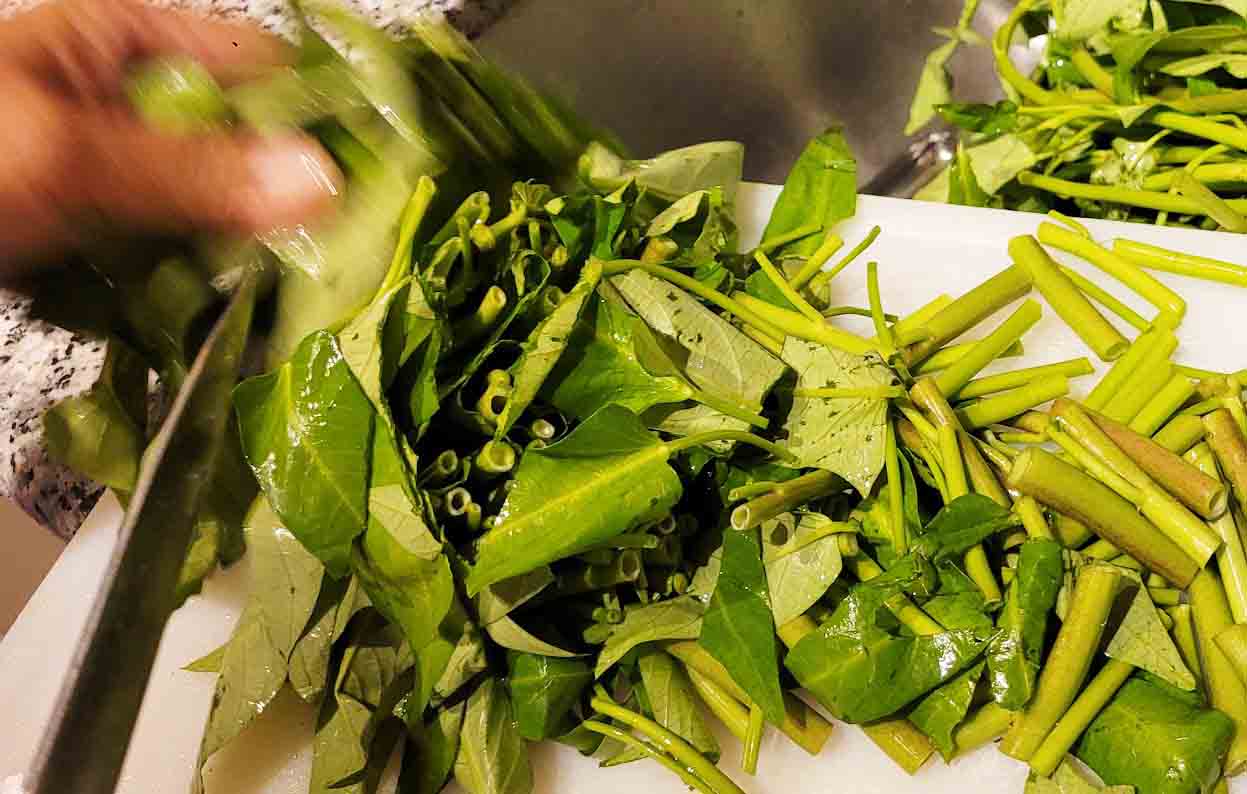 Rinse and chop the morning glory, stems, and all, and place in a bowl, ready to add to the wok.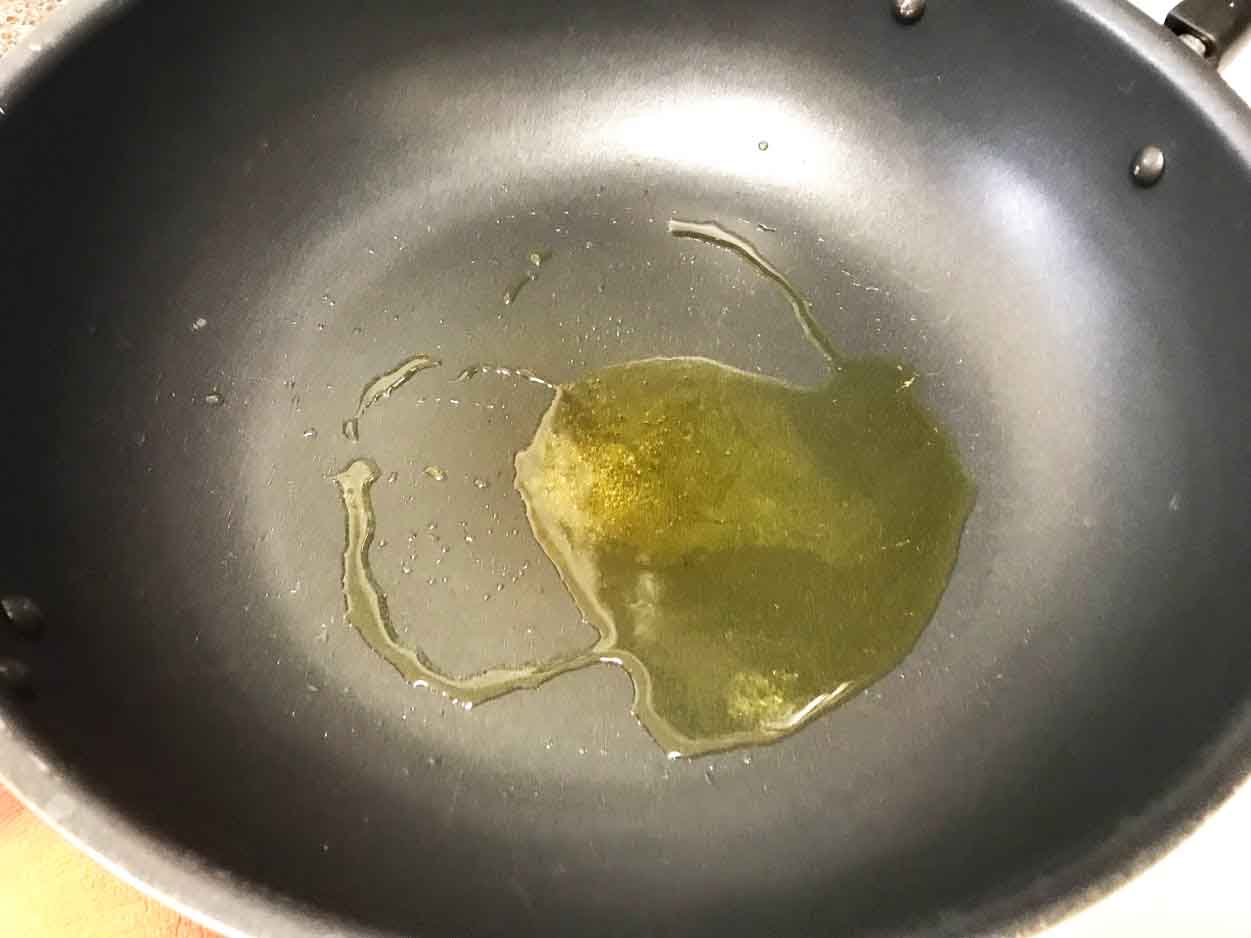 Get a wok, really hot, and add the oil, get it really hot.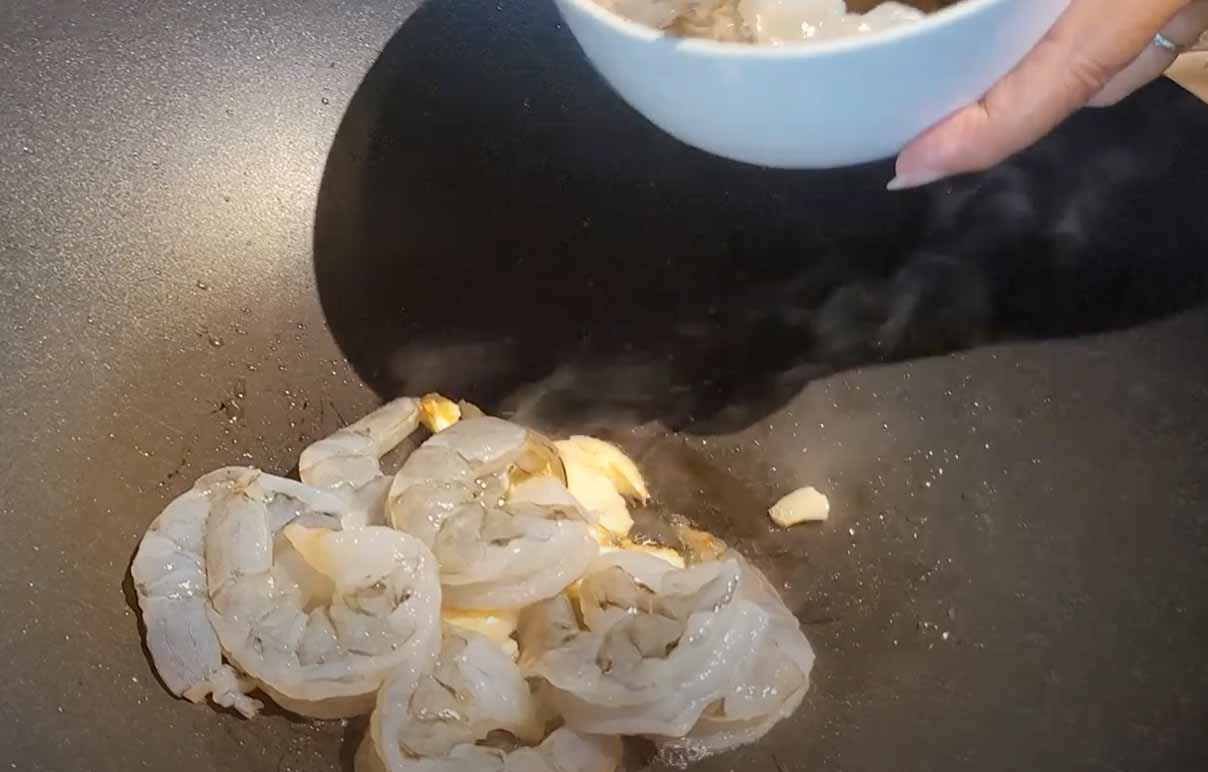 Add in your shrimp or whatever protein you choose.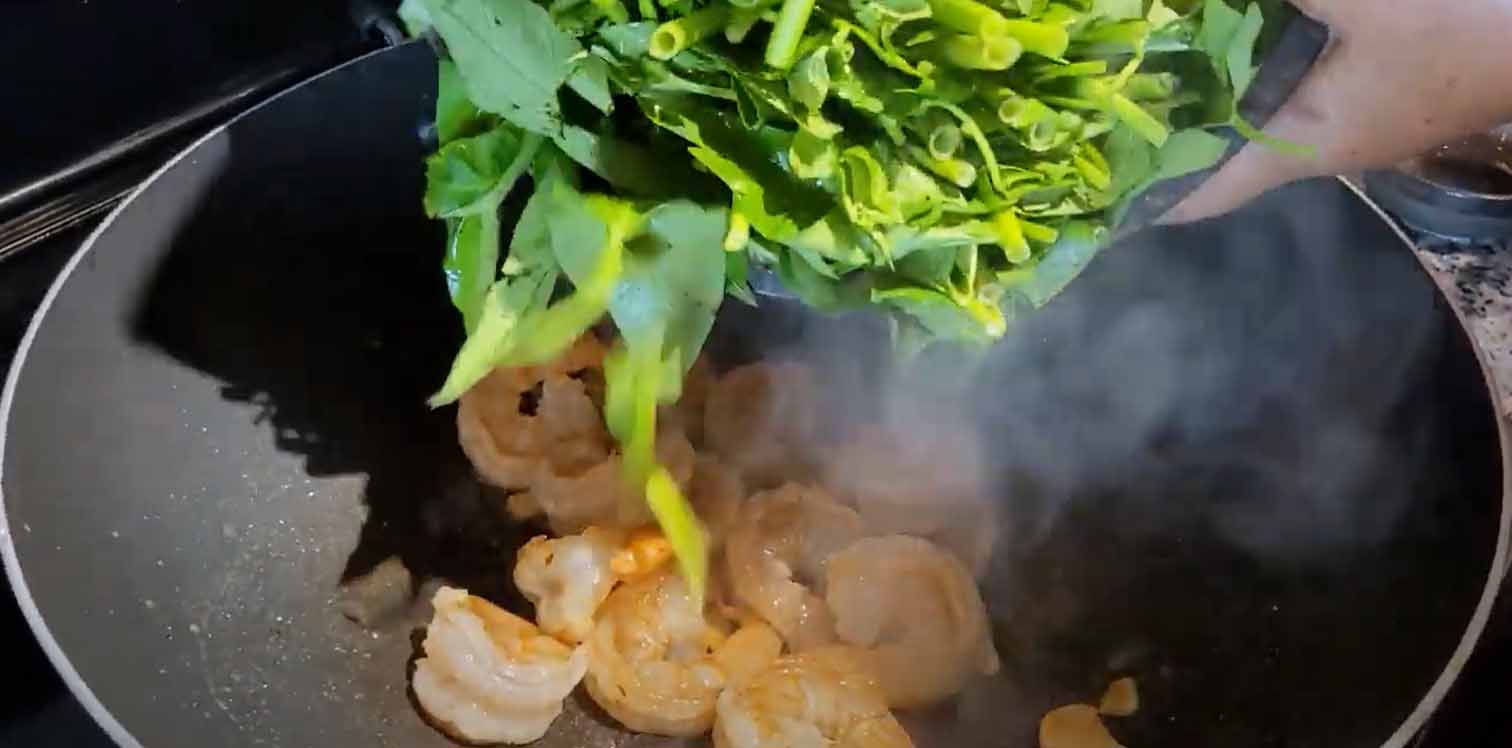 Add in the morning glory.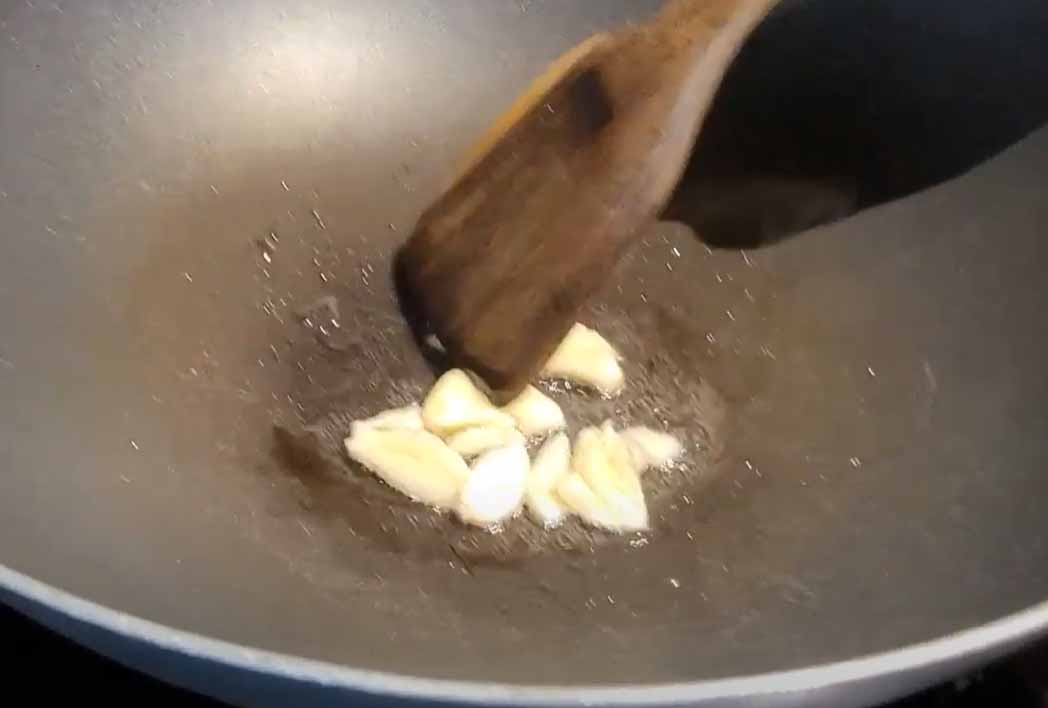 Flash fry the garlic for about 5 seconds.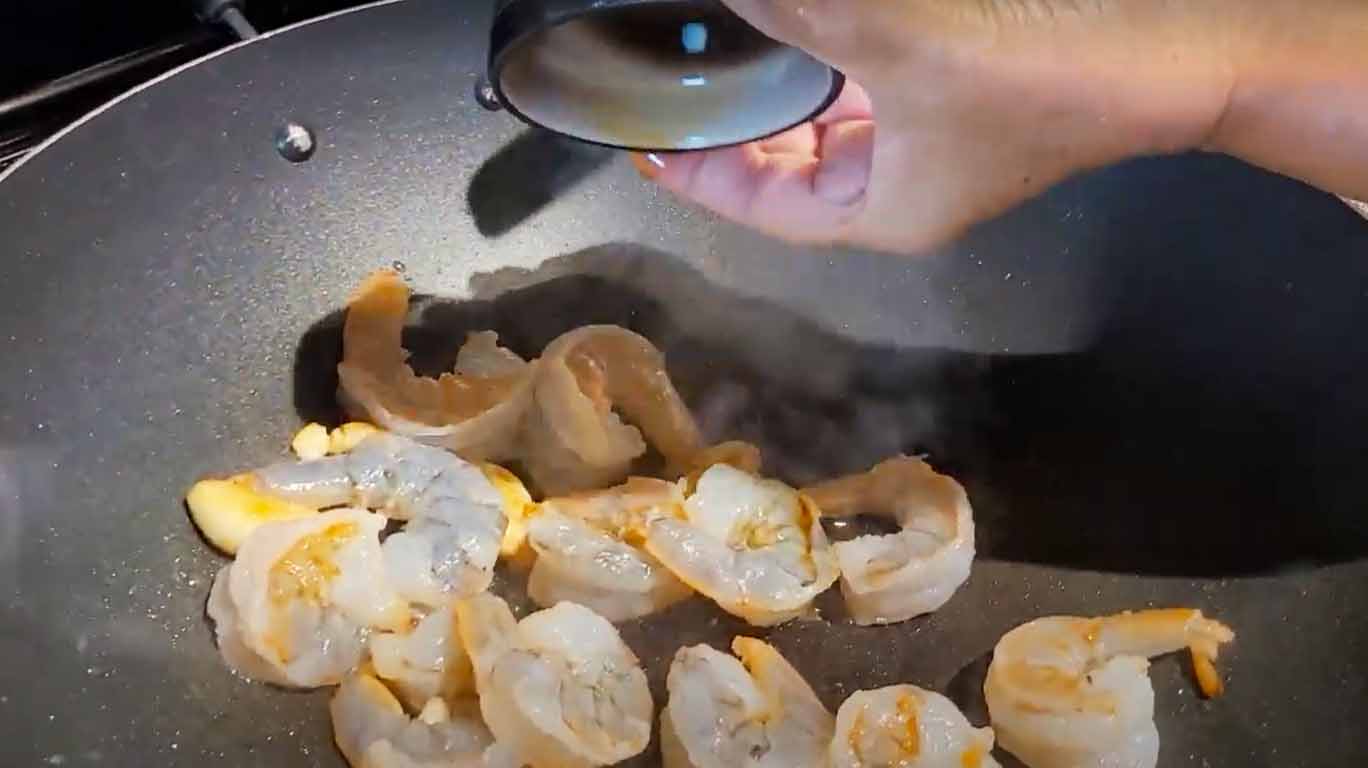 Add in the sauces and stir-fry.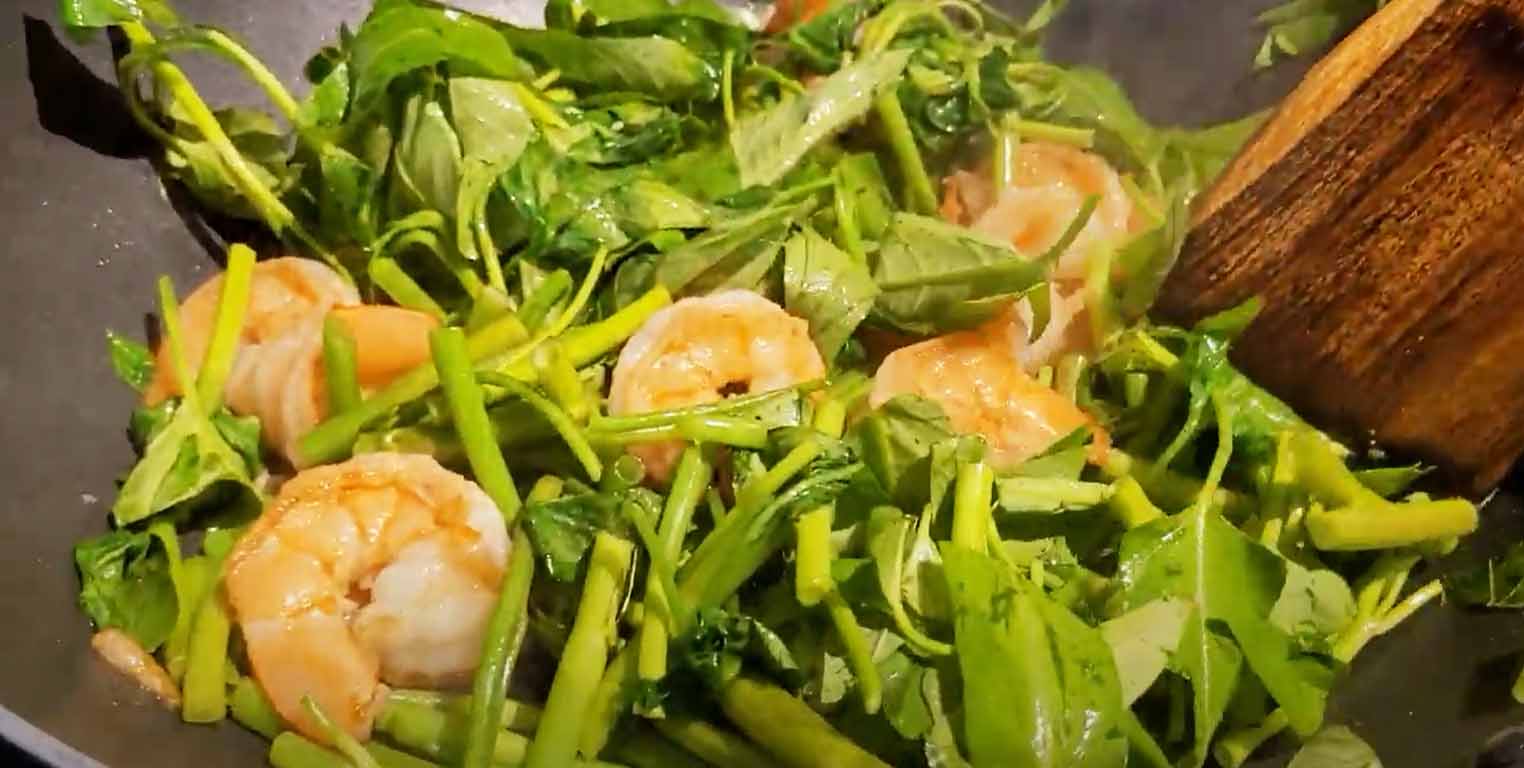 Stir-fry until cooked through completely, it will get significantly smaller and serve with rice or by itself.
You will have significantly less volume of morning glories at the end than when you started. That is normal, and why you start with a lot.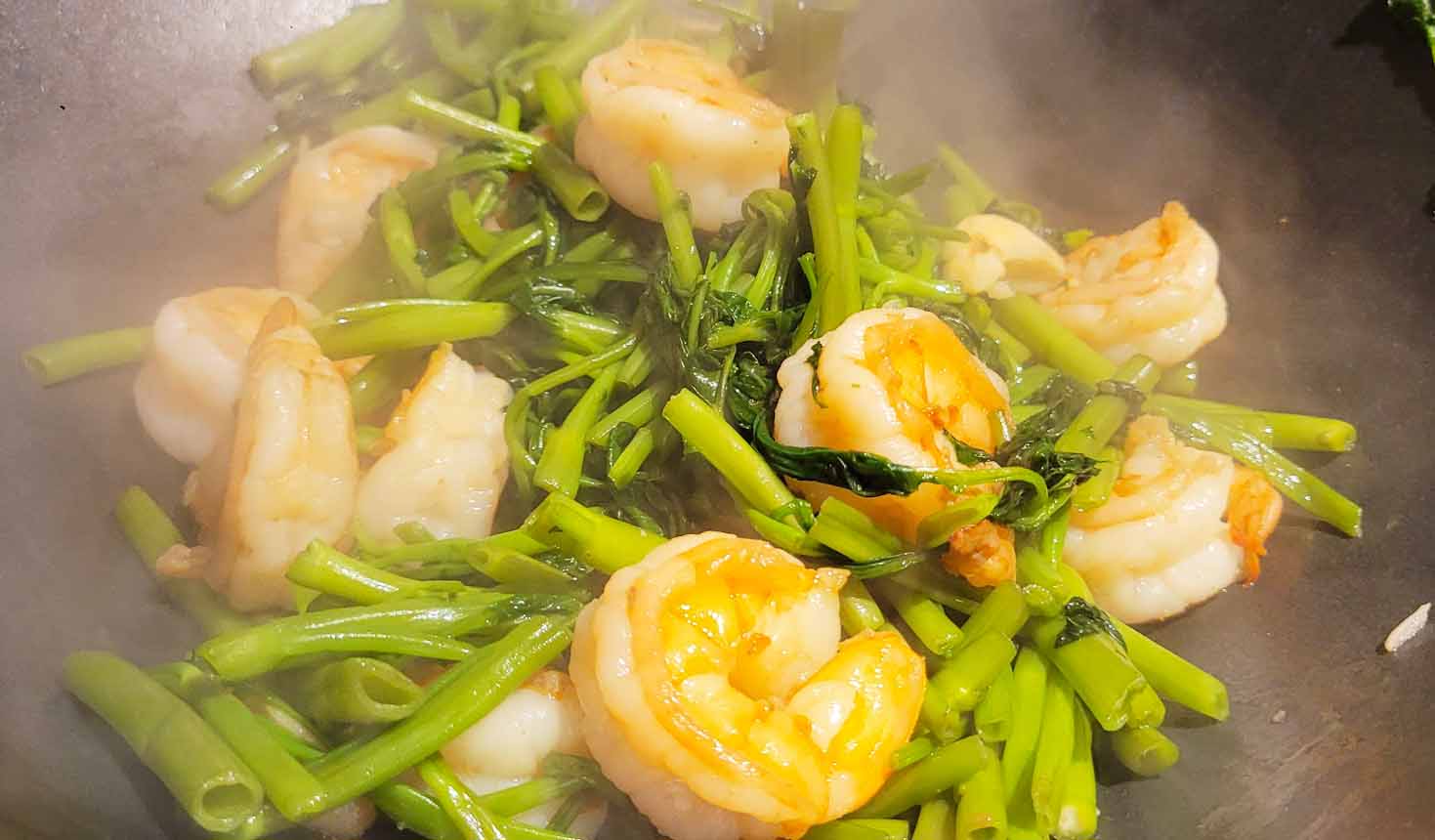 Hint: Before starting, my Thai mom said that the trick is making sure the wok or skillet is very hot.
Substitutions
If you are vegan or can't handle spicy food, you can still make this with substitutions.
Protein - instead of shrimp use, tofu, bean sprouts, or nothing at all.
Sauces - use hoisin sauce in stead of oyster sauce, or light soy sauce or tamari, or nothing at all if you are trying to reduce sodium and, or sugars.
Vegetarian - the sauces may contain animal products. Especially in Thailand, fish is often one of the ingredients in the sauces. Read the ingredients if you are concerned about staying strictly vegan.
Even if you think you can handle a lot of spices, don't forget to be sensitive to your guests tastes. Our closest friends were recently over and we overdid the spice and it was embarassing. Keeping the spices on the side allows everyone to vary the dish to their liking.
Variations
You can use your imagination to create millions of variations of this recipe but here's a few ideas.
Spicy - add chili Thai pepper flakes while cooking to imbue heat into the dish. Mod made a fantastic, and cheap thai chili powder/flakes recipe to make your own, as shown below. Or use your favorit hot sauce.
Deluxe - add every kind of vegetable you love with the morning glory, think supreme pizza!
Kid-friendly - add crushed potato chips, a healthy version if there is such a thing, bacon bites, turkey bacon of course. 😉
See Mod's Homemade Thai Chili Powder recipe below.
Equipment
Equipment can have a big impact on how a recipe turns out. My Thai mom always uses a wok. You might want to use a skillet though if you are using an electric range. Woks are better on a fire, so the flames can lap the sides and create a vortex of heat. This recipe turned out just fine with a wok on an electric stove, so it's no big deal really.
If you need a starter kit for stir-frying, here is an affiliate link to purchase the stir-fry start equipment package I found on amazon and support our website. Sponsored content, obviously. 😉
Storage
These ingredients do/don't stand up well to freezing for X a couple weeks and may actually taste better after marinating in the fridge for a couple days. .
Top tip
Don't overcook or add in too many sauces right off the bat. Make sure to taste and adjust at the end. Sauces often burn so that's another reason to wait until the end to add them.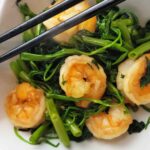 Print Recipe
Thai Mom's Stir-fried Morning Glory Recipe
My Thai Mom's Super Simple and Easy Stir-fried Broccoli and Chicken Recipe Is A Great Beginner Recipe for Stir-frying.
Ingredients
1

lb

Large Shrimp

Peeled

4

cups

Morning glory, AKA; Water Spinach

3

tablespoon

Canola Oil

Or whatever you prefer

2

tablespoon

Oyster Sauce

2

tablespoon

Light Soy Sauce

6

Cloves

Garlic

Fresh, peeled, crushed
Instructions
Prepare all the ingredients and have them ready to quickly add to the wok.

Add the garlic and saute, squishing down into the oil a little, until golden brown.

Add in the shrimp and cook until cooked through

Add in the morning glory and continue to stir-fry.

Add in the sauces and taste and mix in well, holding back some because you can always add more.

Serve with rice, and or noodles
Notes
As always, when in doubt, check it out with your doctor if you have specific dietary needs.    We are not dieticians, nutritionists, or doctors.  Just fitness enthusiasts trying to eat healthier.  Your situation is fact dependant, when in doubt, check it out, and with ingredients that may not be fresh when in doubt, throw it out.  
Nutrition
Calories:
120
kcal
|
Carbohydrates:
5
g
|
Protein:
3
g
|
Fat:
11
g
|
Saturated Fat:
1
g
|
Polyunsaturated Fat:
3
g
|
Monounsaturated Fat:
7
g
|
Trans Fat:
0.04
g
|
Sodium:
812
mg
|
Potassium:
217
mg
|
Fiber:
1
g
|
Sugar:
0.2
g
|
Vitamin A:
3528
IU
|
Vitamin C:
32
mg
|
Calcium:
56
mg
|
Iron:
1
mg
Food safety
We sometimes take safety for granted and wonder why we have a GI bug the next day. Here's some stuff to keep in mind.
Cook to a minimum temperature of 165 °F (74 °C)
Do not use the same utensils on cooked food, that previously touched raw meat
Wash hands after touching raw meat
Don't leave food sitting out at room temperature for extended periods
Never leave cooking food unattended
Use oils with high smoking point to avoid harmful compounds
Always have good ventilation when using a gas stove
See more guidelines at USDA.gov.
If you like stir-fried recipes, try one of these!