This post may contain affiliate links.
This Copycat Genghis Grill Thai Veggie Bowl Recipe is such a fun way to approximate the immersive experience of Genghis Grill at home. You can customize as much as you want and ensure that you are using clean safe ingredients because you are doing it in the safety of your own kitchen.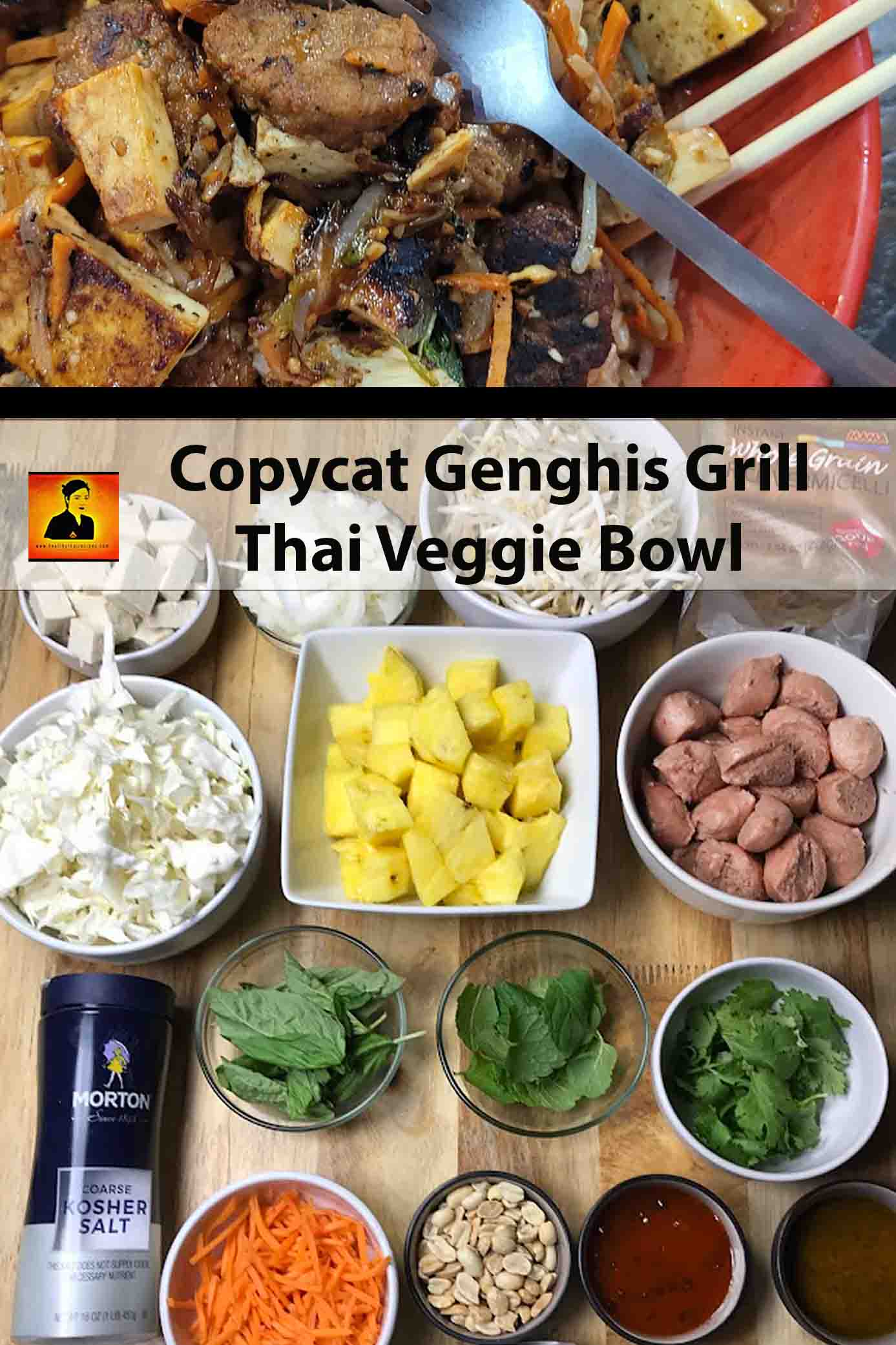 Background content: this is a great recipe for any time of the year but especially when you have company and people want to be able to customize what they eat. It's a great party recipe because it's engaging and gives people something to do while socializing.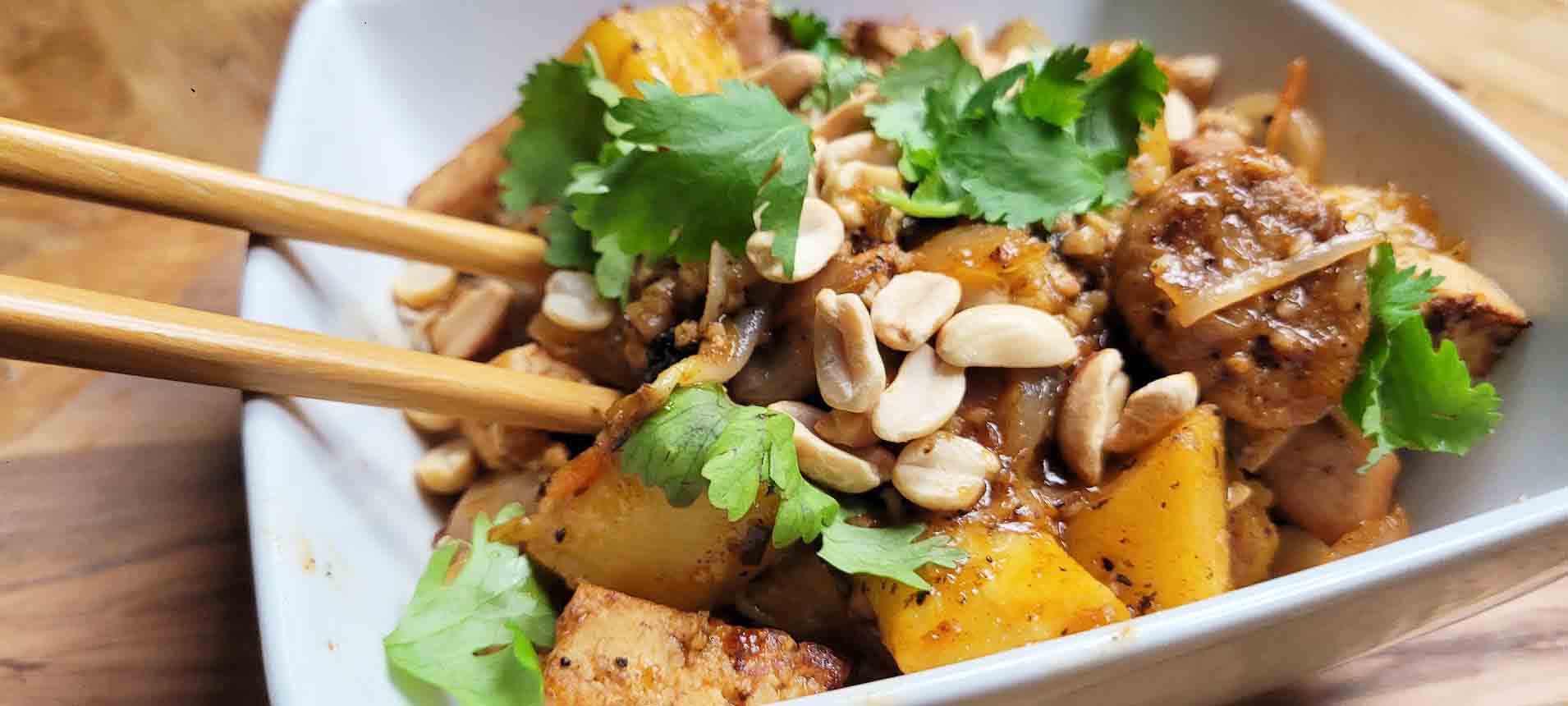 You can also ensure that any vegetarians won't feel left out by having all vegetarian ingredients. Currently, I am rehabbing from surgery and I have been taking hydrocodone at night for pain which can cause constipation so it's also a good recipe when you need to increase your fiber uptake.
This reminds me of my other stir-fried vegetable recipe on this site, and pairs well with this amazing sidedish recipe.
Jump to:
Ingredients
So there are quite a few ingredients but once you have them it's an easy recipe to do. You can even make it easier by using the links I will include and ordering them at Whole Foods if you have a Whole Foods near you and then just pick them up all at once. Otherwise, you can get them at your local store and have them delivered from Amazon, and using our links gives us a little affiliate credit to pay for our expenses.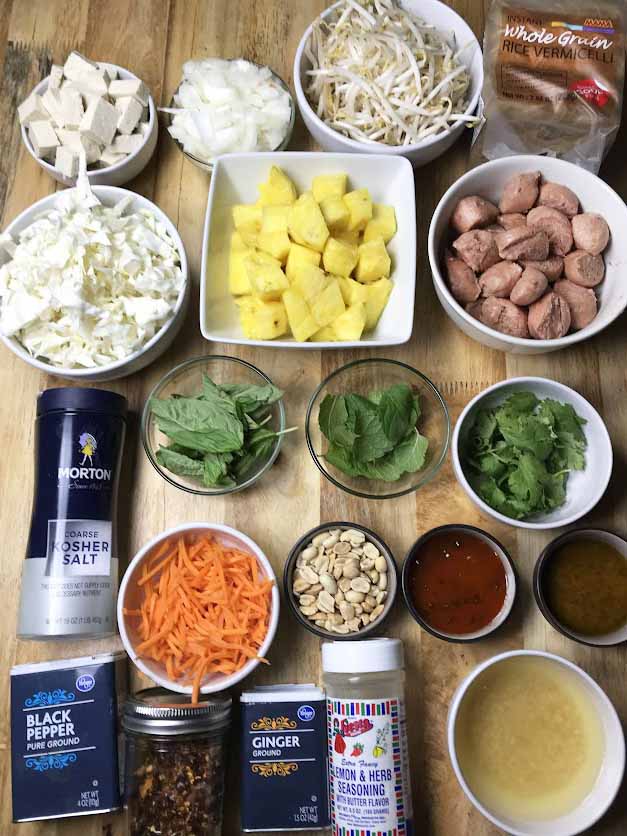 Cabbage
Carrots
Yellow onion
Bean sprouts
Pineapple
Kosher salt
Black pepper
Crushed red pepper
Lemon pepper or garlic seasoning
Garlic water
See recipe card for quantities.
Instructions
Getting all the ingredients ready to go helps a lot with efficient cooking once you're cookware is hot. Make sure to have all the sauces and spices ready like they do at the restaurant so you are ready to do things in the proper order and not overcook anything.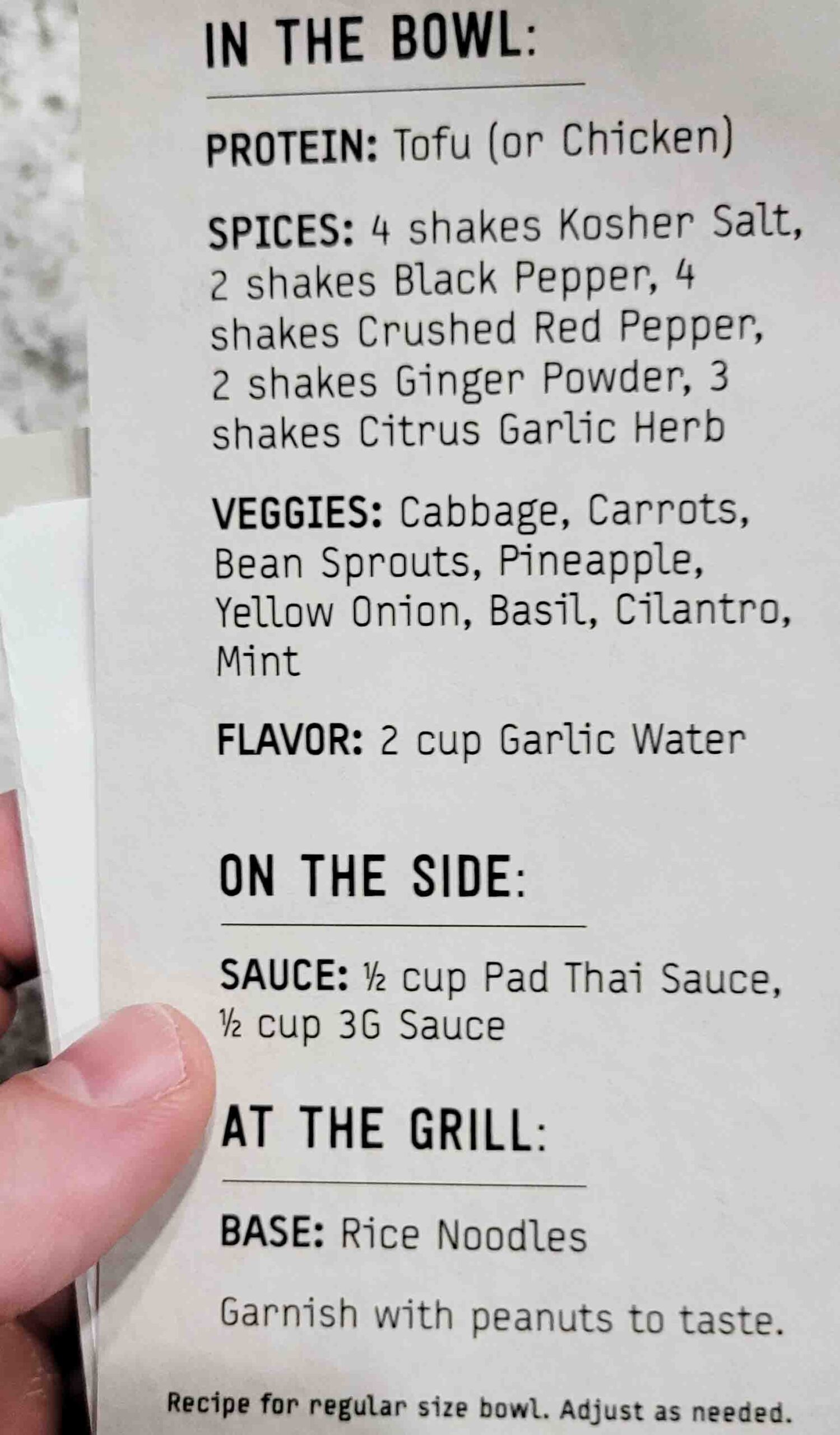 Combine everything in a medium size serving bowl as you would at the restaurant, holding back the sauces in separate containers, as they will be added last.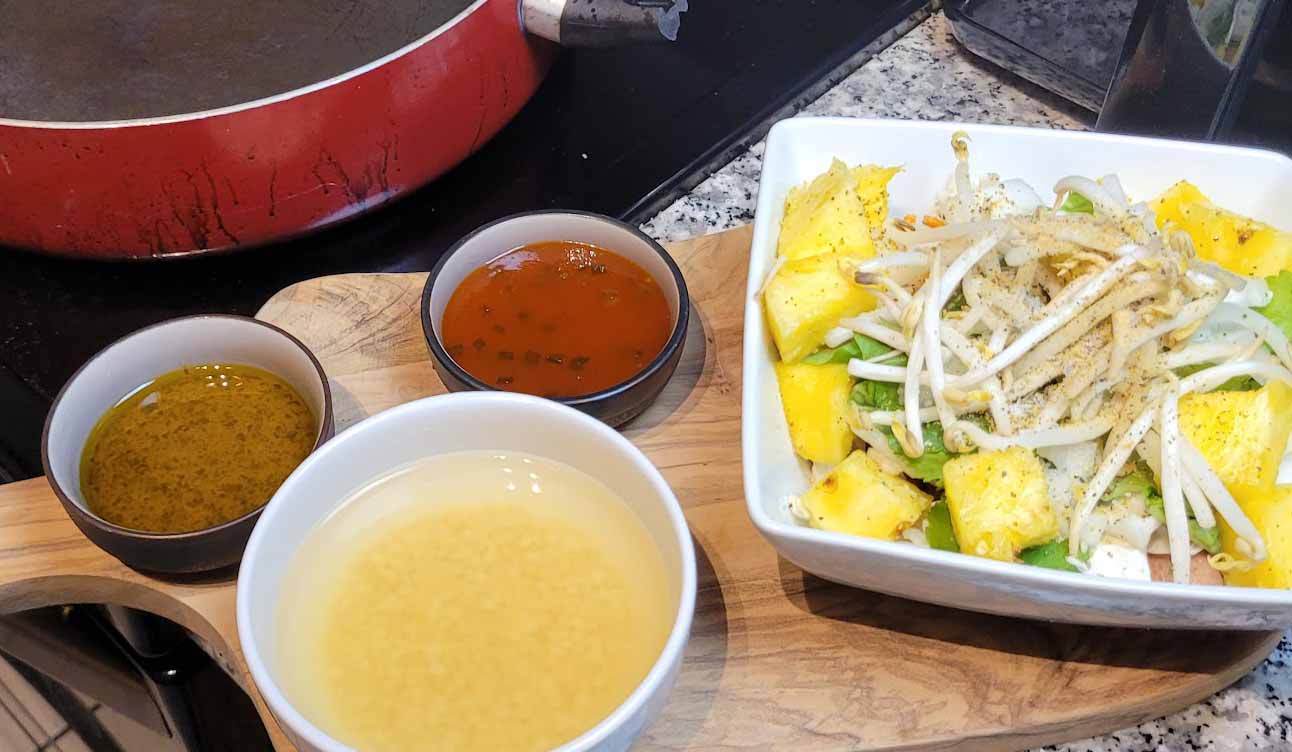 Once you have your ingredients together with the sauces on the side, as you would at the restaurant, heat up your skillet on high heat, and get a little oil ready.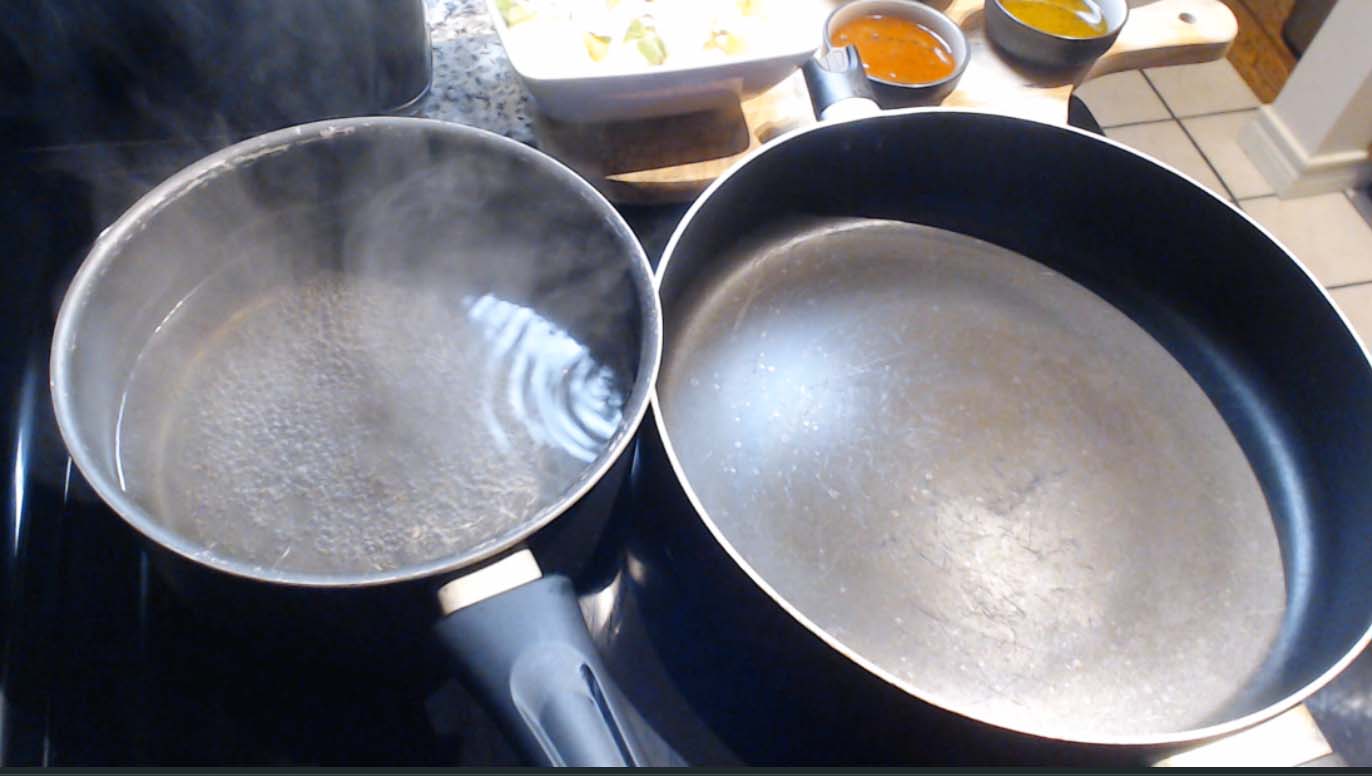 On high heat a skillet and a pot of boiling water.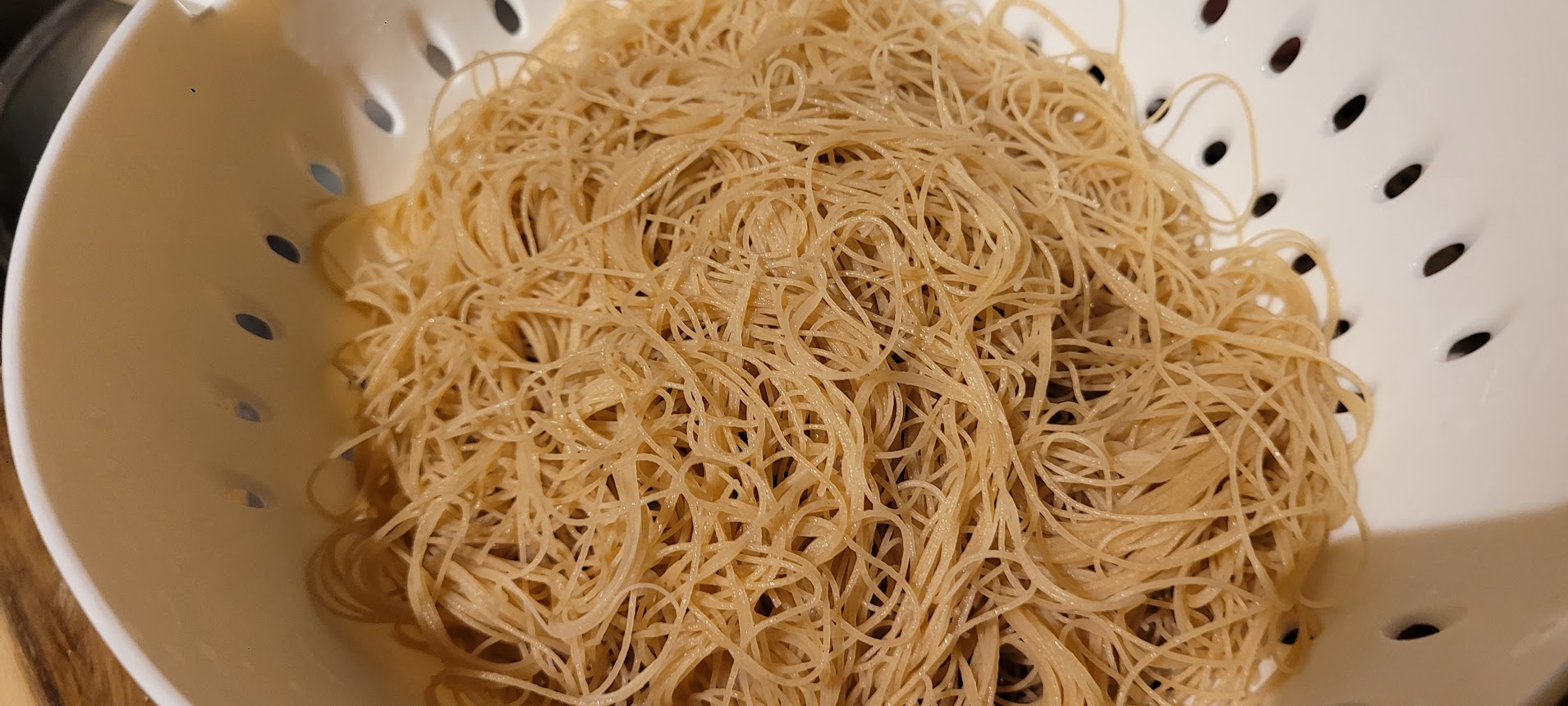 Boil for 3-4 minutes, and strain the whole grain rice noodles. Rinse with cool water.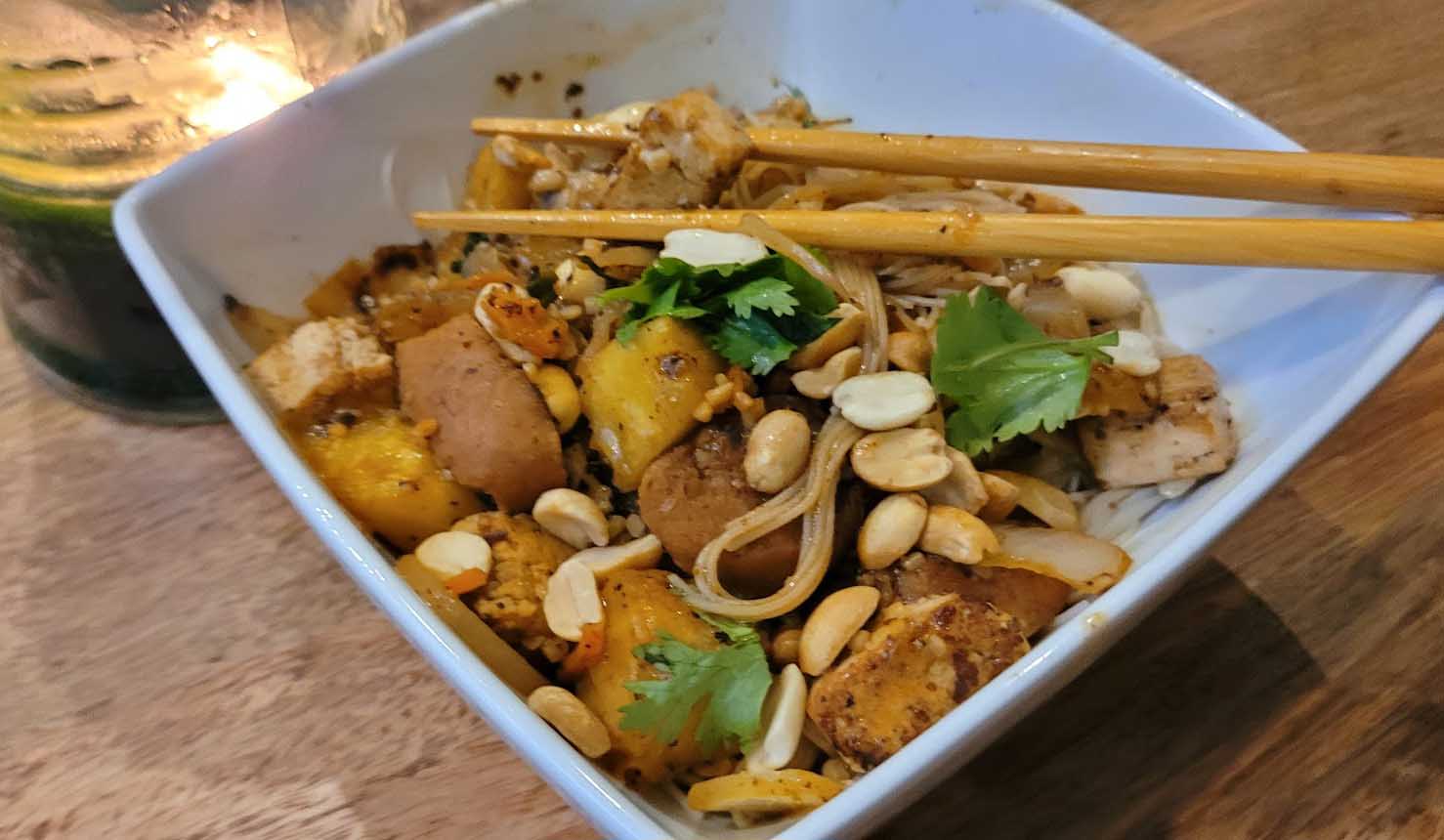 Serve over noodles garnished with peanuts and cilantro or whatever you want 🙂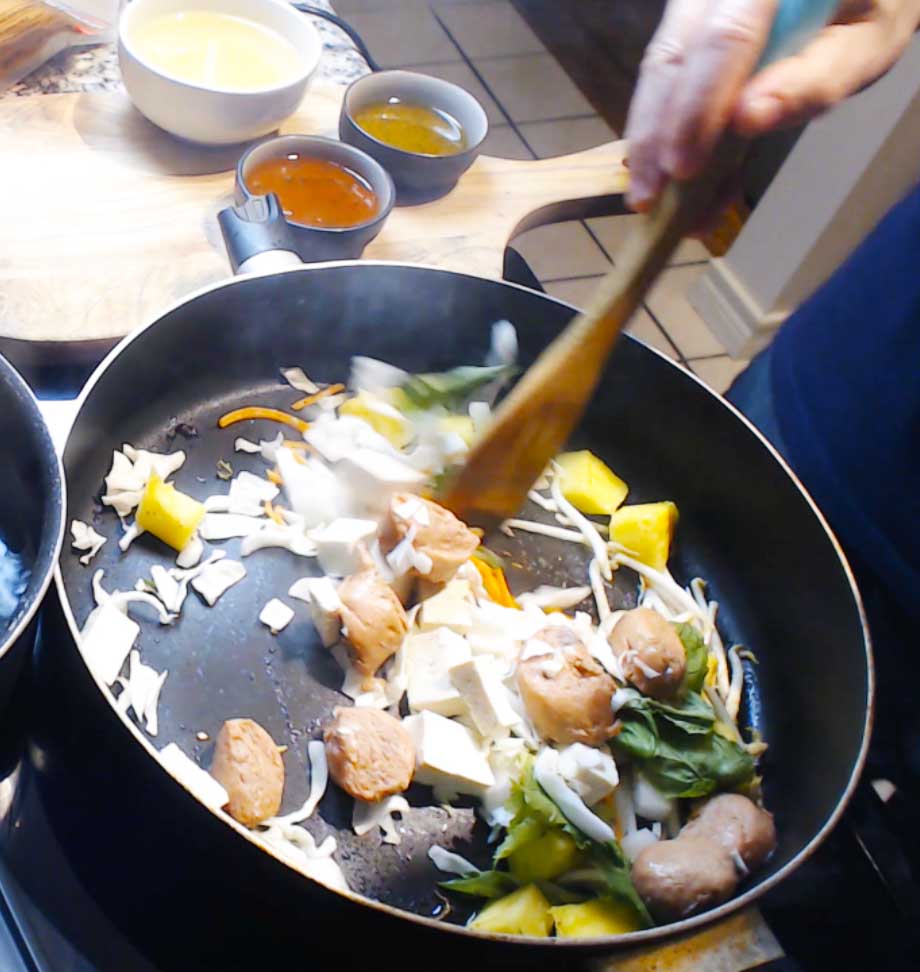 Stir fry everything until cooked through to your liking. A couple of minutes should do. If you are using meat, you will want to cook it first and then turn the heat down to like medium once it's cooked through for the vegetables. I am using veggie protein so I am doing them all at once.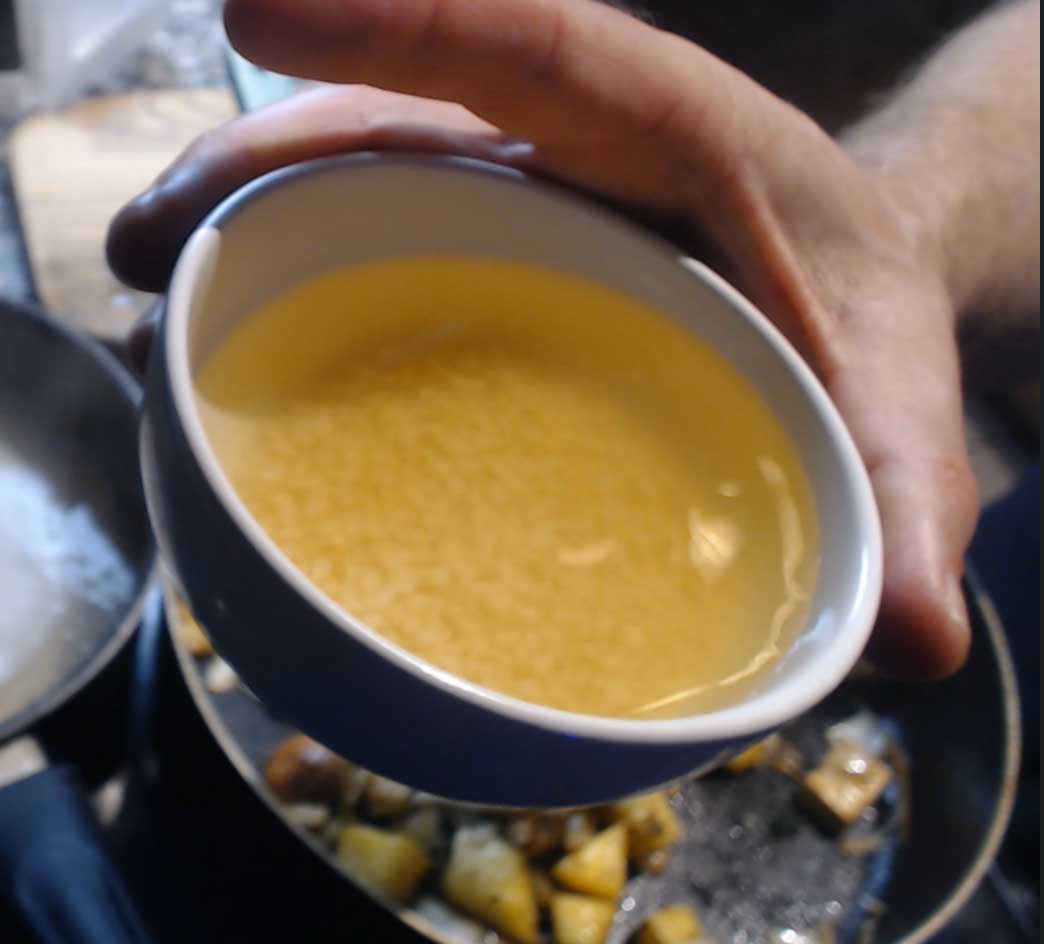 Lastly, add in the garlic water and stir fry reducing adding in the pad Thai sauce and citrus garlic sauce for another 30 seconds to a minute being careful not to burn.
See the printable recipe for more specific instructions
Jump to Recipe
Hint: they told me at Genghis Grill they cook the meat on the innermost part of the grill which is hotter. At home, you don't have the same kind of grill so if you do meat protein start it off hot and then turn the burner down maybe for the veggies. They also stated that they put the sauces in last because they tend to burn so just be aware and use your judgment.
Substitutions
This recipe is so adaptable that your imagination is really the only limit.
Low carb - instead of rice noodles use veggie noodles, like squash cut into noodles which you can buy at the grocery store.
Rice instead of rice noodles - they typically put this one with rice noodles but of course, you can use brown or long-grain rice instead as a healthy alternative.
Vegetarian or Non-Vegan - this recipe is already vegan but you might double-check your sauces to make sure there are no fish products inside if you're a purist. If you eat meat as we do, we have also done this with shrimp and chicken and my wife likes beef and pork which are also delicious with this.
Variations
Giving your guest creative license by putting out all of the ingredients in making custom bowls the way they do add Genghis Grill is a fun way to spice things up literally and figuratively.
Spicy: add thai chili pepper adding a little bit of Thai pepper flakes can add a lot of heat but you may want to put that as a side option so you don't burn anybody out. Here is a recipe for some homemade crushed Thai pepper flakes if you want to make your own and save a little money.
Deluxe: double the protein or triple the protein and go for luxury items like shrimp and steak if you're a carnivore.
Extra saucy: just double or triple the amount of the sauces you add and you may need to cook a little bit longer to cook the sauces. Below is an image of one that we did that was extra saucy and was actually pretty good if you're a sauce fan like us. Sorry the image quality isn't my best work but the light just wasn't great at that time.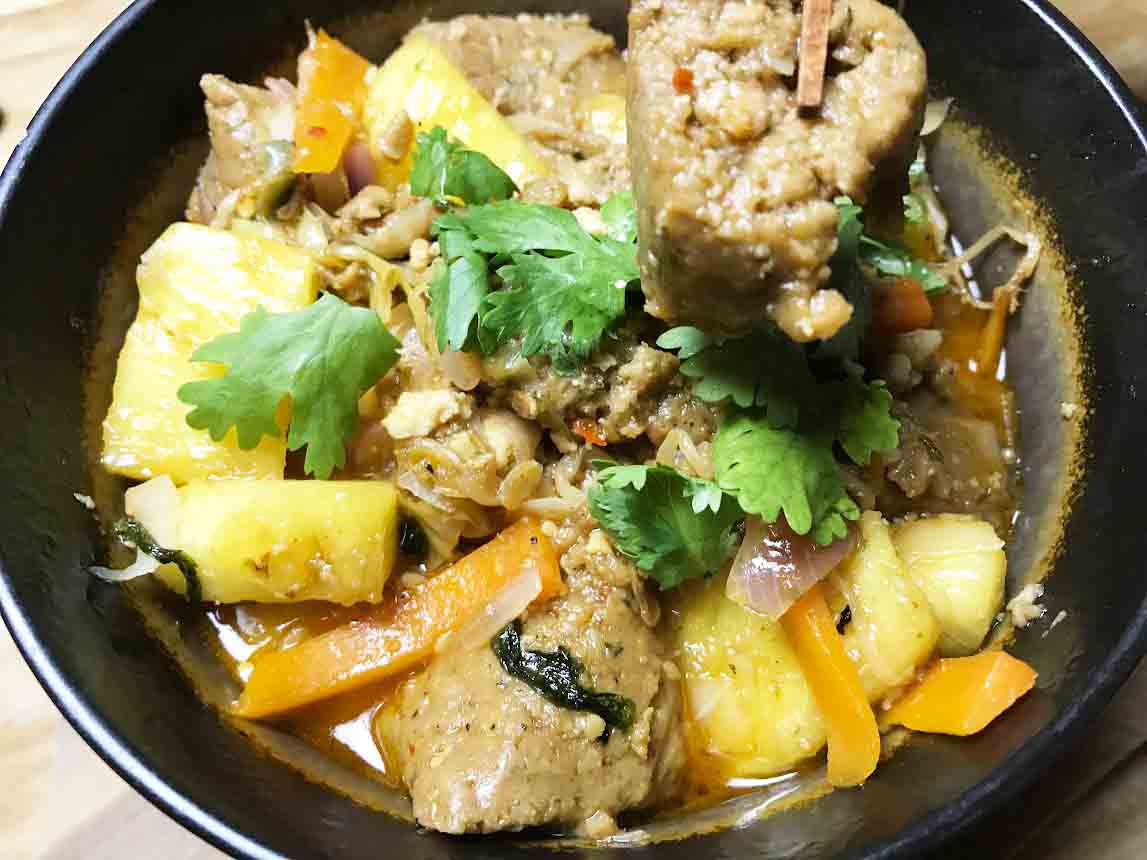 Equipment
Equipment can have a big impact on how a recipe turns out. A wok is better to cook over a flame but if you are like us and just have an electric range you may want to use a flat skillet for a surface area against the heating element.
I used a large metal skillet like this amazon basics 14-inch skillet.
Storage
These ingredients do stand up well to refrigerating for a couple of days or freezing for X a couple of weeks to months.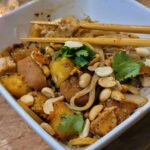 Print Recipe
Easy Copycat Genghis Grill Thai Veggie Bowl
This Copycat Genghis Grill Thai Veggie Bowl is such a fun way to approximate the immersive experience of Genghis Grill at home.
Equipment
1 Skillet

1 Sauce Pan

1 Colander
Ingredients
¼

cup

tofu

extra firm

1

lb.

beyond sausage

chopped into bite sized pieces

1

cup

yellow onion

sliced

1

cup

carrots

julienned

1

cup

bean sprouts

1

cup

cabbage

1

cup

pineapple

2

nests

whole grain rice noodles

½

cup

fresh mint leaves

½

cup

fresh basil leaves

½

cup

cilantro
Sauces
½

cup

Garlic water

3

tablespoon

Pad Thai Sauce

3

tablespoon

Citrus Garlic Marinade
Spices
1

tablespoon

salt

1

teaspoon

black pepper

1

tablespoon

Crushed Red Pepper

2

teaspoon

Citrus Garlic Herb Spice Mix
Garnish
1

tablespoon

unsalted peanuts
Base
2

nests

brown rice noodles
Instructions
Noodles
Boil enough water to cover a couple nests of noodles and boil for three to four minutes.

Strain in a colander and rinse with cold water and set aside.
Stir-fried veggies and protein
First! Make sure you have first prepped all your ingredients by cutting them into bite-sized pieces.

Heat a skillet or walk on high or medium-high heat and coat in a light layer of oil.

In a bowl about the size of a medium-sized bowl at Genghis Grill collect the ingredients.

Stir fry everything protein first for several minutes until it is cooked through, maybe about four to five minutes, depending on your stove and cookware.

Add in the garlic water and sauces and cook for another 30 seconds to a minute being careful not to burn as the sauces burn quickly.
Serving
Serve in a bowl over the noodles and garnish with peanuts.
Notes
As always we are not doctors or dieticians, just a couple of people trying to eat as healthy as we can and share our ideas with the world. Your dietary situation is fact dependent so when in doubt check it out with the doctor if you have specific dietary concerns.  We make our healthy Thai recipes as healthy as we can and we always welcome advice or ideas to improve them.
Nutrition
Calories:
112
kcal
|
Carbohydrates:
19
g
|
Protein:
5
g
|
Fat:
3
g
|
Saturated Fat:
0.5
g
|
Polyunsaturated Fat:
1
g
|
Monounsaturated Fat:
1
g
|
Sodium:
1810
mg
|
Potassium:
395
mg
|
Fiber:
5
g
|
Sugar:
9
g
|
Vitamin A:
6521
IU
|
Vitamin C:
37
mg
|
Calcium:
87
mg
|
Iron:
2
mg
Food safety
We sometimes take for a granted that we have years (or decades) of cooking experience, that the average visitor may not. Add to, or remove from, the list below with health and safety tips.
Cook to a minimum temperature of 165 °F (74 °C)
Do not use the same utensils on cooked food, that previously touched raw meat
Wash hands after touching raw meat
Don't leave food sitting out at room temperature for extended periods
Never leave cooking food unattended
Use oils with high smoking point to avoid harmful compounds
Always have good ventilation when using a gas stove
See more guidelines at USDA.gov.
If you love this healthy, stir-fried veggies and noodles recipe, you might want to try some of these