This post may contain affiliate links.
Pickled Mustard Greens and Eggs
Pickled Mustard Greens and Eggs are a common, traditional Thai dish that I was craving this week after seeing it on a Thai cooking Facebook group.  My recipes are typically more traditional than what you find on the food websites made in America.  My husband, Adam, makes stuff up using my ingredients a lot but not me, I like the food I grew up with.   If you like the tangy taste of pickles or pickled foods and the savory flavor and texture of hot eggs, this recipe is surprisingly satisfying.
I remember back when I was little, growing up that I was one of the not so many kids that loved spicy foods.  I remember that I always picked the spicy and savory foods, but Pickled Mustard Greens was one of the none-spicy foods I chose.  Pickled mustard greens have a crunchy texture both before and after they are cooked.  I sometimes use them as a topping for noodles and stir-fried dishes.  It has a sweet, tangy, and savory taste which makes the dish have such a rich and full flavor.
Let's make the dish!
Making the Pickled Mustard Greens and Eggs is very easy.  This recipe calls only 6 ingredients including pickled mustard greens, eggs, garlic, olive oil or cooking oil, fish sauce, and stevia.  The key to making this recipe is like the other stirfried recipe; you can't let the ingredients sit on the wok and let the heat cook them.  You have to do the work, keep stir-frying unless you like your food to be burned (I mean crisp!)  We always change the typical cooking style to make it a little healthier.
Different brands of pickled mustard greens have slightly different flavors.  Some brands may sweeter than the others, some brands may be salty and tangy than the others.  This "Pigeon Brand" is a product from Thailand and it's my favorite so far.
How to prepare the pickled mustard greens
You need to wash the pickled mustard greens before you eat or cook it, and it's easy to do.
Wash the pickled mustard greens with cold water.
Squeeze all the pickled juice and water out of them.
Dry them with paper towels and slice them.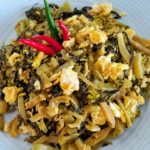 Print Recipe
Pickled Mustard Greens and Eggs
Easy Thai stir-fried recipes. Savory, tangy, salty, and a bit of sweetness. Another Thai dish for everyone in the family
Ingredients
20

oz

Pickled mustard greens

sliced

3

whole eggs

3

eggwhites

4

cloves

garlic

minced

1 ½

tablespoon

olive oil or cooking oil

1 ½

tablespoon

fish sauce

½

teaspoon

Stevia
Instructions
Heat olive oil in a wok, then add minced garlic.

Cook the garlic until it turns yellow-golden then add pickled mustard greens and stirfry it for few minutes.

Move the pickled mustard green to the side of the wok then add eggs (both whole eggs and egg whites) in the middle of the wok. Stirfry and cook the eggs.

After the eggs are cooked, mix all the ingredients together and stirfry for a couple of minutes.

Serve the Pickled Mustard Green and Eggs with steamed rice. Enjoy!
Notes
As always, we are not doctors or dieticians.  Your situation is fact dependent, so if you have health concerns, when in doubt, check it out with a doctor. 
Nutrition
Serving:
1
people
|
Calories:
155
kcal
|
Carbohydrates:
10
g
|
Protein:
9
g
|
Fat:
9
g
|
Saturated Fat:
2
g
|
Cholesterol:
123
mg
|
Sodium:
1007
mg
|
Potassium:
1323
mg
|
Fiber:
4
g
|
Sugar:
2
g
|
Vitamin A:
446
IU
|
Vitamin C:
2
mg
|
Calcium:
95
mg
|
Iron:
1
mg
If you like this recipe, you may like
Stir Fried Pumpkin - An Authentic Thai Dish You Rarely See Outside of Thailand
The Super Health Benefits of Ginger in a Ginger Matcha Latte with Creatine and GlycoMaize Energy Cocktail