This post may contain affiliate links.
This Super Easy Copycat PF Chang's Chili Garlic Green Beans recipe is something you can make in 10 minutes, with minimal expense. You can adapt it every which way you can imagine. It's vegan, yet savory, beautiful, and full of umami. The spice level is, of course, also adaptable.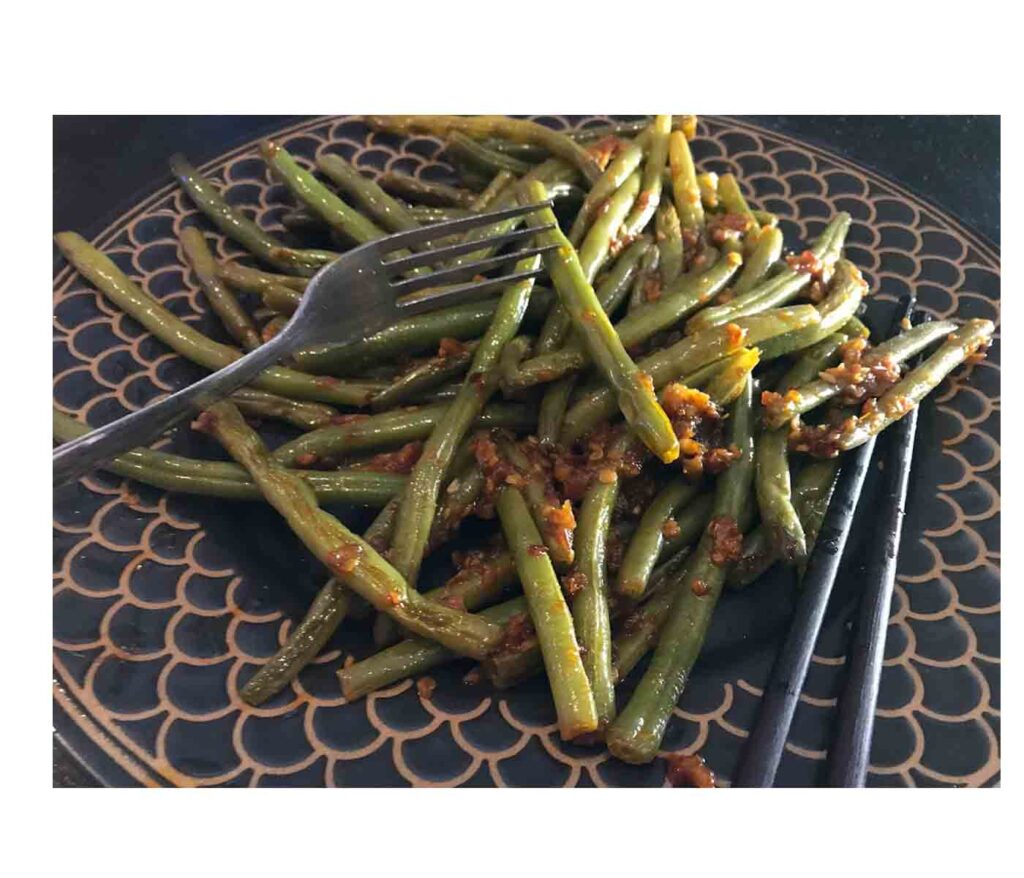 This is an amazing recipe any time of year. You can make it with minimal ingredients and you can adapt those however you want. You can use it as an appetizer, a side dish, or even as a main dish, with some protein added in. The spice level can also be adjusted to accommodate any tastes. This version is especially simple to make.
This was obviously inspired by PF Chang's Chili Garlic Green Beans on this site, and pairs well with anything. You can pair it especially well with protein main course recipes like tiger cry beef, or Fish Dishes like this sizzling tilapia recipe.
Ingredients
Use a clear shot of the ingredients for this recipe, prepped, and labeled if necessary. Insert the ingredients into the list below, omitting quantities. You can make it super simple with just chili-garlic paste, green beans, and a bit of oil. Or you can make it a little less simple with some kind of Szechuan Preserves.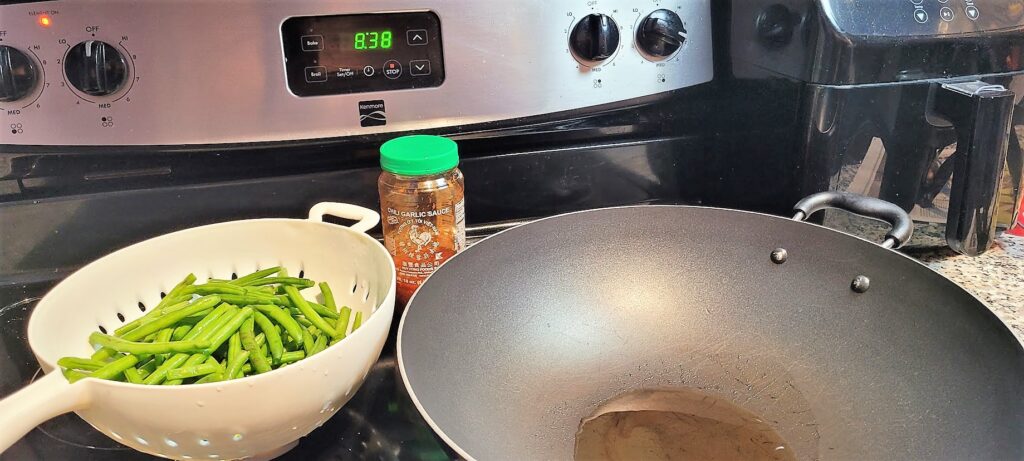 Green Beans, approximately 12 ounces
Chili Garlic Paste, 2-3 tablespoons
Fresh Garlic, chopped, minced or pulverized
Szechuan Preserves 2 tablespoons
Sesame, or other healthy, Oil, 1-2 tablespoons
See the recipe card for quantities.
Instructions
Turn your heat to medium-high. Add some oil, a tablespoon or two to a large wok, especially if using a flame, or a large skillet for an electric burner. Have everything ready to cook to minimize the risk of burning anything.
Put your green beans in a microwave on high for 5 minutes, in a bag or microwave safe covered container with small vents. While that is going, cook the garlic on until it starts turning gold. Add in the szechuan preserves and garlic chili sauce and then the beans. Stir-frying often.
Garlic Cooks quickly and you can see where I dropped the ball for a second, resulting in the burning in this photo.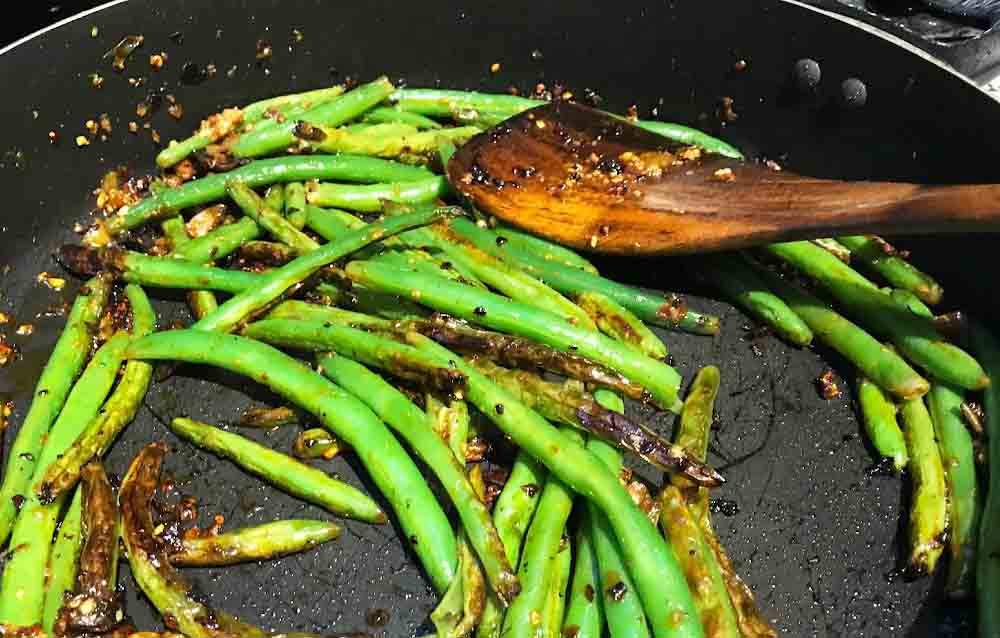 I did this recipe several ways before going with the technique of heating the green buns in the microwave before stir-frying them. They just took so freaking long to cook on a conventional skillet. Cooking them in the bag in the microwave got them cooked faster too.
Hint: You can buy prepackaged green beans that are already cleaned and trimmed and that even have the time to microwave at a lot of grocers.
Substitutions
If you have a certain diet, you will always want to look at the ingredients. You can use any kind of szechuan preserves or just use chili garlic sauce on it's own.
Oil - I like sesame or soy oil for a healthy oil with a nutty flavor and high smoke point. Use something healthy if you can, whatever you do. Be careful with extra virgin olive oil which might burn and mess up your flavor.
Adding in protein - If you want to make it a main dish, a pound of ground beef cooked after the garlic is a fantastic option. The breen beans only have a gram of protein per serving. I thought because they are beans they would be high in protein but found out I was wrong when I looked.
Vegetarian - On it's own this is a vegetarian dish. If you are a purist, like my friend James though, you have to read the ingredients of every sauce carefully for some detail that includes animal products.
Your imagination is your only limit with how you make this. Add in anything you think would go well and email me photos, if you have an idea to add in this recipe as an option.
Variations
On it's own, with this recipe, I'd say it's a 2 or ⅗ on a spiciness scale. That can be adjusted of course; you can start with a little of the ingredients and adjust after tasting.
Spicy - add Thai chili pepper flakes/ powder while cooking can add heat and make it more visually appealing. See recipe below.
Deluxe - add shrimp or more szechuan preserves to give it more umami.
Kid friendly - add crushed potato chips, and/or leave out the chili garlic paste.
See this Homemade Thai Chili Powder Recipe on my website!
Equipment
If you have a stove with a large flame, I recommend using a wok. If you have an electric stove like us, a large skillet is better.
I would also have some wooden cooking spoons and tongs ready for the green beans.
Storage
We just put them in a tupperware container in the fridge. Good for 2-3 days.
Top tip
Don't succumb to the temptation to turn up the heat to speed up the process. I did it a few times before going for just microwaving the beans at the same time as I get the other ingredients ready.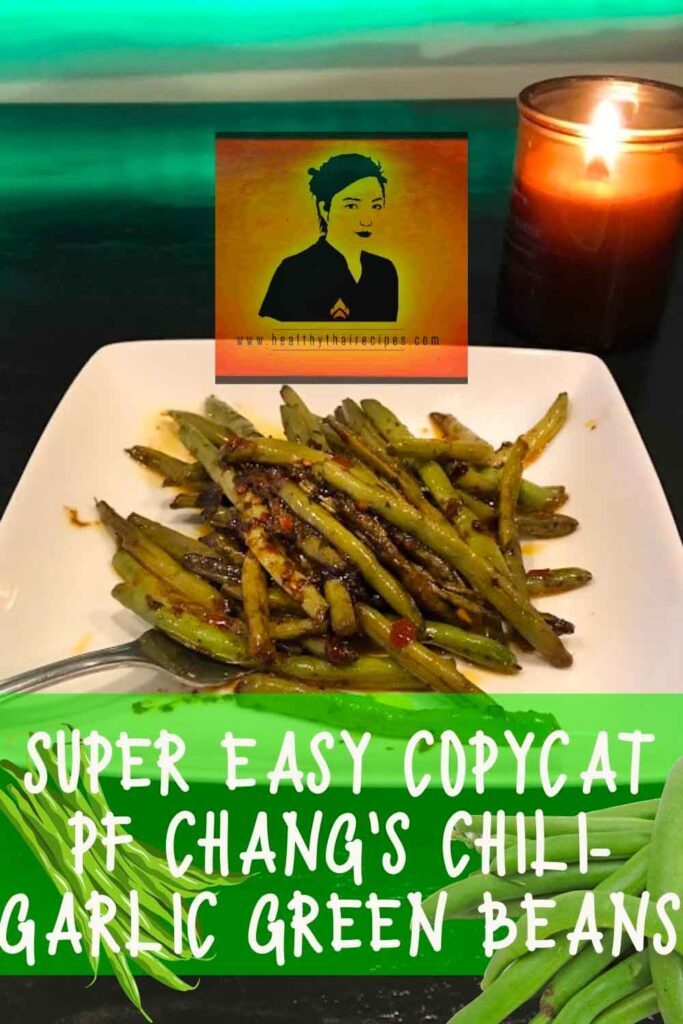 Super Easy Copycat PF Chang's Chili-Garlic Green Beans
This Super Easy Copycat PF Chang's Chili-Garlic Green Beans recipe is one you can literally make in 10 minutes and use as a side dish, appetizer, snack, or add protein and make it a main course.
Equipment
1 Wok

Or skillet if you have an electric stove.
Ingredients
12

oz

Green beans

cleaned and trimmed

2

tablespoon

Sesame oil

2

tablespoon

Chili garlic sauce

4

Cloves

Garlic

Fresh and Chopped, crushed or minced

2

tablespoon

Szechuan Preserves
Instructions
Heat the wok or skillet on medium-high with the oil until hot.

While the oil is heating pop your green beans in the microwave for 5 minutes in the bag they came in or in a microwave-safe container with venting.

Cook the garlic and add in the Szechuan preserves and chili garlic paste and cook briefly until beans are ready to go in.

Add in the green beans and mix in, taste, adjust, and serve!
Notes
As always, our healthy Thai recipes are as healthy as we can make them.  Your situation is fact dependent, so when in doubt, throw it out if you have an ingredient that concerns you, and when in doubt check it out with a doctor or dietician if you have questions. We are not dieticians, nutritionists or doctors.  
Nutrition
Calories:
205
kcal
|
Carbohydrates:
18
g
|
Protein:
3
g
|
Fat:
14
g
|
Saturated Fat:
2
g
|
Polyunsaturated Fat:
6
g
|
Monounsaturated Fat:
6
g
|
Sodium:
846
mg
|
Potassium:
383
mg
|
Fiber:
5
g
|
Sugar:
9
g
|
Vitamin A:
1174
IU
|
Vitamin C:
23
mg
|
Calcium:
74
mg
|
Iron:
2
mg
Food safety
We sometimes take for granted that we have years (or decades) of cooking experience, that the average visitor may not. If you have concerns, when in doubt, check it out with a health care professional like a doctor or dietician, we are neither of those. Some general safety tims are as follows.
Cook to a minimum temperature of 165 °F (74 °C)
Do not use the same utensils on cooked food, that previously touched raw meat
Wash hands after touching raw meat
Don't leave food sitting out at room temperature for extended periods
Never leave cooking food unattended
Use oils with high smoking point to avoid harmful compounds
Always have good ventilation when using a gas stove
When in doubt, throw it out, if you are not sure if ingredients have gone bad.
See more guidelines at USDA.gov.
If you love green beans, try one of these other recipes!