This post may contain affiliate links.
Spices and peppers are present in many cuisines around the world, including Thai food. We love the spices that various Thai dishes offer, but some people don't understand how spicy some of our food is. Keep reading to learn about our favorite spices and peppers and where they fall on the heat scale so that you can understand the different types of spices in Thai food.
Heat Scale Explanation
There are many ways to rate the heat of a pepper. At Thai restaurants, it is usually on a scale of 1 to 5. A 1 or 3 is pretty safe for the average Westerner that can handle very little spice. I like a 3 out of 5 which is noticeable heat but not unpleasant. You can rate it however you like, 1 to 10 would allow you to be more precise. There is a formal way though, if you want to be more technical.
The formal name of the spiciness scale for peppers is the Scoville Heat Scale. Wilbur Scoville created the heat scale in the 1970s to measure the heat and pungency of various peppers. While some people also use it to measure the heat and pungency of spices, its most common use is with peppers. The unit of measurement is called Scoville Heat Units (SHUs), which range from a mild 0 to a burning 2,000,000+.
Mild Peppers and Spices
The bell pepper is the mildest of peppers, and you'll see it in various mild Thai dishes. It earns 0 SHUs, so it's safe for anyone, even those with a low heat tolerance. Pepperoncini peppers come next, scoring around 300 SHUs, which is still mild. This pepper is common in Italian dishes, but some Thai chefs are embracing it too.
A mild spice you'll see in many Thai dishes, especially curries, is cumin. Cumin is mild, but it adds great warmth and flavor to many dishes.
Moderate Peppers and Spices
At about a 3rd of the way up the Scoville Scale, you'll find the Thai pepper measuring around 75,000 SHUs. The name of this pepper gives away its popular use in Thai recipes and other Southeast Asian cuisines. If you better be able to tolerate more heat than a jalapeno. You can also see this pepper called the bird's eye pepper, prik kee noo, also known as the Thai mouse droppings chili.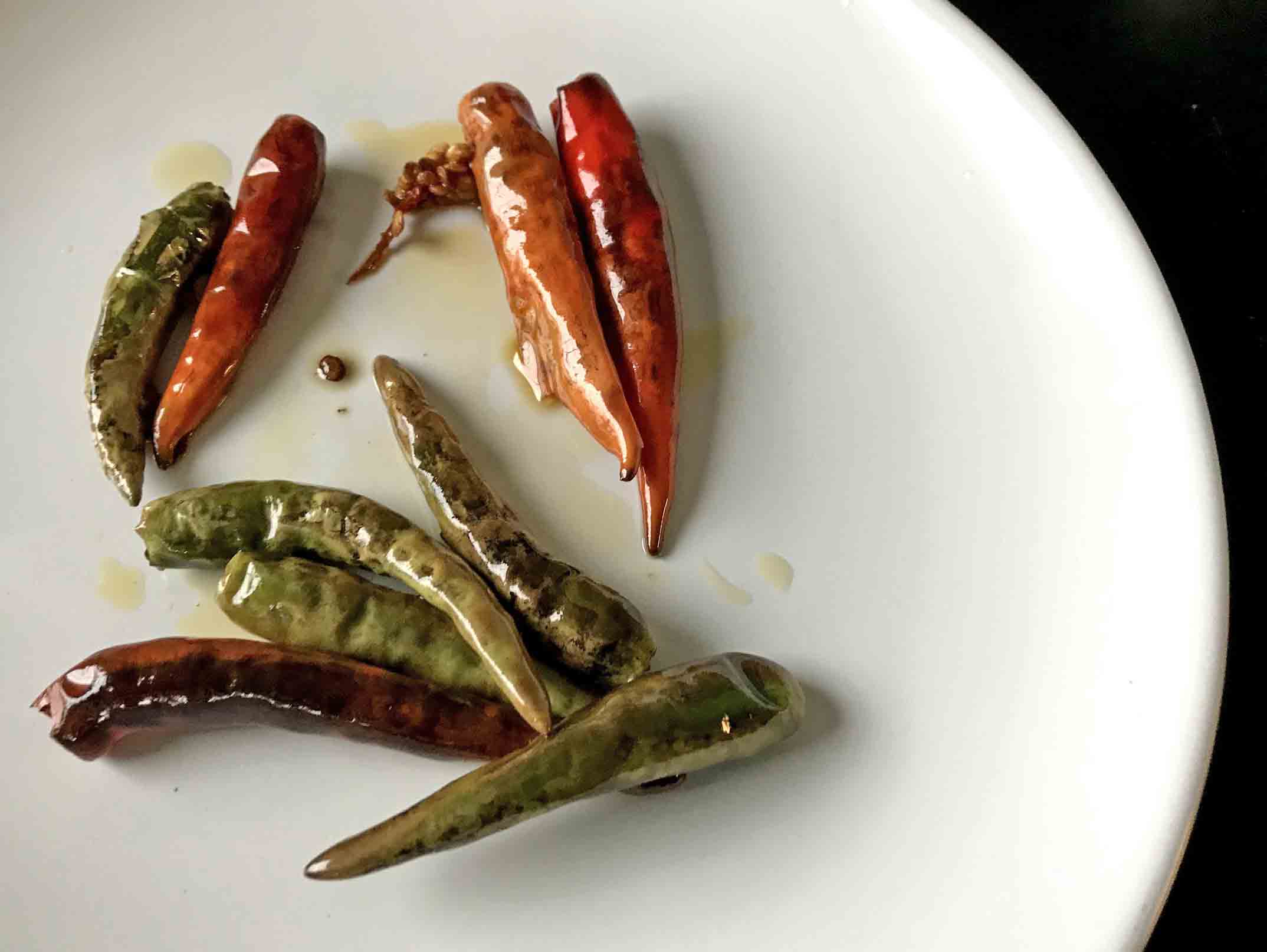 You often find Thai peppers labeled as bird's eye peppers. These small, but extremely hot peppers are often used fresh in dishes such as stir-fries, soups, and curries. They are also commonly used to make chili pastes, which are then used as a base for many Thai dishes. The heat level can vary greatly depending on the type of bird's eye chili pepper used, and it's important to use them with caution as they can be extremely hot. You can buy Thai peppers on Amazon using our affiliate link to support our website.
Varieties of Thai Peppers
Thai peppers also come in a variety of colors, such as red, green and yellow. These peppers are often used in different dishes depending on their color. For example, green peppers are often used in green curry and yellow peppers are used in yellow curry.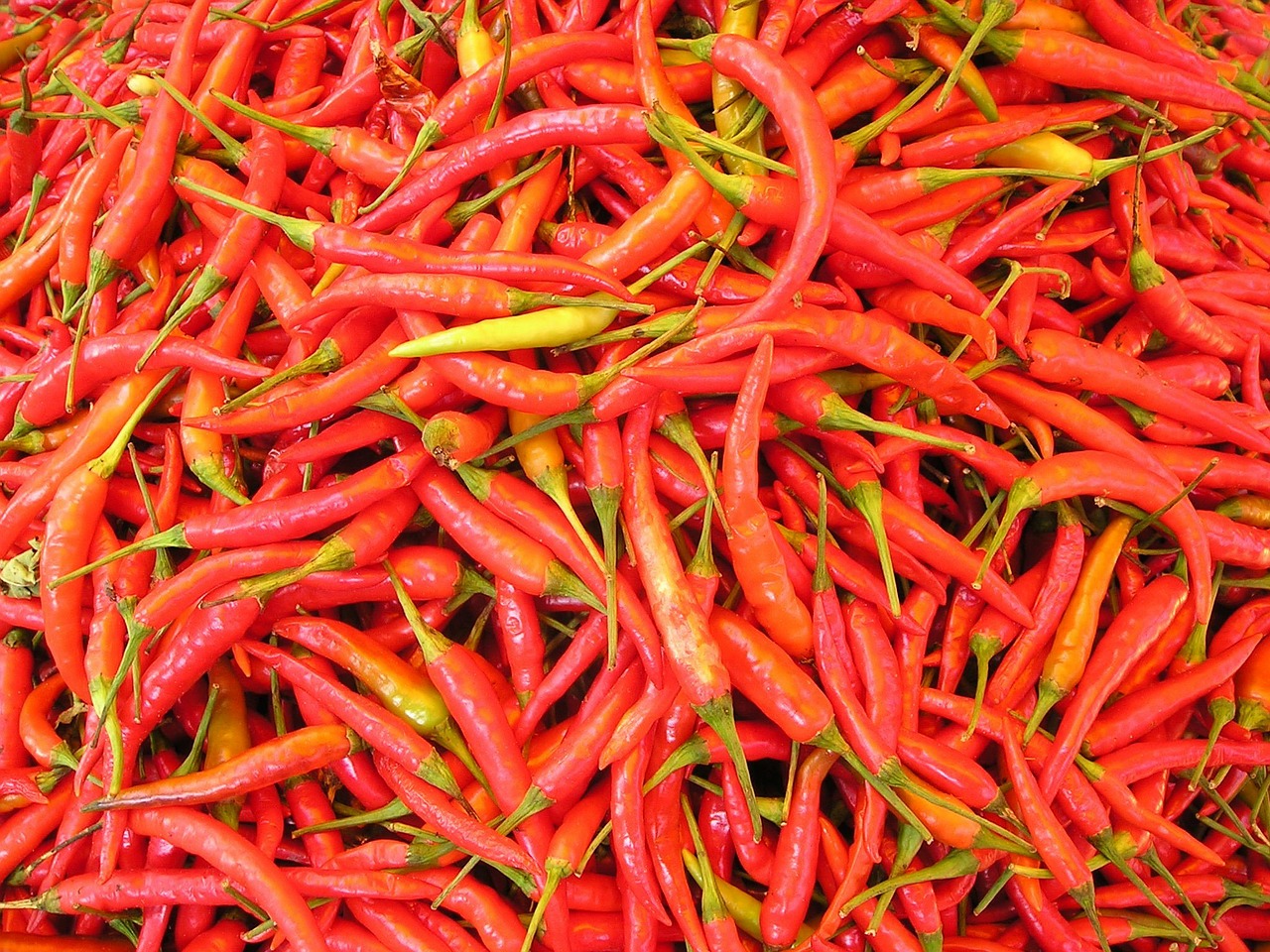 Habanero peppers come in at around 225,000 SHUs and are a popular substitute for Thai peppers if you're looking to add heat to a dish.
To Be Used Gingerly
Ginger is a common Thai spice that falls around halfway up the Scoville Scale. It's spicy but earthy, and it adds an excellent flavor to many dishes. It also pairs well with sweeter flavors, such as honey and plum. Spicy-sweet combinations are one of the food trends to watch for in 2023, so trying this combination out is a great way to hop on this trend.
Hot Peppers and Spices
The Carolina Reaper is the pepper at the top of the Scoville Scale, measuring around 2,000,000 SHUs. Most recipes featuring this pepper turn it into a hot sauce or a dipping sauce, like salsa, which helps mellow out the spicy flavor.
There are few spices in the world that can rival the heat of the Carolina Reaper pepper. Some cayenne pepper and paprikas might rate high on their own spice scale but still wouldn't offer as much heat as the Carolina Reaper.
Some of our favorite spices and peppers fall in various places on the heat scale, from mild bell peppers to the burning Carolina Reaper. Their presence in Thai food and other cuisines adds heat and flavor that many people love.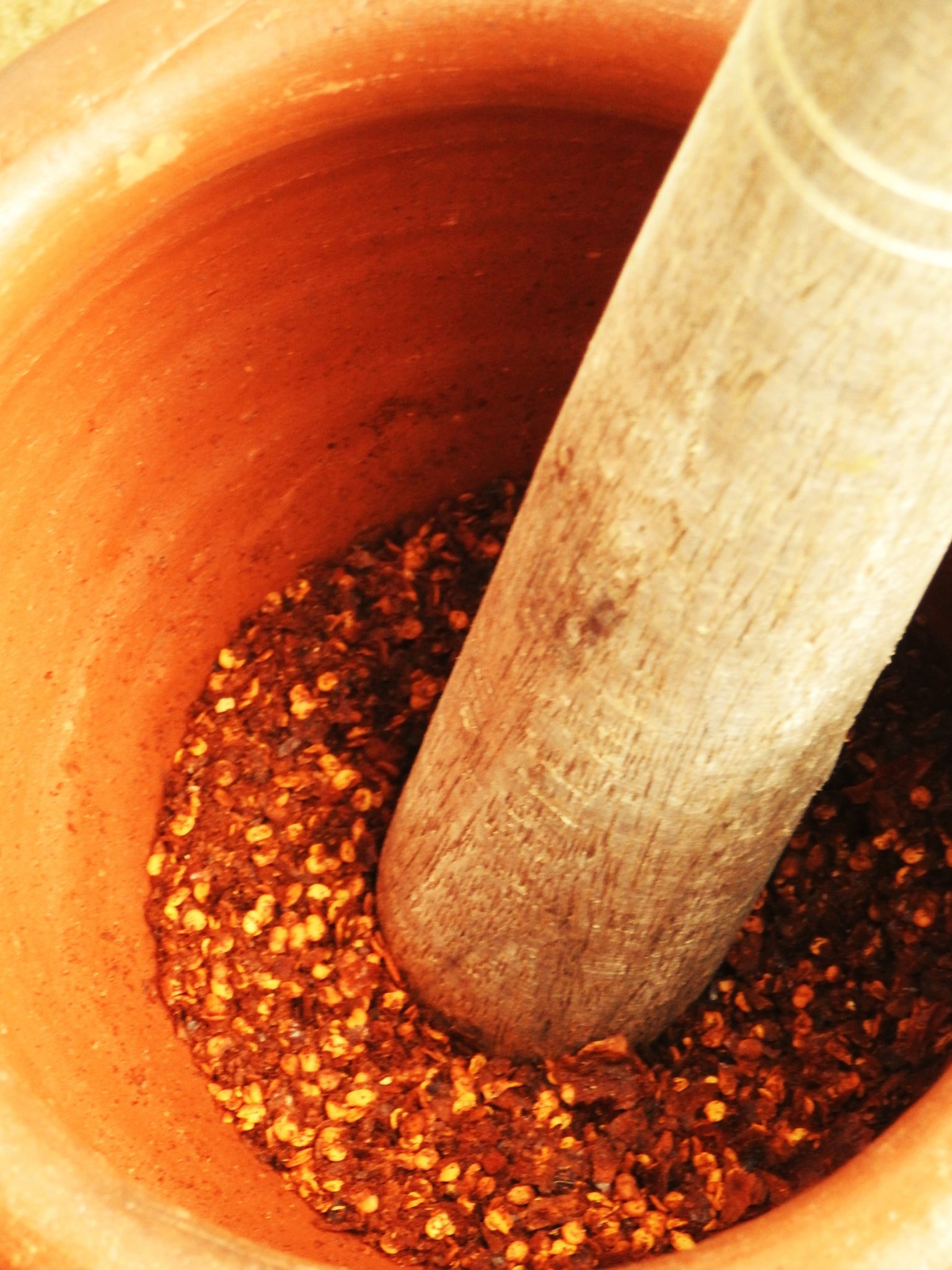 Another popular pepper in Thai cooking is the dried chili flakes. These flakes are made by drying and then crushing red chili peppers. They are often used to add a smoky, deep heat to dishes such as curries and stir-fries. They are also used as a garnish for soups and salads. Dried chili flakes can be found in different levels of heat and can be adjusted according to personal taste.
All these peppers are used in a variety of ways, from being pounded into pastes to being used whole or ground. Each of them play an important role in creating the unique and delicious flavors of Thai cuisine. Next time you try a Thai dish, take a moment to appreciate the complex blend of peppers that make it so delicious and spicy.
Are Thai Spices and Peppers Healthy?
You can't go wrong with any natural peppers and spices as long as you don't have any health conditions, such as allergies, that cause you to react to them. If it is a colorful, organically grown spice or pepper you are sure to get lots of vitamins and antioxidants from them. If you are worried, start with a little and see how you react.
In Summary
You can always make your food spicier by adding pepper. Cooling it off, is popular but not as easy. Start with a half teaspoon of chili powder in a dish if you are worried and go from there. A Thai restaurant near us said they use a teaspoon for a 3 out of 5 on the Thai restaurant heat scale.
You can also leave it out altogether when cooking and sprinkle it in after. If you put too much in, coconut milk is often used to cool off dishes. Spices come in varieties from powders to fresh spices. Have a variety and play with them to figure out your preferences. Let us know if we missed anything or if you have any neat tricks you use with spices in your Thai food.