This post may contain affiliate links.
7 Ingredients Pad Prik Khing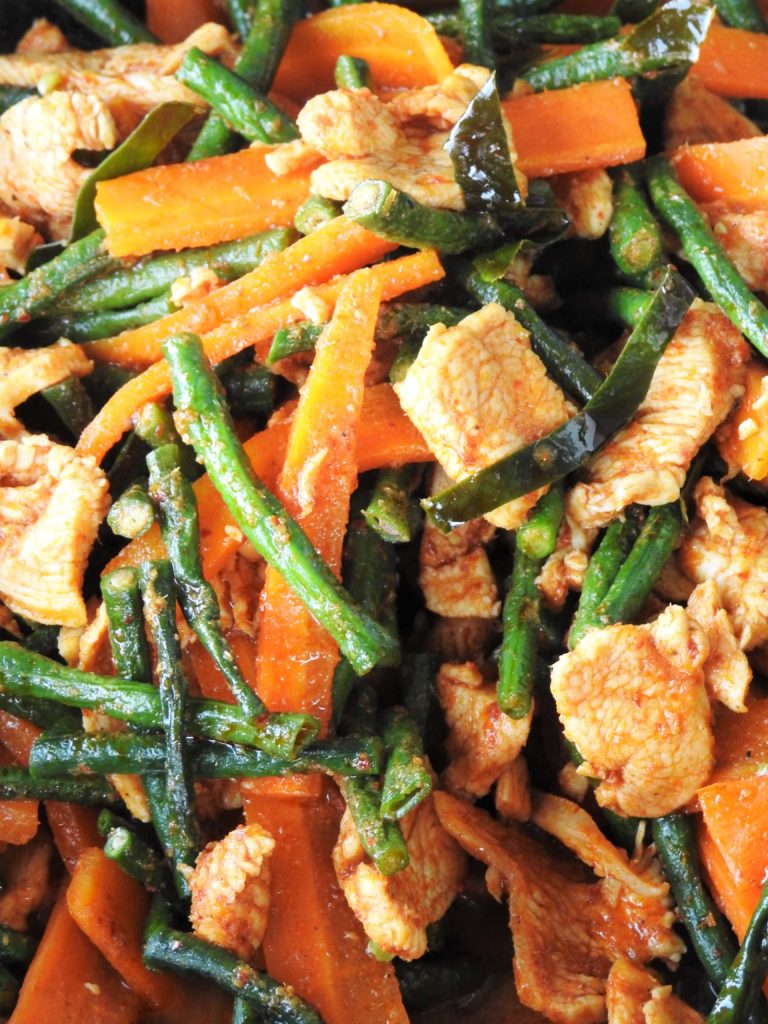 Pad Prik Khing or Pad Prik King is one of the entrees that we can find in most of Thai restaurant. It's stir-fry green beans with the red chili paste and a choice of meat. It's a spicy dish, but yet has some sweet tastes in it. I love to eat my Pad Prik Khing with steamed rice. The food tastes great, but even better when I pour the sauce over the rice.
It's not too demanding to make a homemade Prik Khing paste. But I know I could be a little bit overwhelmed because they're more than ten ingredients just for making the paste. That's why I am so thankful for all kinds curry paste that they sell at grocery stores. It's made my life much easier.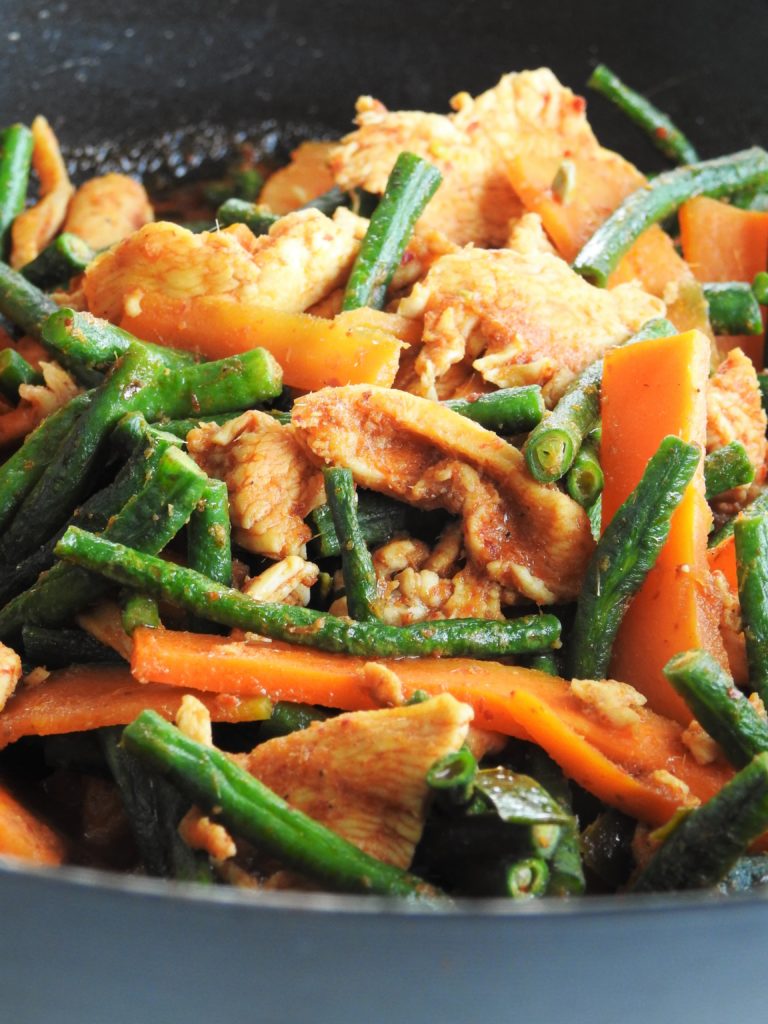 What do we need to make the Pad Prik Khing?
There are only seven things we need to make this excellent recipe. First of all, we need the Prik Khing paste and green beans or long beans. (I prefer the long beans; the texture is more firm than the green beans). Next is the carrot (or red bell pepper), chicken breast (or pork, beef, shrimp, seafood, tofu), and the condiments like olive oil, stevia, and fish sauce.
The method for the recipe
Heat up the olive oil and Prik Khing paste until you can smell its aroma which takes about 30 seconds. Next, add sliced chicken breast (your choice of protein) and stir-fry until the meat is cooked. Then add green beans, carrots, and some of the water. Stir-fry until the green beans are soft and season the food with stevia and fish sauce, and it's done.
Serve Pad Prik Khing over a bed of whole or long-grain rice and enjoy.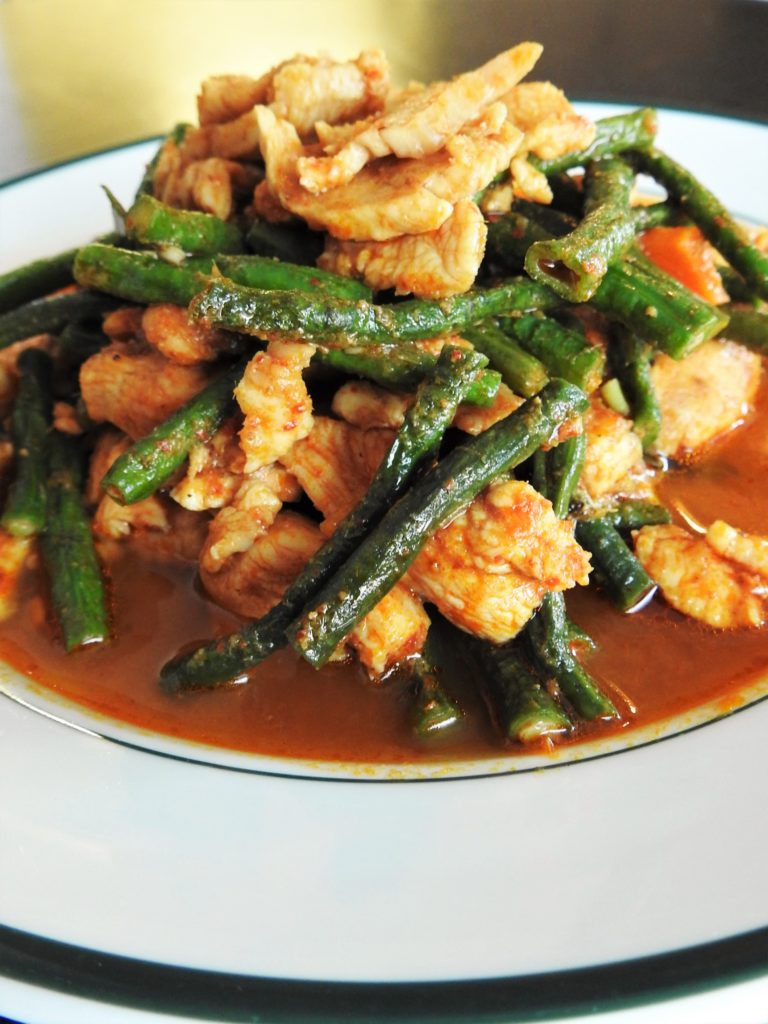 Here's is a printable recipe!
7 ingredients Pad Prik Khing
Author:
Prep time:
Cook time:
Total time:
7 ingredients Pad Prik Khing Chicken. It's unbelievable easy recipe for such an amazing tasty food.
Ingredients
1 lb sliced chicken breast or any choice of protein
1 lb green bean, cut them 2 inches long
½ lb carrots, thin sliced about 2 inches long
4 tablespoon olive oil
5 tablespoon Prik Khing paste
1 teaspoon stevia
1 ½ tablespoon fish sauce
¾ cup water
Instructions
Heat up olive oil in the wok and stir-fry Prik Khing paste with it until you can smell the aroma (about less than 30 seconds).
Add sliced chicken breast and stir-fry it with the Prik Khing paste until the chicken is cooked. (During this step if the paste is sort of dry out add ½ of water into the wok.)
Add green beans and carrots and cook till the green beans are soft, add another ¼ of water into the wok. (I like lots of sauce on the Pad Prik Khing).
Then add fish sauce and stevia and mix them together with the vegetables and chicken. Turn off the stove and serve the Pad Prik Khing over steamed rice.