This post may contain affiliate links.
Thai Style Home Made Hot Pot
The Thai-style homemade hot pot is one of few delicious recipes that my family and friends make to enjoy our time and company with each other.  It is timeless, and every time we get together around the table and make and share this recipe we enjoy it. Nothing in the world can beat good food and good company, am I right?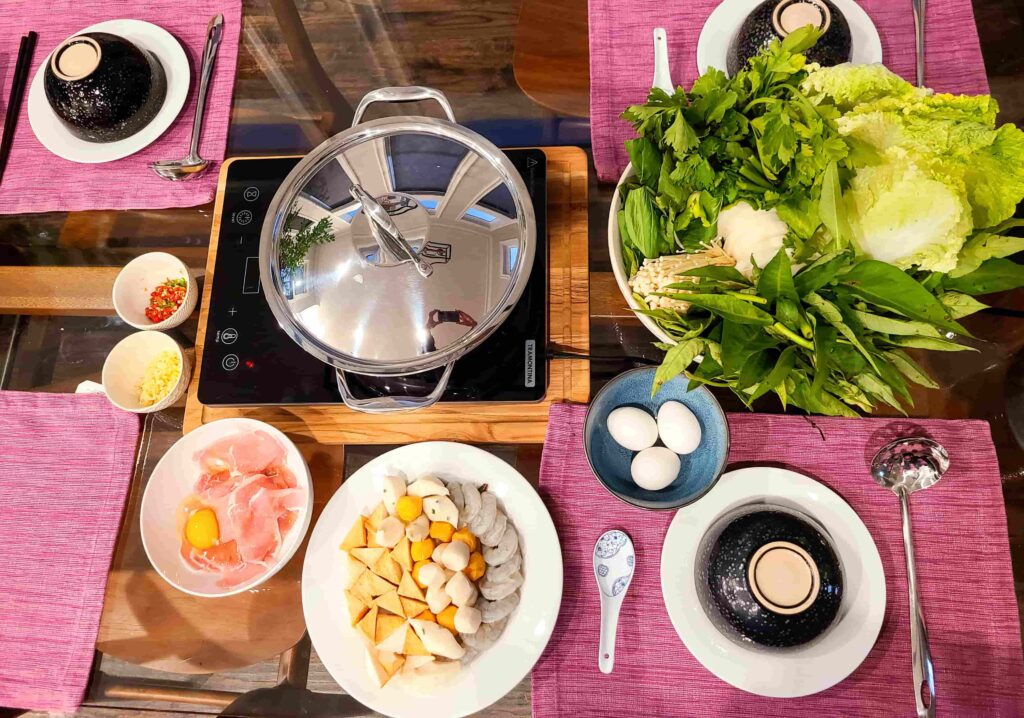 What is Thai Style Hot Pot?
The Thai-style hot pot is unlikely any other recipes.  Normally, you have to finish the cooking in the kitchen before you serve the food on the table but NOT with the hot pot. The only thing you need to prepare and get ready from the kitchen is the broth. Then you'll bring the rest of the ingredients to the table and enjoy the food as you're cooking and eating at the same time.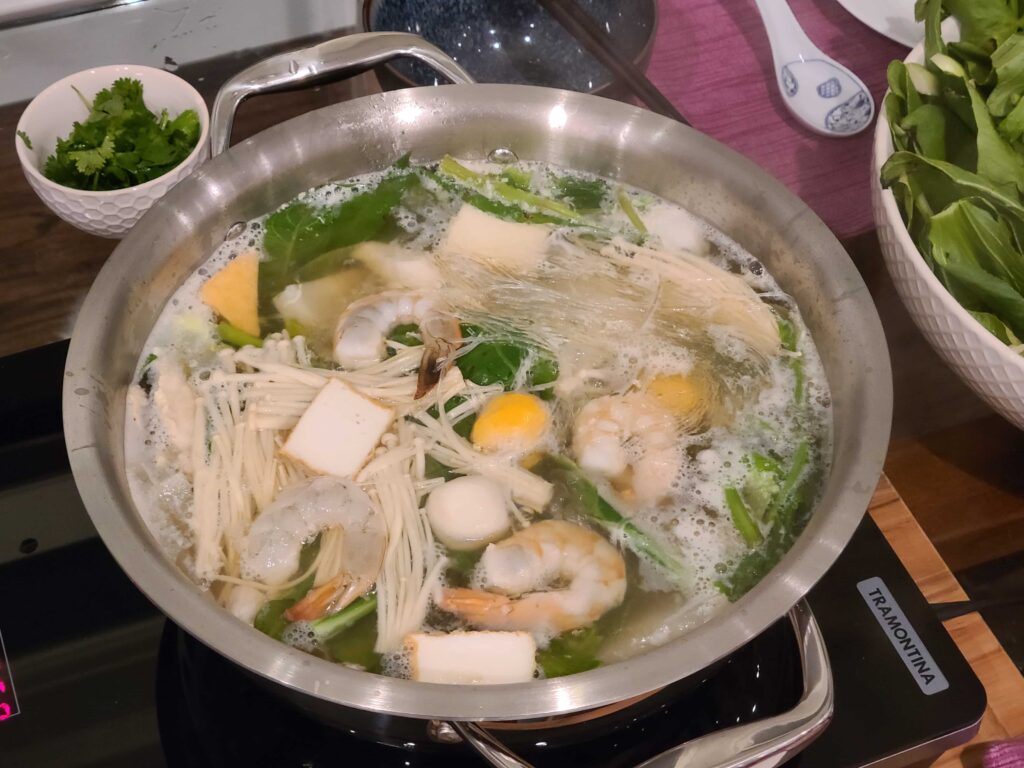 Instruments for the Hot Pot
There are some tools that you can choose to make the Hot Pot. You can use whatever kind of countertop burner; gas, electric, or induction, they all work just fine. Next, you'll need a big pot for making the hot pot. Then hot pot strainer scoops to put meat, fish balls, noodles, and vegetables of your choice for cooking them. Later are soup spoons to get the broth into your bowl. Last but not least, don't forget the soup bowl, spoons, and chopsticks for each individual. We used a brand new induction burner that my friends just bought. (Yes, we christened the induction burner set for this recipe post!)
What's in Thai Style Hot Pot?
To be honest, there's is no rule when it comes to what you want to put in this Thai Style Hot Pot. We're just talked among each other and asked what we feel like to put or eat. Basically, you need a big pot of broth, and it can be vegetables, chicken, or pork, or seafood. (We use pork broth this time. My top picks for broth are either pork or chicken.) Next is the protein, it doesn't matter if it's red or white meat, pork, beef, chicken, or seafood.
Whatever you crave for protein are perfectly good choices for this recipe. Then, we need some carbs, the most popular choice of noodles is glass noodles. However, you can use vermicelli or ramen noodles (they're good, too). Last but not least is vegetables. All kinds of green leaves and mushrooms are really good with the Hot Pot.
We chose napa cabbage, water spinach, Chinese celery, bok choy, daikon (white radish), and enokitake mushrooms. In case you can't find any exotic vegetables, you can substitute them with broccoli, sweet onion, carrot, any kind of mushroom that you can find. Oh! and don't forget some eggs, too.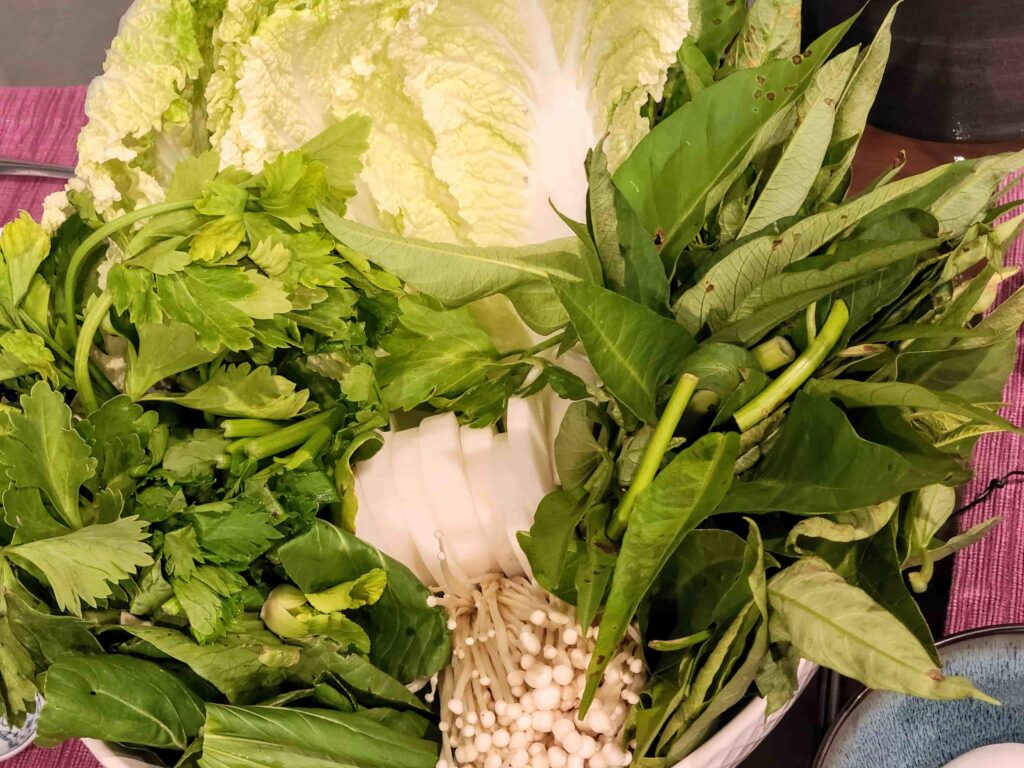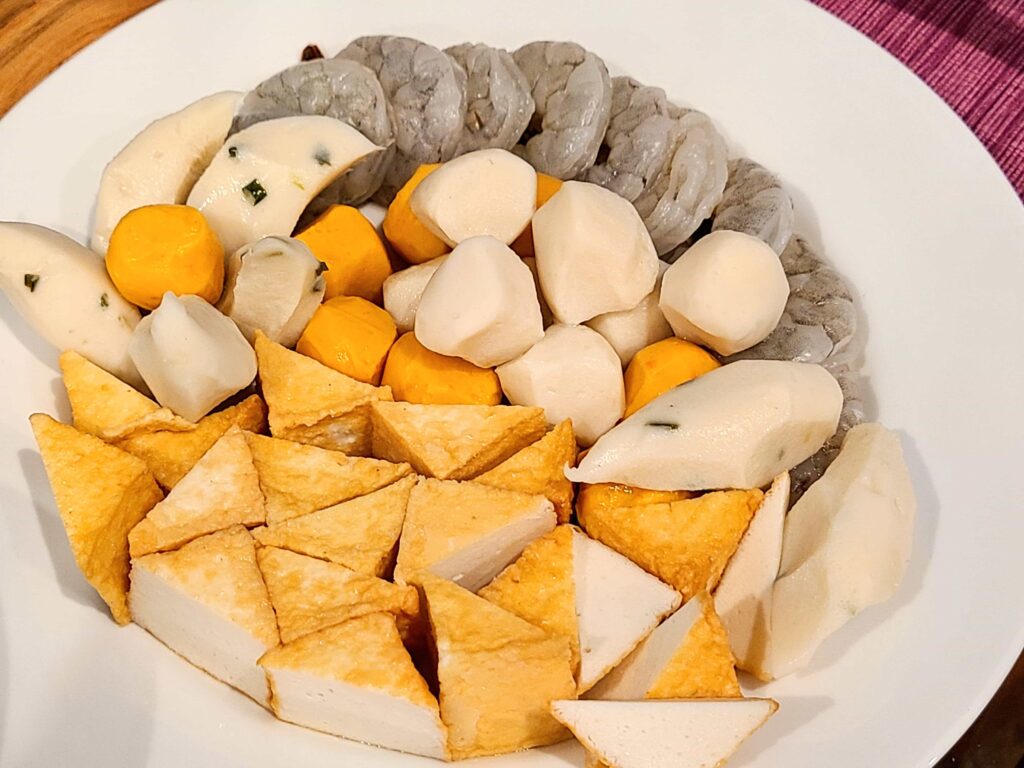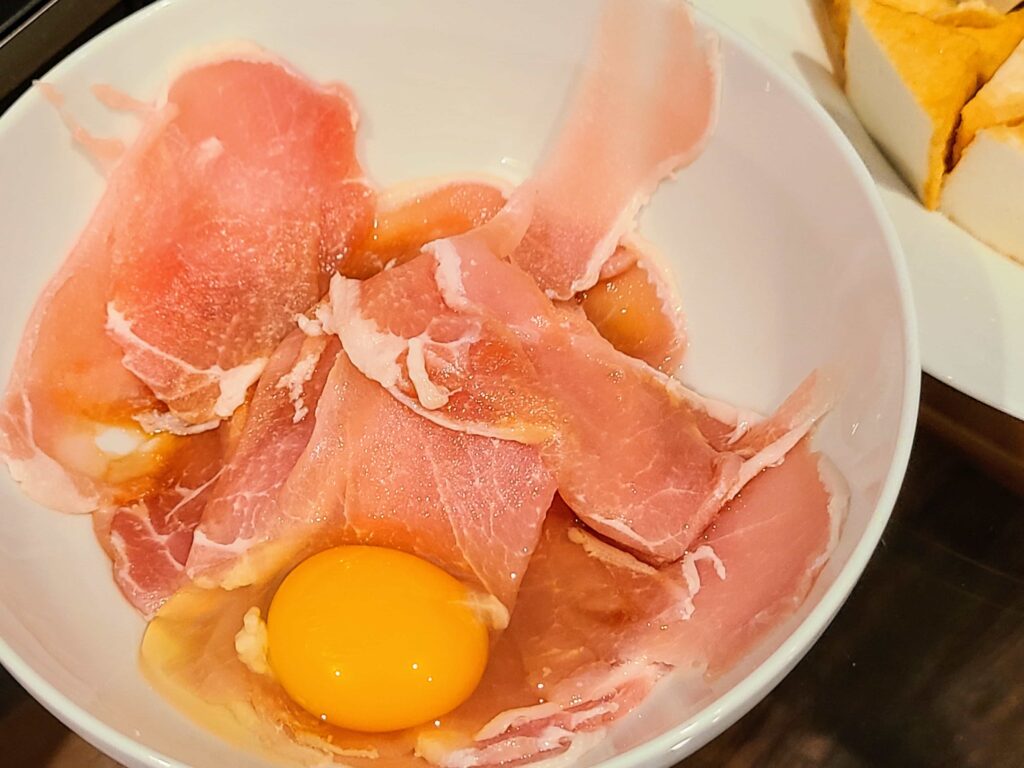 To make the soup
You need a big pot to make the soup.  First is to boil the daikon, carrot, and pork bones in boiling water, let the daikon and pork bones boil in the water for a while then season with soy sauce and a little bit of white pepper.  Keep an eye on the broth while you're making it because boiling bone can cause some unpleasant foam/bubbles on top of the broth.  All you need to do is just scoop those foam/bubbles out.  The more you scoop them out, the more clear the broth will be.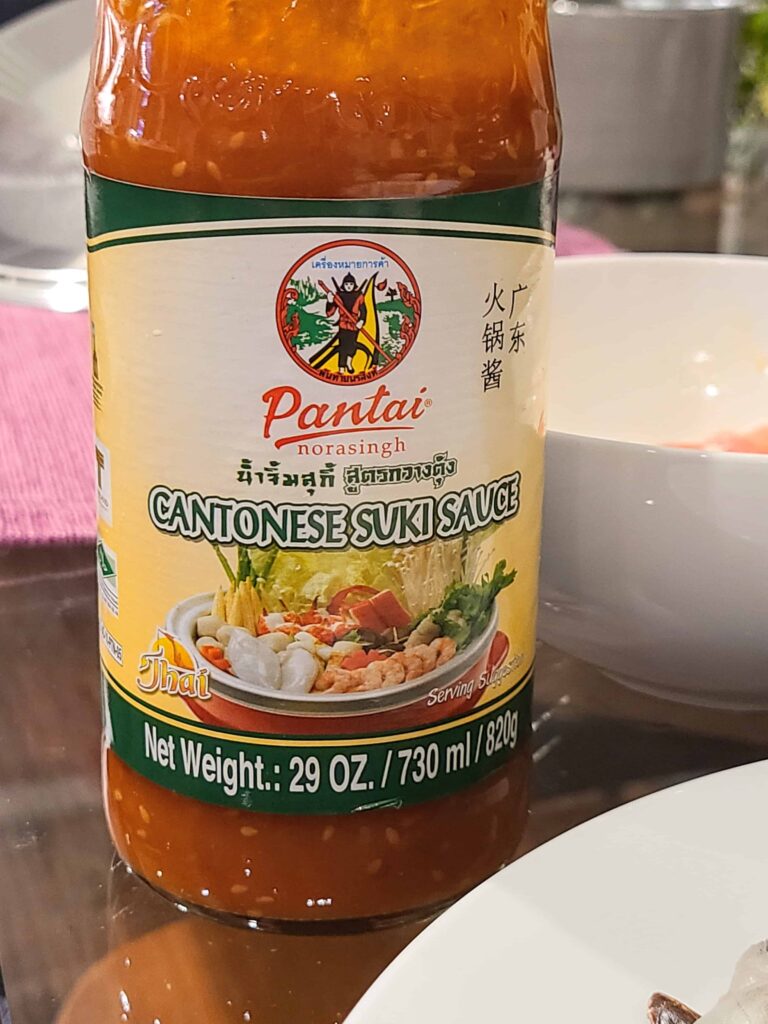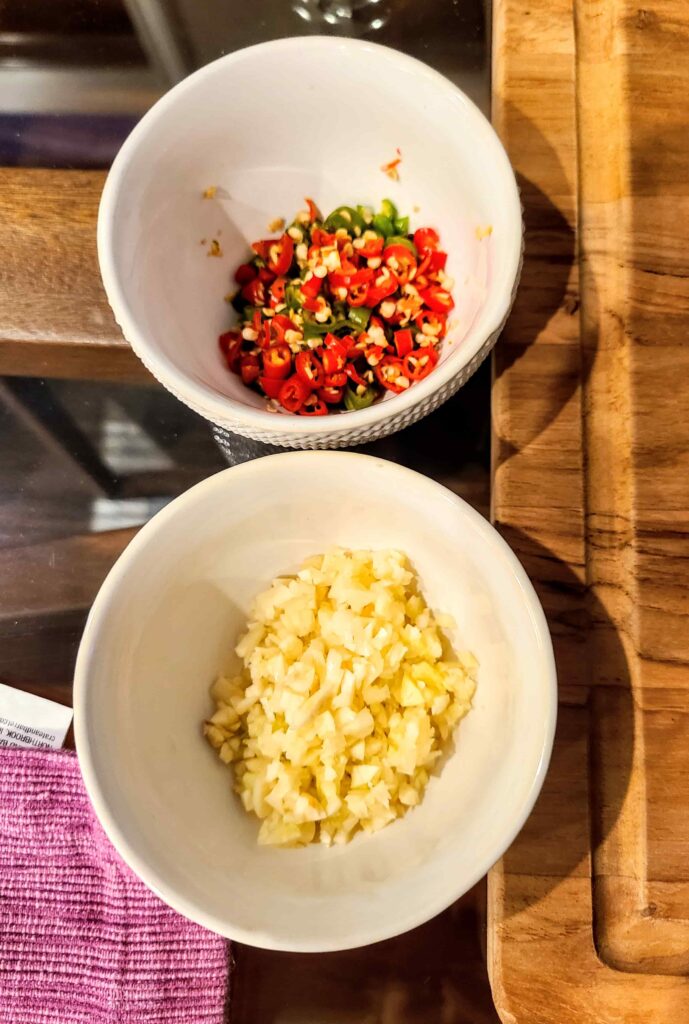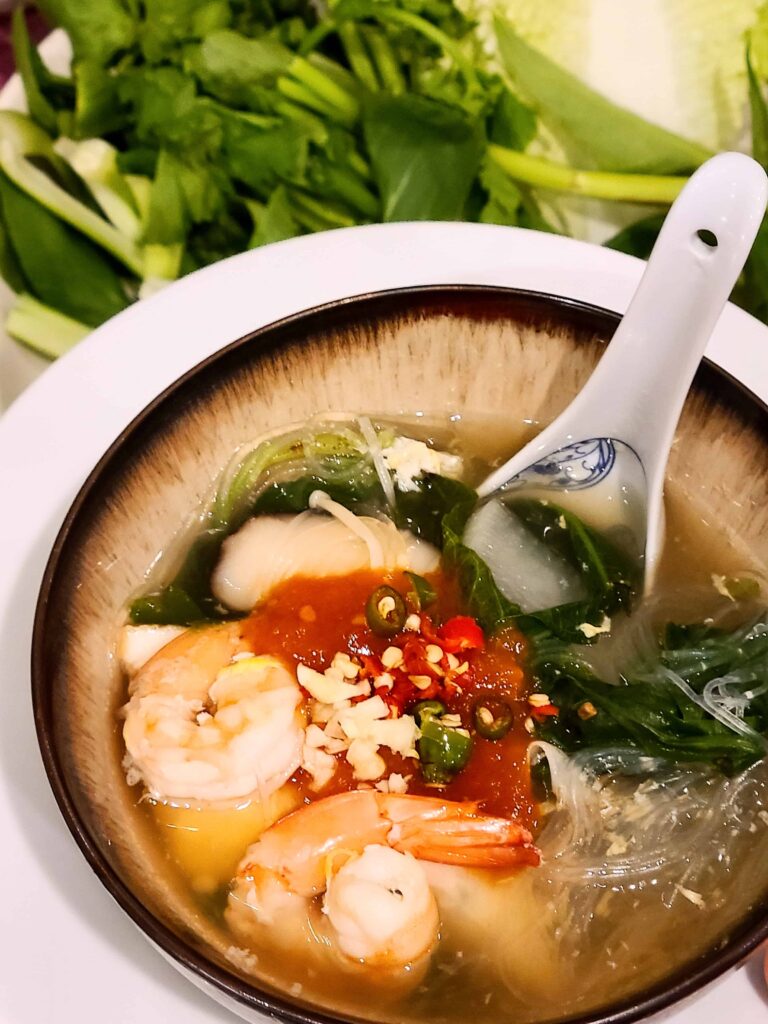 Hot pot in a bowl, ready to eat