This post may contain affiliate links.
Easy and Adaptable Thai Mackerel Rice Noodles Salad (ยำขนมจีนใส่ปลาทู)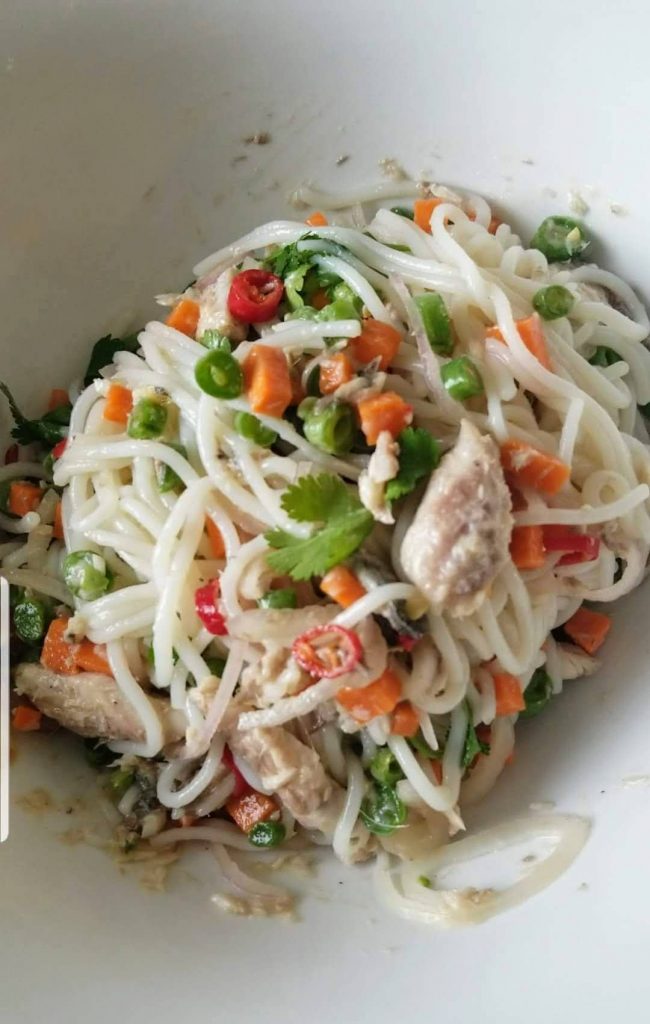 Salad salad salad! I'm not the kind of girl who would order a salad when I go out. I love meat and carbs as the main ingredients for my meal. When I order something, I always try to find a meal that has a bit of everything like Thai salad. Thai salads are different from Western salads. Their main ingredients are not mixed greens or lettuce, but mostly are protein and a bit of carb and a handful of fresh herbs, spice, vegetables, and/or fruits just like this recipe that I am going to share with you.
The Thai mackerel rice noodles salad is one of the salads that has all of the nutrients you need in one serving; protein, carbs, fat, mineral, and vitamin. The ingredients are including Thai mackerel, rice vermicelli, green beans, carrots, shallots, Thai peppers, limes, cilantro, fish sauce, and Stevia. It might be a little bit tricky for you to find the Thai mackerel, but if you live in a big city or nearby any Asian grocery store I believe you will be able to them at the frozen section. Sometimes, the store may label them as Indian mackerel, and it is like "tomayto - tomahto". You may spend quite some time preparing those ingredients but once you get all the ingredients ready. After you have all the ingredients, you're just going to mix everything up and Voila, the dish is ready to be served.
Here's the recipe!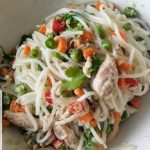 Print Recipe
Thai Mackerel Rice Noodles Salad
10 ingredients tasty and flavorful Thai salad with exotic Thai mackerel and rice noodles. Pair with herbs, spice, and vegetables tastes so fresh and so good.
Ingredients
1

cup

Rice vermicelli

Cooked

½

cup

Thai Mackerel

Cooked

½

cup

Green beans

Chopped

½

cup

Carrots

Cubed

2

tablespoon

Shallot

Thin sliced

1

tablespoon

Thai peppers

Chopped

¼

cup

Cilantro

1.5

tablespoon

Lime juice

Fresh

1

tablespoon

Fish sauce

⅛

teaspoon

Stevia

couple pinches
Instructions
Bake the mackerel in the oven on 400 Fahrenheit degrees for 20 minutes.

Cook the rice vermicelli according to the instruction on the package.

Chop the green beans and Thai peppers.

Slice the shallots and cut the carrots into cubes.

Once you get all the ingredients ready, place them into a mixing bowl and mix all ten ingredients together. Taste the salad, you may add more of lime juice, fish sauce or Thai peppers as you wish.
Nutrition
Calories:
339
kcal
|
Carbohydrates:
59
g
|
Protein:
21
g
|
Fat:
2
g
|
Saturated Fat:
1
g
|
Polyunsaturated Fat:
1
g
|
Monounsaturated Fat:
1
g
|
Cholesterol:
37
mg
|
Sodium:
1457
mg
|
Potassium:
802
mg
|
Fiber:
6
g
|
Sugar:
8
g
|
Vitamin A:
11516
IU
|
Vitamin C:
56
mg
|
Calcium:
63
mg
|
Iron:
2
mg
If you like this recipe, you may like
Strawberry Peach Shrimp Thai Salad (ยำสตอเบอรรี่ลูกพีชสดใส่กุ้ง)
Thai Glass Noodles Salad with Ground Chicken and Shrimp (ยำวุ้นเส้น)