This post may contain affiliate links.
At our food blog, we are passionate about promoting healthy eating habits and exploring the benefits of various cuisines from around Thailand and some stuff we come up with in our Thai-American mixing pot kitchen.
Jump to Recipe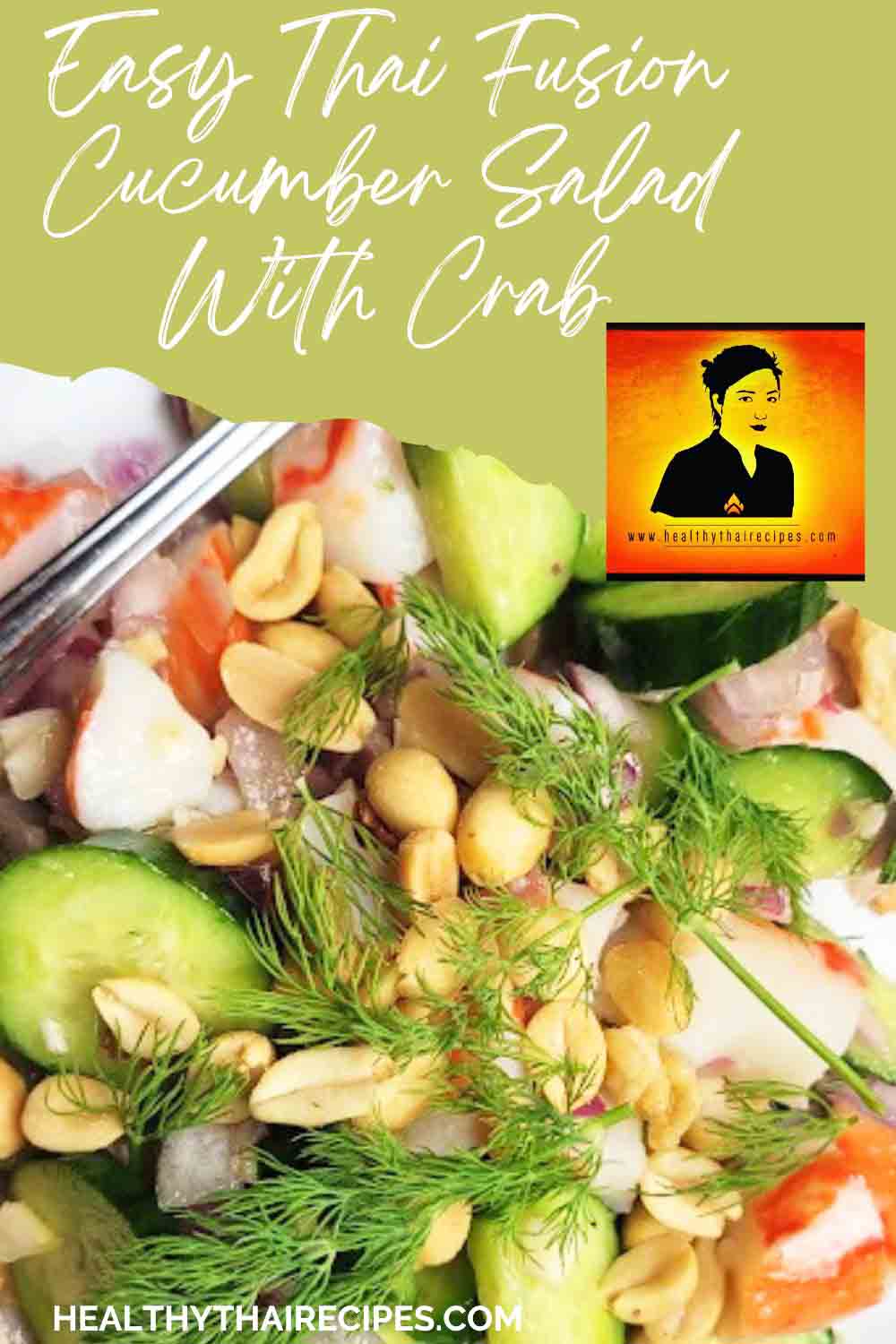 Today, I want to share with you the wonders of Thai cucumber salad mixed with a little Mediterranean-style dill flavor– a dish that is not only delicious but also packed with nutrients that can boost your overall health and well-being. I came up with it after craving either a tangy Mediterranean tzatziki style dish but also the nuttiness of Thai style and modifying the traditional style cucumber salad a bit.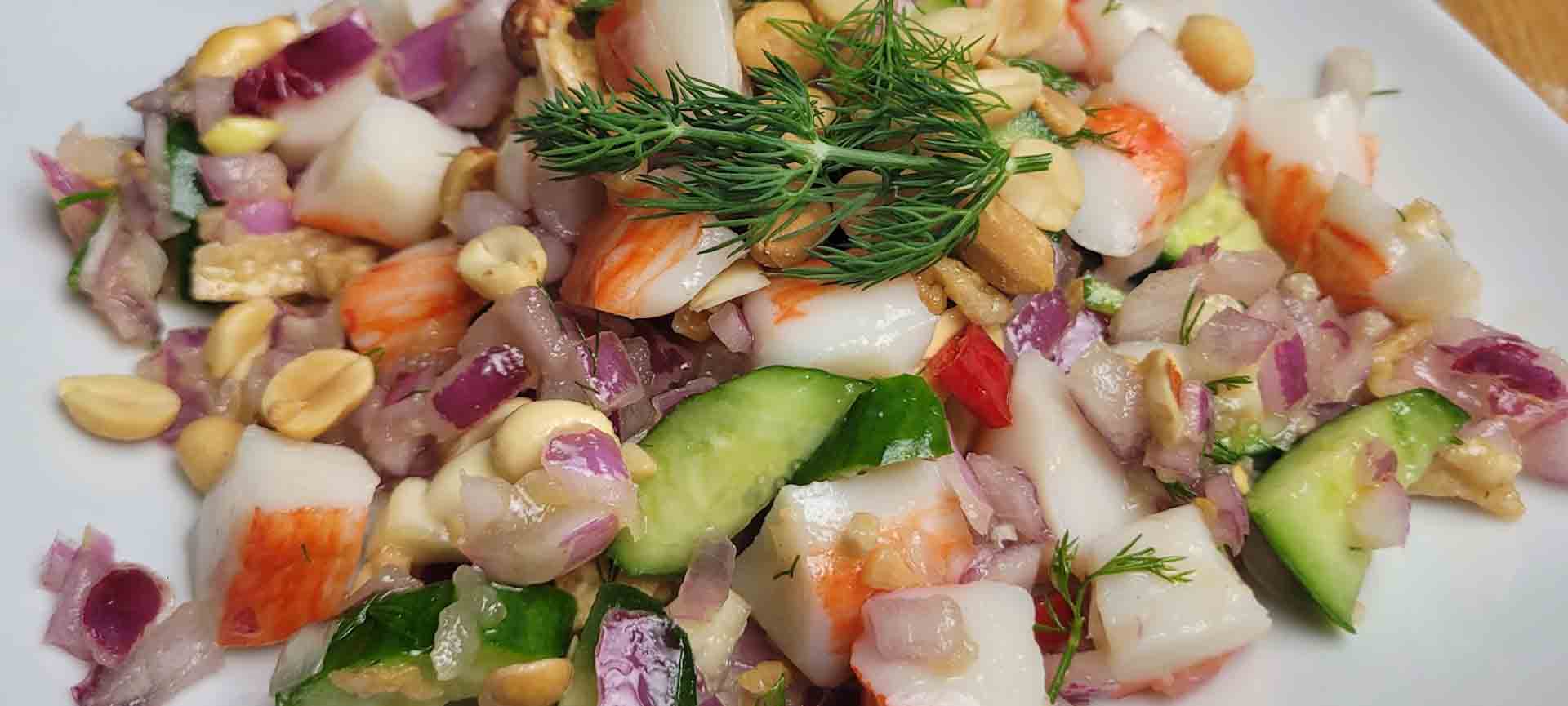 The Health Benefits of Thai Cucumber Salad: A Delicious and Nutritious Dish for Your Well-Being.
Cucumbers are the star ingredient of this refreshing and flavorful salad. They are low in calories, high in water content, and rich in vitamins and minerals such as vitamin C, vitamin K, and potassium. These nutrients can help to improve digestion, reduce inflammation, and maintain healthy blood pressure levels.
Antioxidant-rich colorful herbs and spices
To make this salad even more nutritious, we add a variety of fresh herbs and spices such as dill, and chili pepper. These ingredients not only enhance the flavor profile of the salad but also provide additional health benefits. Typically, cilantro is used in this salad but I used dill which is also high in vitamins and adds a bit of tanginess with the rice vinegar and lime juice.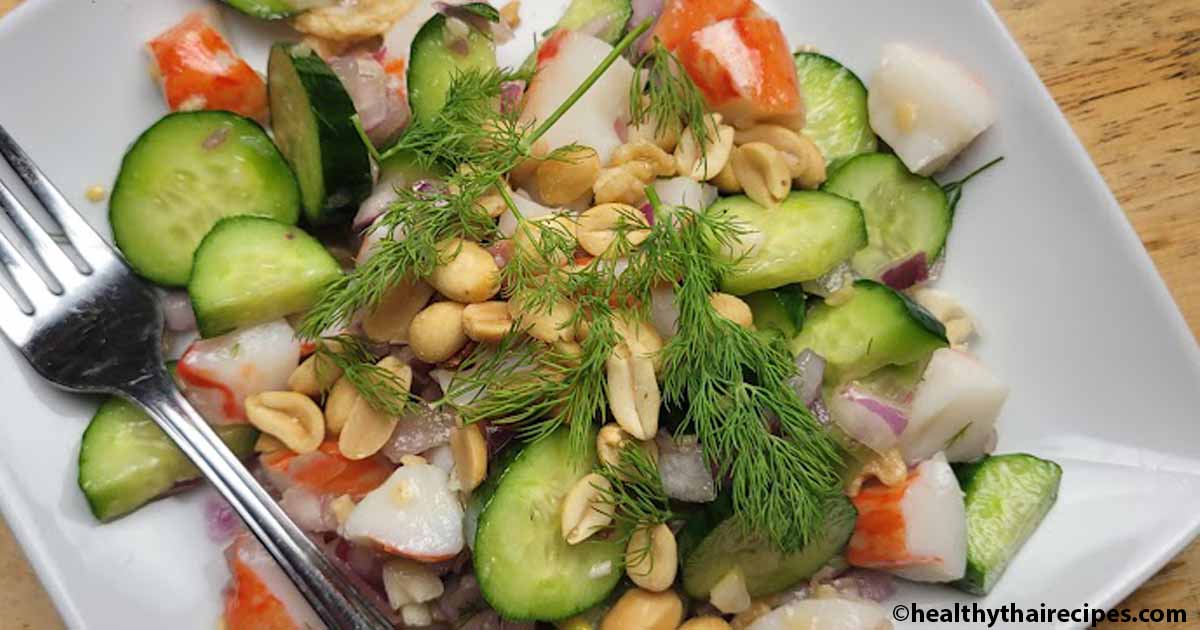 Healthy Protein
We also include a protein source in this salad by adding crab or imitation crab meat. Protein is essential for muscle growth and repair, and can also help to keep you feeling full and satisfied for longer periods of time. Additionally, the dressing for this salad is made with heart-healthy oils such as sesame, which can help to lower cholesterol levels and reduce the risk of heart disease. It also adds a wonderful nutty flavor to the peanuts.
The healthy nutty flavor
Peanuts, on the other hand, are high in protein and healthy fats, which help to promote satiety and reduce appetite. They are also a good source of vitamin E, an antioxidant that helps to protect cells from damage.
A light dish perfect for any occasion
So, whether you want to improve your overall health, lose weight, or simply enjoy a delicious and refreshing salad, Thai cucumber salad is a perfect choice. It is easy to prepare, customizable to your taste preferences and can be enjoyed as a light lunch, side dish, or even a main course. I lowered the calories a little by leaving out the typical sugars added to this dish.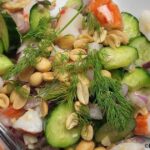 Print Recipe
Easy Thai Fusion Cucumber Salad with Crab
Thai cucumber salad is a healthy and delicious dish that can provide numerous health benefits. My recipe has a tangier twist.
Ingredients
5

Persian cucumbers

Sliced

½

cup

Red Onion

Sliced or chopped

1

pound

Crab meat

or imitation crab meat

2

Thai peppers

Sliced and seeded
Dressing
2

tablespoon

Sesame oil

2

tablespoon

Lime juice

Fresh if possible

1

tablespoon

Fish sauce

2

tablespoon

Garlic

Fresh and minced, about 3 cloves

2

tablespoon

Dill

Fresh with most of stem removed

2

tablespoon

Rice vinegar

½

cup

Peanuts

Roasted and lightly salted
Instructions
In a small bowl, whisk together rice vinegar, fish sauce, sesame oil, garlic, and chili. Set it aside.

In a large bowl, combine cucumbers, peanuts, dill, and red onion.

Pour the dressing over the salad, and toss to combine.

Taste and season with salt and pepper, to taste if needed.

Let it sit for 10-15 minutes in the fridge, allowing the flavors to meld together.

Serve, topped with peanuts and fresh dill for garnish, and enjoy!
Notes
Nutrition facts are calculated by a computer.  We are not dietitians or physicians, just internet people.  Your situation is fact dependant, if you have dietary concerns, follow up with an appropriate health care professional.  
Nutrition
Calories:
187
kcal
|
Carbohydrates:
7
g
|
Protein:
22
g
|
Fat:
8
g
|
Saturated Fat:
1
g
|
Polyunsaturated Fat:
3
g
|
Monounsaturated Fat:
3
g
|
Cholesterol:
48
mg
|
Sodium:
1364
mg
|
Potassium:
415
mg
|
Fiber:
1
g
|
Sugar:
3
g
|
Vitamin A:
137
IU
|
Vitamin C:
19
mg
|
Calcium:
82
mg
|
Iron:
1
mg
In conclusion, Thai cucumber salad is a healthy and delicious dish that can provide numerous health benefits. My recipe has more tanginess and a different twist on this typical Thai favorite. With its low-calorie content, high water content, and abundance of vitamins and minerals, cucumbers are a great addition to any diet.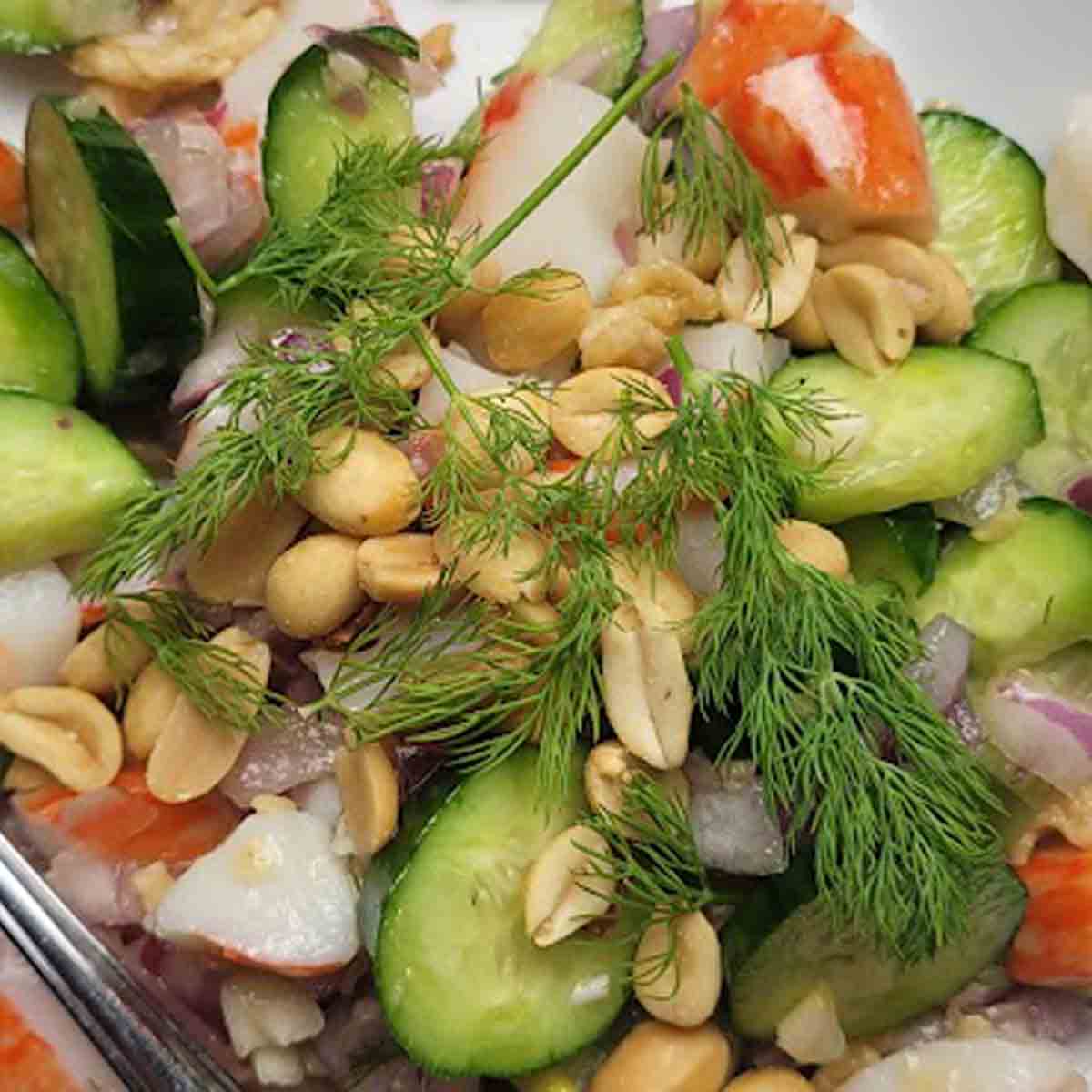 By combining them with fresh herbs and spices, protein, and heart-healthy oils, we have created a salad that is both nutritious and flavorful. So, the next time you are looking for a refreshing and healthy meal option, try making Thai cucumber salad – your body and taste buds will thank you!