This post may contain affiliate links.
Thai Beef Salad (Yum Nua) ยำเนื้อ
Thai beef salad or Yum Nua is one of the typical dishes that you can find in many Thai restaurants. It is a very delightful, colorful dish, and it tastes so good. If you are a person who loves spicy and savory food, the food that stimulates your saliva glands, this is the recipe for you.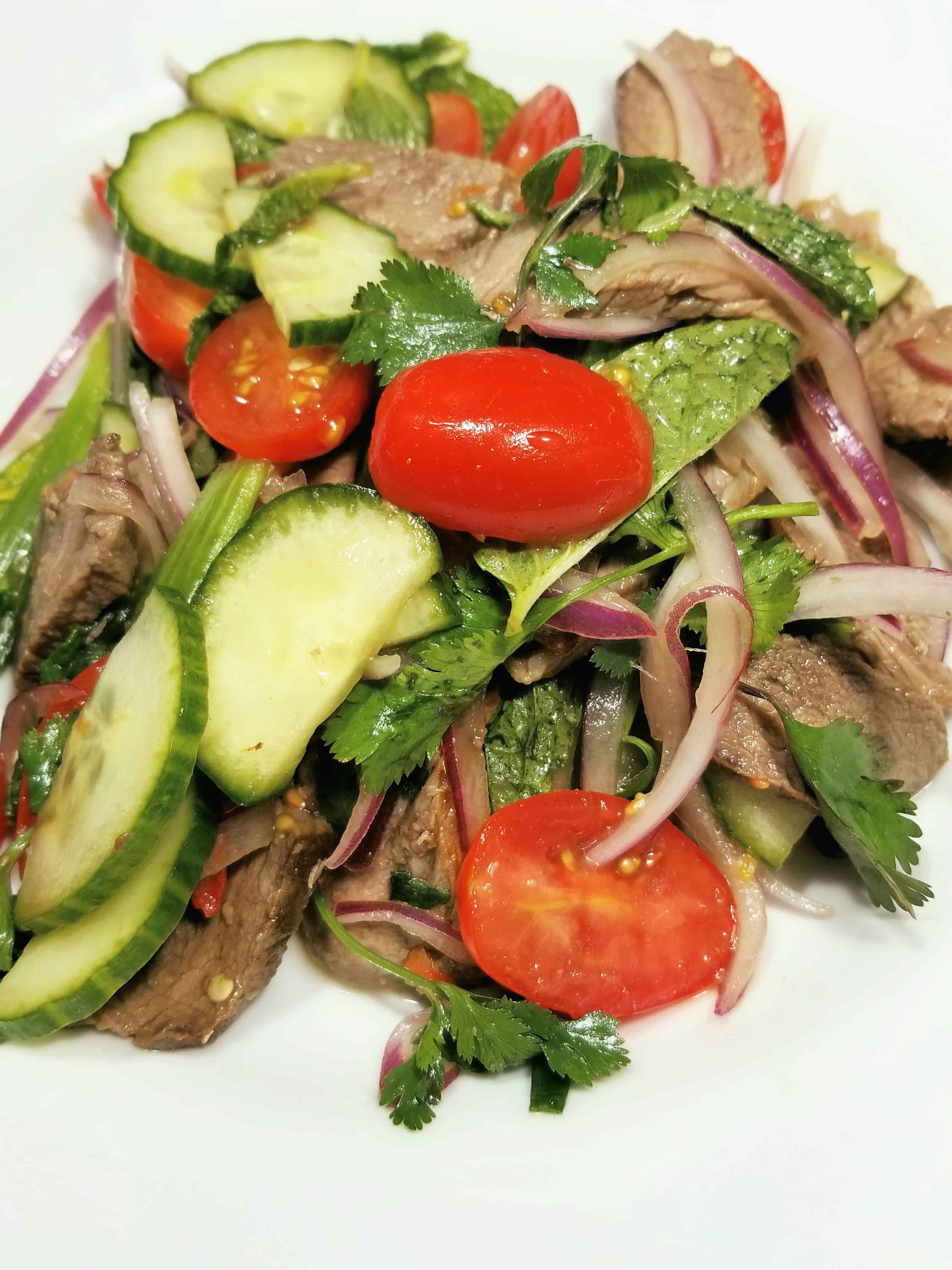 What is Thai beef salad?
It is cooked sliced steak, tossed in spicy lime dressing. Some recipes would grill the meat which is a really good way to do especially when you grill it with charcoal. The meat will have a smoky flavor in it. But we're living in an apartment, and they do not allow us to grill on the patio, so I decided to cook my steaks on the stove which is very easy and convenient. I cut the steaks about one inch thick. I spray olive oil over a pan and cook the steaks around five minutes on each side so my steaks come out medium rare.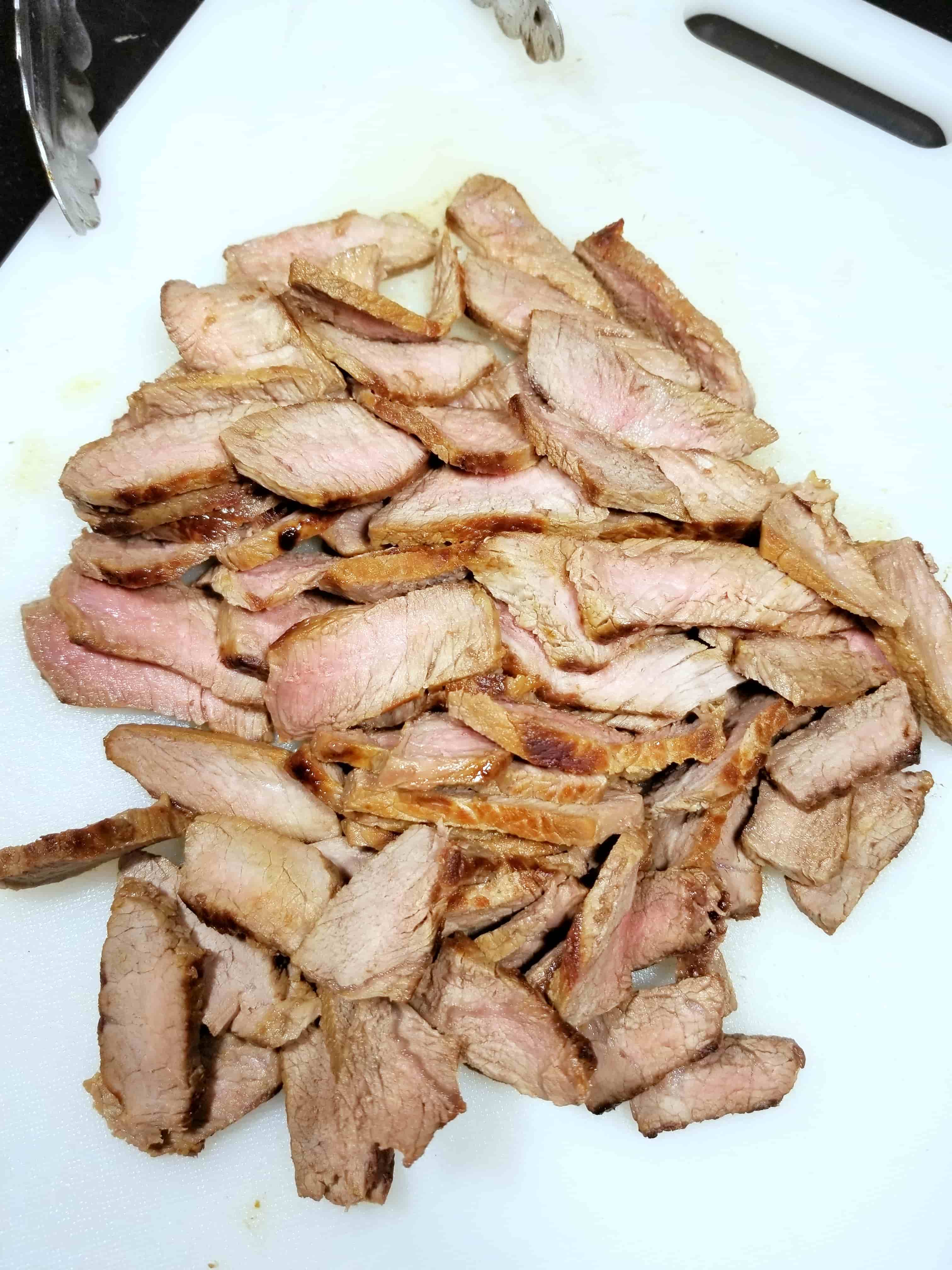 To make the spicy lime dressing is very easy. The dressing needs only four ingredients which are fresh Thai chilis or Bird eye chilis, fresh lime juice, fish sauce, and Stevia.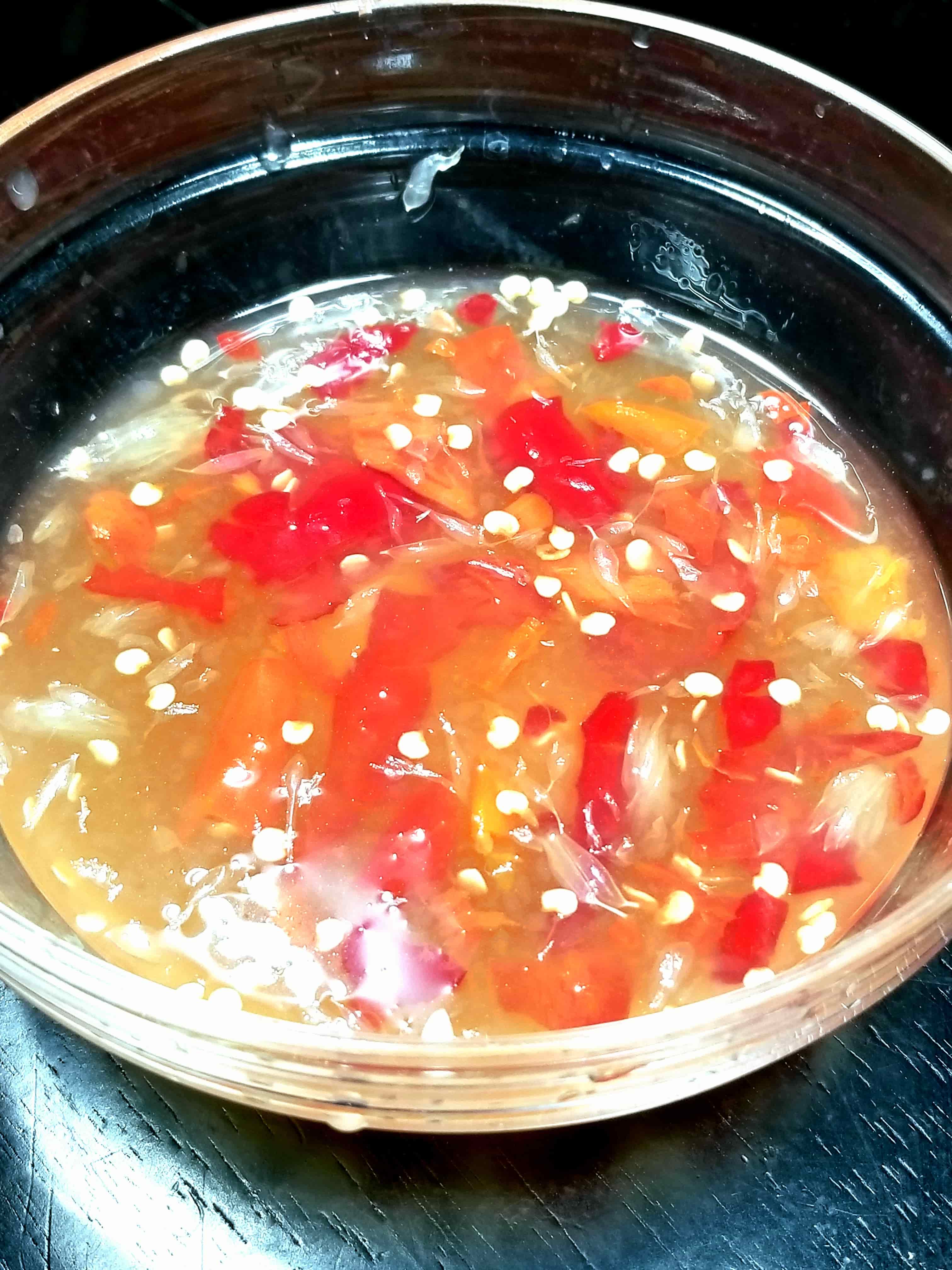 The other things, (ingredients) that make Thai beef salad so wonderful are fresh herbs, vegetables, and fruits we put in it. In this recipe, we have mint leaves, cilantro, green onions, red onions, sweet tomatoes, and seedless cucumber. I really recommend the seedless cucumber over the regular cucumber and the reason is the regular cucumber contains more water in it than the seedless one. I do not want any liquid from the regular cucumber watering down my salad dressing.
Thai beef salad is one of the Thai foods that I can honestly eat it every single day. I love the fact that the recipe is very palatable, and it is fresh and light. The meat is tender and juicy, the other fresh ingredients are so crunchy and aromatic. All the ingredients in the recipe are such perfect compliments to each other that they make the dish is so outstanding.
Here's the recipe!
Thai Beef Salad
Author:
Prep time:
Cook time:
Total time:
Tender and juicy beef meet spicy savory Thai salad dressing = Thai Beef Salad. This recipe is so fresh and tasty, it will make your saliva glands go nut.
Ingredients
1 lb. beef, one-inch thick cut
½ seedless cucumber, half moon cut
20 sweet tomatoes, cut half
½ cup mint leaves
¼ cup cilantro, leaves only
3 green onions, cut two inches long
½ red onion, thin sliced
5 fresh Thai chilis, crushed
¼ cup fresh lime juice
¼ cup fish sauce
½ teaspoon stevia
Instructions
Turn on a stove at medium-high. Spray olive oil on a pan and cook the meat about five minutes on each side (for the medium rare). Slice the steak into pieces and let them cool.
Prepare the herbs, vegetables, and fruit while waiting for the meat to cool down. It's better to serve the Thai beef salad at the room temperature.
Mix the Thai chilis, lime juice, fish sauce, and Stevia in a cup. Whisk them together until the Stevia melts.
Put all the ingredients in a mixing bowl, pour the spicy lime dressing over the ingredients and toss them together. Enjoy!!
If you like this recipe, you may like