This post may contain affiliate links.
Strawberry Peach Shrimp Thai Salad (ยำสตอเบอรรี่ลูกพีชสดใส่กุ้ง)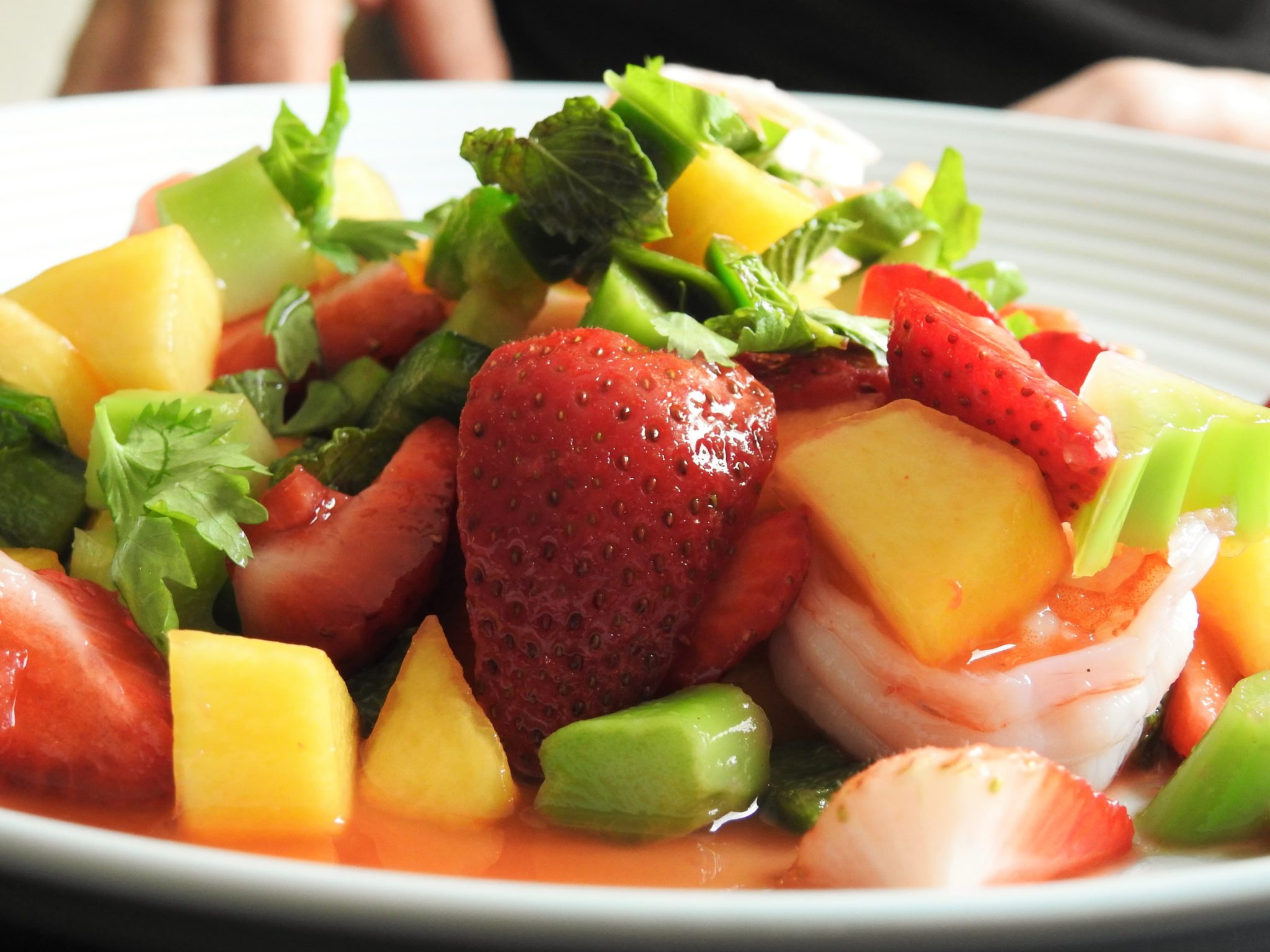 Hi, everyone.
I believe one of us had gone through our parent's bookshelf when we were little kids looking for some interesting books to entertain ourselves. As a regular wife in Thailand, my mom always bought cooking, D.I.Y, and general information magazines almost every month, and one of those magazines is called "MaeBan".
"Mae" means mother or mom.
"Ban" means house or home.
"MaeBan" means housewife.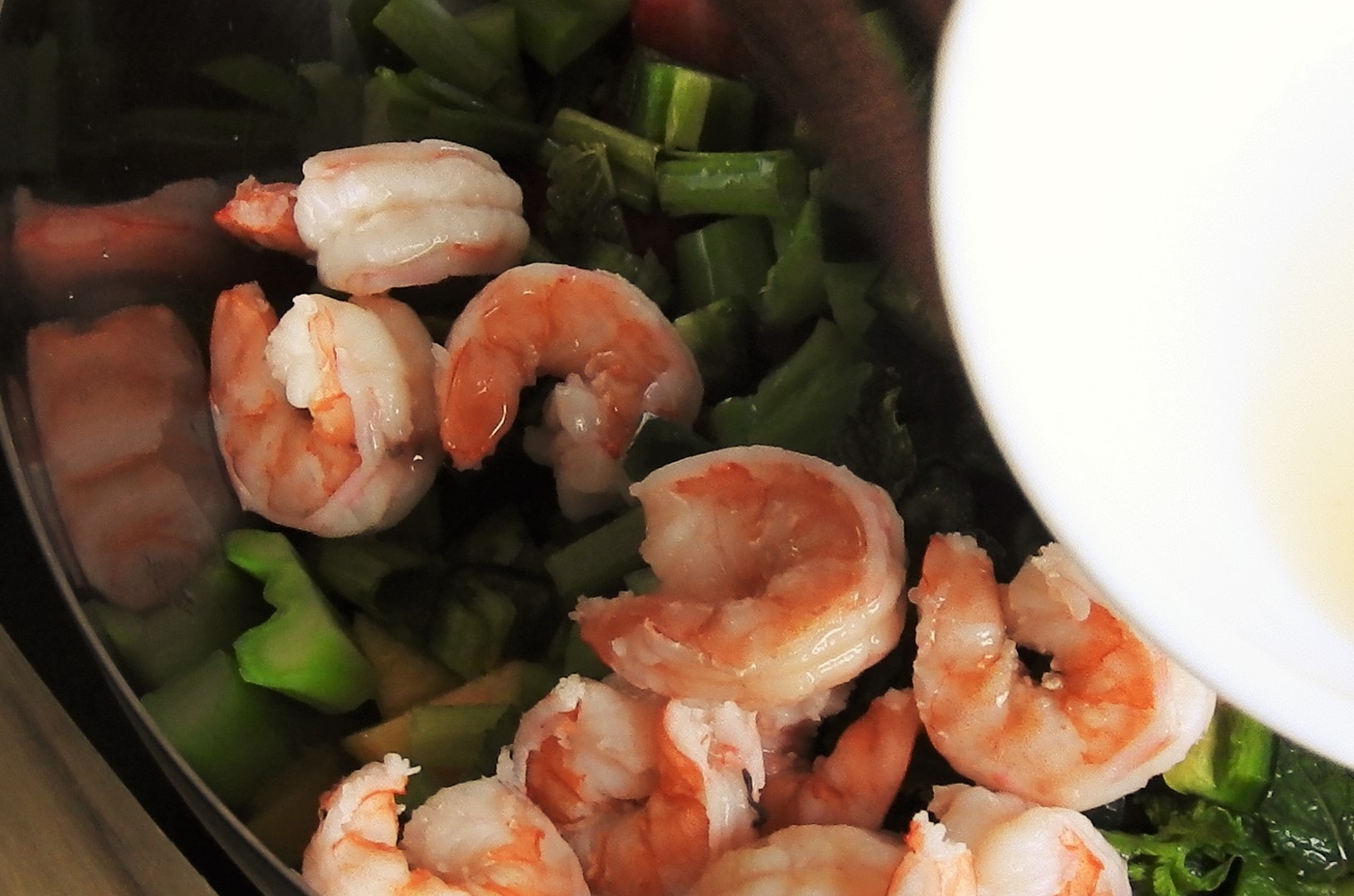 I'd say I grew up with "MeaBan". I liked to search for some stuff to do especially D.I.Y such as crochet, knitting, soap, and fruit craving. I read almost every topic except cooking; I just looked at those pretty photos but never cook those recipes. Well, even though I enjoyed eating, I didn't care so much about cooking. I'd help my grandma and my dad prepare meals, but I'd never been a chef.
Lately, I found "MeaBan" on Facebook. I was surprised and happy to know that the magazine is still alive. It's like I found my old friend that I haven't seen for a long time on Facebook.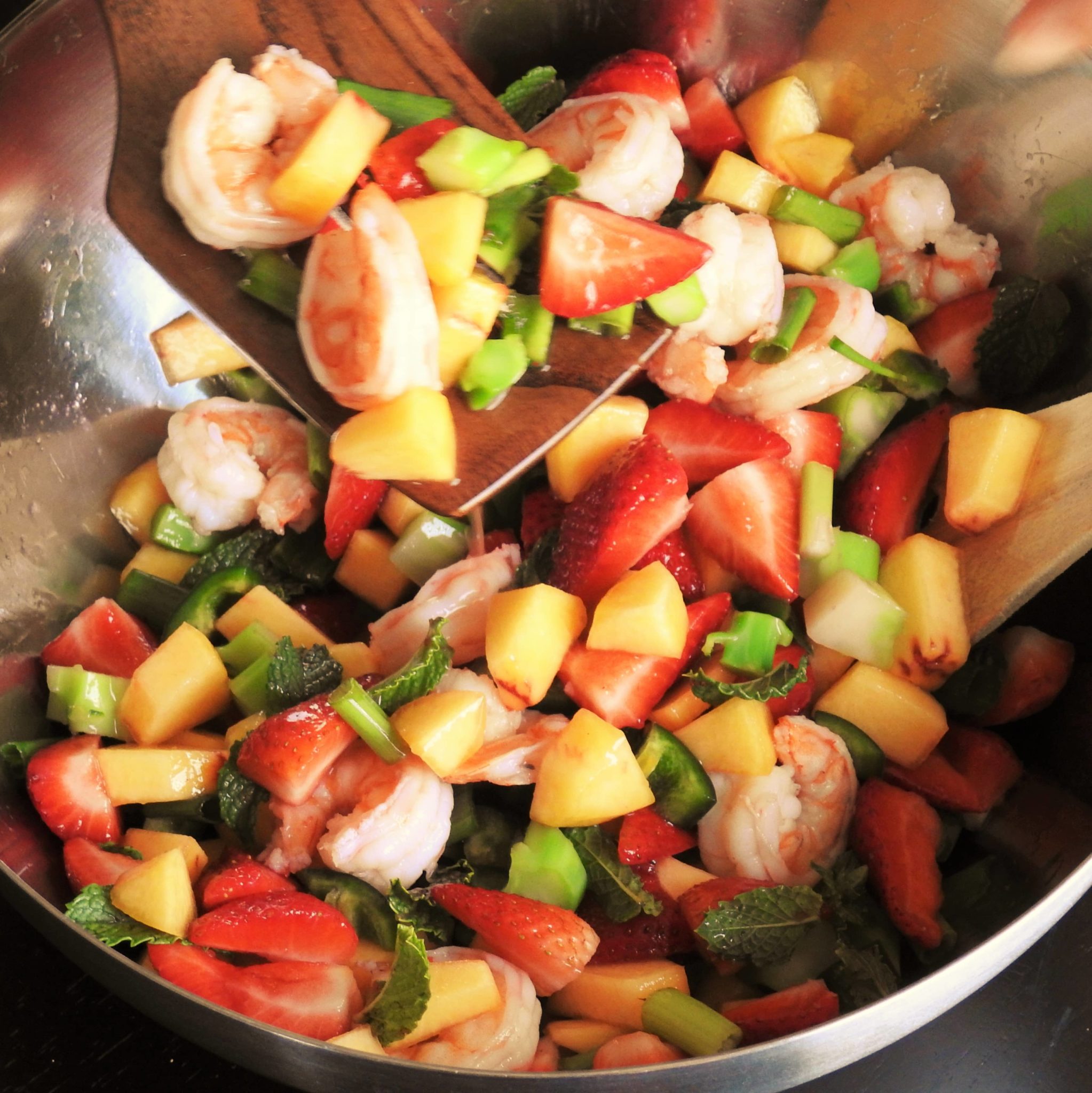 I started to follow the page and saw so many recipes on the page that I'd love to make. Finally, I found a recipe that looked appealing to me. It's called Strawberry Shrimp Salad. I saved the recipe on my cooking list for a while until the perfect time came. We had our friend and her precious baby girl from Dallas visit us (Houston), and I thought this recipe would be good for our guests.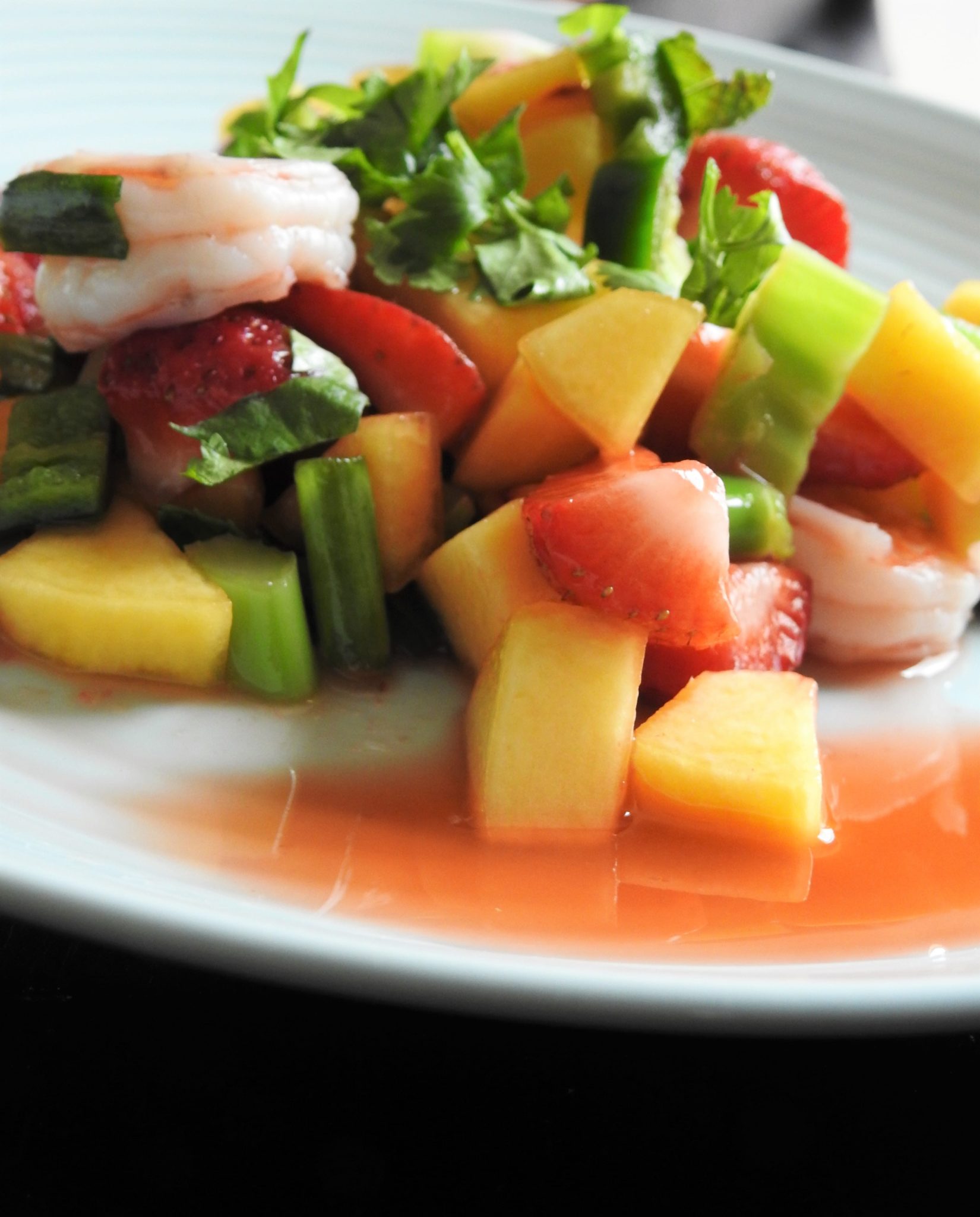 It has fresh fruit, protein with some greens vegetables, and herbs paired with lime juice and fish sauce dressing. I adapted the recipe to fit what we have in the U.S. and also changed the dressing a little bit to make it perfect for everyone's taste buds. I think the main thing that my salad version is different from the "MaeBan" version is; that I added some fresh peach and switched from Thai peppers to Jalapeno.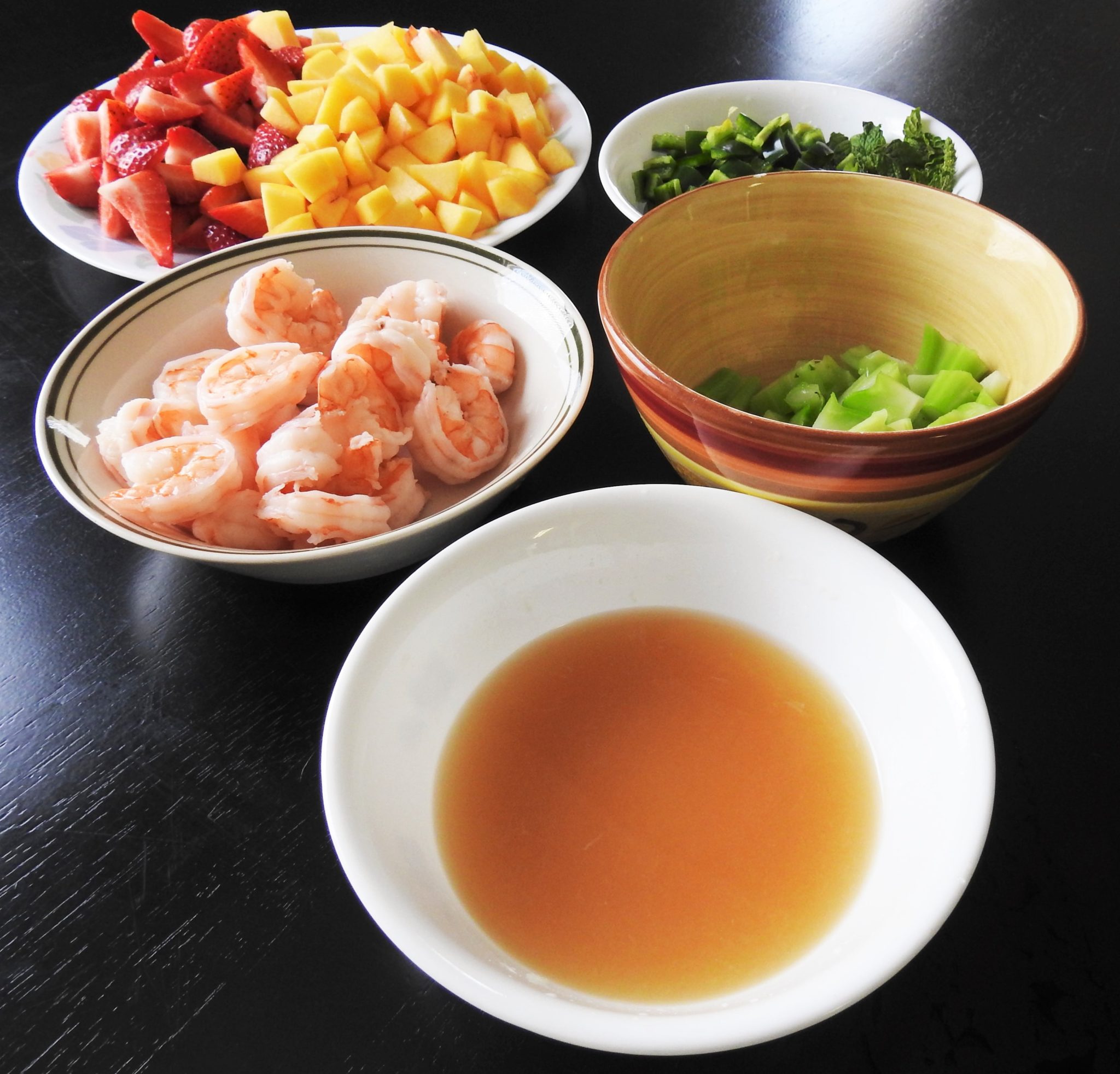 The original recipe calls for Chinese broccoli stalks, but I used regular broccoli stalks instead. I had broccoli in my fridge, and I didn't want to waste the stalks. Strawberry Peach Shrimp Thai Salad is so fresh and full of flavor. It has a sweet taste from strawberry and peach, sour from lime juice, spicy from the jalapeno, and salty from fish sauce. The recipe is pretty light, but if you are concerned about cholesterol you can substitute shrimp with ground chicken instead.
Strawberry Peach Shrimp Thai Salad
Author:
Prep time:
Cook time:
Total time:
Light strawberry and peach in Thai style salad. Sweet, sour, spicy and salty.
Ingredients
Salad ingredients
• 10 oz. large shrimp (about 20 counts)
• 1 lb. fresh strawberry
• 3 fresh peaches
• 1 cup broccoli stalks
• 2 unseeded dice jalapeno
• ½ cup mint leaves
• 3 stalks green onion cut them in 1 cm.
Dressing ingredients
• 4 ½ tablespoon lime juice
• 3 tablespoon fish sauce
• 1 teaspoon Truvia
• a pinch of salt
Instructions
To make the dressing
Add lime juice, fish sauce, Truvia, and a pinch of salt in a small bowl and mix them together.
Stir till the Truvia and salt dissolve with lime juice and fish sauce
To make the salad
Wash broccoli stalks and cut them into one cm. long. Boil the broccoli in a mall pot. Let it boil for a couple minutes, rinse the hot water and transfer the broccoli to a small bowl and fill the bowl with some ice cubes and cold water. To keep the broccoli stalk crunchy.
Clean the shrimp, take the shell and take the vein out. Filling water into the same pot. Heat the pot and add cleaned shrimp when the water is boiling. Turn off the stove when the shrimp is cooked (white opaque) and rinse off the hot water. Set it aside.
Wash and cut strawberry (4 pieces for 1 strawberry).
Wash and peel peach's skin and cut them into small pieces (bite size).
Add all the salad ingredients (shrimp, strawberry, peach, broccoli stalk, unseeded jalapeno, mint leaves, green onion) in a large mixing bowl and pour the dressing over the salad ingredients. Mix them well.
Now, it's ready to serve.
Serving size:
1
Calories:
213
Fat:
2.7g
Saturated fat:
0.1g
Unsaturated fat:
0.3g
Trans fat:
0.0g
Carbohydrates:
27.0g
Sugar:
16.4g
Sodium:
1560mg
Fiber:
4.4g
Protein:
25.1g
Cholesterol:
198.0mg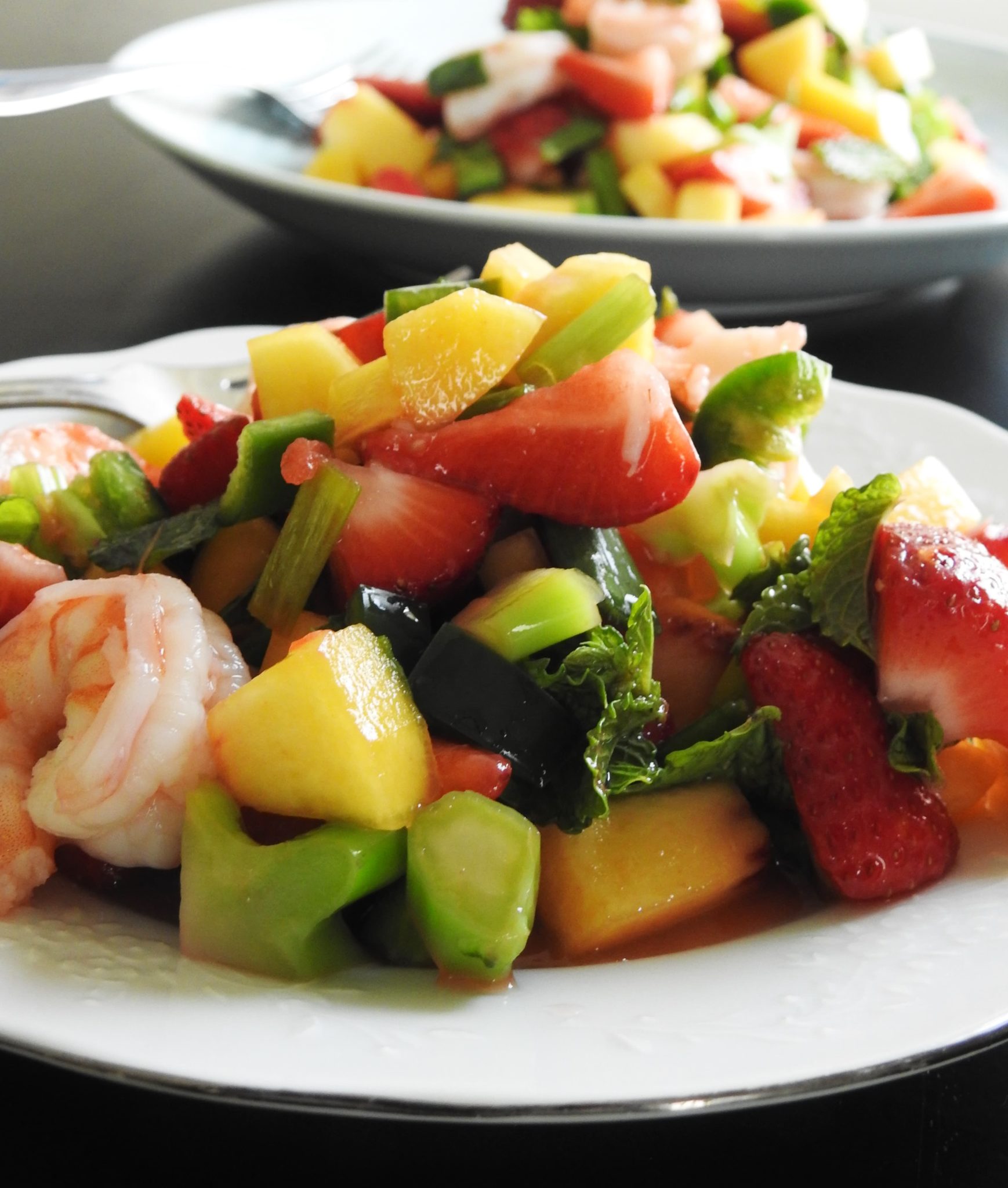 Here's the recipe.