This post may contain affiliate links.
This insanely delicious Salmon Over Thai Green Apple Salad is something I came up with, ate, and licked the plate. Ha! That rhymes. You can make this salad easily in 20 minutes and, unless they don't like salmon, anyone will love it. You can adapt it, however, you want, and rest assured that it's pretty healthy.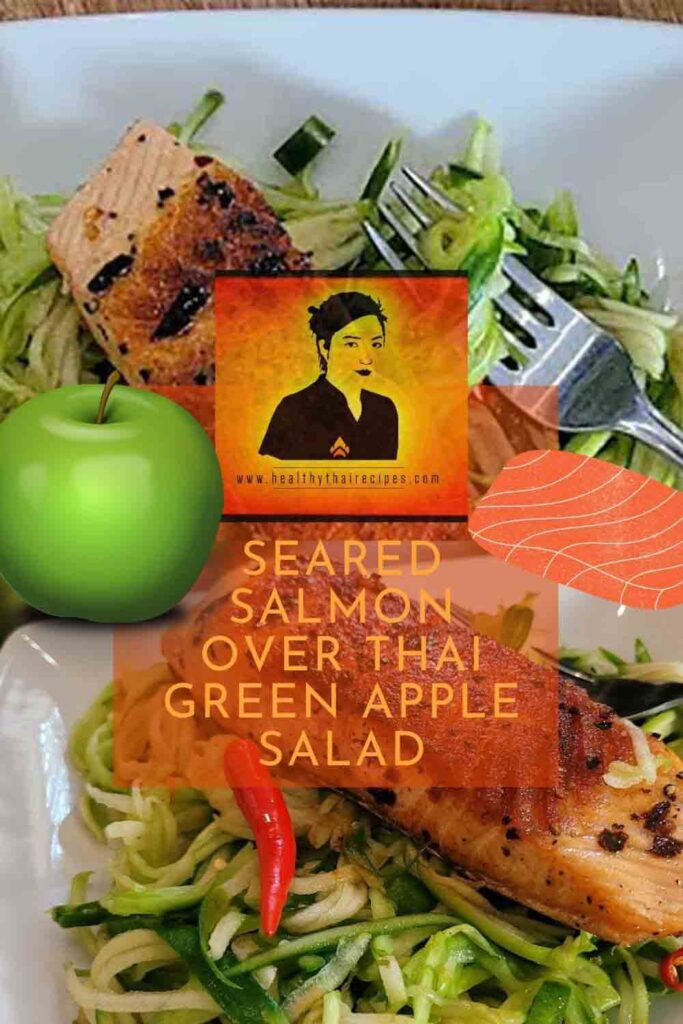 Thai Green Apple Salad
Thai green apple salad is something Mod, my Thai wife, makes. It is very similar to Thai papaya salad and something she makes when her all-time favorite, papaya is hard to find. You can find the dedicated post for this recipe on our site and just make it by itself. You can also adapt it however you want, substitute papaya for green apple, use red apple. Your creativity is your own limit, but the green apple has a tangy delicious flavor we love. Here is the recipe for just that below.
Thai Green Apple Salad (ตำแตงใส่แอ๊ปเปิ้ลเขียว)
Seared Salmon
Sustainably Sourced Salmon
So, searing salmon is way easier than you would think for as delicious as it is. I used what was on sale at Kroger. It's farm-raised, which I'm not crazy about because farmed salmon pollute the wild genetics when they escape. Honestly, I've seen several practices with non-sustainable seafood almost everywhere.
Seafood Watch
You can do a quick search on your smartphone when at the market to make sure you are not encouraging unsustainable practices. https://www.seafoodwatch.org/search?q=Salmon For more on making the restaurant-style pan seared salmon, I used this recipe post as my guide.
You basically just heat oil in a skillet, cook through starting with skin side up so you don't disrupt it. Try to resist the temptation to flip so you don't break it up accidently. Flip it after about 4 minutes, carefully, not breaking it.
The Quick and Easy Green Apple Salad
To make the salad, you just shave or slice an apple into small pieces. We always use a carrot shredder but you can also juliette the apple as you would with a carrot. One apple will do but, of course, you can always double and triple ingredients to match your demand. Mod used 2 small cucumbers, cut similarly to the apple described above.
Mod also uses 8 Thai chili, birds-eye, peppers or some variation of Thai chili and or jalapeno, or whatever you like really. To decrease the heat, leave some out and remove the seeds by rolling them in your hands before cutting them so the seeds fall out.
Tangy Citrus and Fish Sauce Dressing
The first time Mod made this, she used both fish sauce and fish paste. Fish paste smells like, wet stray dog to me. This time she left it out and I had non of that feeling. It's definitely a learned taste. If you want it to be more authentic use the fish paste. It's really easy. Just mix the juice from one lime or lemon, depending on what you have. Then 2 tablespoons or fish sauce and 1 tablespoon of fish paste, or you can just do 3 tablespoons of fish sauce.
Combine salad ingredients and place the salmon on top!!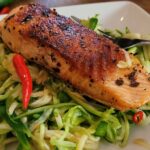 Print Recipe
Seared Salmon Over Thai Green Apple Salad
Seared Salmon Over Thai Green Apple Salad is an easy, yet elegant and healthy way to do a restaurant style salad.
Equipment
1 Non-stick skillet

1 Salad Bowl
Ingredients
2

½ pound

Salmon Fillet

1

Green Apple

2

Cucumbers

8

Thai Peppers

2

tablespoon

fish sauce

1

tbsp

Lime Juice

1

tablespoon

Fish Paste
Instructions
Heat a non-stick skillet on medium-high with canola oil or olive oil.

Pan-sear the salmon fillets, skin side up for about 4 minutes until nicely blackened and flip, making sure to cook through on both sides without messing up the gorgeous appearance.

Pulverize the peppers with mortar and pestle or a blender or food processor.

Slice the green apple and or cucumber into small slices.

Mix the lime juice, fish paste if you want it, and fish sauce.

Add it in with the pulverized peppers, in a mortar, or whatever you are using.

Toss the dressing with the green apple and cucumber and top with the salmon.
Notes
As always, these nutrition facts are calculated by a computer and are rough estimates.  Our healthy Thai recipes are as healthy as we can make them.   We are not dieticians, nutritionists, or doctors and your situation is fact-dependent.  When in doubt, check it out with an appropriate health care professional.  
Nutrition
Calories:
98
kcal
|
Carbohydrates:
21
g
|
Protein:
3
g
|
Fat:
1
g
|
Saturated Fat:
1
g
|
Polyunsaturated Fat:
1
g
|
Monounsaturated Fat:
1
g
|
Cholesterol:
1
mg
|
Sodium:
1422
mg
|
Potassium:
612
mg
|
Fiber:
4
g
|
Sugar:
15
g
|
Vitamin A:
413
IU
|
Vitamin C:
45
mg
|
Calcium:
59
mg
|
Iron:
1
mg
If you love salmon like I do, check out some of these recipes below!