Thai Glass Noodles Salad with Ground Chicken and Shrimp (ยำวุ้นเส้น)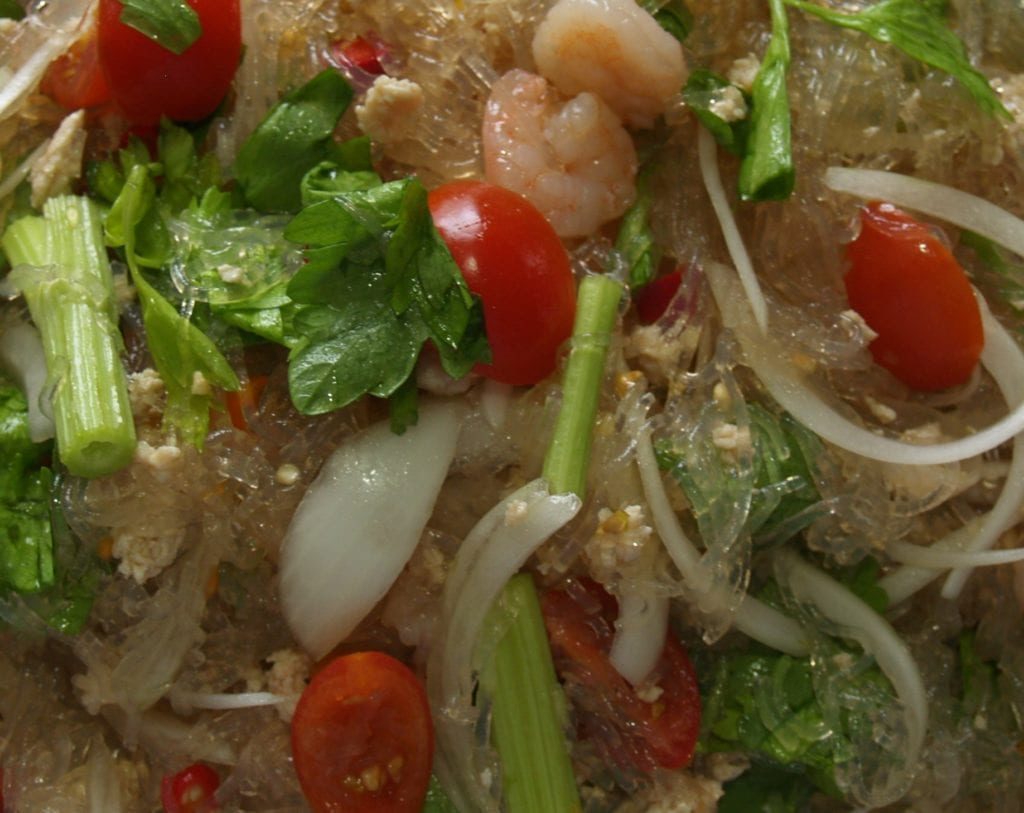 Thai glass noodles salad or Yum Woon Sen (in Thai) is one popular dish that almost every Thai restaurants have it on their menu.  There are 2 different recipes for glass noodle salad; one is using Thai chili paste and another is using Thai fresh chili.
From my personal experience, the one that using Thai chili paste is sweeter than the one that using fresh chili, and it's healthier than the first kind, too.
Why? Because there's a huge amount of oil as an ingredient in the Thai chili paste.
Glass noodles or aka. cellophane noodles are starch that made from mung bean, yam, potato, green pea, and so on.  Glass noodles are high in carbohydrate but it's in low-glycemic carbs which don't have any effect on blood glucose.
Please, Be careful!  Read the ingredients on the noodles package before purchasing them.  So many people are confused between glass noodles and rice vermicelli.  Uncooked glass noodles can be clear, translucent slightly to grayish color which is different from the uncooked rice vermicelli;  opaque white in color.
To buy the glass noodles, I recommend choosing the ones that made from mung bean or green pea.  Well, at least it's the starch that made from protein.
Thai glass noodles salad tends to be well liked in the group of female more than male.  I think there's something that has to do with the look of the dish. It looks like a light dish which it is.  But, hey! guys or girls, give it a try.  I guarantee this dish is full of flavor; sour, spicy, salty, and a little sweet.  All those taste will wake all your taste buds up.  Trust me!
Glass noodles are too good for soaking all the sauce and dressing.  It's a MUST for the glass noodles salad to be eaten after they mix with the dressing.  I put more information under the NOTE on the recipe card.
Thai Glass Noodle Salad with Shrimp and Ground Chicken
A light and flavorful meal, homemade and taste great!
Author:
HealthyThaiRecipes
Instructions
To cook glass noodles, ground chicken, and shrimp
Heat water to boiling glass noodles, wait until they almost cooked. Then add ground chicken, stir the chicken in the boiling water, so they don't become like a big chunk or chicken ball. When the ground chicken changes color to white opaque, then add shrimp. Turn off the stove when the shrimp color changed.
Drain hot water from the cooked glass noodles, ground chicken, and shrimp. Wash and drain them with cold water, and put them in a mixing bowl.
To make salad dressing
Put Thai chili, fish sauce, soy sauce, seasoning sauce, and lime juice in a small bowl, and mix them together.
To make the glass noodle salad
Back to the salad mixing bowl that we put cooked glass noodle, ground chicken, and shrimp in it. Add tomatoes, chopped Chinese celery, and sliced onion; follow with the salad dressing that prepares earlier.
Toss them well. Serve on a plate with lettuce or enjoy the salad itself.
Notes
Thai glass noodle salad needs to be eaten immediately after all the ingredients mix, but that's not a problem. You can prepare all the ingredients, and when it's time to serve the food, all you need to do is just pour the dressing in the rest of the ingredients and toss them. Ready to serve!
Nutrition Information
Serving size:
1
Calories:
597
Fat:
5.4g
Saturated fat:
2.2g
Unsaturated fat:
0.0g
Trans fat:
0.0g
Carbohydrates:
71.6g
Sugar:
13.1g
Sodium:
4402mg
Fiber:
3.0g
Protein:
67.3g
Cholesterol:
232.2mg