This post may contain affiliate links.
Pla Goong (Thai Spicy Shrimp Salad)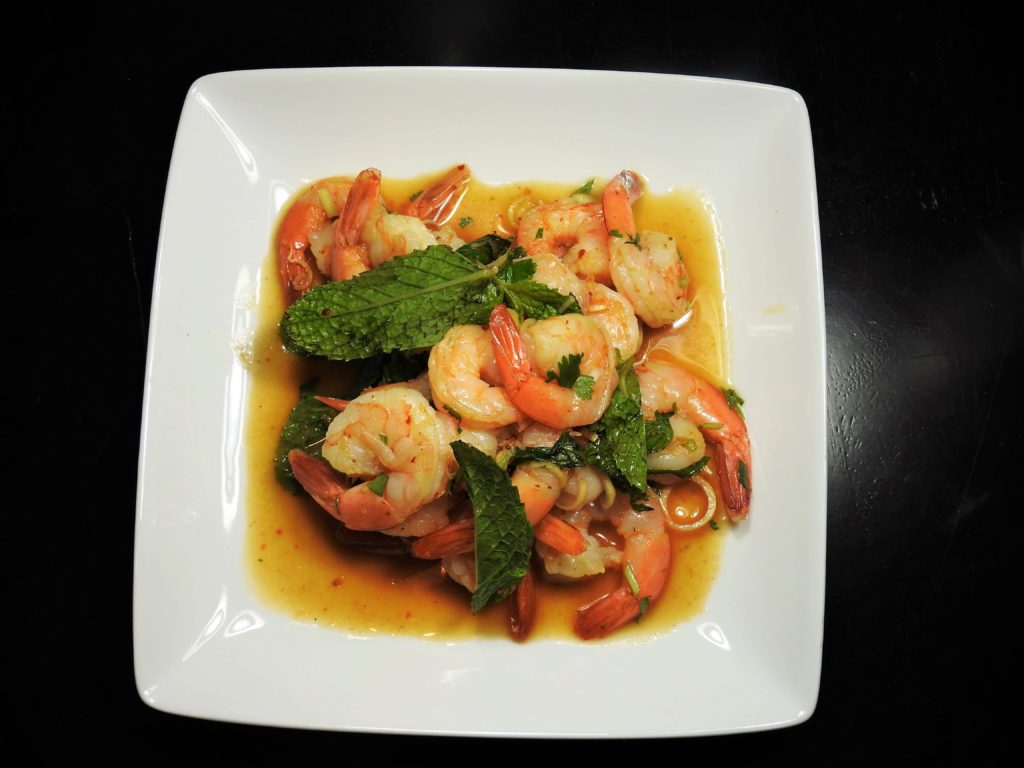 If you want to start cooking Thai food but feel overwhelmed to do so, Pla Goong is one of the best recipes for beginners. Pla Goong is a salad dish that orients from Central Thailand. It's a spicy-sweet-sour tasty salad. When it comes to summer, I am always craving a salad type food especially Thai salad. Pla Goong is perfect for the summer. It's a light dish, with fresh salad dressing and a fragrant herb.
Pla Goong is such a fantastic recipe when it comes to calorie count. It's naturally low in calories, but one thing to be cautious of is the cholesterol amount from the shrimp. Overall, I wouldn't mind having this recipe every week if I could.
If you follow my website, you'd noticed that my Thai salad recipes are normally made with bird's eye chili or Thai chili. This is the first recipe that I use Nam Prik Pao (Thai chili paste) for a salad recipe. In a Thai kitchen, we use Nam Prik Pao to enhance the taste in food, such as fried rice, Tom Yum soup, noodle soup, rice soup. Another alternative is to pair it with steamed rice and fresh vegetables like cucumber and green beans.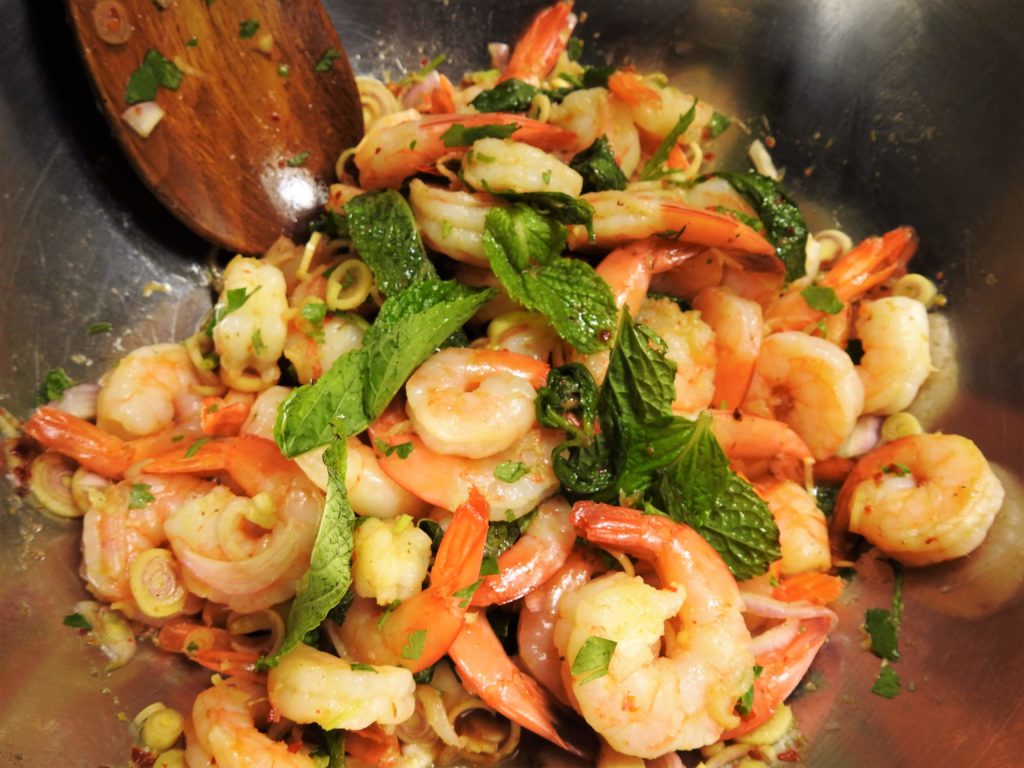 What is Nam Prik Poa (Thai Chili Paste)?
Nam Prik Pao is made from dried Thai chilies, shallots, garlic, and dried small shrimp. Crush all these ingredients together until they are smooth and blend in. Then stir-fry it in oil with fish sauce, sugar, shrimp paste, and tamarind concentrate. Personally, I prefer the easier way. I'd go to a local Asain grocery store and look for Nam Prik Pao in a bottle. It's less than $3 for a small bottle.
Making Pla Goong recipe is a piece of cake.
Pla Goong is a seven ingredient salad with easy instructions. I boil the shrimp, cut the lemongrass, and prepare the mint leaves. Then, I put the Nam Prik Pao, Stevia, fish sauce, and lime juice together. I mix everything in a mixing bowl, and Voila that's how it's done. Super easy and simple, right?
How to serve the Pla Goong?
Another good thing about the Pla Goong is there are several ways to enjoy the food. First, I can sever it as a starter or appetizer before a heavy entree. I can also serve it as a salad entree with fresh lettuce and cucumber or with steamed brown rice (in case I'm super hungry and lettuce couldn't satisfy my hunger).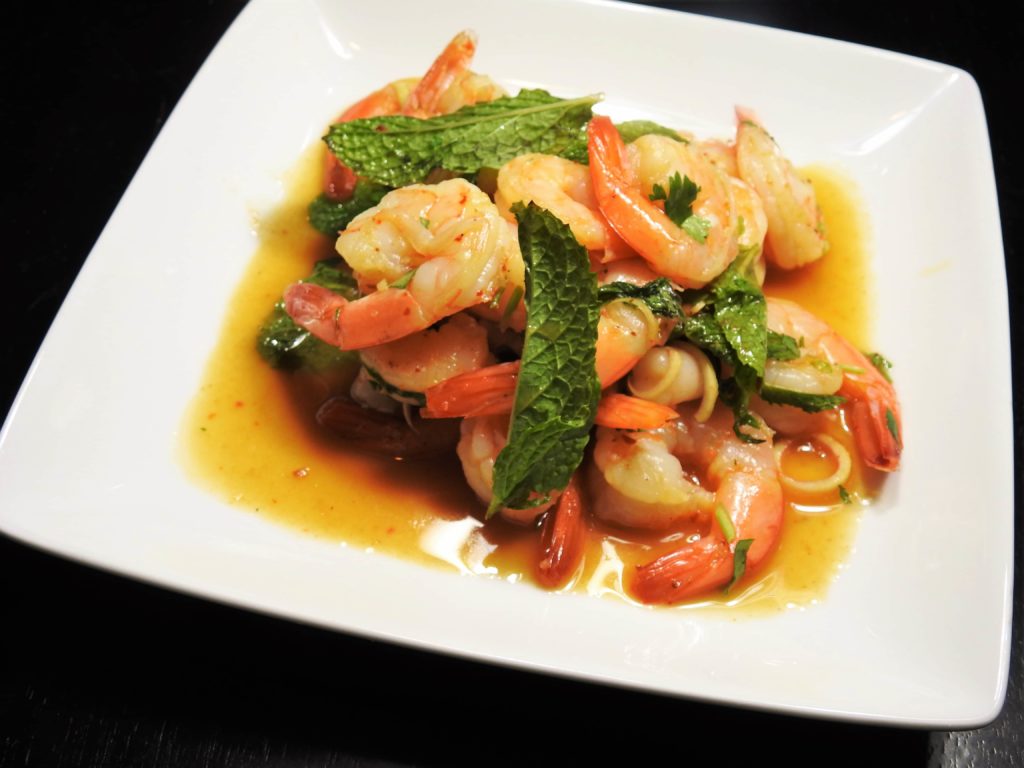 Here's the recipe!
Pla Goong
Recipe Type
:
Appetizer, Salad, Entree
Author:
Only 7 ingredients Thai salad and it's very easy to make. It's a spicy-sweet-sour savory low calories salad.
Ingredients
2 lbs. of large or extra large shrimp
1 oz. of lemongrass, about 2 stalks (thin sliced)
0.5 oz. mint leaves
1 ½ tablespoon Nam Prink Pao
3 tablespoon fresh lime juice
2 tablespoon fish sauce
½ teaspoon Stevia
Instructions
Bring water to boil, add shrimp into it and cook until the shrimp color is opaque. Rinse the water out and soak the shrimp in cold water. This will make keep the shrimp crisp.
In a mixing bowl, add Nam Prik Pao, Stevia, fish sauce, and lime juice and mix them together until the chili paste is no longer in a clump and dissolve with the rest of the dressing.
Add the thinly sliced lemongrass, mint leaves, and cooked shrimp and mix them with the Nam prin Pao dressing. Voila, the Pla Goong is ready to serve.
Strawberry Peach Shrimp Thai Salad (ยำสตอเบอรรี่ลูกพีชสดใส่กุ้ง)