This post may contain affiliate links.
Thai Style Tuna Salad (ยำปลาทูน่า)
My wife makes this Thai style tuna salad occasionally and I love it.  It's super easy and requires very little in the way of ingredients.  You can make it really spicy or adjust to make it less spicy if you are not used to Thai food.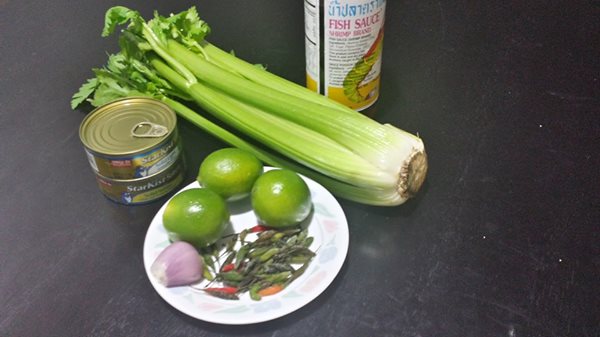 Ingredients:
Directions:
Thin slice the celery, peppers and scallions.  *Start with just a little bit of the peppers and you can add more later after you mix it all.
Mix the vegetables and tuna together in a bowl and squeeze the lime into the mix.
Add fish sauce to taste.
Eat with a side or your choice
Thai Style Tuna Salad (ยำปลาทูน่า)
Author:
Ingredients
Celery bunch
•About 10-20 fresh Thai peppers *Start small and increase, these are really HOT
•2-3 limes
•1 scallion
•2 cans of tuna in water or olive oil
•Fish sauce to flavor
Instructions
Thin slice the celery, peppers and scallions. *Start with just a little bit of the peppers and you can add more later after you mix it all.
Mix the vegetables and tuna together in a bowl and squeeze the lime into the mix.
Add fish sauce to taste.
Eat with a side or your choice