This post may contain affiliate links.
Stir-Fried Tofu Bean Sprouts (ผัดถั่วงอกใส่เต้าหู้)
Stir-fried is such an easy way of cooking.  Today, I have an effortless stir-fried recipe to share with everyone.  This recipe is a vegan-friendly recipe and I call it "Stir-fried tofu bean sprouts" (so simple!).  It is a non-fancy Thai dish that you may not see in a full-service restaurant.  However, it is very typical to find in any local food market in Thailand.  Bean sprouts (aka "mung beans") are low in calories and high in protein, and it also is easy to digest.
Using tofu make the dish a vegetarian-friendly
To be honest, you can use any kind of meat/protein to cook with this bean sprout recipe.  You can use chicken, pork, beef, shrimp, squid, scallops, however, I choose tofu!  Why tofu?  Tofu is a good source of soy/plant protein.  Tofu is a product of condensed soy milk.  Like bean sprouts, tofu is low in calories and high in protein.  (It is 4 g. of protein in 100 g. of bean sprouts and 8 g. of protein in 100 g. of tofu.)  Even though the protein amount is not as high as the other animal sources but as I mentioned earlier, it is a vegetarian-friendly dish.  If you are looking for a light dish that will not make you feel heavy and guilty after the meal, this recipe is your choice!
Simple to make and yet delicious!
This recipe is very straightforward.  To make this dish, you need a wok or big pan and a spatula or cooking spoon.  These are a must-have for any stir-fried recipe.  The recipe only requires 6-7 ingredients, and you can find these ingredients in most Western grocery stores.  What are the ingredients?  Of course, starts with bean sprouts, tofu, fresh garlic, green onions, canola oil, soy sauce, Thai chili (optional), you can substitute the Thai chili with Jalapeno.  I choose the red Thai chili because first I like spicy food and second, it gives color to the dish.  However, if you are not a fan of spicy food and yet want to add some color to the dish I recommend you add thinly sliced red or orange bell pepper!
(To save cooking time, I used fried tofu.  You can find fried tofu at Asian grocery stores, but it is okay to use fresh extra firm tofu if you cannot find the fried ones.  All you have to do is open the package then rinse and wash the tofu then dry it with paper towels.  Then cut the tofu into cubes, then fry them with canola oil in a pot or pan.  Once the tofu is firm and crispy which depends on how you like the texture, put the tofu aside)
Let's make the Stir-fried Tofu Bean Sprouts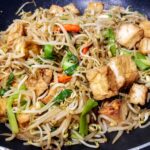 Print Recipe
Stir-fried Tofu Bean Sprouts (ผัดถั่วงอกใส่เต้าหู้)
A very easy stir-fried vegetarian-friendly dish that has only 7 ingredients. A light dish, low calories, and high plant-based protein. You can serve this dish with or without rice. Skip the rice if you like to have a low-carb meal or serve it with rice if you desire.
Equipment
Wok or pan

Spatula or Cooking Spoon
Ingredients
2

lbs

Bean sprouts

16

oz

Tofu

Fried or fresh

10

Green onions

cut 2 inches long

4

cloves

Garlic

finely chopped

2

tablespoon

Canola oil

2

tablespoon

Soy sauce

3-4

Peppers

Thai Peppers, Jalapenos or Bell Peppers
Instructions
Turn the stove on high heat, add oil into a wok

Once the oil is hot, add chopped garlic. When the garlic turns to yellow-golden color, add tofu and stirfry the tofu until they are crispy but not burn.

Then add bean sprouts, green onion, and soy sauce, stirfry everything together until the bean sprouts are cooked. (It can be about 4-6 minutes, the bean sprouts are quick to be cooked)

Add the Thai chili or jalapeno, stirfry them with the other ingredients. Turn off the stove.
Notes
The nutrition facts are calculated by an API using a computer and are an estimate.  If you have special dietary needs or concerns, please contact an appropriate health care provider.  Also, please comment if you have ideas to help us improve our recipes.  Share if you like us.  🙂 
Nutrition
Calories:
262
kcal
|
Carbohydrates:
24
g
|
Protein:
19
g
|
Fat:
13
g
|
Saturated Fat:
1
g
|
Sodium:
529
mg
|
Potassium:
608
mg
|
Fiber:
7
g
|
Sugar:
13
g
|
Vitamin A:
677
IU
|
Vitamin C:
108
mg
|
Calcium:
207
mg
|
Iron:
4
mg
If you like this, you may like
Stir-Fried Chinese Okra With Eggs Recipe, ผัดกระเจี๊ยบใส่ไข่
Stir Fried Pumpkin - An Authentic Thai Dish You Rarely See Outside of Thailand
Healthy, Easy, Pad Woon Sen, Stir Fried Glass Noodles, Cabbage, and Tofu Recipe
Please Don't Forget to Like Comment and Share!