This post may contain affiliate links.
Lemon Pork Salad is a recipe idea I got from this Thai restaurant in the Woodlands, Texas I have been going to.   You can make it with whole foods ingredients.  You can also adapt it to meet your needs if you are like me and are trying to avoid calories and carbs which result in elevated HDL and LDL as I have had lately.  They don't offer the calorie and nutrition count but I can give a rough approximation using our API nutrition calculator.
They list their price as $13.95  but I'm betting you can do it for way less.  Pork loin can be as little as $3.00 for 3 pieces.  Here is a list of the other ingredients straight from their menu.  I love eating there by the way.  Great art, ambiance, and service, and the food taste and presentation feel really high quality for the price.  The salad was gorgeous but it didn't actually come with the advertised ingredients.
Lemon Pork Salad|  $13.95
Pork sirloin mixed with cilantro, garlic, lime & chili served over lettuce, carrots, and tomatoes
You can make a chili vinaigrette easily or just use a sweet chili sauce like in our recipe here.
The Dressing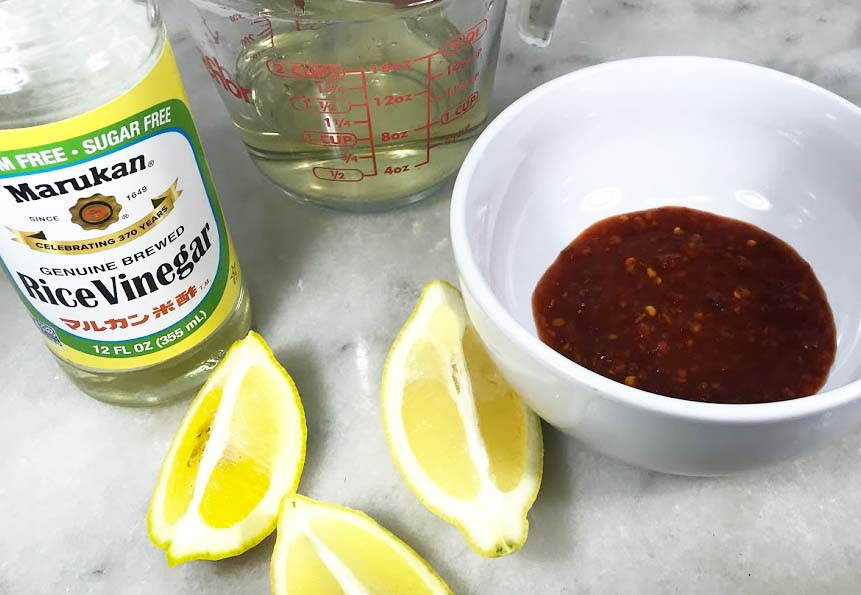 If you're like me and you want something simple and healthy, a simple mixture of rice vinegar and chopped Thai chili are good or you could add in a bit of oil too.  I just went with a simple mixture of rice vinegar, sambal, and the juice of a lemon.
Putting it all Together
Salads are pretty simple, you just toss it together and serve.  The hardest part is garnishing with the lemons sliced in circles with slits to make them stand up.  You can use youtube videos for creating the cool shapes of the carrots and citrus.
For the actual salad, you just add together the greens and toss! You can place the pork on top or toss it in as they did at the restaurant.  Plate and garnish to make it look gorgeous.  Lemon Pork Salad is a recipe inspired by one of my favorite Thai restaurants in the Houston metro area.  It is a simple whole food recipe.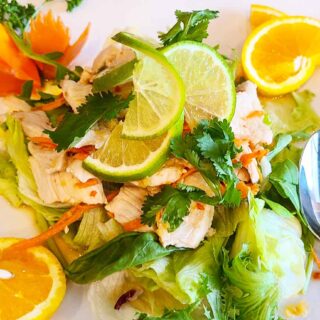 Lemon Pork Salad (ยำหมูเลม่อน)
Lemon pork salad is a great way to do a dinner full of nutrients and light on carbs or just as a side salad. Either way, it's full of flavor.
Ingredients
1

pound

pork loin

sliced into bite-sized slices

3

cups

mixed greens

½

cup

carrots

 julienned

½

cup

cherry tomatoes

cut in half, optional
Dressing
1

cup

Rice vinegar

1

tbsp.

garlic chili sauce

1

lemon

juiced

2

tbsp.

olive oil

optional, or canola oil
Garnish
1

Orange

Sliced into ornamental discs

1

Lime

Sliced into ornamental discs
Instructions
Sautee the pork loin in a skillet on ea. side about 4-8 minutes until done to your liking.

Mix the dressing ingredients.

Toss the salad, garnish and plate.
Notes
We try to make our recipes at healthythairecipes.com as healthy as possible.  That said, your health is fact dependant.  We are not doctors or dieticians and just do the best with what we know.  If you have ideas for improvement let us know!  If you have concerns, when in doubt check it out with your doctor or when in doubt throw it out works too.  🙂  
Nutrition
Calories:
547
kcal
Carbohydrates:
25
g
Protein:
54
g
Fat:
24
g
Saturated Fat:
5
g
Cholesterol:
143
mg
Sodium:
521
mg
Potassium:
1362
mg
Fiber:
5
g
Sugar:
12
g
Vitamin A:
6357
IU
Vitamin C:
98
mg
Calcium:
89
mg
Iron:
2
mg
If you dig salads, you might want to dig into one of these.
Easy Copycat Panera Asian Sesame Salad With Chicken, สลัดงาเอเชียไก่
Easy and Healthy Thai Rice Noodle Salad Using Mackerel (ยำข้าวไทยใช้ปลาแมคเคอเรล)
Please share on social media if you like this recipe!