This post may contain affiliate links.
Ever since I worked an opening day at a Pei Wei I have loved copying their amazing food like this copycat Pei Wei Thai basil cashew chicken. This is one of the easier copycat recipes I have ever done and is a good choice for entertaining guests. Chicken is a good choice because it is so universally loved and white meat chicken breast is a great source of lean protein.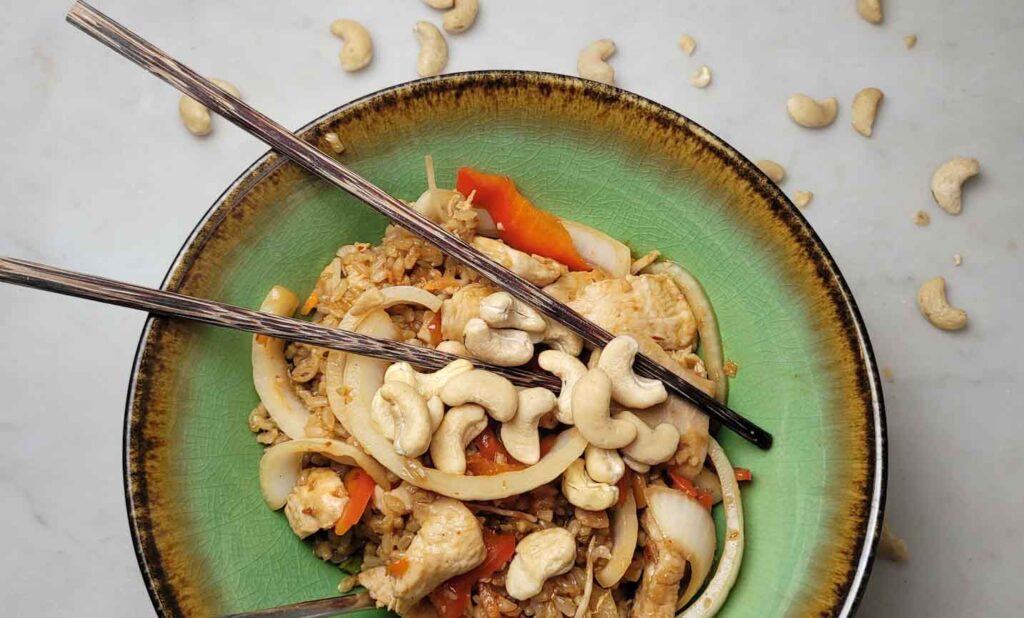 This recipe is an evergreen dish that never goes out of style. It's warming in the cold months but not too hot for the hot months. Jet Tila, is famous for coming up with flavor combinations that complement each other perfectly. He was born into the first family of Thai food and has a lengthy resume which is a fun read. He does not disappoint with this recipe.
This was inspired by my other cashew chicken recipe on this site, and pairs well with this amazing spring roll recipe., and/or any kind of rice. One of the reasons I am such a big fan of Pei Wei is that you can not only get brown rice but fried brown rice. It's not only healthier than white rice because it's a whole grain but also delicious.
If you like Pei Wei, I also recommend the Pei Wei coconut curry copycat recipe we did. It's super delish and the coconut feels tropical.
Ingredients
We obviously used the same ingredients as the online menu read but Mod thought we should prepare it how she typically prepares Thai cashew chicken.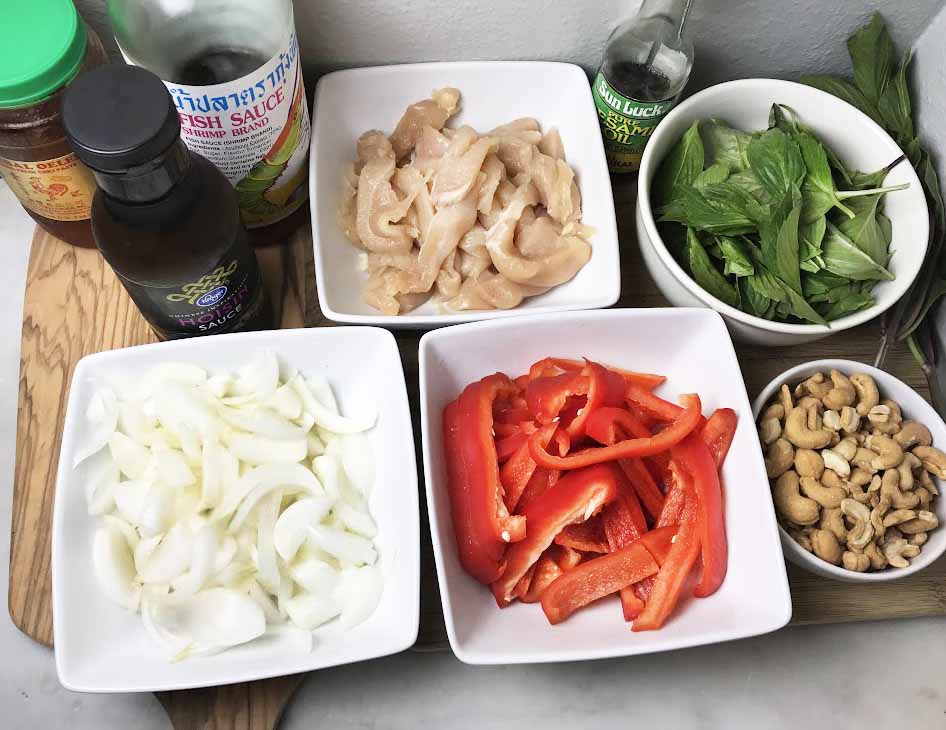 White meat chicken breast
Red bell peppers
Unsalted cashews
Thai basil or regular basil if it's all that's available
Fresh garlic
Sliced Onions
Hoisin sauce
Low sodium soy sauce
Sesame oil, canola oil, or whatever you have
Garlic chili sauce (optional condiment)
Fresh Thai, jalapenos, or whatever you like (optional condiment or cooked in if you like heat
Brown or long grain healthy rice if as served as an option at Pei Wei, is healthier than white, less simple sugar
See the recipe card for quantities.
Instructions
First, prepare the ingredients, including washing and slicing so you are ready the moment your oil is hot. I like to have my onions, peppers, and garlic, chopped and ready to go. Little bowls are ideal for stir-fry ingredients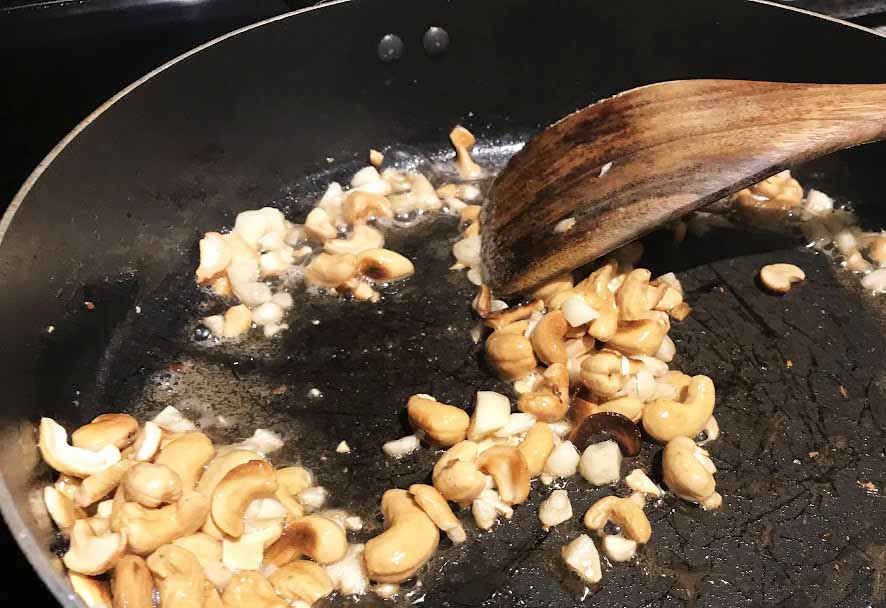 Heat a wok or skillet on medium-high, add the oil, and then the chopped garlic and cashews and cook until a little browned.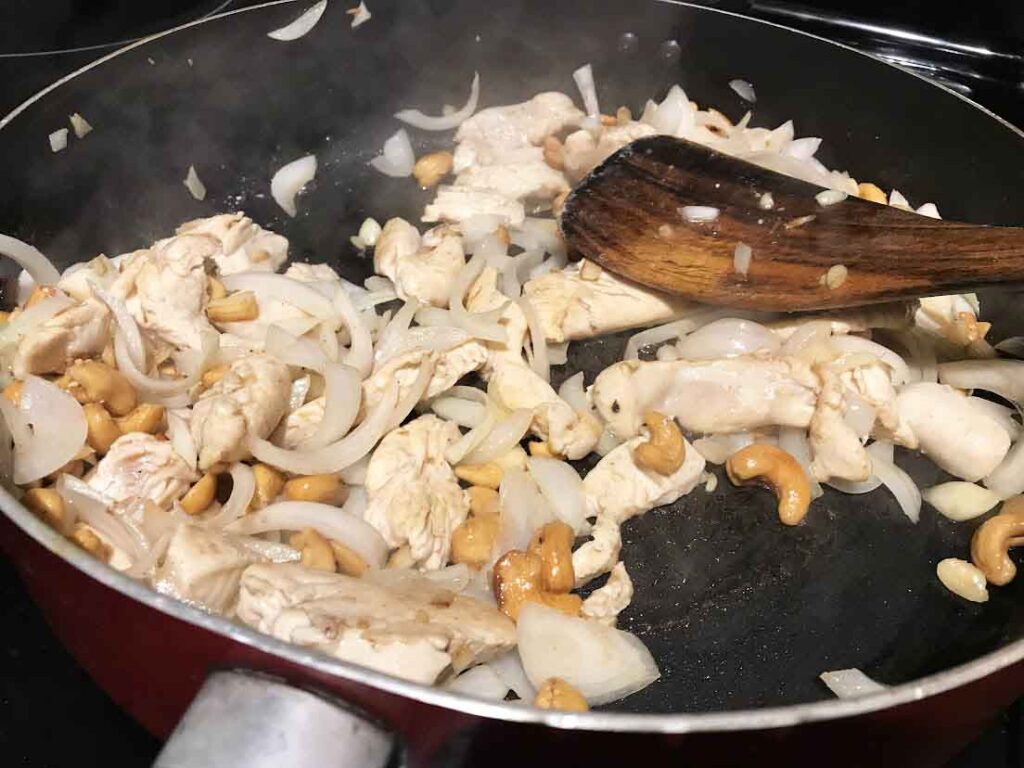 Add in the chicken breast and onion and continue to stir-fry until the onions are opaque and the chicken is cooked.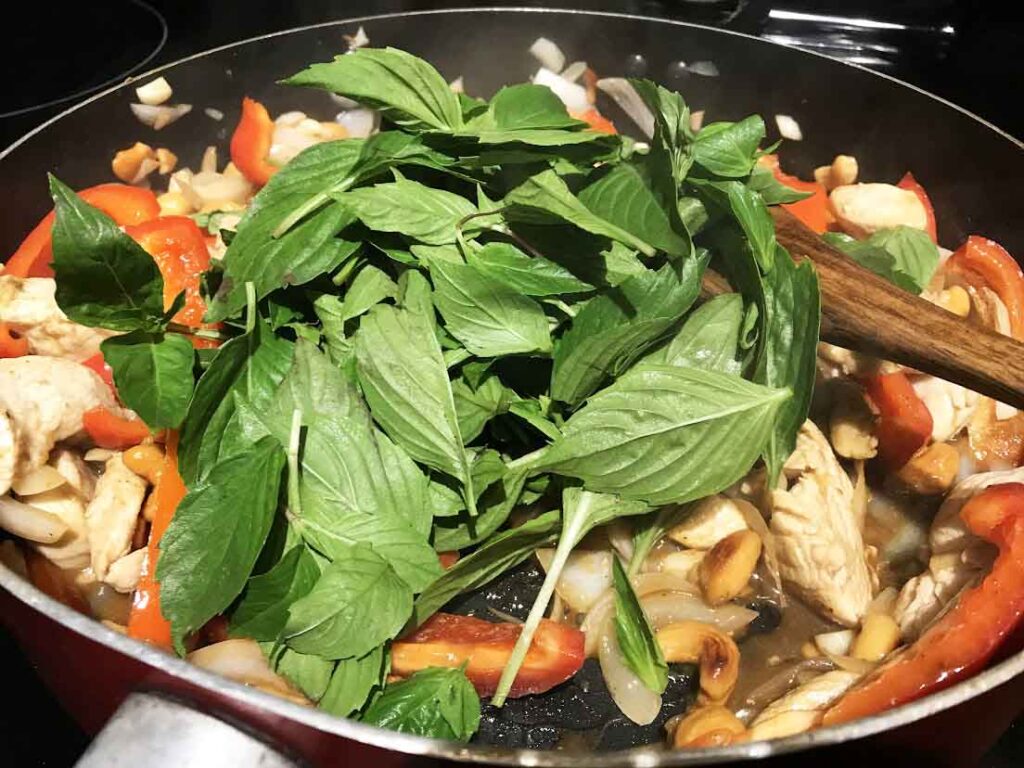 Press into patties on the tray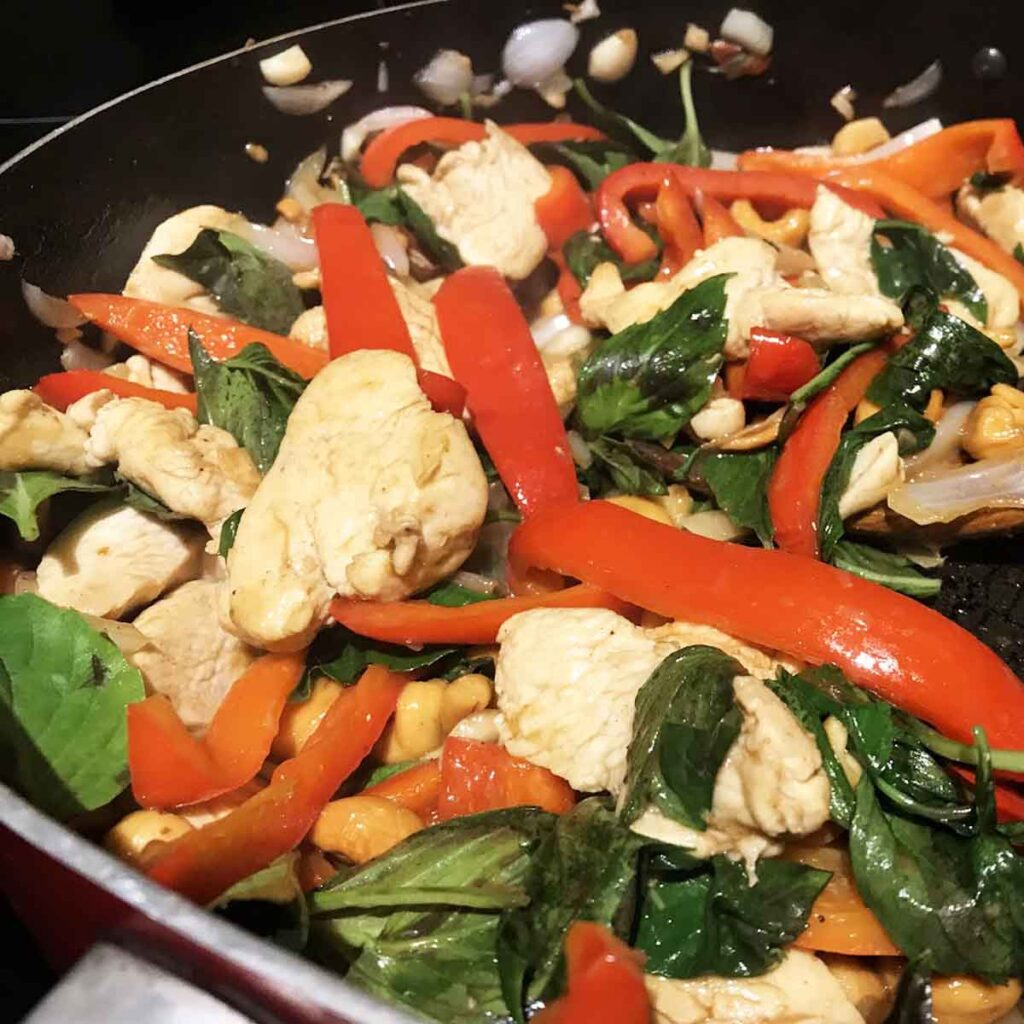 Serve with rice
Hint: You can leave the cashew chicken in the wok on low, and let your guests serve themselves. Our mom eats way less than us, so it's better to just let her make her dish.
Substitutions
If you have special needs, consider the following.
Nut Allergies - Obviously, you will want to leave out the cashews, it becomes basil chicken at that point.
Thai basil - Thai basil is more authentic and more visually appealing with its purple hues but if you don't have it in your area regular basil will do.
Vegetarian - How to make Peiwei Thai cashew vegetarian is up to you and your specific needs, but fish sauce is not necessary and chicken can be replaced with tofu or another vegan option.
Variations
You can add or subtract ingredients to make this how you like it.
Spicy - add extra chili pepper flakes while cooking to imbue heat into the dish, or sambal.
High protein - double the protein you put in, see the recipe card, hit the 2x, 4x, etc. to automatically increase proportionately to your needs.
Kid-friendly - add crushed potato chips (ketchup chips!)
Equipment
Equipment can have a big impact on how a recipe turns out. If you have an electric range, a large skillet is great for increased surface contact with the heating element.
If you have gas or other methods of using an open flame, wok on!
Storage
Store in the fridge, in a covered, container, we like see through so it gets eaten and not forgotten. Good for 2-3 days.
These ingredients don't stand up well to freezing, it's doable but not so appetizing after frozen.
Top tip
This is a great dish to cook and serve fresh with friends and family. The aromatics, garlic, and sauces smell amazing. Serve it with minimal spice if you have people that are sensitive to spice and have it available to add. One of our guests could not eat it the way we made it, so don't make that mistake. Everyone else loved it but it just takes one sensitive person to make you feel guilty.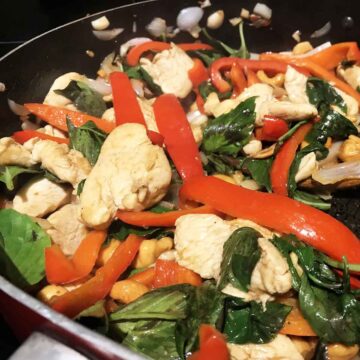 Healthy Copycat Pei Wei Thai Basil Cashew Chicken
A very easy stir-fried copycat recipe with savory cashew flavors but customizable to your specific needs.
Equipment
Wok or skillet

Spatula or Cooking Spoon
Ingredients
2

tablespoon

Sesame oil

or canola oil or olive oil if that's what you have.

2

lbs.

Chicken Breast

Chopped into bite sized pieces

½

Cup

Cashews

Unsalted

16

oz

White onion

Sliced

1

cup

Bell pepper

Red, cut int strips

4

cloves

Garlic

Fresh/ chopped

1

cup

Basil

Leaves pulled off, Thai basil if possible but whatever you can find of course
Sauces
2

tablespoon

Soy sauce

Low sodium if possible

1

tablespoon

Hoisin sauce

optional
Optional to have on the side
Garlic chili sauce

Chopped Thai pepper
Instructions
Turn the stove on high heat, add oil into a wok

Once the oil is hot, add chopped garlic. When the garlic turns to yellow-golden color, add cashews and chicken and stir-fry until they are cooked through.

Then add the bell peppers, onions, basil, hoisin, and soy sauce, and stir-fry everything together until they are cooked. (It can take several minutes.)

If everyone wants it spicy, add the Thai chili and or garlic chili sauce, and stir-fry them with the other ingredients. Or just serve them as a condiment like Pei Wei does. Turn off the stove.
Notes
The nutrition facts are calculated by an API using a computer and are an estimate.  If you have special dietary needs or concerns, please contact an appropriate health care provider.  Also, please comment if you have ideas to help us improve our recipes.  Share if you like us.  🙂 
Nutrition
Calories:
262
kcal
Carbohydrates:
24
g
Protein:
19
g
Fat:
13
g
Saturated Fat:
1
g
Sodium:
529
mg
Potassium:
608
mg
Fiber:
7
g
Sugar:
13
g
Vitamin A:
677
IU
Vitamin C:
108
mg
Calcium:
207
mg
Iron:
4
mg
Food safety
We sometimes take for granted that we have years of cooking experience, Make sure to review your food safety!
Cook to a minimum temperature of 165 °F (74 °C)
Do not use the same utensils on cooked food, that previously touched raw meat
Wash hands after touching raw meat
Don't leave food sitting out at room temperature for extended periods
Never leave cooking food unattended
Use oils with high smoking point to avoid harmful compounds
Always have good ventilation when using a gas stove
See more guidelines at USDA.gov.
If you like the flavors from the makers of PF Changs, Pei Wei and Panda Express you might like these too.