This post may contain affiliate links.
Thai Chili Paste Cashew Chicken
That classic and delicious Thai cashew chicken that you love, but in this recipe, I added more taste to it by using a Thai chili paste.  You'll enjoy it even more.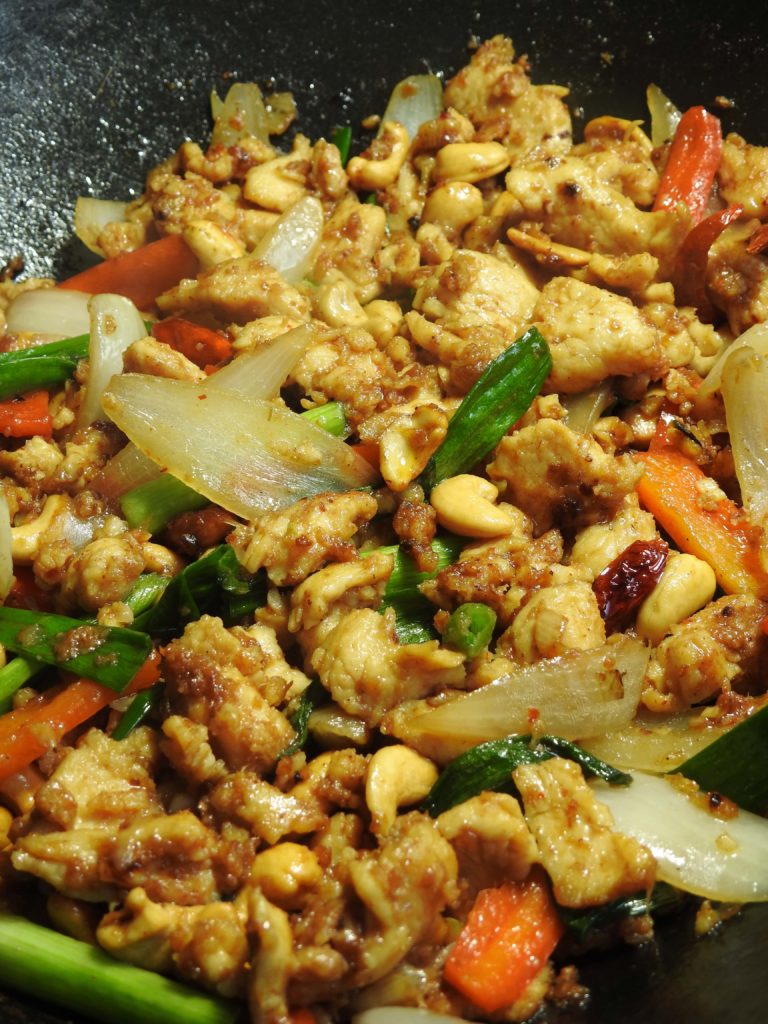 Thai cashew chicken is kind of new Thai food for me.  I remember I hardly had it when I was in Thailand.  First of all, the dish is not originally from the North (where I'm from).  Nobody in my family had cooked it at home.  Secondly, since it's not local food, it's pretty hard to find it in any local market.  We never saw it unless we traveled to the Central part of the country, and that's where its origin is.
When I worked as a waitress in Thai restaurants, Thai cashew nut was one of my favorite food.  I ordered it at least one time a week as my employee meal.  I've missed the dish since I left that job.   Sometimes, I ordered Kung-Pao chicken to replace the craving for Thai cashew chicken.  They're quite similar but not exactly the same thing.
What is Thai Chili Paste?
 Mae Pranom is one of the very good and famous Thai chili paste brand among Thais.
Thai chili paste or Nam Prik Pao is different from the regular chili paste that you see in American grocery stores or Thai or Pho restaurants.  Thai chili paste is not just spicy; it has a little sweetness to it too.  Most of the ingredients such as Thai dried chili, garlic, and shallots are roasted.  Some recipes have small dried shrimp in it;  some don't.  All the ingredients are crushed thoroughly with a mortar with a pestle until they are in one form.  The last process is to stir-fry the paste in a vegetable oil.
Cooking Thai Cashew Nut Chicken with Thai Chili Paste
Although I added the Thai chili paste to the recipe, I still left the other ingredients as they typically are.  They're still lovely red bell pepper, bright green onion, tasty yellow onion, fragrant fresh garlic, and of course lean protein chicken breast.  The Thai chili paste just makes the food more pleasurable by taste and color.  If you are not a spicy type of person, this is the perfect recipe for you to train your taste buds to get used to the chili.  The chili paste might look scary, but it's not as spicy as you think, plus they're a mild, medium, and hot such a variety level of spiciness for you to choose.  The whole dried chilis are an option just in case you like spicy food.  You can pop it and add some zest to your food.
My place smelled so good after the cooking.  The meal was really pleasant for my husband and me.  Just at the time I'm typing and thinking about the food; I couldn't wait to make it again.  Now, it's time for you to try the recipe.  You can serve with almost any kind of rice, but I recommend the brown rice.  I'm sure you'll enjoy a delightful Thai chili paste cashew chicken just like I did.
Here's the recipe!
Thai Chili Paste Cashew Nut Chicken
Author:
10 ingredients Thai cashew nut chicken. It's taste so good, you can't believe it's from your kitchen not from a top hit Thai restaurant.
Ingredients
1 lb. sliced chicken breast
1 medium sliced red bell pepper, 2 inches long
4 green onion, 2 inches long
½ medium cut yellow onion
4 chopped garlic cloves
2 tablespoon olive oil
2 tablespoon thin soy sauce
1 tablespoon Thai chili paste
1 tablespoon oyster sauce
1 teaspoon stevia
4-5 Thai dried chili (an option)
1 cup cashews
Instructions
Heat olive oil in a wok then adds chopped garlic in it.
Put sliced chicken in the wok when the garlic turns to light gold.
Keep stir-fry the chicken until it's no longer in a pink color.
Add red bell pepper, cashews and yellow onion and cook until the onion's color turns to transparent.
Add the soy sauce, oyster sauce, stevia, Thai chili paste, green onion, and whole dried chili and stir-fry for a minute.
Turn off the stove and serve the Thai chili paste cashew nut chicken with brown rice.