This post may contain affiliate links.
The Kiwi Starfruit Starbucks Refresher from Starbucks is a tropical-feeling drink like you would expect to find in a Thai beach resort. It's cool, caffeinated, and sweet with an exotic feel and we have been buying them since they came out.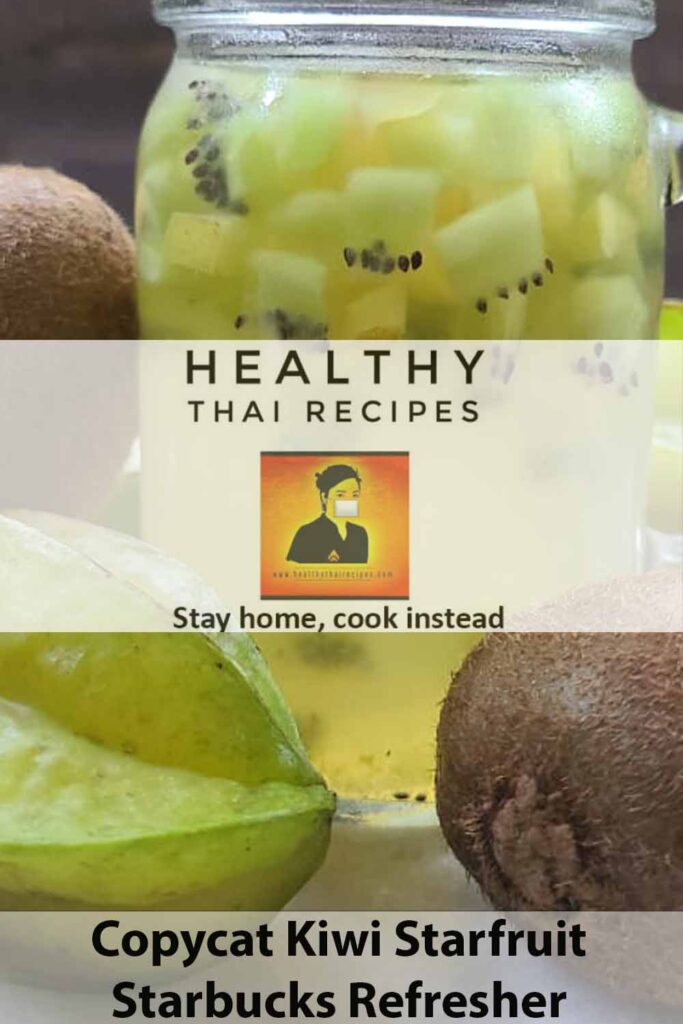 Controlling the Ingredients
You can make the drink yours when you make it at home. That's really why I made this blog and this is a perfect recipe to illustrate how that can be good. Look at the ingredients on the packaging for the carton they use.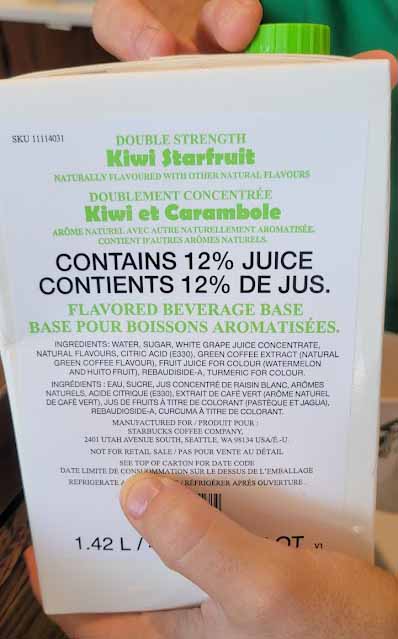 "DOUBLE STRENGTH Kiwi Starfruit
NATURALLY FLAVOURED WITH OTHER NATURAL FLAVOURS.
INGREDIENTS: WATER, SUGAR, WHITE GRAPE JUICE CONCENTRATE,
NATURAL FLAVOURS, CITRIC ACID (E330), GREEN COFFEE EXTRACT (NATURAL GREEN COFFEE FLAVOUR), FRUIT JUICE FOR COLOUR (WATERMELON AND HUITO FRUIT), REBAUDISIDE-A, TURMERIC FOR COLOUR."
Our Ingredients
You can use more starfruit so you actually see it more prominently. It kind of bugs me that I don't feel the starfruit at all when I have gotten the drink. Given, it's a subtle component anyways, it doesn't have the dark seeds like the kiwi to create contrast. It also has a subtle sweetness that doesn't stand out from the other flavors.
Sourcing the Green Caffeine
We have had trouble with the green coffee extract. I'm sure Starbucks is aware of all the food bloggers making recipes at home and not making it easier. You can use green tea instead of green coffee extract. This is what we did, you can make it your own by using your favorite green tea.
Caffeine Content
It changes the amount of caffeine you get of course. We used a premade Tazo Cold Green Tea that I really like. It has less caffeine by about half at 15-30 mg compared to the Starbucks refresher that has 45. A cup of coffee has 100 mg, so it's not really a drink you buy for the caffeine anyways.
It's beautiful, has a similar color and I drank it all as soon as we finished the recipe. It does have sugar and citric acid in it though. It really has that zen feel you want. I am not getting any support from them, I just really like it. If you want to decrease the synthetic ingredients you can just brew pure green tea as well.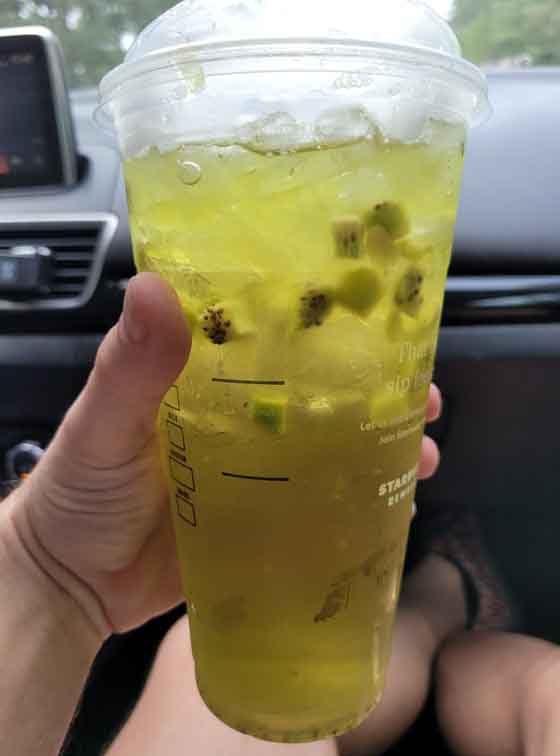 Our Recipe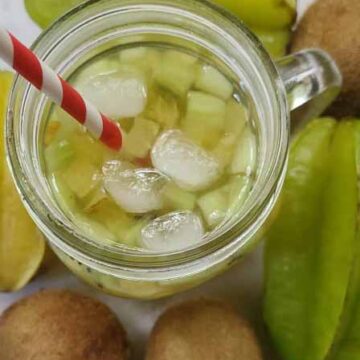 Copycat Kiwi Starfruit Starbucks Refresher
Our Copycat Kiwi Starfruit Starbucks Refresher is a way to make the refreshing, tropical inspired cold drink at home.
Ingredients
1

cup

white grape juice

100% juice

⅔

cup

green tea

cut into small pieces

⅛

cup

starfruit

cut into small pieces

¼

cup

kiwi

cut into small pieces

⅔

cup

ice

1

lime wedge

Optional, sqeezed into the drink
Instructions
Add all ingredients to shaker, shake throughouly and serve.
Notes
As always, we make our healthy Thai recipes as healthy as we can.  You can adapt as needed to meet your fact dependant dietary needs.  When in doubt check it out with a doctor if you are really worried and when in doubt throw it out with older ingredients to avoid getting sick.  We are not dieticians, doctors, or nutritionists, just a couple trying to stay healthy and share what we learn in the process.  
Nutrition
Calories:
198
kcal
Carbohydrates:
49
g
Protein:
2
g
Fat:
1
g
Saturated Fat:
1
g
Polyunsaturated Fat:
1
g
Monounsaturated Fat:
1
g
Sodium:
28
mg
Potassium:
550
mg
Fiber:
3
g
Sugar:
41
g
Vitamin A:
78
IU
Vitamin C:
53
mg
Calcium:
58
mg
Iron:
2
mg
Please Subscribe, Share, Rate and Comment If You like Our Website!
If you like this recipe, check out one of these similar recipes.