This post may contain affiliate links.
Garlic Chili Lime Marinade and Sauce is literally, a zesty way to flavor anything you want a spicy, Thai style sauce for.  My favorite part of most dishes is usually the sauce.  My sister and I in Santa Fe, had a falling out once when I kept eating all the sauce out of her husband's Nigerian food.  It occurred to me that I should just start making my own sauces and take care of my cravings for myself.
Super Easy Marinade with SO many Uses
This marinade is so simple, all you need are the following, to make this zesty marinade, you can also use as a sauce.
INGREDIENTS:
Lime zest
Low Sodium Soy Sauce
Fresh Garlic
Fresh Lime Juice
Sambal, or Other Garlic Chili Sauce
A Healthy Oil, Such as Canola Oil
See the recipe card for amounts
Preparation:
You just need to zest a lime, chop up some garlic and whisk it all together.  It's so simple but so yummy.  The possible uses are endless, you can use it as a dip, a sauce, a topping.  Let me know if you think of other uses.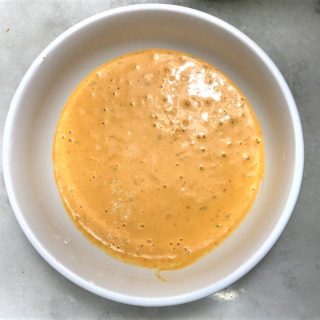 Garlic Chili Lime Marinade-Sauce
This Garlic Chili Lime Marinade-Sauce is an easy way to literally add zest to anything.
Equipment
Food processor or immersion blender
Ingredients
2

tbsp

lime zest

2

tablespoon

soy sauce

lite

3

tablespoon

garlic

1

tablespoon

lime juice

2

tablespoon

garlic chili sauce

½

cup

canola oil
Instructions
Blend together everything except the oil and lime zest.

Once smooth, add in the oil and lime zest and continue blending until smooth.
Notes
As always, nutrition is one of the most manipulated sciences in existence for people out to make a quick buck.  We are not nutritionists or dietitians.
Our mission at healthythairecipes.com was born from my trying to rehab my wife's native Thai recipes to be as healthy as possible for both of us. 
We like the whole foods, avoid processed ingredients approach.  What is healthy for us may not be healthy for you though as your situation is fact dependent. 
I like to say, when in doubt, check it out with a doctor or dietitian, if you have concerns. 
When it comes to food safety, When in doubt, throw it out, if you think an ingredient is questionable.  
Let us know how we can make our healthy Thai recipes healthier in the comments section below. Nutrition calculations are an estimate, calculated by a computer.
Nutrition
Calories:
274
kcal
Carbohydrates:
5
g
Protein:
1
g
Fat:
28
g
Saturated Fat:
2
g
Sodium:
922
mg
Potassium:
43
mg
Fiber:
1
g
Sugar:
2
g
Vitamin C:
4
mg
Calcium:
11
mg
Iron:
1
mg
If you like this sauce you might like one of these.
Follow me on my youtube channel if you like my random videos.  🙂
This recipe was inspired from this recipe.