This post may contain affiliate links.
This easy, instant pot copycat Genghis Grill, quinoa recipe, is a fast and easy way to take advantage of the health benefits of quinoa in a delicious style. We love Genghis Grill and recommend them as a go-to for healthy restaurant food. Restaurants that prioritize healthy ingredients get the vote of my dollars. I hope they get yours too.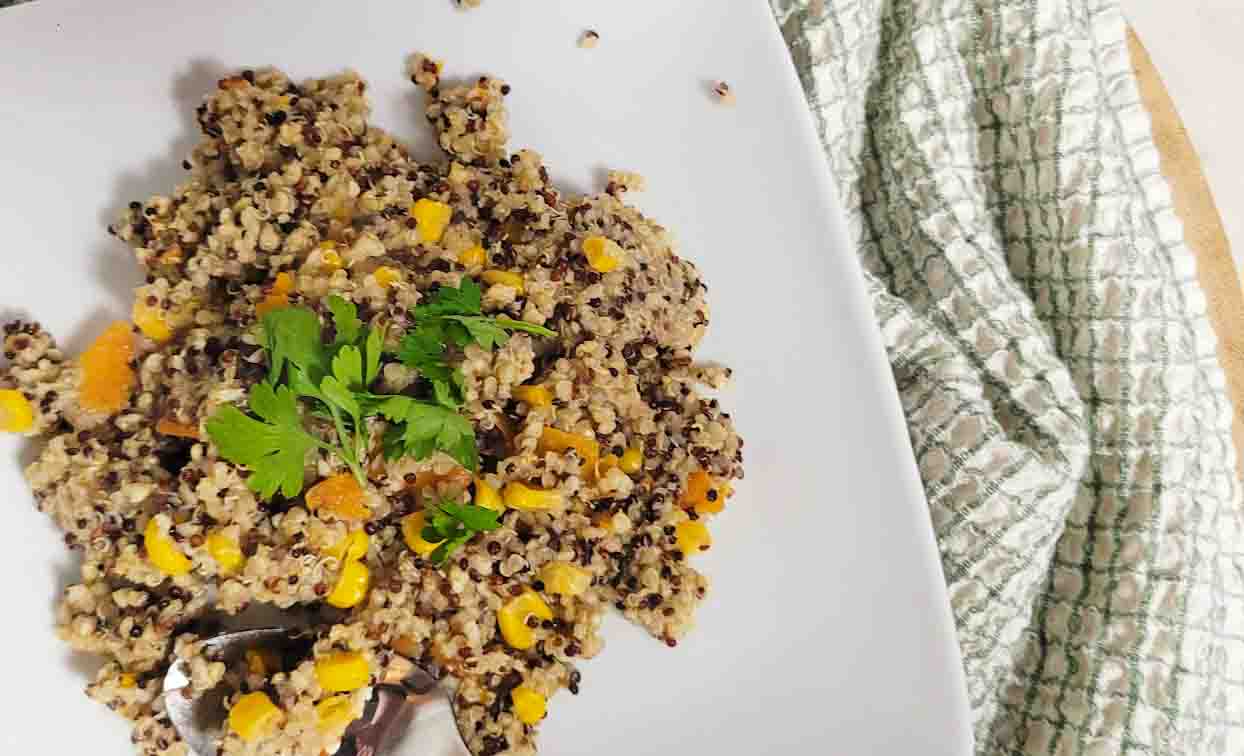 Background content: Quinoa is a protein and fiber packed grain from the Andean region of South America. It's a flowering plant that has been used as food for livestock and human consumption for over 3000 years.
This was inspired by my Genghis Grill Thai Veggie recipe on this site, and pairs well with this with anything really but I like to eat it with my curry recipes. They serve it as a side dish, rice alternative at the restaurant. It actually cooks faster and I think it's a way healthier choice than the white rice option.
Jump to:
Ingredients
We used 7 simple ingredients to get the same flavor. You can, of course, adapt away and make this recipe yours. There are several varieties of quinoa at stores, I chose the Power Blend of Ancient Grains brand. It looks the most similar to what I got at the restaurant. We don't know the exact recipe of the restaurant of course, this is our attempt to get close.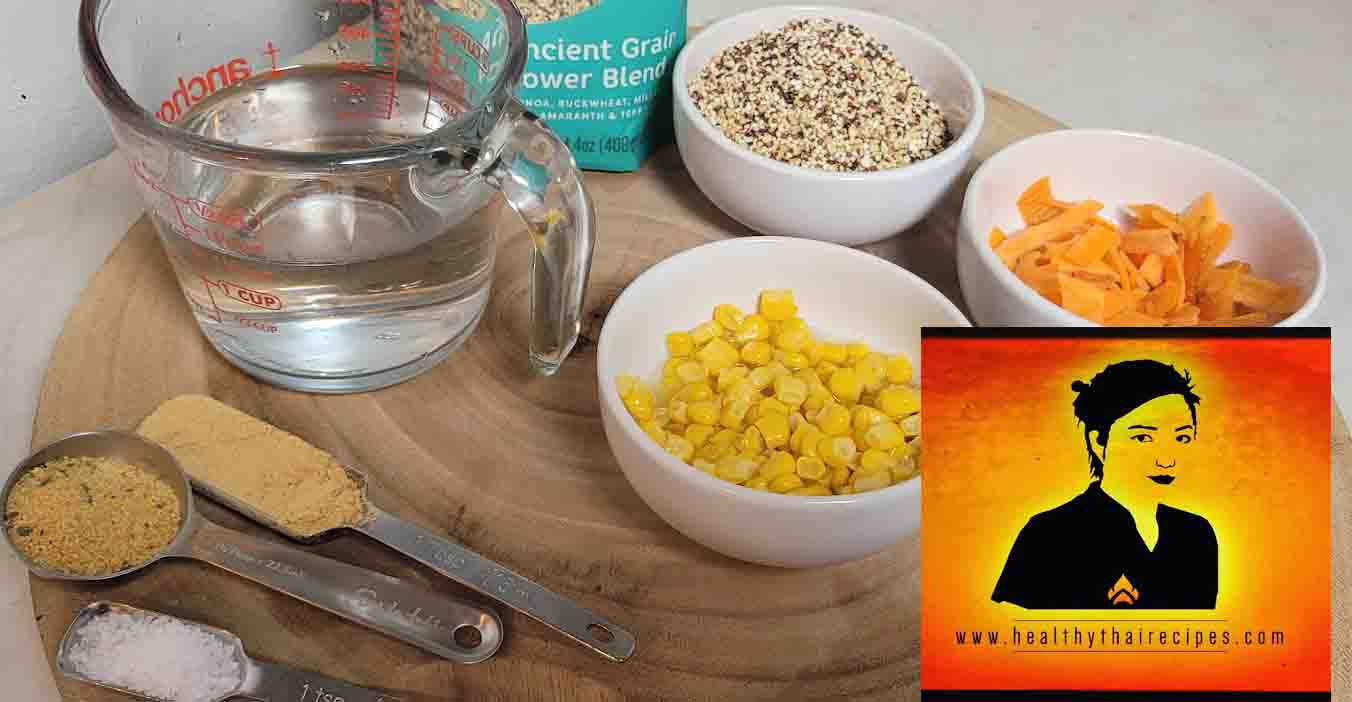 Quinoa (Any kind you like)
Water
Salt
Ginger Powder
Garlic Powder
Whole Kernal Corn
Carrots
See the recipe card for quantities.
Instructions
Once you have your ingredients gathered and measured, it's super simple to make this dish. This is one recipe that is so simple it will make you thankful for having an instant pot. Actually lives up to it's name with this.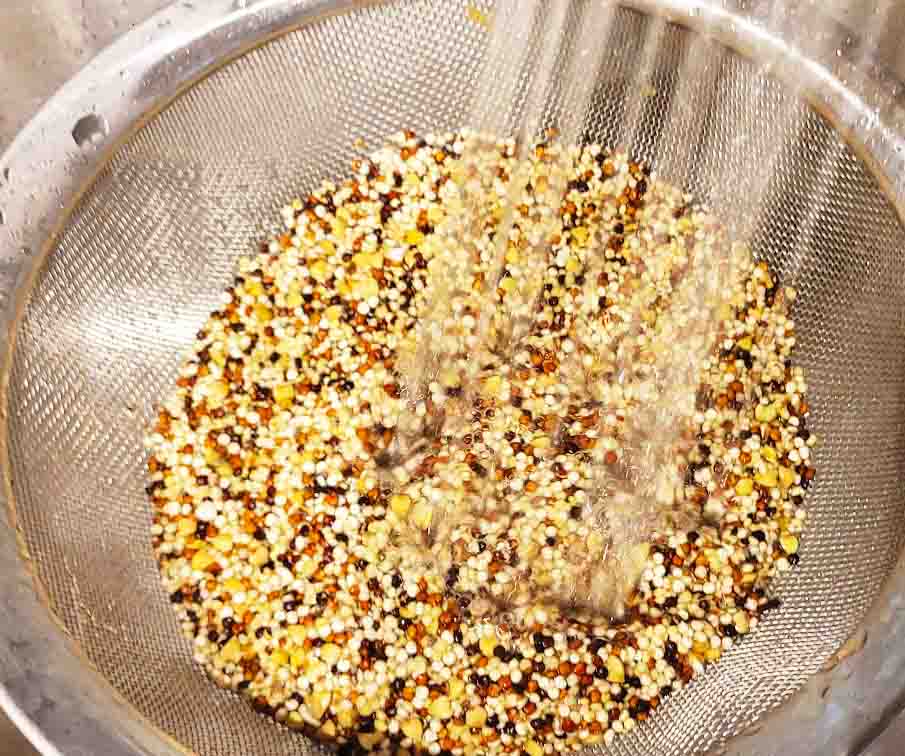 Rinse the Quinoa with a strainer if it's not ready to cook or again, to be safe.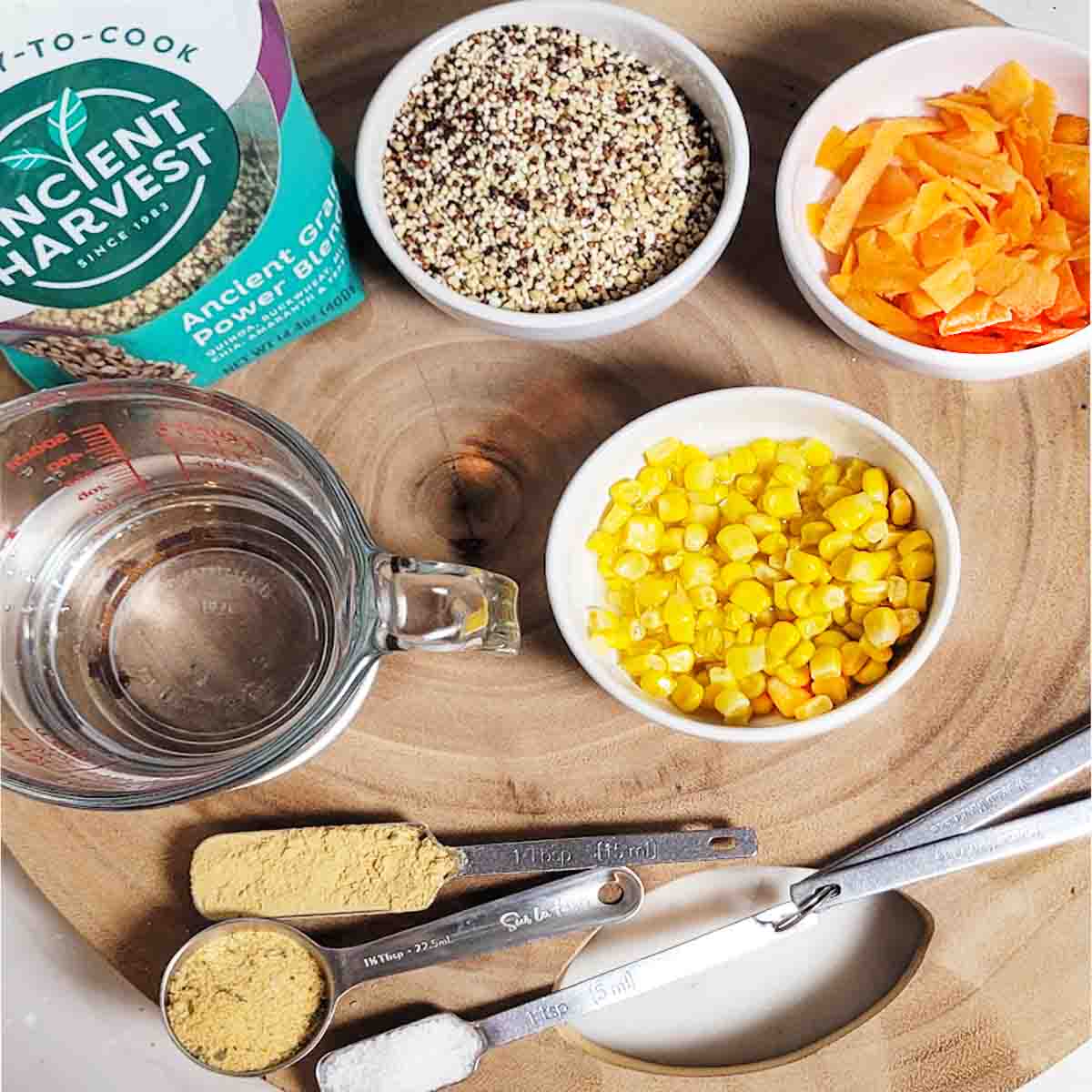 Combine all the ingredients in the instant pot and mix them together. Close the vent valve and set it to pressure cook for 1 minute followed by venting for 20 minutes or 3 minutes of pressure cooking followed by 10 minutes of venting.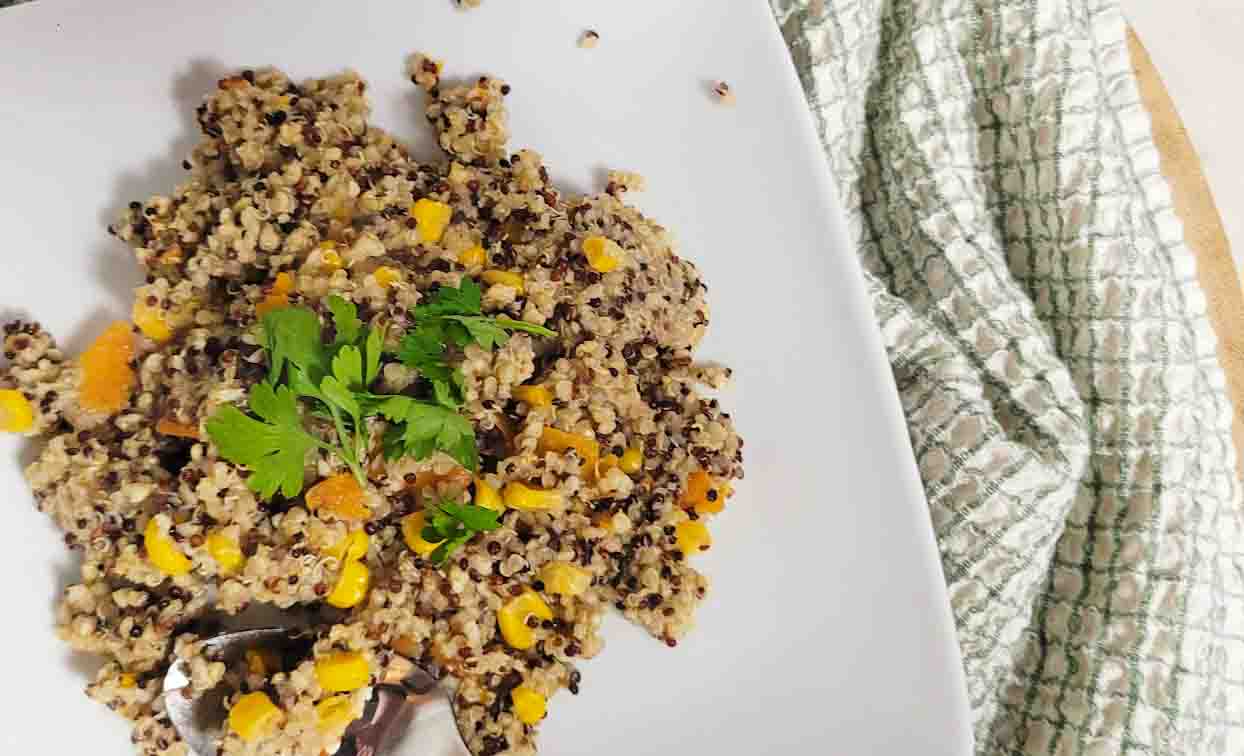 After it cooks for a minute, open the vent valve and let it vent and just leave it for 20 minutes to finish cooking. Serve and enjoy!
Hint: Don't try brown rice this way, I tried mixing brown rice with quinoa and do this and the rice was hard while the quinoa was cooked. We experiment and learn. 🙂
Substitutions
If you have dietary restricitons like I do you will want to adjust to your needs.
Salt - instead of salt try Mrs. Dash, it's better if you have hypertension.
Traditional Quinoa - Try a different blend like this traditional blend I found on Amazon. It won't have the different colors like the one they use but it should come out similar in flavor.
If you are a vegan, or just want to cut down on animal proteins, this dish is already high in protein and has no animal products. I'd be curious if anyone thinks of any substitutions I didn't for this. Let me know in the comments.
Variations
You can make so many variations of this dish, I could probably spend all day and still be coming up with new ones. Here are a few ideas, let me know if you have any.
Spicy - add chili pepper flakes like Mod's Homemade Thai Chili Powder, while cooking to imbue heat into the dish, or fresh chopped Thai peppers.
Deluxe - add meat or meat substitute like some turkey meatballs or beyond meat sausage.
Kid friendly - add crushed potato chips or bacon.
Equipment
Equipment can have a big impact on how a recipe turns out. Instant pots may vary so use your judgement. The kind of Instant Pot we have is this one you can buy using our affiliate link.
Storage
I would treat this like rice and not keep it too long because of leftover rice syndrome wehre spores grow on the starch and can make you sick. Good for 2-3 days, in a covered container refrigerated. I wouldn't eat it if it gets left out.
Top tip
Share something here that you think is key to making this recipe well, such as: Don't overcook the burgers! Sear the outside and cook to a minimum internal temperature, but they should still be juicy for best results.
FAQ
What Quinoa is Healthiest?
As a general rule, going for the more colorful varieties yeilds more nutrients.
Who Sells Quinoa
You can find quinoa at most grocery stores in the Western Hemisphere for sure. It is also cultivated in the east as it has become popular in the last 20 years. When all else fails, you can find it easily online.
Why is Quinoa Healthy?
Quinoa is not only a good source of starch, it also has a lot of protein. If you can't get protein or need more, it's a perfect option. It's available as an organic option and in colored varieties which have more nutrient content.
Related
Looking for other, lesser known hacks like using quinoa to eat healtier? Try these.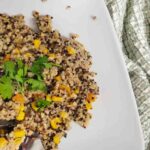 Print Recipe
Instant Pot Copycat Genghis Grill Quinoa
Quinoa is a great way to get your starch that is whole grain, organic and higher in protein.
Ingredients
1

cup

Quinoa

1 ½

cup

Water

½

cup

Corn

Whole kernal

½

cup

Carrots

Cut into matchsticks or shredded

1

teaspoon

Ginger Powder

1

teaspoon

Garlic Powder

1

teaspoon

Salt
Instructions
Combine with the other ingredients in the Instant Pot.

Close the pressure release valve.

Set to cook on pressure cook for 1 minute with 20 minutes sitting or 3 minutes with 10 minutes sitting.

After it cooks for a minute in pressure cooker mode and the timer goes off, release the valve and let it cook in the hot pot for 20 more minutes. Or for 3 minutes on pressure cook and then 10 minutes with venting.

Serve with cilantro, fried garlic, shallots or whatever tickles your pickle and enjoy!
Notes
As always, if you have special health concerns, when in doubt check it out with a doctor or dietician.  Your situation is fact-dependant, so you have to be safe.  We aren't doctors or dieticians, just internet people sharing what we love as a hobby!
Nutrition
Calories:
438
kcal
|
Carbohydrates:
81
g
|
Protein:
15
g
|
Fat:
6
g
|
Saturated Fat:
1
g
|
Polyunsaturated Fat:
3
g
|
Monounsaturated Fat:
2
g
|
Sodium:
1201
mg
|
Potassium:
687
mg
|
Fiber:
9
g
|
Sugar:
2
g
|
Vitamin A:
5419
IU
|
Vitamin C:
2
mg
|
Calcium:
98
mg
|
Iron:
6
mg
Food safety
Here are some general food safety tips you might want to review.
Cook to a minimum temperature of 165 °F (74 °C)
Do not use the same utensils on cooked food, that previously touched raw meat
Wash hands after touching raw meat
Don't leave food sitting out at room temperature for extended periods
Never leave cooking food unattended
Use oils with high smoking point to avoid harmful compounds
Always have good ventilation when using a gas stove
See more guidelines at USDA.gov.
If you like copycat recipes, check out some of these: