This post may contain affiliate links.
This easy and healthy Thai Jujube snack recipe is something my Thai mother-in-law made for us when she visited. It smelled so horrible to me when I got home because of the shrimp paste lol. You can just leave that ingredient out but we had a good laugh at my reaction.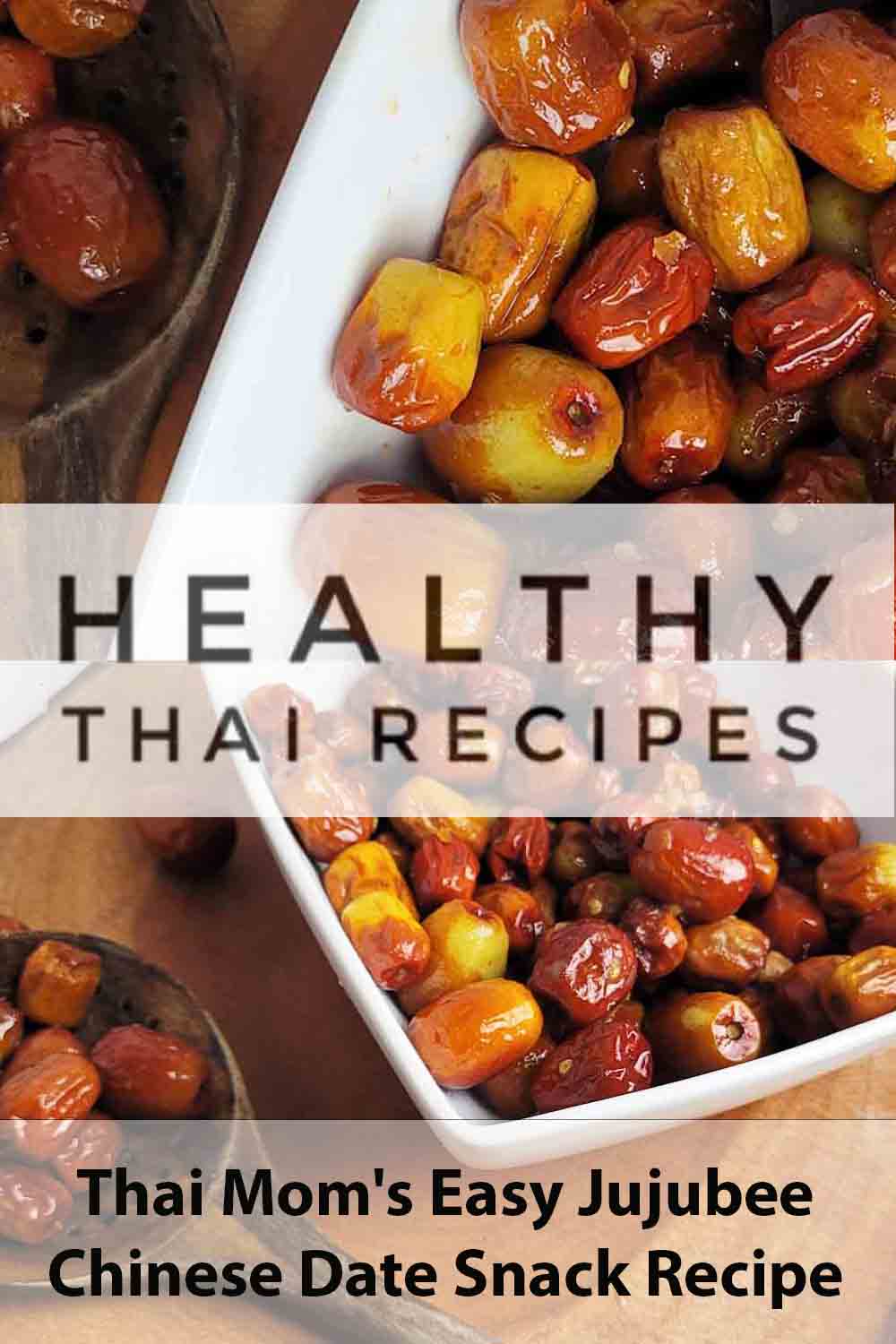 What the heck are Jujubes?
What are Jujubes? You might ask? If you are reading this post, chances are you stumbled upon some. You can find them all over the world but they originated in Northern India and Central China, according to the Jujube Wikipedia page. You will also find them under the name of red date or Chinese date.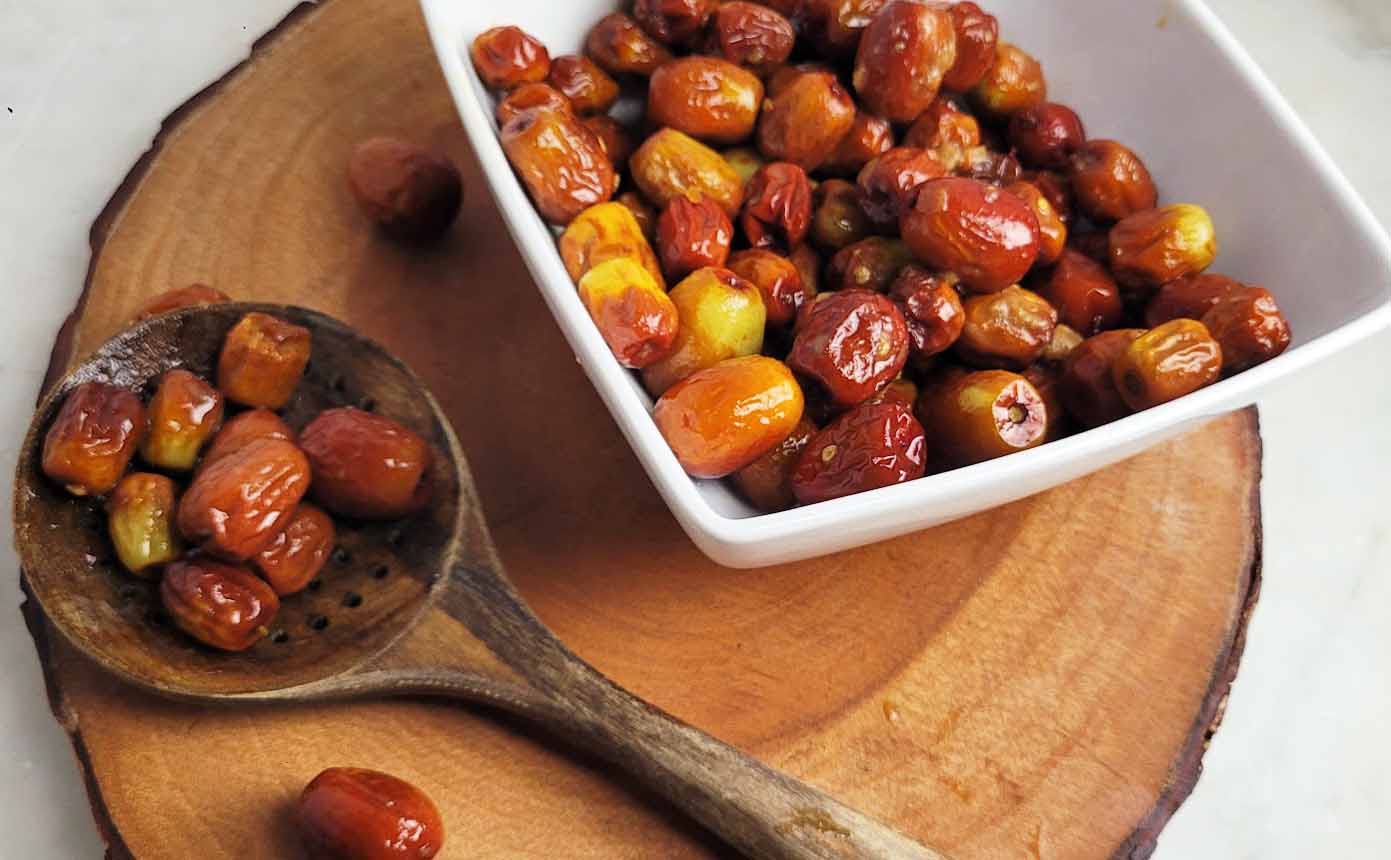 Background content: In the northern hemisphere, this fruit ripens in autumn. You can take it on road trips or to holiday events. It's great finger food for anything you need finger food for.
Jujube, also known as red dates, is a popular fruit in many parts of the world. They are often used in traditional Chinese medicine and cuisine but have gained popularity in the West as well due to their many health benefits. In this article, we will explore an easy Thai jujube recipe that you can make at home, as well as why jujubes are a healthy snack.
A date but different than what we're used to:
Jujube is a small, sweet fruit that is native to China but is now grown in many parts of the world, including Thailand. It is often referred to as the Chinese date, but it is not related to the common date fruit. Jujubes have a unique flavor that is similar to a cross between an apple and a date. They are high in fiber, vitamins, and minerals, making them nutritious snacks that can be enjoyed on their own or used in cooking and baking.
Jujubes have been used in traditional Chinese medicine for centuries to treat a variety of ailments, including insomnia, anxiety, and digestive issues. Modern research has confirmed many of these health benefits, including:
Why Are Jujubees a Healthy Snack?
Rich in Antioxidants: Jujubes are rich in antioxidants, which help protect the body from oxidative stress and may reduce the risk of chronic diseases such as cancer and heart disease.
Good Source of Fiber: Jujubes are an excellent source of dietary fiber, which promotes digestive health and can help lower cholesterol levels.
High in Vitamin C: Jujubes are high in vitamin C, which is essential for immune function, skin health, and wound healing.
Low in Calories: Jujubes are low in calories, making them a great snack option for those watching their weight.
Thai Mom's Easy Thai Jujube Recipe: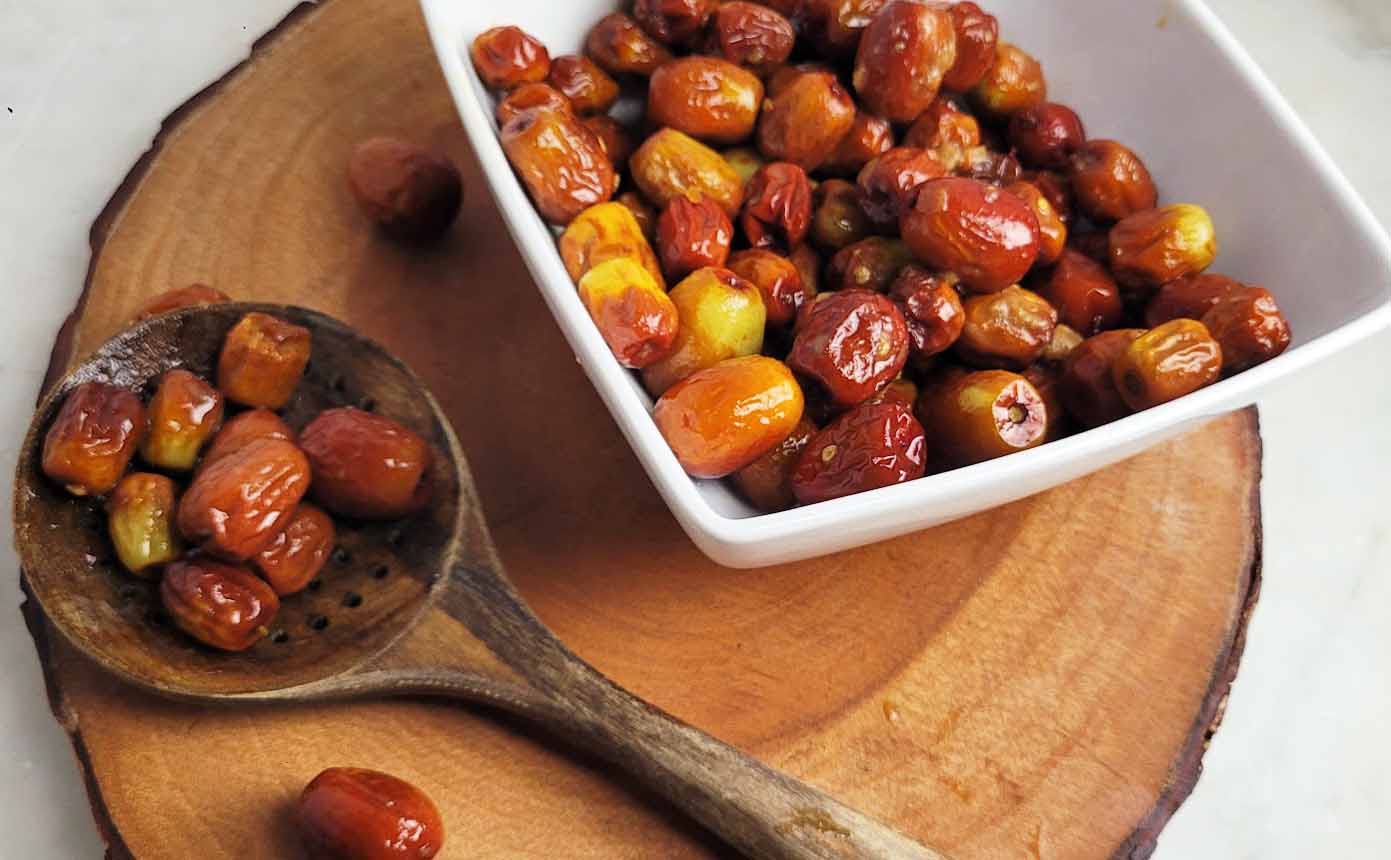 This was inspired by my mother-in-law's friend who gave her some jujubes while we were visiting Dallas. Every time I've taken a road trip with my Thai friends and family I've been treated to such interesting snacks. This is a good one for something different to give your peeps and keep it interesting.
Jump to:
Ingredients
The ingredients are very simple, you can find the rest of them anywhere once you have you have the jujubes.
See the recipe card for quantities.
Instructions
Wash the jujubes. Add salt, water, and stevia (pour into a pan and stir, or a pot) and simmer until sticky. Add the pepper and stir to combine. Taste and adjust if needed. (You can add condiments including fish paste as you like.) Ready to stew, put the washed jujubes prepared into it. Keep an eye on it, don't leave it on fire. Cook on low until soft.
You always want to watch the ingredients of processed sauces, especially if you are on a specific diet.
Salt - Mrs. Dash is a great substitute for salt if you have high blood pressure or another condition that requires you to watch your sodium intake.
Very Thai Version - use shrimp paste if you want the really Thai version. I couldn't stand the smell. I am adventurous but the fishy odor was too much for me. If you are a Westerner, just try it without the fish paste unless you don't mind risking ruining it. I couldn't even stand her opening the container they were in. Powerful odor once you put the fish paste in.
Variations
Tweak the flavors a little, and let us know any ideas you have.
Spicy - Add double chili pepper flakes while cooking to imbue heat into the dish.
Non-Fishy- Leave out the shrimp paste! Or if you like it stinky, double it lol.
Non-Spicy- Just leave out the pepper flakes or use a milder version.
Equipment
You just need a pot for this recipe and a measuring cup.
Storage
Store the for a couple of weeks in the fridge, if it looks bad when in doubt throw it out. Who knows how long in the freezer? I can't imagine you couldn't keep them indefinitely in there.
Top tip
Don't overcook these and make sure to throw out the bad ones! Stay close so you can take it off the heat before you burn it accidentally.
FAQ
Can Jujubes be frozen?
Absolutely, you might want to freeze them before a road trip so they are nice and fresh feeling when you want them.
Are Jujubes the same as Dates?
Jujubes are in the family of dates, they have different qualities than what we typically think of when we think of dates. You have to cook them and imbue them with flavor if you want them to be as sweet.
Can you cook with dried Jujubes, Chinese Dates?
If you rehydrate them there's no reason you can't, just expect a slightly different experience.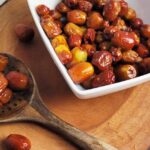 Print Recipe
Easy and Healthy Jujube Snack Recipe
This is an adaptable and easy way to make a healthy snack with a common and plentiful fruit.
Ingredients
2

Cups

Jujubes

1

tablespoon

Salt Substitute

1

tablespoon

Stevia

1

tablespoon

Chili Flakes

2

Cups

Water

1

Tsp.

Shrimp paste

More if you're crazy.
Instructions
Mix the ingredients in the pot and cook on low until mixed well.

Reduce until all you have is a yummy snack, sweet and spicy snack, and drain out any remaining water. Serve.
Notes
As always, your situation is fact dependent and we are not dietitians.  When in doubt check it out with a doctor if you have specific dietary needs or concerns. 
Nutrition
Calories:
698
kcal
|
Carbohydrates:
184
g
|
Protein:
11
g
|
Fat:
3
g
|
Saturated Fat:
0.1
g
|
Polyunsaturated Fat:
0.3
g
|
Monounsaturated Fat:
0.1
g
|
Cholesterol:
28
mg
|
Sodium:
185
mg
|
Potassium:
1334
mg
|
Fiber:
1
g
|
Sugar:
0.3
g
|
Vitamin A:
1186
IU
|
Vitamin C:
31
mg
|
Calcium:
217
mg
|
Iron:
5
mg
Conclusion:
Jujubes are delicious and healthy snacks that can be enjoyed in many different ways. This easy Thai jujube recipe is a great way to incorporate jujubes into your diet and enjoy their many health benefits. Whether you are looking for a quick and easy snack or a unique ingredient to use in your cooking and baking, jujubes are a great choice.
Food safety
We sometimes take for granted that we have years (or decades) of cooking experience, that the average visitor may not. It never hurts to review your food safety!
Cook to a minimum temperature of 165 °F (74 °C)
Do not use the same utensils on cooked food, that previously touched raw meat
Wash hands after touching raw meat
Don't leave food sitting out at room temperature for extended periods
Never leave cooking food unattended
When in doubt, throw it out. If it smells, looks, or tastes funky, chunk it!
Use oils with a high smoking point to avoid harmful compounds
Always have good ventilation when using a gas stove
See more guidelines at USDA.gov.
If you love healthy fruit snacks try these: