This post may contain affiliate links.
This salad is flavorful, yet healthy tried and true recipe we made with the Panera version as an inspiration. As always, we start from scratch and use the healthiest ingredients we can think of. You can, of course, make any modifications you want to meet any needs you have. You can make this with a grill or an oven or you can buy premade ingredients if you need to.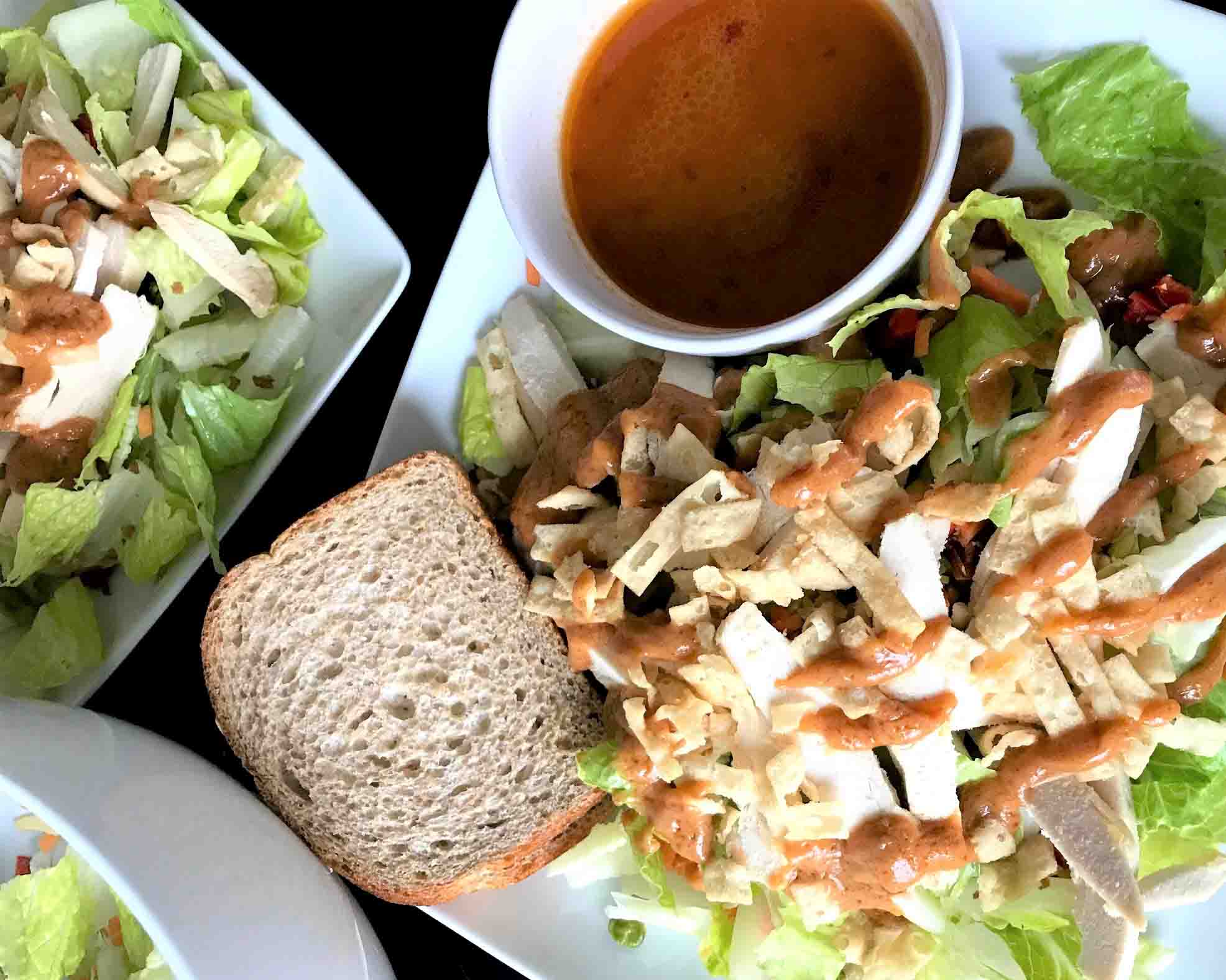 For the Peanut Sauce
We used a pre-made peanut sauce to save time on this recipe. It was also really easy to pour, right out of the bottle the way they did it too that way. You can also use one of our homemade peanut sauce recipes and pour from something with a pouring lip to achieve the same goal. Here are two of our peanut sauce recipes that we made to be a little healthier than the highly processed, store-bought, option.
The Thai Chili Vinaigrette Dressing
There are several ways we figured you could go about creating a similar Thai vinaigrette dressing. First we thought you could just buy a vinaigrette as they advertise on the menu item, and add a Thai chili sauce like Sambal. This way actually turned out really delicious, using a lite balsamic vinaigrette. After we tried that way, Mod decided she could reproduce from scratch and came out with a pretty close approximate. To me, it tasted a bit more of the sesame flavor than Panera's but you can always adjust that back to taste as you make it. Here is her recipe for that dressing, should you decide to go the homemade route. 🙂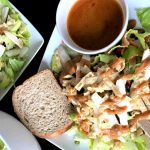 Print Recipe
Copycat Panera Spicy Thai Salad with Chicken
Copycat Panera Spicy Thai Salad with Chicken is a spicy, flavorful, yet healthy tried and true recipe we made with the Panera version as an inspiration.
Equipment
Cookie sheet

Large Salad Bowl
Ingredients
2

Cups

Chicken breast

Roasted or grilled and sliced

2

Heads

Romaine Lettuce

2 Heads Lettuce

1

Cup

Carrots

Cubed

½

Cup

Edamame

Roasted

¾

Cup

Bell pepper

Roasted and cut into cubes

2

tablespoon

Cilantro

Chopped

¼

Cup

Almonds

Sliced

¼

Cup

Wonton

¼

Cup

Peanut Sauce

Homemade if possible

1

Cup

Vinaigrette

Thai pepper vinaigrette if possible, see sub recipe
Instructions
Roast the edamame and cubed bell peppers for 10 minutes if using the oven at 350 degrees on a grill or via broil in an oven for approximately 10 minutes until starting to look charred. Set aside.

Roast or grill the 2-3 chicken breast if you don't buy it already roasted and sliced and slice into slivers. If oven roasting, we roasted ours on a cookie sheet for approximately 45 minutes, at 350 degrees, checking to make sure it doesn't burn. It is done when it is cooked through and slightly browned but not overly charred on the outside. Set aside.

Chop the Romaine lettuce into half dollar sized squares and place in the large salad bowl.

Chop the carrot into small cubes the same size as the red peppers.

Chop the cilantro into small pieces and set aside.

Toss together everything except the; peanut sauce, wontons, chicken and dressing which will be toppings.

Serve with whole with the chicken breast, peanut sauce, Thai chili vinaigrette and wontons on top.

If you want to copy Panera even more, add a whole grain French baguette if you can find one or just whole grain bread or bagel, as we did.
Notes
As always, nutrition is one of the most manipulated sciences in existence for people out to make a quick buck.  We are not nutritionists or dietitians.
Our mission at healthythairecipes.com was born from my trying to rehab my wife's native Thai recipes to be as healthy as possible for both of us. 
We like the whole foods, avoid processed ingredients approach.  What is healthy for us may not be healthy for you though as your situation is fact dependent. 
I like to say, when in doubt, check it out with a doctor or dietitian, if you have concerns. 
When it comes to food safety, When in doubt, throw it out, if you think an ingredient is questionable.  
Let us know how we can make our healthy Thai recipes healthier in the comments section below. Nutrition calculations are an estimate, calculated by a computer.
Nutrition
Calories:
548
kcal
|
Carbohydrates:
23
g
|
Protein:
23
g
|
Fat:
41
g
|
Saturated Fat:
7
g
|
Cholesterol:
49
mg
|
Sodium:
407
mg
|
Potassium:
633
mg
|
Fiber:
4
g
|
Sugar:
8
g
|
Vitamin A:
7476
IU
|
Vitamin C:
40
mg
|
Calcium:
62
mg
|
Iron:
2
mg
If you love Thai style salads, you might want to try one of these.
Please share our content on your favorite social media, if you like us, so we can keep this website moving forward and pay the bills. 🙂