This post may contain affiliate links.
Jump to Recipe
Print Recipe
This "Thai Chili Vinaigrette Dressing" is a recipe that is inspired by the Panera Bread menu.  It is a dressing for a salad called "Spicy Thai Salad with Chicken".  We made it for a copycat of their salad here and realized it is a recipe in itself.
After visited them a couple of times, I try my best to come up with a recipe that as close as what they have at the restaurant.  I finally figure out what ingredients I need to use for this dressing.
Let's make the dressing!
It is very simple to make dressing.  The ingredients are nothing exotic.  You can find all of them at any typical American grocery store.  This dressing has only six ingredients including; vinegar, peanut sauce, chili garlic sauce or Sambal sauce, sesame oil, Stevia, and salt.  The dressing tastes phenomenal.  It is tangy with a little bit of sweetness, spicy, and salty.  To pair this dressing with the salad.  I recommend using lettuce (any type), beans (edamame or kidney beans), carrots, roasted or fresh bell peppers and topped with chicken breast or shrimp, sliced almond or crushed pecan and sprinkle with crispy wonton or fried onion.  I am not a salad chick, but I finished my plate and fingers picked over all the bean and nuts.  That's how good it was!
Here's the recipe!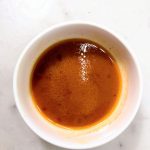 Print Recipe
Thai Chili Vinaigrette Dressing
Inspired dressing from "Thai Spicy Chicken Salad" from Panera Bread. The dressing requires only 6 ingredients and super easy to make!
Ingredients
3

tablespoon

Vinegar

1

tablespoon

Peanut sauce

1

teaspoon

Chili garlic sauce

or Sambal sauce

1

teaspoon

Sesame oil

½

teaspoon

Stevia

½

teaspoon

Salt
Instructions
Add salt, Stevia, and vinegar in a small bowl and heat them up in microwave for 30 seconds to let the salt and Stevia dissolve.

Add peanut sauce, sesame oil, and chili garlic sauce into the same bowl. Mix the ingredients together.

Pour the dressing over a salad that you prepare and ENJOY!
Nutrition
Serving:
6
oz
|
Calories:
47
kcal
|
Carbohydrates:
2
g
|
Protein:
1
g
|
Fat:
3
g
|
Saturated Fat:
1
g
|
Sodium:
809
mg
|
Sugar:
2
g
If you like this, you may like 
Easy and Healthy Summer Salad with Thai Sesame Curry Dressing
A Thai Vinaigrette Dressing Recipe, Why It's Healthier To Make Your Own Dressing