This post may contain affiliate links.
This Garlic Butter and Red Curry Brussels Sprouts and Crab Flambé or Flambeé Recipe is possibly the most ridiculous recipe I may have ever dreamt up.  It is a combination of some of my favorite ingredients, Brussels sprouts, crab, alcohol, garlic butter, and red curry.  This is definitely a fusion, test kitchen category recipe.  I used the basis of another recipe, which we copied from our favorite bar, and then added my own twist.
Flambé
Flambéeing is a fun way to add drama to a dish.  You typically do it in something like a skillet.  I did it in a wok in this recipe.  You have to bring the alcohol to a high enough temperature for the vapors to ignite so I add the alcohol later in the cooking.  You can use whatever you like with at least 40% alcohol.  I had vodka so that's what I used.  Typically you will see a bourbon, rum, or cognac used in recipes.
"Flambé (/flɒmˈbeɪ/, French: [flɑ̃be]; also spelled flambe) is a cooking procedure in which alcohol is added to a hot pan to create a burst of flames. The word means "flamed" in French.[1]" source wikipedia
Flambéeing can be done in front of guests if you have a small portable burner.  Or if you have a kitchen with a bar setup, you can socialize while you cook and then plate it hot.  I think it goes well with Brussels sprouts because the leaves are thin enough to actually caramelize a little from the flames.
My Recipe
My recipe was inspired by another recipe we posted earlier.  Dancing Brussels sprouts, another recipe intended to be served with a bit of drama was what I went off of.  Of course, I added the flambé, bit to make it more fun.  It adds 500 degrees for caramelizing the sprouts but little in flavor unless you use something more flavorful.  Adjust whatever you want, if you don't like fish sauce, just use a soy sauce or nothing instead.  Use healthier ingredients if you can.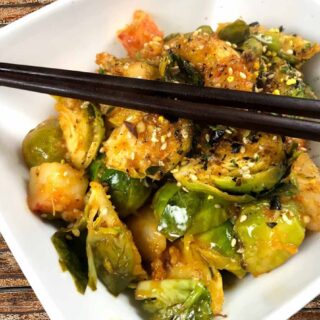 Garlic Butter and Red Curry Brussels Sprouts and Crab Flambé is a crazy recipe you can use as a side or main dish, full of flavor an drama.
Garlic Butter and Red Curry Brussels Sprouts and Crab Flambé
Ingredients
1

pound

Brussels Sprouts

Halved

½

pound

Crab Meat

Or Imitation Crab is What I Used

2

tbsp.

Butter

I used a healthy butter, olive oil butter

2

tbsp.

Garlic

Minced

1

tbsp.

Red curry paste

Store-bought or you can use our recipe and make your own. Just search red curry paste in the search bar to find it.

½

cup

Rum

Or whatever alcohol you prefer

2

tbsp.

Fish sauce

Or light soy sauce if you don't like fish sauce

1

tbsp.

Lime juice

or the juice of 1 fresh lime

1

tbsp.

Rice Vinegar

Or whatever vinegar you have

1

tbsp.

Sesame seeds

As topping
Instructions
Heat the wok or skillet on medium-high and add the butter and garlic, stirring until melted and the garlic is browned a little.

Quickly add in the curry paste and mix.

Add in the Brussels sprouts and crab meat and stir in well until they start to brown slightly.

Add in the vinegar, fish sauce and lime juice and continue stirring.

Pour in the alcohol, stand back and ignite it. Push the wok and pull back gingerly, careful not to spill, in order to mix evenly and not burn and wait for the fire to subside.

Plate, topped with the sesame seeds.
Notes
As always, our healthy Thai recipes are as healthy as we can make them.  We are always trying to learn healthier techniques.  If you have concerns, please, when in doubt, check it out with an appropriate professional as we are not doctors or dieticians and your situation is fact dependant.  We would love to hear your suggestions in the comments section. 
Nutrition
Calories:
228
kcal
Carbohydrates:
16
g
Protein:
17
g
Fat:
5
g
Saturated Fat:
1
g
Cholesterol:
24
mg
Sodium:
1085
mg
Potassium:
618
mg
Fiber:
5
g
Sugar:
3
g
Vitamin A:
1458
IU
Vitamin C:
104
mg
Calcium:
105
mg
Iron:
3
mg
If you like this Garlic Butter and Red Curry Brussels Sprouts and Crab Flambé recipe you might also dig one of these.
Dancing Brussel Sprouts with Fish Sauce, Watermelon and Bonito Flakes
Two Ingredient-5 minute, Steamed Sweet Thai Chili Brussels Sprouts
If you love this recipe please share it on social media so we can keep growing!