This post may contain affiliate links.
Tab Tim Grob- Thai Sweet Coconut and Water Chestnut Desert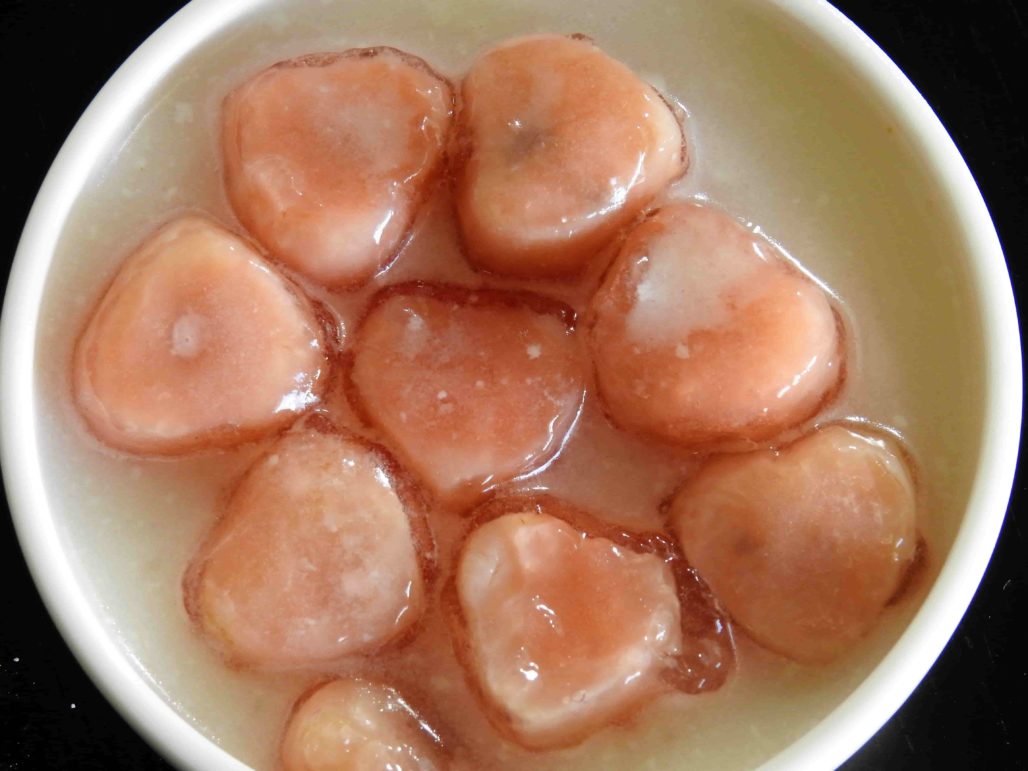 Tab Tim Grob is a Thai dessert that literally translates to crunchy red rubies.  This recipe can be pronounced and made a variety of ways, but the main theme is usually the same.  It is always some form of crunchy little jewels in coconut milk with ice.  In our recipe, my wife Mod made the water chestnuts heart-shaped for Valentine's Day.
I came across several other food blogs that have done it in different, beautiful ways, When I was looking for a bit of history on the recipe.  Your imagination is the limit with these fun recipe.  We did it with corn as well for a variation you might commonly see in Thailand as well.
The food network went for a darker red by using food coloring which we shy away from.  Amita did it with beautiful green and purple colors at her blog amitathaicooking.com.  For our recipe, Mod grated beet and used it to color the water chestnut.
If you google it, you will notice different spellings as well.   The Thai looks like this ทับทิมกรอบ.  You can imagine how with so many different sounds, making an English version would be a bit tricky.  You may see it written as thaptim krop or tab tim krop as well and who can really say which is right?
Our Tab Tim Grob Recipe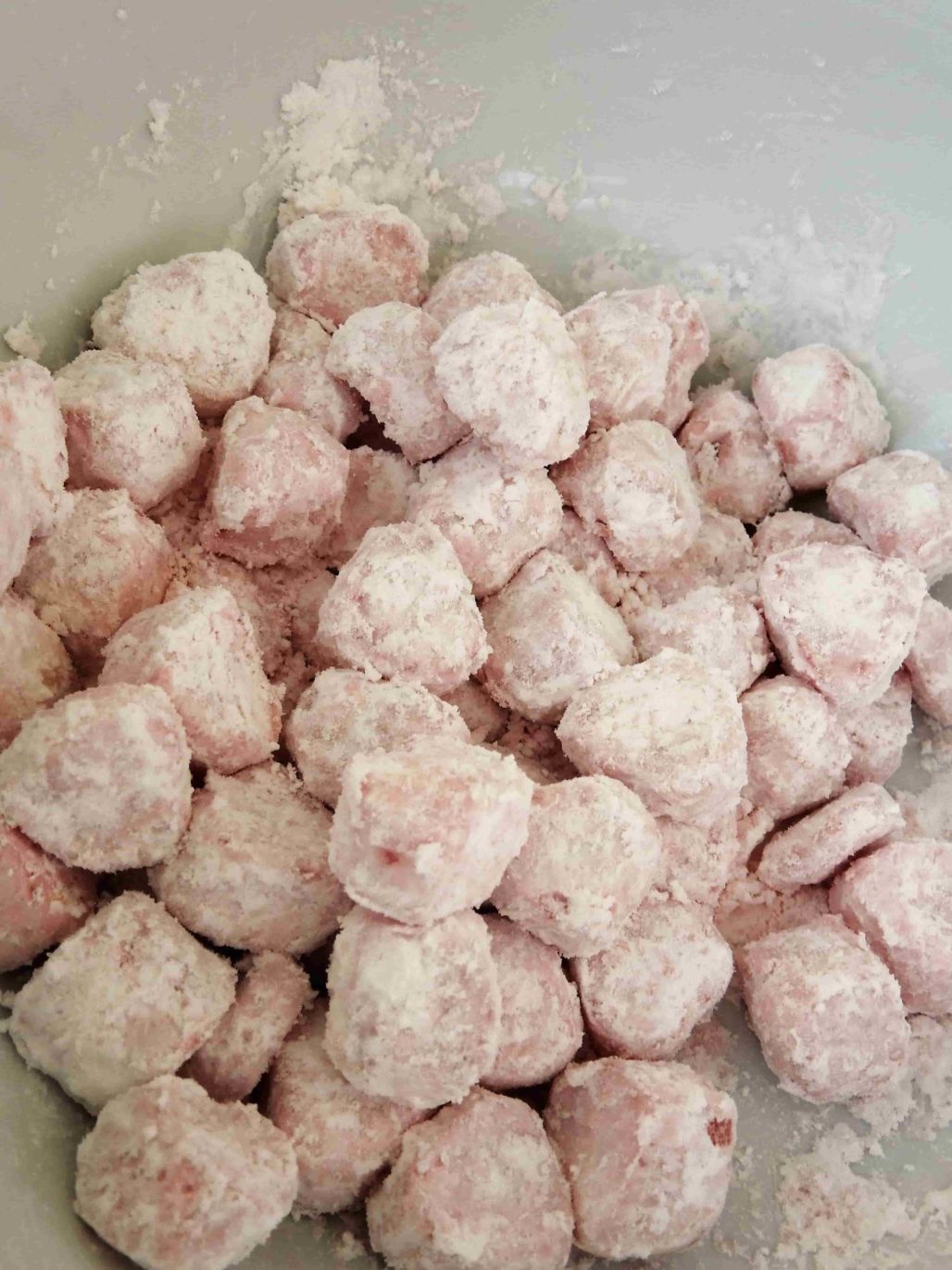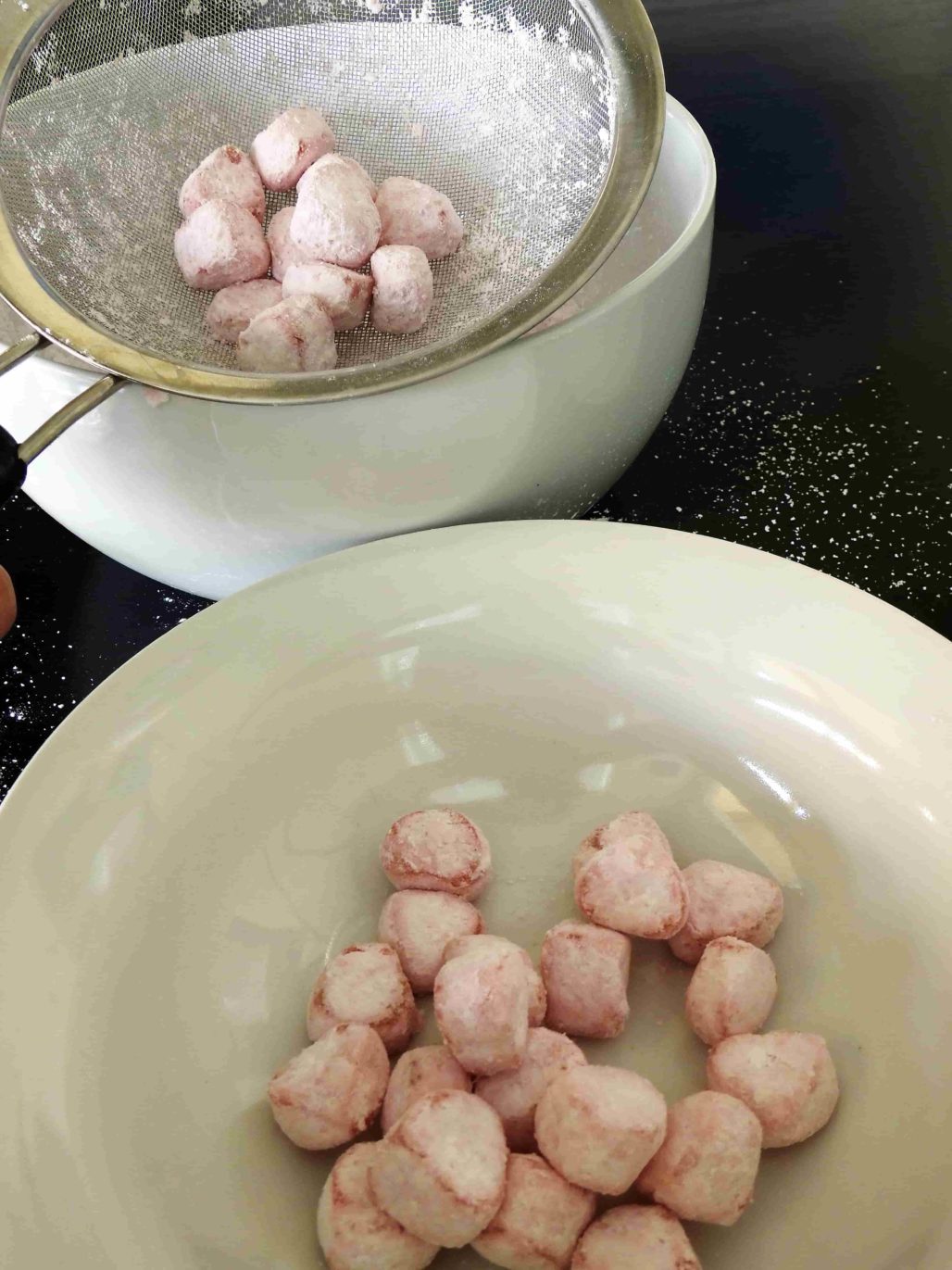 What you need beside the ingredients for this recipe.
Like I mentioned having some fun with this recipe, Mod decided to cut the water chestnut in a heart-shaped.  She found the right size of the cookie cutter for the whole water chestnut at World Market.  If you want to do it with the other shapes, feel free to follow your desire.  You also need a strainer to sift the excessive amount of starch on the water chestnut out otherwise it'll be too thick.
Tab Tim Grob- Thai Sweet Coconut and Water Chestnut Desert
Author:
Prep time:
Cook time:
Total time:
Ingredients
2 cans of whole water chestnut, 20 oz. per can
1 beetroot
½ cup tapioca starch
1 can lite coconut milk
1 cup drinkable coconut milk (an option, in case you want the sweet coconut is more milky and white)
½ cup stevia
pinch of salt
Instructions
Use a heart-shaped cookie cutter to cut the water chestnut or if you prefer not to have the heart-shaped, you can just cut them into small pieces.
Grate beetroot in a bowl of water and soak the water chestnut in it for 30 minutes, Rinse coloring water off.
Mix the dying water chestnut with tapioca starch and sift them with a strainer to get rid the unnecessary excessive amount of the starch.
Heat water in a medium pot and make sure the water is higher than the water chestnut about 1-1 ½ inches.
Cook the water chestnut for few minutes or until they are floating.
Transfer them to a bowl of ice-cold water and let them sit in it until they're cool down.
Heat the lite coconut milk in a small saucepan, add the stevia and cook the coconut milk until it boils.
Turn off the stove and add a pinch of salt.
Serve the Tab Tim Grob in a bowl and pour the sweet coconut milk over it. You can serve it along with corn or young coconut meat. You may serve it with or without ice.