This post may contain affiliate links.
Nom Sod is a dish I first tried at a restaurant here in the Houston area called, Ploy. It's a super simple recipe you can do with whole food ingredients and keep it as simple as you want.  You can also make it with chicken breast as they did in the restaurant although it is traditionally a pork dish.   I did it with chicken breast.
Simple Whole Food Ingredients
You can make the ingredients more complex if you like the process of cooking.  I used pickle juice to marinate the minced chicken for a while and it was dynamite.  The beauty of the recipe is how simple you can make it though.  I asked the people waitress at Ploy to tell me how they make it and she laughed and said she can't but stated that it's just 4 ingredients really.  You can tell though that they went in for more than that.   Go as far as you want.
Making it Juicy
After I started destroying the salad, I realized I wished I left more of the marinade I poured into the drain when I separated the meat out for cooking.  You could save it when you separate it out and pour it back in after cooking the meat.  I think the salad was actually looking better the more I dug in.  As is often the case, the marinade is the best part and I slurped up the last bets and wanted more.
Ingredients
The only ingredients you really need are the limes, ginger or ginger paste, chilis, chicken breasts, peanuts, onions and lettuce.  You can always garnish as you like and marinate the chicken that way as well.  I used three chicken breasts and minced them by just cutting them up with a cooking knife.   I used a Boston lettuce for a more nutrient dense lettuce and there were no purple onions so I used what I could find which was white onions sliced into strips.  1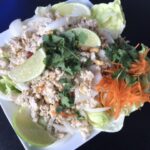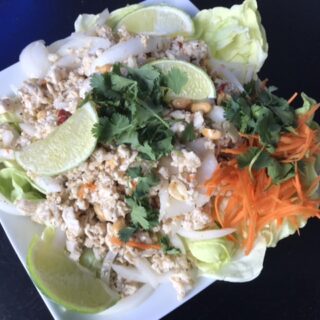 Print Recipe
Nam Sod Made with Chicken Breast, Marinated Minced Chicken over Lettuce
Nam Sod is typically marinated pork over lettuce but I went with a marinated chicken breasts here.
Ingredients
Minced Chicken
3

Chicken breasts

Minced

1

Cup

Pickle Juice

Optional, I used pickled jalapeño juice

1

tablespoon

Canola oil

1

tablespoon

Garlic

Minced
Dressing
2

tablespoon

Fish Sauce

Optional, you could replace with low sodium soy sauce

2

tablespoon

Ginger

Paste or grated

2

tablespoon

Lime juice

1

tablespoon

Chili paste

Optional
Garnish
½

Cup

Carrots

Shredded or Julienned

1

tablespoon

Black pepper

Ground black pepper

1

Lime

In thinly sliced wedges

1

Cup

Cilantro

Leaves only
Salad
½

Cup

Onion

Sliced into slivers

1

Head

Lettuce

Pulled apart

½

Cup

Peanuts

Unsalted
Instructions
If you want to marinate the chicken first do so for at least 15 minutes and separate in a colander saving the juice if you like it juicier.

Mix the dressing ingredients in a bowl and set them aside

Heat the oil in a large wok or skillet over medium heat and add the minced chicken breasts and cook until browned, adding the ground black pepper and mixing in.

Drain the fat off of it and if you want to make it tangier you can add the marinade back in and reduce just a little, making sure to keep the minced chicken separated by breaking it up and adding the sliced onions in.

Turn off the heat and allow it to cool.

Break apart the head of lettuce and place it on plates as the base.

Combine the salad ingredients, peanuts, chicken with onions, and season with dressing garnishing as desired with the carrots.
Notes
As always our Healthy Thai Recipes are as healthy as we can make them.  Your situation is fact dependent and if you have concerns you should check it out with a doctor.  Please let us know if you have suggestions for improvement and customization to your heart's content.  Nutrition facts were calculated by a computer program and only estimates based on all the ingredients included.  Omitting the pickle juice and substituting the low sodium soy sauce for the fish sauce will alter this and make it more Americanized if you wish.  You can delete away ingredients and see values change as needed. 
Nutrition
Calories:
805
kcal
|
Carbohydrates:
41
g
|
Protein:
87
g
|
Fat:
35
g
|
Saturated Fat:
5
g
|
Cholesterol:
217
mg
|
Sodium:
3644
mg
|
Potassium:
2253
mg
|
Fiber:
10
g
|
Sugar:
11
g
|
Vitamin A:
6801
IU
|
Vitamin C:
33
mg
|
Calcium:
163
mg
|
Iron:
5
mg
If you like Thai salads you should check out some of these recipes.
Easy and Healthy Thai Rice Noodle Salad Using Mackerel (ยำข้าวไทยใช้ปลาแมคเคอเรล)
Easy Copycat Panera Asian Sesame Salad With Chicken, สลัดงาเอเชียไก่