This post may contain affiliate links.
Cod is one of the healthiest foods in the world, making it with fried rice is an interesting application you can feel good about. Pescovegetarians live longer than any other category of person. Healthier than vegetarians, everything. There is something special in lean fish. Especially the bigger ones that are high in good omega fatty acids. Cod is one of these, really healthy varieties of fish.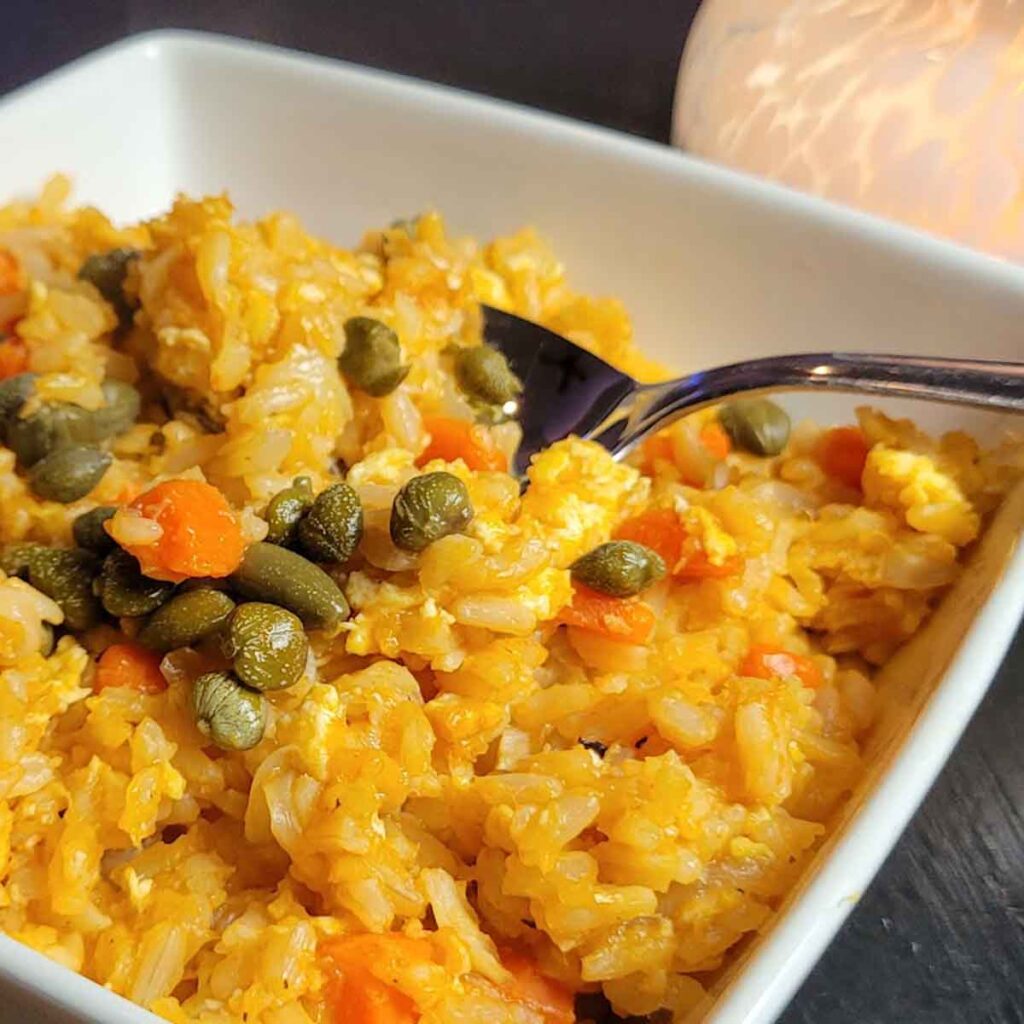 The Health Benefits of Cod
Cod is one of those common fish we look to be on sale. It's flaky, lean, high in protein, and has non of the things I don't want. It is perfect for someone like me trying to get enough protein with none of the bad stuff. According to this safebeat.org article, it may actually lower my triglycerides and the slightly high cholesterol I hear about from my doctor every year at my physical. It is easy to find and easy to cook.
Using a low glycemic rice
I always go for rice that converts to blood sugar more slowly. We have a basic guide to picking the best rices, as it is something we have to do all the time which I will post a link to below. You can basically do well by avoiding cheap, white rice, and or sticky rice. Go for longer grains, and surprisingly, white basmati is really low glycemic and healthy.
Fried Rice
I am using the basic Thai template for fried rice. Of course, you want to go for a healthier oil like canola, to go with the healthier rice. You just want to be careful not to overcook the cod as it is somewhat delicate. You will find links for the basics of Thai fried rice after the recipe.
Healthy Cod Fried Rice
Tasty and flavorful fusion Thai style fried rice using healthy rice and cod!!
Ingredients
2

cups

brown rice

cooked, either short grain, long grain, or jasmine rice

12

oz

Cod

defrost and wash

1

cup

yellow onions

chopped

½

cup

carrots

cubed

7

green onions

chopped

2

tablespoon

canola oil

2

tablespoon

soy sauce

low sodium

1.5

tablespoon

Sriracha sauce

1

whole

cucumber

sliced, optional

1

whole

lime

wedged, optional

2

tablespoon

capers

optional
Instructions
Heat canola oil in a wok on medium high.

Add chopped yellow onion into the wok and saute them until they turn golden brown.

Add cubed carrots saute them with the onions for few minutes.

Add cooked brown rice and cod, stir fry everything together for 3-4 minutes.

Then add soy sauce and Sriracha sauce, mix the sauces with all the ingredients.

Lastly, add chopped green onions and stir fried everything together for a couple of minutes. Turn off the stove. Serve it with sliced cucumbers and lime wedges(s).
Notes
As always, when in doubt check it out if you have nutrition and or special health concerns.  Your situation is fact dependant so you will want a specialist to help if you have any concerns.  Another phrase I like that's easy to remember is, when in doubt throw it out if you have any concerns about any of the ingredients.  We make our healthy Thai recipes as healthy as we can.  We are not nutritionists, or doctors though and your situation is unique so please be safe.   Don't eat fish too often to avoid mercury poisoning. 
Nutrition
Serving:
2
Servings
|
Calories:
900
kcal
|
Carbohydrates:
160
g
|
Protein:
22
g
|
Fat:
20
g
|
Saturated Fat:
2
g
|
Cholesterol:
28
mg
|
Sodium:
1323
mg
|
Potassium:
931
mg
|
Fiber:
10
g
|
Sugar:
6
g
|
Vitamin A:
5765
IU
|
Vitamin C:
23
mg
|
Calcium:
132
mg
|
Iron:
5
mg
If you love fried rice, you might dig, digging into one of these.