This post may contain affiliate links.
Thai Style Spicy Crawfish Fried Rice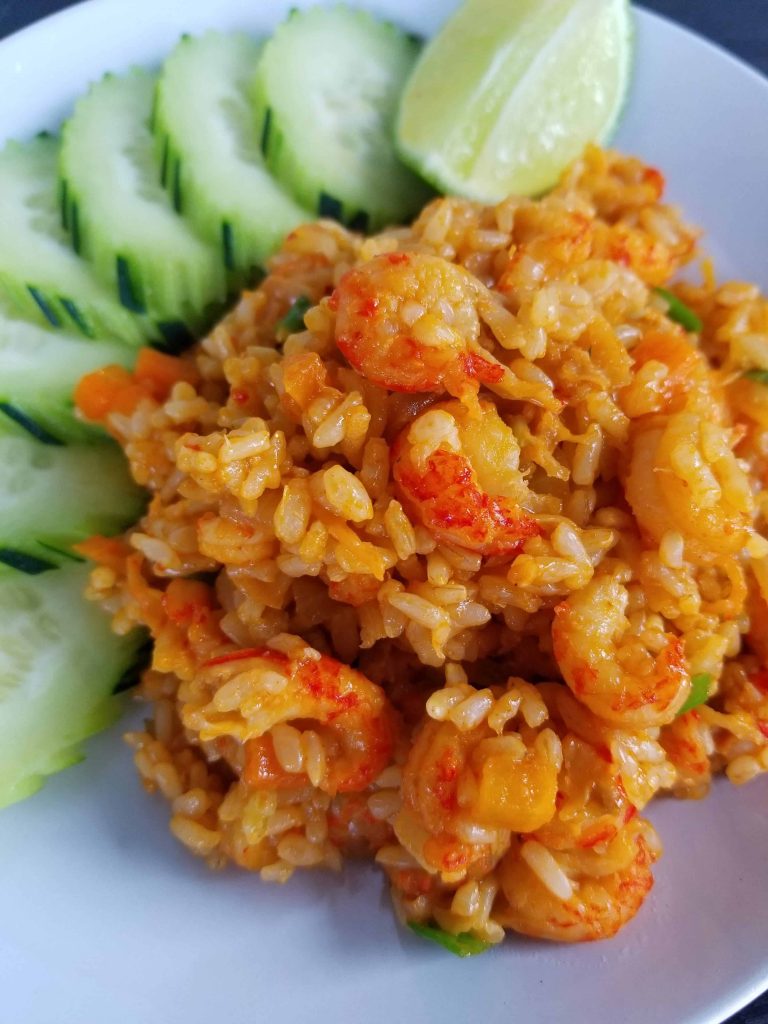 Fried rice is a comfort food for so many people, especially the ones that grow up eating rice every meal like me.  There are so many kinds of fried rice in each region of the world.  This could be a long blog post if I put all the names of the fried rice recipes I know.  It is crawfish season here in Houston, TX and I love crawfish.  I love the buttery, spicy, and juiciness of the crawfish!  Well, today is not about absolute favorite, boiled crawfish, but I'm excited to share my "Crawfish Fried Rice" recipe.  It is a fusion dish, a combination of Western and Eastern.  Fried rice is typical in Thailand but not the crawfish.  In Thailand, we have some of the freshwater shrimp species, but nothing like crawfish!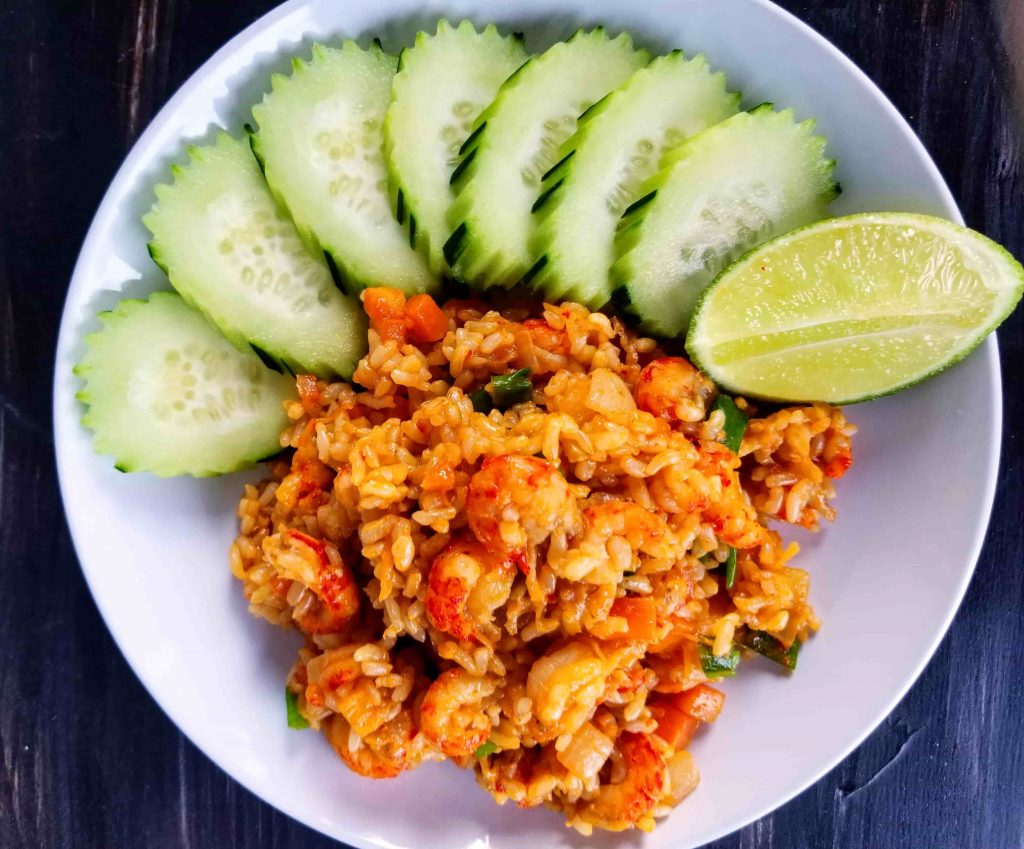 Healthier and Tasty Crawfish Fried Rice
Remember to choose complex carbohydrates over simple carbohydrates.  Brown rice is one of the whole grain/complex carbohydrates.  To make this dish healthier I choose to use brown rice in this recipe.  I use the short grain brown rice which gives such a nice texture and a little bit chewiness, just like the white rice that they use on sushi.  I add some simple vegetables like yellow onions, carrots, and green onions.  Season them with soy sauce and Sriracha sauce.  Yet, don't forget about one of our main ingredients which are crawfish tails.  I use frozen crawfish tails I find at Kroger.  It is a bit pricy, $10 for 12 oz. crawfish tails.  But my on my, it is worth the money I spent.  You can always, shell the crawfish yourself and pick the tails out, of course, and save money.   Even better, catch them yourselves if you live in the South of the US.
In Summary
The fried rice comes out incredibly amazing.  It is such a savory and flavorful dish.  I put 1.5 tablespoon of Sriracha sauce and it has a fantastic kick of hotness.  If you're not a fan of spicy food, I recommend you start with ½ tablespoon first.  "It's always easier to add it in more than take it out", and this is one of my tips for cooking.
Here's the recipe!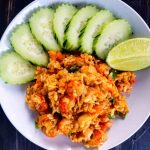 Print Recipe
Crawfish Fried Rice
Tasty and flavorful fusion Thai style fried rice using brown rice and crawfish tails!!
Ingredients
2

cups

brown rice

cooked, either short grain, long grain, or jasmine rice

12

oz

crawfish tails

defrost and wash

1

cup

yellow onions

chopped

½

cup

carrots

cubed

7

green onions

chopped

2

tablespoon

canola oil

2

tablespoon

soy sauce

low sodium

1.5

tablespoon

Sriracha sauce

1

whole

cucumber

sliced, optional

1

whole

lime

wedged, optional
Instructions
Heat canola oil in a wok on medium high.

Add chopped yellow onion into the wok and saute them until they turn golden brown.

Add cubed carrots saute them with the onions for few minutes.

Add cooked brown rice and crawfish tails, stir fried everything together for 3-4 minutes.

Then add soy sauce and Sriracha sauce, mix the sauces with all the ingredients.

Lastly, add chopped green onions and stir fried everything together for a couple of minutes. Turn off the stove. Serve it with sliced cucumbers and lime wedges(s).
Nutrition
Serving:
2
Servings
|
Calories:
900
kcal
|
Carbohydrates:
160
g
|
Protein:
22
g
|
Fat:
20
g
|
Saturated Fat:
2
g
|
Cholesterol:
28
mg
|
Sodium:
1323
mg
|
Potassium:
931
mg
|
Fiber:
10
g
|
Sugar:
6
g
|
Vitamin A:
5765
IU
|
Vitamin C:
23
mg
|
Calcium:
132
mg
|
Iron:
5
mg
If you like this, you may like