This post may contain affiliate links.
Green curry chicken with Indian eggplant is a delicious way to use this gorgeous vegetable and you will love the taste as well. Thai green curry is often made using Chinese eggplant. When you happen to find Indian Eggplant though, you won't want to miss the opportunity to use it. With technology making it easier to get it, you can even find it on Amazon here, and you can find it at Asian markets as well.
Indian Eggplant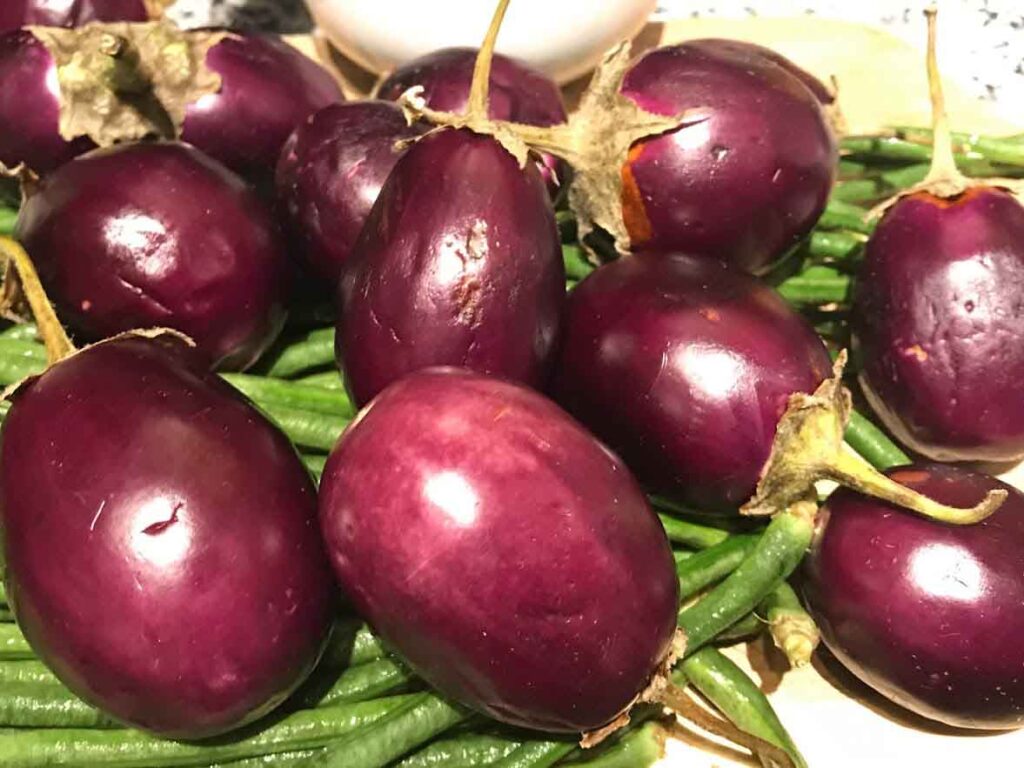 Indian eggplants are small and oval, averaging 5-7 centimeters depending on maturity. This egg-shaped fruit has a glossy, smooth, and medium-thick dark purple outer skin. The inner flesh is firm, crisp, and creamy white with a few, small edible seeds. When cooked, Indian eggplants offer a mild flavor with sweet notes and a creamy texture.

https://specialtyproduce.com/produce/Indian_Eggplant_9087.php
Adaptable Green Curry Ingredients, We use Green Curry Chicken With Indian Eggplant but You can Substitute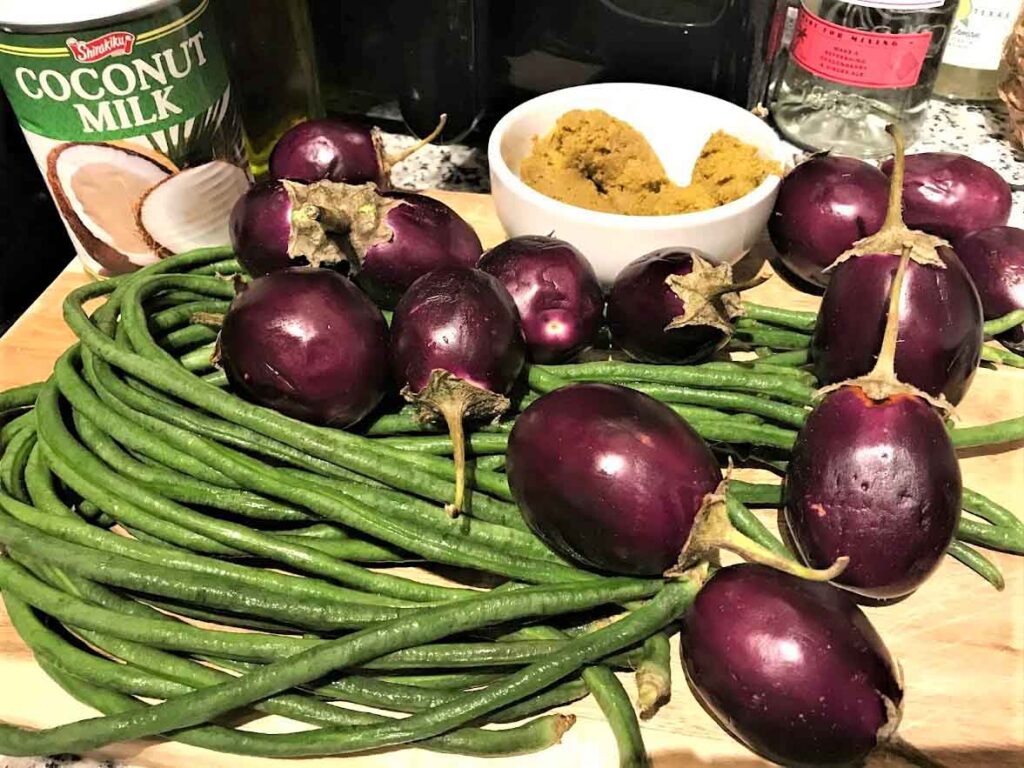 Mod likes to use long beans with her green curry but you can use whatever you prefer for your green curry. She also uses Chinese or regular eggplant typically. We used Mae ploy green curry paste, which you can find, here, on amazon, or at most Asian markets. You can alternatively, make your own, homemade green curry paste using Mod's recipe below. Pick whatever protein you like. If you are vegetarian you will go with tofu, or whatever you prefer. You don't have to use anything for the protein if you prefer.
https://healthythairecipes.com/homemade-thai-green-curry-paste/
Substitution Ideas
Protein- Don't have chicken? Tofu, Steak, and Pork can all be used. Just remember to cut it small enough that it is easy to eat and to always go for lean meats with any fat trimmed.
Vegetarian: You would just want to make your own green curry paste so you could avoid the fish products common in curry pastes you buy at the store.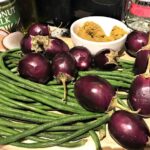 Print Recipe
Chicken Green Curry With Indian Eggplant
This Green Curry is a comfort food you can make healthier, indian eggplant is a beautiful, exotic and savory feeling way to make it unique.
Ingredients
1

pound

Chicken breast

Sliced

½

pound

long beans

Green long beans

.75

pound

Indian Egg Plant

Chopped into quarters

2

tablespoon

olive oil

2

tablespoon

green curry paste

3

cups

light coconut milk

1 ½

cup

water

2

cups

Thai Basil Leaves
Instructions
Heat a medium wok to medium high heat with a bit of healthy oil, canola, sunflower, whatever you prefer.

Stir-fry the green curry paste for a minute or two or until fragrant

Add in one cup of light coconut milk.

Add in the chicken breast or whatever protein you like.

Add in another ½ cup of light coconut milk and ½ cup of water and bring to a boil.

Add in the cut vegetables and cook until soft.

Taste and add stevia and more coconut milk to make it less spicy or more green curry paste to make it spicier.
Notes
As always, if you have any doubt, check it out, regarding your fact dependent health situation.  We are not dieticians, nutritionists or doctors.  We make our healthy Thai recipes as healthy as we can.  You will always want to use fresh ingredients and make sure to cook the meats through for safety.  If you have any ideas for improvements we would love to hear them in the comments section below.  Please share, like and subscribe to our blog to support us and so you don't miss a recipe.  
Nutrition
Calories:
1414
kcal
|
Carbohydrates:
42
g
|
Protein:
103
g
|
Fat:
83
g
|
Saturated Fat:
48
g
|
Polyunsaturated Fat:
6
g
|
Monounsaturated Fat:
25
g
|
Trans Fat:
1
g
|
Cholesterol:
290
mg
|
Sodium:
1054
mg
|
Potassium:
2223
mg
|
Fiber:
1
g
|
Sugar:
3
g
|
Vitamin A:
8004
IU
|
Vitamin C:
51
mg
|
Calcium:
200
mg
|
Iron:
4
mg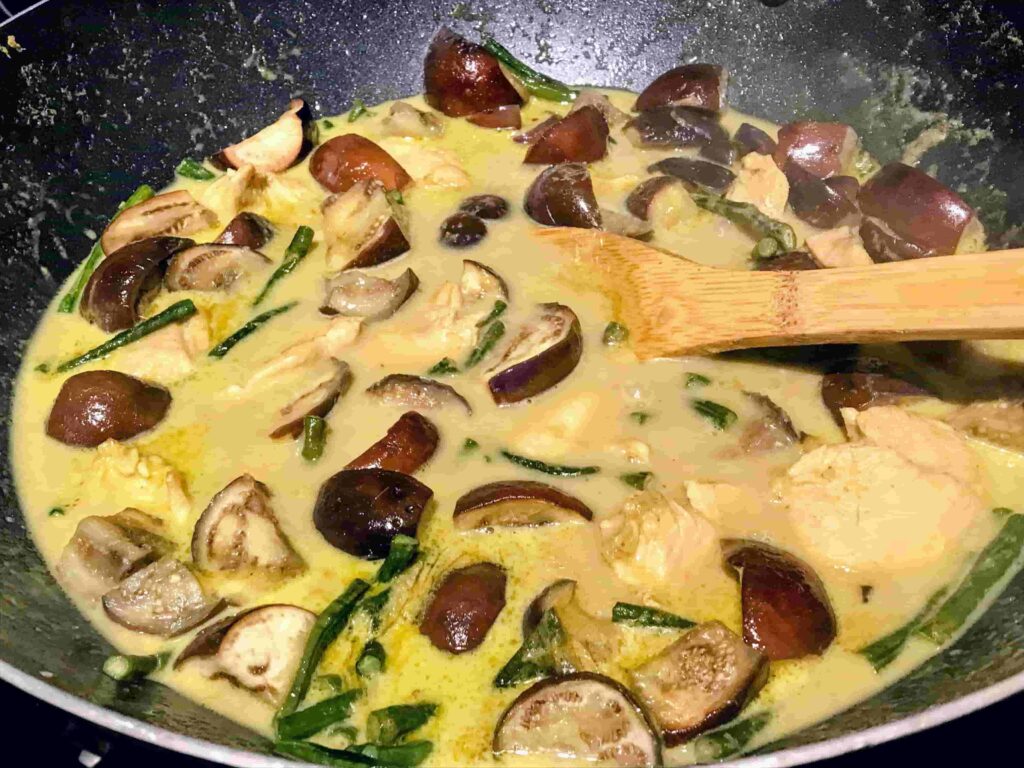 If you like this Green Curry, try one of these recipes below.