This post may contain affiliate links.
Panang Curry Lamb Chops are a peanut, rich way to make your lamb chops beautiful, with a saucy Thai finish.  A lot of the time I blog based on what is on sale.   One of our healthier routines is to go to the gym and on the way home, we stop to see what's in the meat clearance area.  They had 3 lamb chops on sale but I made this recipe for 4 because I killed 2 in less than 5 minutes.
How healthy are lamb chops?
Lamb is leaner red meat and if you go for lamb chops, they are one of the leaner parts.  You can also go for moderation as we did in the presentation of this dish.  It also gives a fancier look, like that of a 5 star New York restaurant that would charge $50 for such a dish.  Trimming off any fat and allowing removing grease after cooking also helps.  For more, I used this article for my reference, check it out.
Using store-bought vs. making your own peanut sauce and or Panang curry paste.
I like to leave this up to you, because depending on your schedule, you may not have time to go as far as making the ingredients from scratch.  You can often buy healthier versions of peanut sauce and curry pastes really aren't all that unhealthy, just not as fresh.  You may just have to watch your sodium levels if you go store-bought.
Homemade peanut sauce
If you go for the homemade peanut sauce route to better control your ingredients I recommend one of our recipes below.  Otherwise, any market should have them in the Asian or international aisle if you live in the West as we do.  Here are our homemade recipes, you can also make one with a protein added peanut butter to increase your protein like our higher protein recipe here.
Panang Curry Paste
Panang curry paste is one of my favorite curry pastes.  You can also see it with the following spellings; Phanaeng (Thai: พะแนง, pronounced [pʰā.nɛ̄ːŋ]), also spelled phanang, panang, and other variants). It typically uses a combination of peanuts and other Thai spices.  See this quote from it's Wikipedia page.
"The curry paste is made with dried chili peppers, galangal, lemongrass, kaffir lime zest, coriander root, coriander seeds, cumin seeds, garlic, shallot, shrimp paste, salt and peanuts.[2] The dish is usually made with meat cut into thin strips, kaffir lime leaves, coconut milk, phanaeng curry paste, palm sugar and fish sauce."
As usual, we try to provide a more whole-food, less processed option.  When we make our own curry pastes we make a lot and save it back in ice trays for preportioned amounts, ready to go.    I have made several panang recipes, as it is my favorite red curry.  Here is our Panang curry paste recipe.
Without Further Ado, Here is our recipe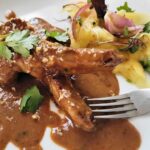 Print Recipe
Panang Curry Lamb Chops (แกงพะแนงซี่โครงแกะ)
Panang Curry Lamb Chops are a rich peanuty way to create a saucy finish for your lamb chops
Equipment
Grill

Mixing Bowl

Skillet if not grill
Ingredients
Sauce
1

cup

peanut sauce

Store-bought, or using our homemade recipe

2

tablespoon

garlic

minced

1

tablespoon

panang

paste, store-bought, or using our homemade recipe

2

tablespoon

sesame oil

Or whatever you prefer

1

tablespoon

low sodium soy sauce

½

teaspoon

stevia

⅓

cup

light coconut milk

or water

1

tablespoon

Fish sauce

Optional
Garnish
2

tablespoon

Peanuts

Chopped, optional

2

tablespoon

Shallots

Or onions fried or just chopped and grilled lightly for topping, optional

1

cup

Cilantro

Stems separated, optional, or parsley

2

limes

In wedges
Instructions
Blend the sauce ingredients until they reach an even consistency.

Add in the light coconut milk, stirring into an even consistency.

Add the lamb chops to a bowl or ziplock bag with about half the sauce and marinate the lamb chops for at least 30 minutes in it.

Add the lamb chops to a skillet or grill on low to medium-high heat.

Cook the lamb chops until your desired level, rare, medium-rare, well done, probably no more than 5 minutes.

After marinating the chops, heat all the sauce in a saucepan over medium heat.

Pour the sauce of the lamb chops to your desired level, and or serve in a bowl for guests to top to their preference.

Garnish with, fried garlic, shallots, chopped, peanuts, parsley, cilantro, lime or whatever you like
Notes
As always, our healthy Thai recipe's nutrition facts are calculated by a computer and are just an estimate.  If you have specific nutrition and dietary concerns, please check it out with doctor as your situation is fact dependant.  When in doubt, check it out and or, when in doubt, throw it out if it might have gone bad.  The recipe was inspired by this recipe at foodandwine.com
Nutrition
Calories:
1116
kcal
|
Carbohydrates:
36
g
|
Protein:
95
g
|
Fat:
62
g
|
Saturated Fat:
15
g
|
Cholesterol:
257
mg
|
Sodium:
2173
mg
|
Potassium:
1253
mg
|
Fiber:
2
g
|
Sugar:
22
g
|
Vitamin A:
540
IU
|
Vitamin C:
5
mg
|
Calcium:
70
mg
|
Iron:
8
mg
Please Share On Social If You Love Us!
If you like Panang Curry, You might also dig, digging into one of these.
Panang Curry Salmon, Get your omega fatty acids with the full flavors of Thailand
Thank you for reading this far and please subscribe to get new recipes as we post them!