This post may contain affiliate links.
El arroz frito al estilo tailandés es bueno por sí solo, pero este arroz integral frito con coco al estilo tailandés lo hace más saludable e interesante, ver más abajo. Puede hacer esto con o sin salsa de pescado y adaptarlo para que sea suyo.
Ir a la Receta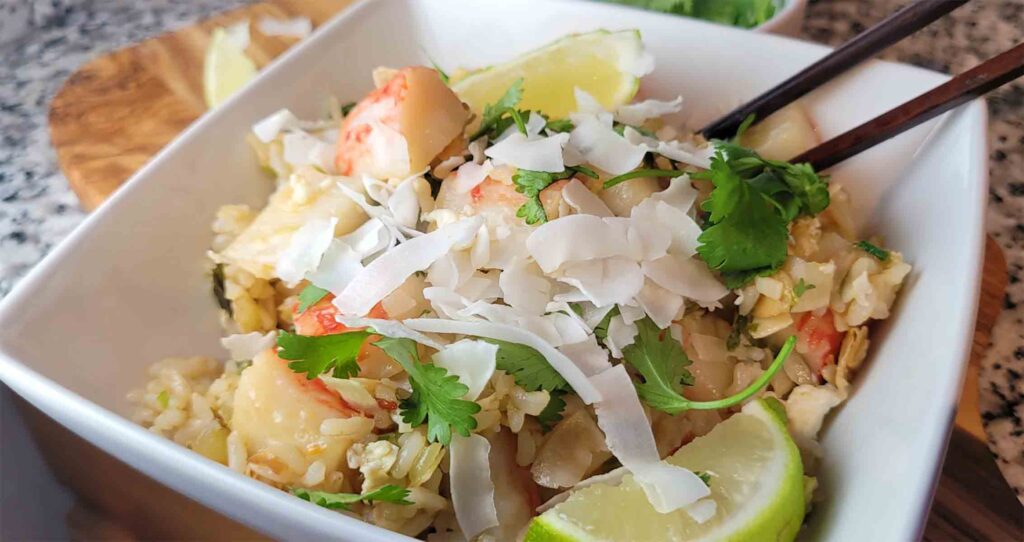 Ponga todo en primer lugar
Mise en place es el concepto de tener todo listo antes de cocinar. Con esta receta, es especialmente importante estar listo antes de comenzar a cocinar. Hay demasiados ingredientes que necesitará tener listos muy rápido debido a la velocidad de cocción.
Elegir ingredientes más saludables
Puede adaptar esto cambiando cualquiera de los ingredientes. Usé una buena cantidad de aceite de coco, que es muy alto en grasas saturadas. También puede usar aceite de canola, sésamo o incluso aceite de oliva, aunque no es el estilo típico tailandés.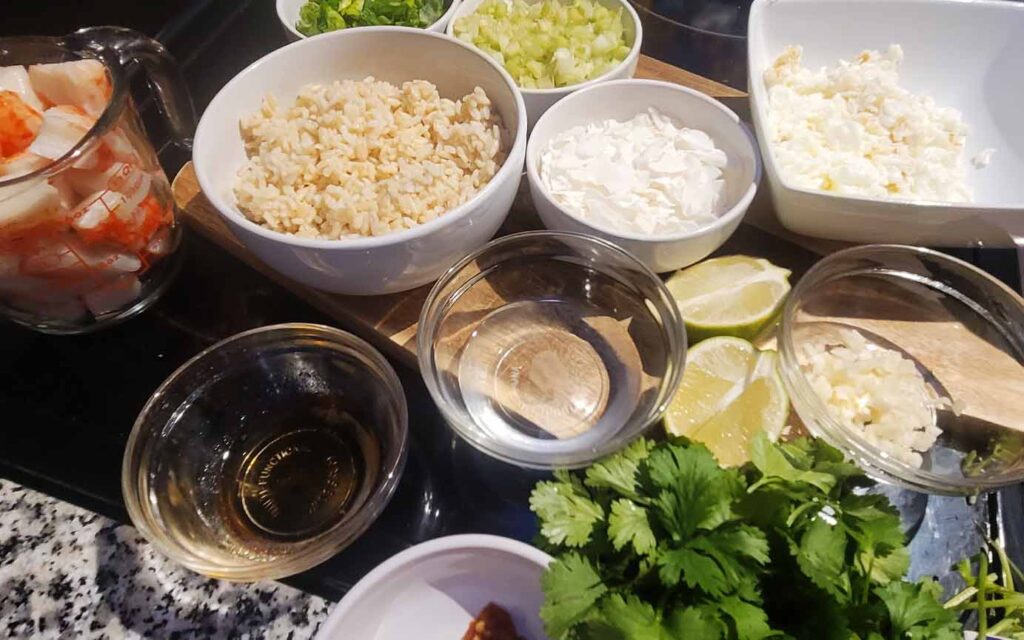 Elegir el arroz
El arroz integral y de grano largo es obviamente más saludable que el arroz blanco simple y refinado. Prefiero el arroz frito con jazmín tailandés para cualquier cosa precocida porque huele increíble y puedes obtener una versión de arroz integral. También está sorprendentemente disponible. Lo he estado encontrando en el área de Houston en los supermercados regulares de la sección asiática. Elija lo que elija, querrá precocinarlo y enfriarlo, lo que permite el mejor sabor cuando lo sofríe.
Elegir una proteína
Puede hacer esto sin ninguna proteína si lo desea. Vi la langosta falsa y pensé que saldría bien. Puedes usar tu intuición, pero Mod, My Thai Wife, dijo que el pollo, los mariscos y el tofu son buenas opciones para acompañar el sabor a coco. ¡Hágalo suyo!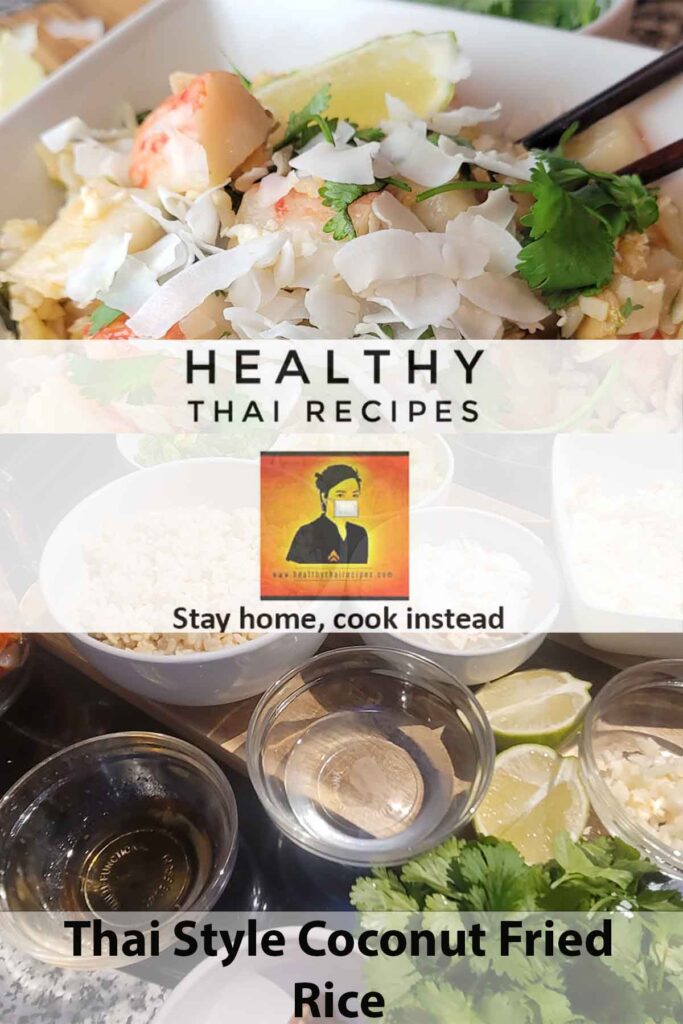 Thai Style Coconut Fried Rice
Thai-style fried rice is good on its own, but this Thai-style coconut fried brown rice makes it healthier and more interesting. You can make this with or without the fish sauce and adapt it to make it your own.
Ingredientes
6

tbsp.

Coconut oil

divided into 3, 2 tbsp. parts or 3 tablespoon into 3 one part for less calories

4

Egg whites

or just 2 eggs if you prefer

1

tbsp.

Garlic

crushed and or chopped

¼

cup

Green onions

chopped

¼

cup

Celery

chopped

1

tbsp.

Low sodium soy sauce

1

tbsp.

Fish sauce

½

cup

Coconut flakes

Dried and divided into 2 ¼ containers

2

cups

Brown Rice

Jasmin, Basmati, Long Grain or whatever yo like that is healthy, Chilled and precooked

1

teaspoon

Garlic Chili Sauce
Protein Optional
2

cups

Lobster

Or whatever protein you like
Garnish
1

lime

Cut in sections

¼

cup

cilantro
Elaboración paso a paso
Bring the wok to medium-high heat and heat one of the tbsp. of coconut oil.

Add in the eggs and cook until solid and remove from the wok to a plate and wipe the wok down for the next ingredients.

Add another of the tbsp. of coconut oil, and cover the bottom of the wok.

Add in the crushed fresh garlic and stir-fry until golden.

Add in the chopped green onion and continue to stir-fry.

Add in the chopped celery and stir-fry in.

Add in your protein and continue to stir-fry until slightly golden and cooked through.

Remove to the same plate with the eggs, removing everything you can get.

Add in another of the tbsp. coconut oil and cover the bottom of the wok again.

Add the coconut flakes and stir-fry until golden around the edges.

Add in the precooked rice and garlic chili sauce.

Add everything you cooked before back in and stir-fry until mixed together evenly squeezing lime over it at the end.

Taste and adjust the seasonings.

Remove to a bowl and garnish with the remaining coconut flakes and cilantro.
Notas
As always, if you have specific dietary concerns; when in doubt, check it out with your doctor.  And when you are uncertain if something is safe to eat, when in doubt throw it.  We are not doctors, nutritionists, or dieticians.  Your situation is fact dependant so use your judgment.  We always make our healthy Thai recipes as healthy and delicious as we can but we are always improving so please leave your thoughts and suggestions in the comments section below.  
Nutrition
Calorías:
563
kcal
|
Carbohidratos:
78
g
|
Proteina:
17
g
|
Grasa:
21
g
|
Grasa saturada:
16
g
|
Grasa polinsaturada:
1
g
|
Grasa monosaturada:
2
g
|
Grasa Transgénica:
1
g
|
Colesterol:
40
mg
|
Sodio:
673
mg
|
Potasio:
490
mg
|
Fibra:
5
g
|
Azúcar:
2
g
|
Vitamina A:
93
IU
|
Vitamina C:
3
mg
|
Calcio:
79
mg
|
Hierro:
2
mg
Si te encanta el arroz frito, es posible que te guste una de estas recetas.