This post may contain affiliate links.
Copycat Chili's Corn, Made with Thai Chili and Coconut Milk
Copycat Chili's Corn, Made with Thai Chili and Coconut Milk, is a recipe we have been working on for a while.  Both Mod and I really love street vendor corn.  Here in Houston, we get it in a cup, vaso de elote, almost every time we see it.  It always comes in some version of a creamy element like cheese or something, a chili spice via sauce.   Cilantro is sometimes used but far less often.  It's the same in Thailand and I tested other tropical countries.  My close friend Ivette, from the Dominican Republic said they have a version, I think every tropical country has a version.  I love the presentation Chili's does, and they research flavors so well I copied them for our street corn.
Making it look like Chili's but with Thai Substitutions
So, as usual, the picture on the menu and what we got was different both times we ordered from Chili's.  It was perfectly delicious, both times though.  We tried it a couple of different times and came to the following recipe.  Mod reminded me that there are no dairy based products that we can use.  We used light coconut milk which comes right out of the can with very similar white clumps to the Mexican white cheese Chili's uses.  The picture on their online menu looks like a finely grated cheese but what we got had melted into clumps.  We copied. that.
Mod's Thai Chili Powder
So, Mod always makes this Thai chili powder, and we never run out.  It works out perfectly for this recipe, especially if you like a little heat.  The guy I spoke with on the phone would only tell me that it's their Cajun spice mix that gives theirs the red chili powder look.  You can add as much or as little as you like and just taste and adjust because you add the spice at the end anyways.   Here is Mod's Thai chili powder recipe so you can make it at home.  Otherwise just use a Cajun spice or whatever you have.
Using the Oven Vs. The Grill
We tried it both ways and it's basically the same.  It's gorgeous outside right now, so we'll probably keep doing different iterations and I'll update this blog post as I keep learning.
Grilling
If you want to grill it, we just recommend using foil or making sure your grill is clean.  You can bast as you go with coconut milk like in the below photo.  Basting as we went didn't really make a difference we could tell and basting at the end was fine.  I would use medium high heat on a grill.  Cook until it is as done as you want it.
Oven Roasted
This was the easiest way for sure.  You just turn the oven to 350 and cook for 45 minutes to an hour.  Check the corn occasionally and take it out when it reaches your desired level of darkness.
Making the Seasoning
I mixed light coconut milk with cilantro and Thai chili powder the first time and just basted it on with our silicone baster at the end.  I regretted that pretty quick when I realized I added too much.  You can add in a little and taste and repeat or you can just sprinkle it on at the end.  Either way, you will want to taste and adjust with the spicy stuff, it packs a punch!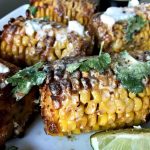 Print Recipe
Copycat Chili's Corn Made With Thai Chili Powder and Coconut Milk
Copycat Chili's Corn Made With Thai Chili Powder and Coconut Milk is a great way to reproduce a similar version of what you get at Chili's from home, controlling what you put into it and how it looks.
Equipment
Oven (depending on what you choose)

Grill (depending on what you choose)

Skewers (optional)

Baking Sheet (if using the oven)

Aluminum Foil (if using the grill and/or to wrap after for keeping it warm)

Basting brush, silicone if possible

Spray oil
Ingredients
1

lb

corn on the Cob

Fresh or frozen

2

tablespoon

Thai pepper

Chili powder to taste

1

cup

light coconut milk

½

cup

cilantro

Leaves picked

4

limes

Cut into wedges
Instructions
Heat the oven to 350 or turn the grill to medium high and turn and check occasionally

Place corn cobs, (defrosted if frozen) on the grill or in the oven on a baking sheet, lightly coating with a spray oil first if you have it

Mix the pulled cilantro and coconut milk being careful not to break up the clumps of solidified coconut milk for the appearance if you want it to look like Chili's

Remove corn from the oven or grill once it has achieved a nicely grilled appearance but not burnt

Baste with the coconut milk and cilantro mixture

Sprinkle on Thai chili powder, taste, adjust and repeat

Add the skewers for serving if you have them
Notes
As always, nutrition is one of the most manipulated sciences in existence for people out to make a quick buck.  We are not nutritionists or dietitians.
Our mission at healthythairecipes.com was born from my trying to rehab my wife's native Thai recipes to be as healthy as possible for both of us. 
We like the whole foods, avoid processed ingredients approach.  What is healthy for us may not be healthy for you though as your situation is fact dependent. 
I like to say, when in doubt, check it out with a doctor or dietitian, if you have concerns. 
When it comes to food safety, When in doubt, throw it out, if you think an ingredient is questionable.  
Let us know how we can make our healthy Thai recipes healthier in the comments section below. Nutrition calculations are an estimate, calculated by a computer.
Nutrition
Calories:
163
kcal
|
Carbohydrates:
31
g
|
Protein:
4
g
|
Fat:
5
g
|
Saturated Fat:
4
g
|
Sodium:
61
mg
|
Potassium:
410
mg
|
Fiber:
4
g
|
Sugar:
9
g
|
Vitamin A:
468
IU
|
Vitamin C:
46
mg
|
Calcium:
22
mg
|
Iron:
1
mg
If you like this recipe, you might also like one of these
Please Share if you love us!!!