This post may contain affiliate links.
This Keto Ka Prao Ga Pao Thai Basil Stir Fry Fusion Chili is a recipe I came up with, freestyle, style trying to decrease my carbs. It's a great time to add chili to the menu in the fall. Going lower on the carbs is a way I am trying to decrease my cholesterol. Cholesterol isn't something you just get from eating animal products. Your body makes it from raw materials, namely, carbs. This recipe is a simple, quick, and easy way to enjoy delicious, hot, stir-fried meats
Jump to Recipe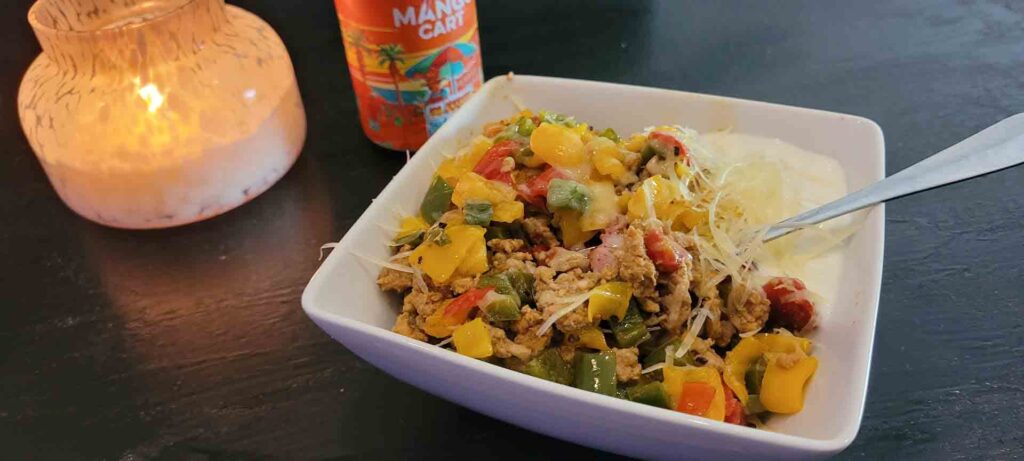 Start with Lean Ground Turkey
I think simpler recipes are often the healthiest recipes. Just simply heat your skillet or wok, at medium-high, add in healthy canola or olive oil to coat the bottom. Once heated almost to smoke point, add in the turkey and stir-fry until cooked through. Add in a can of diced or whole tomatoes including the water. Add a little a Prao Ga Pao Thai Basil Stir Fry, a tablespoon or two, not going too much, to prevent going too high on the sodium.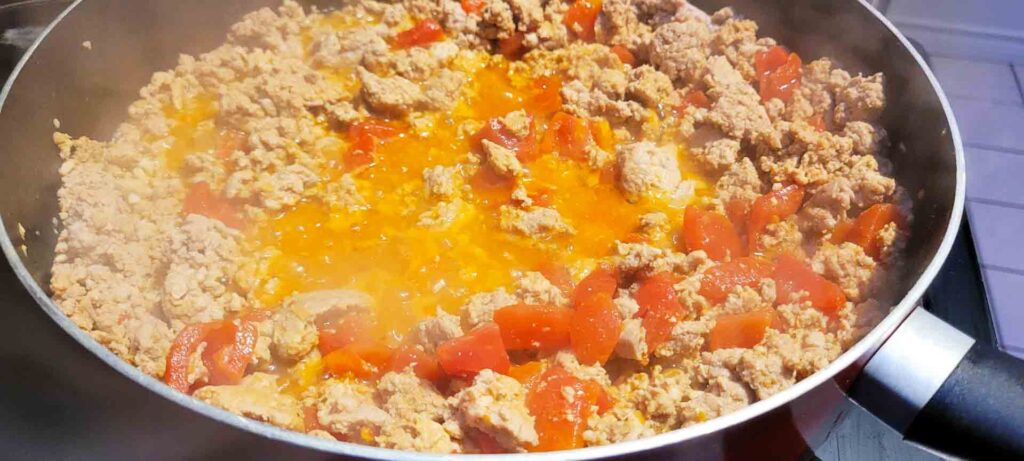 Basil Ka Prao, Basil Stir-fry, Seasoing
Mod always keeps this stuff in stock. It's not the healthiest way to go if you are watching your sodium content but it's a quick way to add a little flavor. Of course, adding a little fresh Thai basil at this point wouldn't hurt either.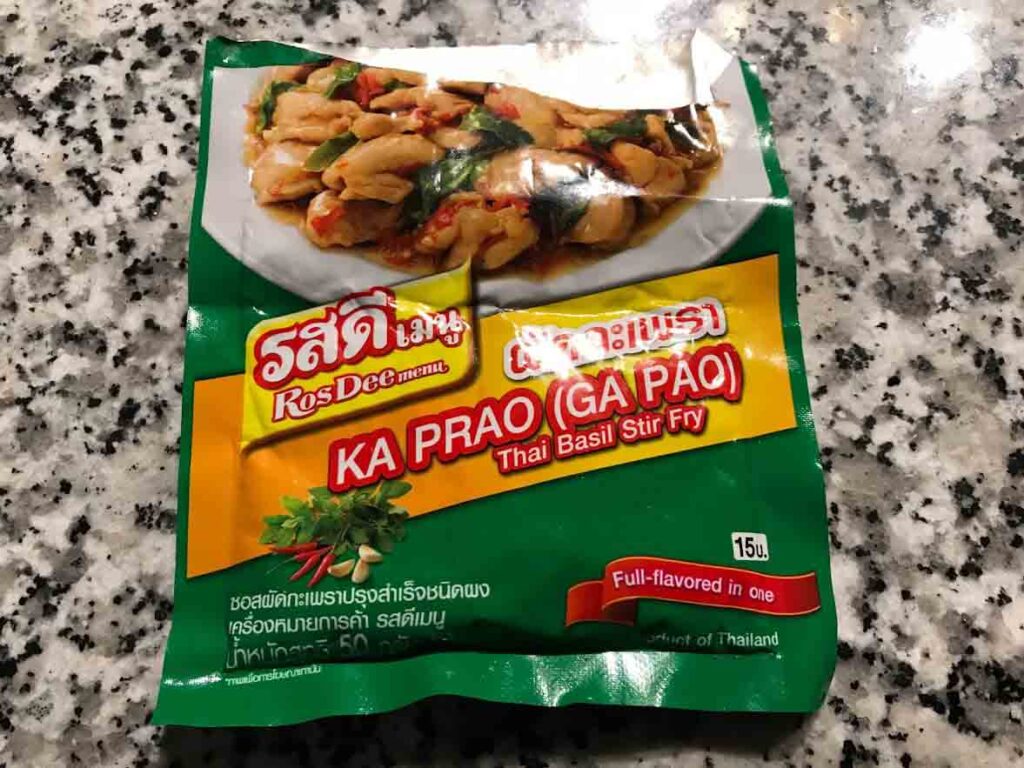 Sauteed Jalepenos and Sweet Peppers
When I lived in Santa Fe, New Mexico, there was a dish at the community college, called green chilis in a bowl, or something. It was so freaking good with just crackers. Almost too spicy, but not too spicy. Very regional too. You can use whatever peppers you like. Hatch green chilis are amazing, sweet chilis and jalapenos were just on sale. We cut the tops off and rolled them in our hands over the disposal to get the seeds out, we chopped them and just sauteed them on medium-high. When they are glistening a little with oil but clearly sauteed they are done.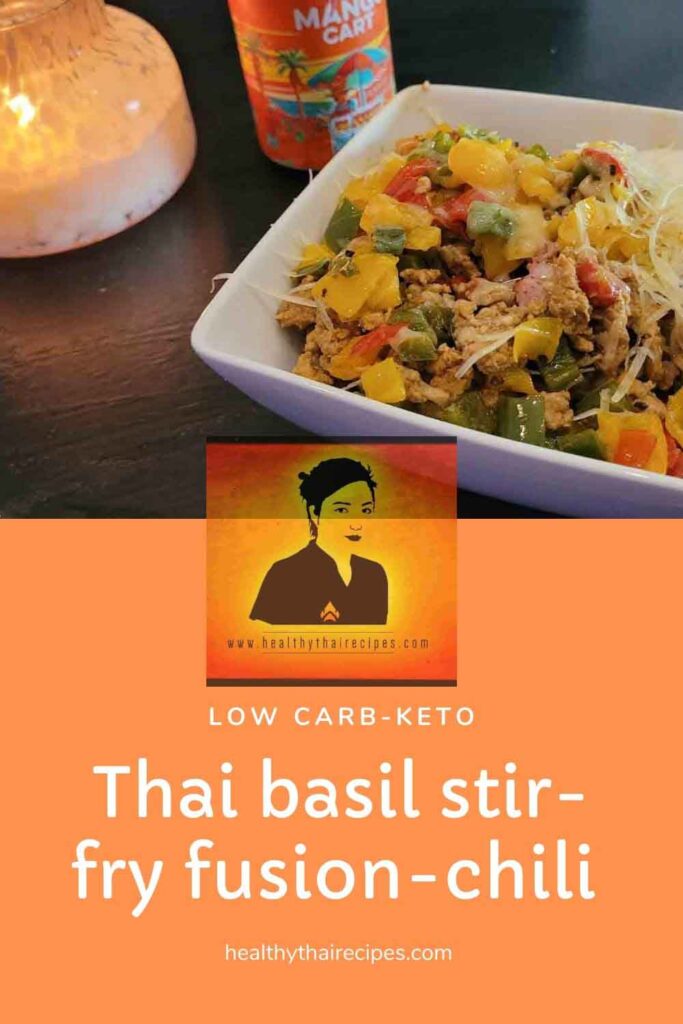 Print Recipe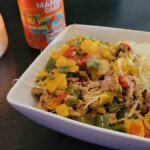 Print Recipe
Keto-Ka-Prao-Ga-Pao-Thai-Basil-Stir-Fry-Fusion-Chili
Keto-Ka-Prao-Ga-Pao-Thai-Basil-Stir-Fry-Fusion-Chili is an easy way to cook your chilis and ground beef.
Ingredients
2

lbs

Lean Ground Turkey

1

cup

Sweet Peppers

Whatever you want really, seeds out and chopped

2

tablespoon

Canola Oil

2-4 tablespoon separated, depending on size of pot, Or olive oil, or whatever healthy oil

1

tablespoon

Pad Kra Pao Basil Seasoning

Or you can use salt and pepper and or Thai or regular basil

1

can

Tomatoes

Chopped
Garnish
2

tablespoon

light sour cream

2

tablespoon

Shredded Mozerella
Instructions
Heat a skillet on medium-high heat for several minutes until pipping hot.

Add in the oil and cover the bottom of the skillet or wok.

Add in the ground turkey and saute until cooked through.

Add in the tomatoes, including the water and seasoining, and mix in.

Cook until mixed thoroughly and done to your liking.
Cooking the Chilis
Heat another wok, pot, or skillet, also to medium-high.

Add in the oil again and then once hot, the chili peppers.

Cook until done to your liking and then take off the heat
Serving
You can eat this however you like, meat with chili peppers on top, mixed in with light sour cream and cheese. It's for you, not anyone else. Who cares if they say it's not chili, it's for you not them. 🙂
Notes
As always, the nutrition facts are calculated by a computer and vary depending on ingredients and changes made.  If you have doubts or concerns, follow up with an appropriate health care provider like your MD or dietician.  When in doubt check it out, and when it comes to questionable ingredients, when in doubt through it out.  
Nutrition
Calories:
327
kcal
|
Carbohydrates:
2
g
|
Protein:
54
g
|
Fat:
12
g
|
Saturated Fat:
2
g
|
Polyunsaturated Fat:
3
g
|
Monounsaturated Fat:
6
g
|
Trans Fat:
1
g
|
Cholesterol:
125
mg
|
Sodium:
117
mg
|
Potassium:
748
mg
|
Fiber:
1
g
|
Sugar:
2
g
|
Vitamin A:
1225
IU
|
Vitamin C:
48
mg
|
Calcium:
9
mg
|
Iron:
2
mg
If you dig my idea of chili, check out one of these experiements I did. 🙂