This post may contain affiliate links.
Sriracha and Beer Instant Pot Turkey Fusion Chili
Sriracha and Beer Instant Pot Turkey Fusion Chili is something I came up with on the spur of the moment.  Like so many recipes I just took advantage of what we had and what was on sale.  Living in South Texas and with a pantry full of Thai ingredients, you can expect to see a lot of fusion chili recipes on here.  You can also hopefully look for an award winning one as I refine my skills and eventually put one in a competition.  ;p
Using the Instant Pot
Mod bought us an instant pot a year ago, more or less and at first I was disappointed with how much you still have to do.  Now, after practicing with several recipes I have come to appreciate how some of the features actually do speed my cooking up.  Speed is of the essence for my chili recipes because I love them so much I can't wait.  This recipe was the second one that didn't survive long enough for Mod to even try it.  Sorry Mod, we'll have to just buy more ground turkey next time it is on sale.
Substitutions I Made
Disclaimer; This definitely ain't traditional Thai, lol!  This here's a whole new thing in the tradition of Texas chili which combined the typical ingredients available and now adding in some Thai chili spice.  If you are interested in the origin of Texas chili, it's pretty interesting.  He're is a link to the wikipedia article describing the controversial origin and definition of chili con carne.  It originated in South Texas, among Mexican women, who call it chili con carne.
The word chili, actually refers to just the peppers.  When I lived in Santa Fe, if I ordered a bowl of chili I often got a bowl of chopped hatch green chili's sauteed in oil.  I actually miss that dish a lot.  I took the liberty of throwing in what sounded good to me on this recipe.
Traditionally, you use tomatoes and beans in chili.  I went a simpler route, using what we had to come up with something new.  We had russet potatoes so I cut up one of those really small for the vegetable.  I love the hearty flavor and texture of potatoes in a hot dish.  We also didn't have tomato sauce so I went with a chela, michelada style, beer, from our local brewery, Karbache, which is a spicy, chili and tomato flavored beer for the fluid, to replace the sauce and of course Sriracha as well.
Sriracha and beer are a fun way to liven you your typical chili recipe and the Instant Pot makes it easier. This recipe didn't even survive long enough for my wife to try it. I hope you find it just as delicious. Here's your recipe. 🙂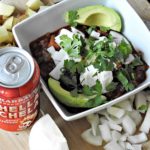 Print Recipe
Sriracha and Beer Instant Pot Turkey Fusion Chili
Sriracha and Beer Instant Pot Turkey Fusion Chili is something I came up with using typical Thai and Texas ingredients we had on hand.


Ingredients
1

lb

lean ground turkey

1

packet

chili seasoning

1

tablespoon

olive oil

1

can

beer

½

cup

Sriracha sauce

2

cups

potatoes

chopped

2

tbsp

garlic
Garnish
1

bundle

cilantro

1

cup

onion

chopped

1

whole

avocado

1

tablespoon

light sour cream
Instructions
Turn the instant pot to saute and add the oil

Once hot, saute the ground turkey, garlic and chopped potatoes in the olive oil in the Instant Pot until the turkey is brown

Add the chili seasoning mix and stir in until mixed evenly into the mixture

Add the sriracha and beer into the mixture and stir until even

Hit cancel on the instant pot and turn it to the chili setting by pushing the, chili/beans, button
Nutrition
Calories:
575
kcal
|
Carbohydrates:
44
g
|
Protein:
62
g
|
Fat:
13
g
|
Saturated Fat:
3
g
|
Cholesterol:
127
mg
|
Sodium:
1739
mg
|
Potassium:
1820
mg
|
Fiber:
7
g
|
Sugar:
4
g
|
Vitamin A:
434
IU
|
Vitamin C:
77
mg
|
Calcium:
118
mg
|
Iron:
9
mg
As always, nutrition is one of the most manipulated and bastardized sciences in existence for people out to make a quick buck.  Our mission at healthythairecipes.com was born from my trying to rehab my wife's native Thai recipes to be as healthy as possible for both of us.  We like the whole foods, avoid processed ingredients approach.
Disclaimer
What is healthy for us may not be healthy for you though as your situation is fact dependent.  I like to say, when in doubt, check it out with a doctor or dietitian, if you have concerns.  When it comes to food safety, When in doubt, throw it out, if you think an ingredient is questionable.  Let us know how we can make our healthy Thai recipes healthier in the comments section below.
If you like chili, you might like one of these recipes
Turkey Chili with Thai Chili's for When The Weather is, well..... Chili,