This post may contain affiliate links.
Sriracha Black Bean Spaghetti (เส้นสปาเก็ตตี้ถั่วดำผัดซอสพริก)
Hi, everyone!
I told you guys and gals before that I am a noodle and pasta junkie.  I love love to cook and eat them.  One night my husband came home with some grocery bags, and in those bags there're some packages that caught my attention.  They're organic black bean spaghetti.   I've had some of these kinds of noodles and spaghetti before.  They are a ready to eat meal (already cooked and mixed with the sauce in a package).  I didn't like them.  The noodle was alright, but the sauce was meh for me.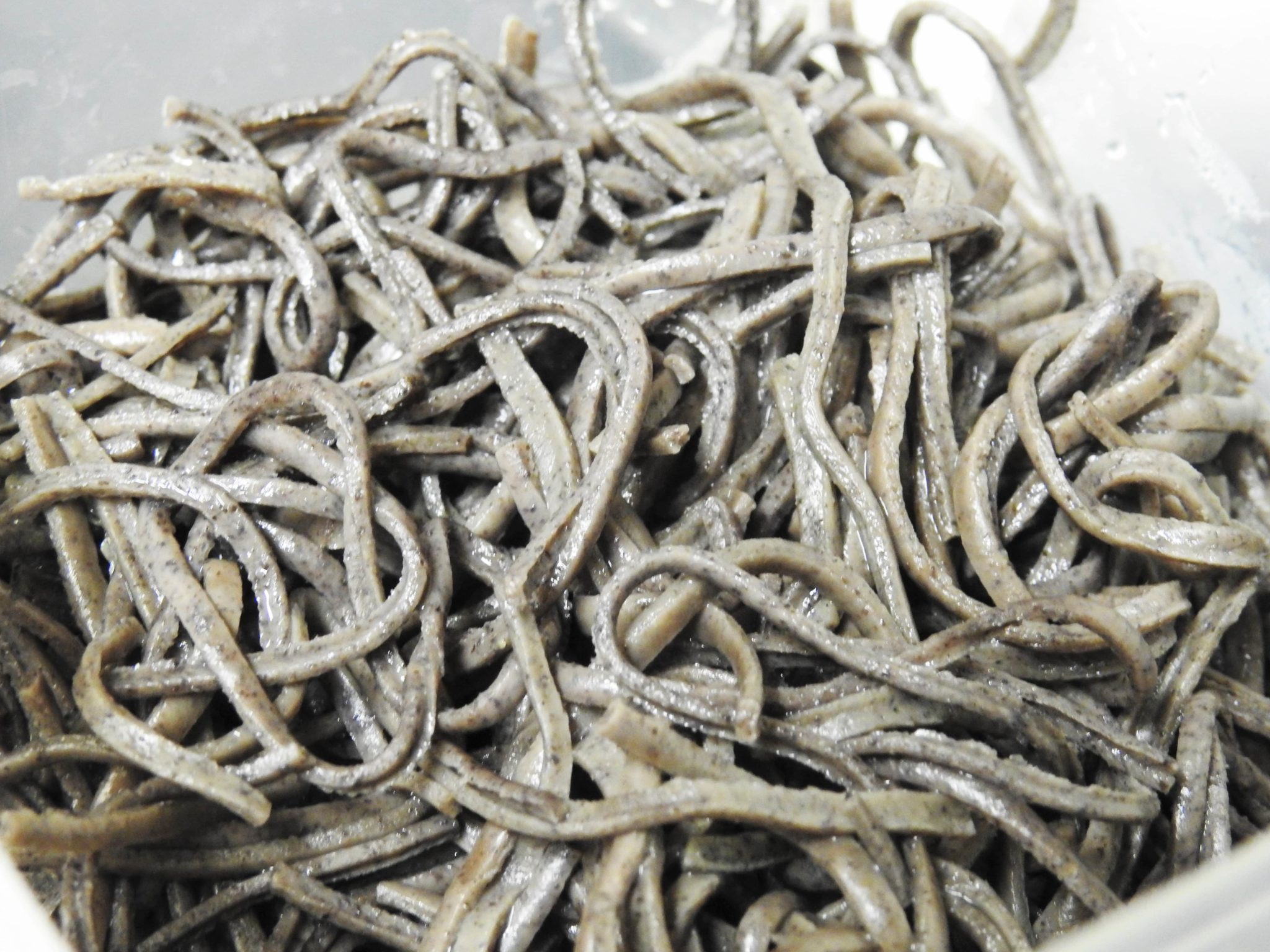 Back to the black bean spaghetti, I was excited to see it.  Why?  Because the spaghetti was uncooked which meant I could create the recipe and do whatever I want with the spaghetti.  Explore Asian was the brand on the black bean spaghetti that we used for our recipe.  It only has black beans and water as the ingredients.  That's so amazing!  That's not it, these black bean spaghetti are a certified gluten free, vegan friendly, non GMO product with a low Glycemic Index and high protein.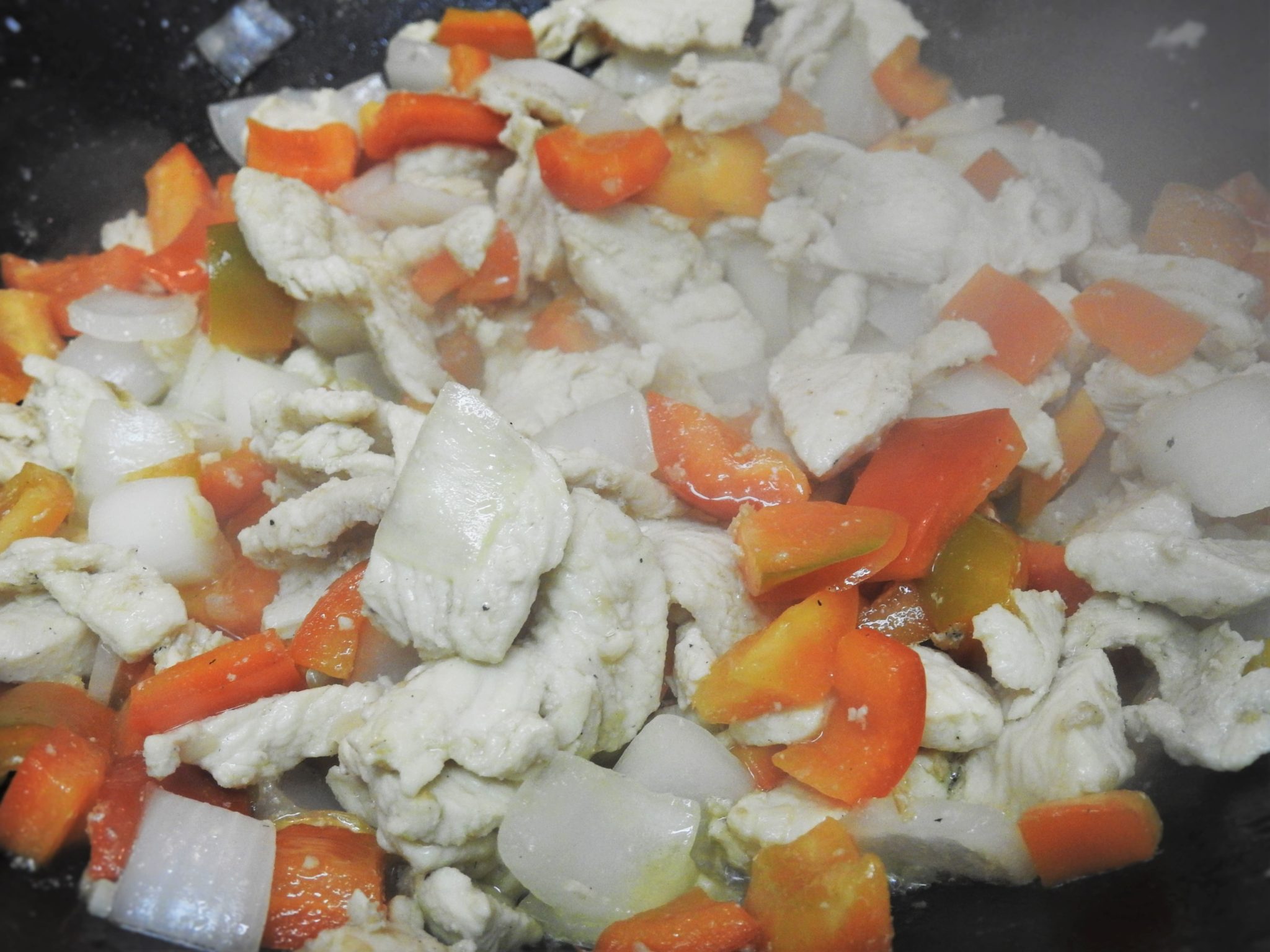 "What can I do to make the black bean spaghetti delicious in Thai style?"  I asked myself.
I thought I was going to follow the recipe on the back of the package, but during a conversation between me and Adam about our dinner, he said he wanted something spicy may be Sriracha sauce.  And that's the idea for the recipe "Sriracha Black Bean Spaghetti (เส้นสปาเก็ตตี้ถั่วดำผัดซอสพริก)".
The recipe that I created  was very easy and uncomplicated.  It has a little kick from Sriracha sauce which is not too spicy and not too bland.  In this recipe I added chicken.  If you're a vegetarian you can skip it and substitute something else.  If your worried about protein and your a vegan the protein is already in the noodle.  You can add tofu or nothing because these black bean spaghetti contain 25 g of protien/serving (2 oz.).
I think that makes this one of the more interesting modified and simplified Asian recipes we've concocted yet.
Sriracha Black Bean Spaghetti (เส้นสปาเก็ตตี้ถั่วดำผัดซอสพริก)
Author:
Prep time:
Cook time:
Total time:
A fushion spaghetti with a little bit spicy from Sriracha sauce. It's awesome!
Ingredients
• 1 bag Explore Asian Organic Black Bean Spaghetti (7 oz. / 200g. uncooked)
• 1 lb. sliced chicken breast
• 5 oz. cut red bell pepper
• 3.5 oz. cut yellow onion
• 1 tablespoon chopped garlic
• 2 chopped green onion
• 2 tablespoon olive oil
• 6 tablespoon Sriracha sauce
• 2 tablespoon Low sodium Tamari sauce
• ½ teaspoon stevia
Instructions
To cook the spaghetti
Boil 8 cups of water in a medium pot. Add black bean spaghetti and cook 8 minutes. Rinse with cold water
[br]To cook the meal
Heat a wok with med-high and add olive oil.
Follow with chopped garlic, stir until it turns to golden color.
Add chicken sliced and cooked until there's no pink color to be able to see.
Add bell pepper and onion, stir fry until the onion is transparent.
Add cooked black bean spaghetti and Sriracha sauce, Tamari sauce, and stevia.
Stir fry for 4-5 minutes, throw chopped green onion in the wok. Turn the stove off.
Serving size:
1
Calories:
537
Fat:
13.0g
Saturated fat:
2.8g
Unsaturated fat:
8.5g
Trans fat:
0.1g
Carbohydrates:
34.4g
Sugar:
17.0g
Sodium:
1052.3mg
Fiber:
16.1g
Protein:
66.0g
Cholesterol:
87.0mg
Notes
For vegetarians and vegans, substitute the amount of vegetables instead of the chicken.