This post may contain affiliate links.
Homemade Hot Ginger Tea
I first learned how to make homemade hot ginger tea when I first went with the Asian persuasion.  I was on match.com and an Asian, Taiwanese, girl asked me out.  She introduced me to ginger tea when I got sick as a way her family used to help fight off colds.
The recipe is one of the easiest in the world and really feels good, especially during allergy or cold season. All you need are a few pieces of ginger which you can get at the local grocery store for around a dollar and some kind of healthier sweetener.
The quick and dirty way
The first way I ever had ginger tea was with a couple pieces of ginger root sliced into small circles and thrown in a pot with about 6 cups of water and a couple of teaspoons of honey.  Boil and drink.
The slightly more time consuming way
You will need something to pound the ginger with once you have cleaned and sliced it.  You will also need a strainer to strain it once you have boiled it.
Making it healthier
This recipe is so simple there really isn't much you can do to make it healthier.  Instead of the typical palm sugar they tend to use in Thailand we used agave nectar and or stevia which are both healthier options.  Agave nectar has a lower glycemic index score than honey.   This has been a selling point of the stuff lately but we have also seen criticism due to it's high fructose content.  This has been said to lead to insulin resistance and production of triglycerides.  We have been using it a lot but may have to reconsider.  You can read more here.
Stevia is extracted from an plant and is one hundred and fifty times sweeter than sugar but without the calories.  You can also add a slice of lemon which adds a nice flavor boost and some vitamin c which is nice if you are trying to fight off a cold.  Using the agave  nectar the recipe has 31 calories and 8 grams of carbs in the form of the sugar from the nectar.  If you use stevia you get little to no calories at all.
The Recipe
Ingredients
Ginger Tea Ingredients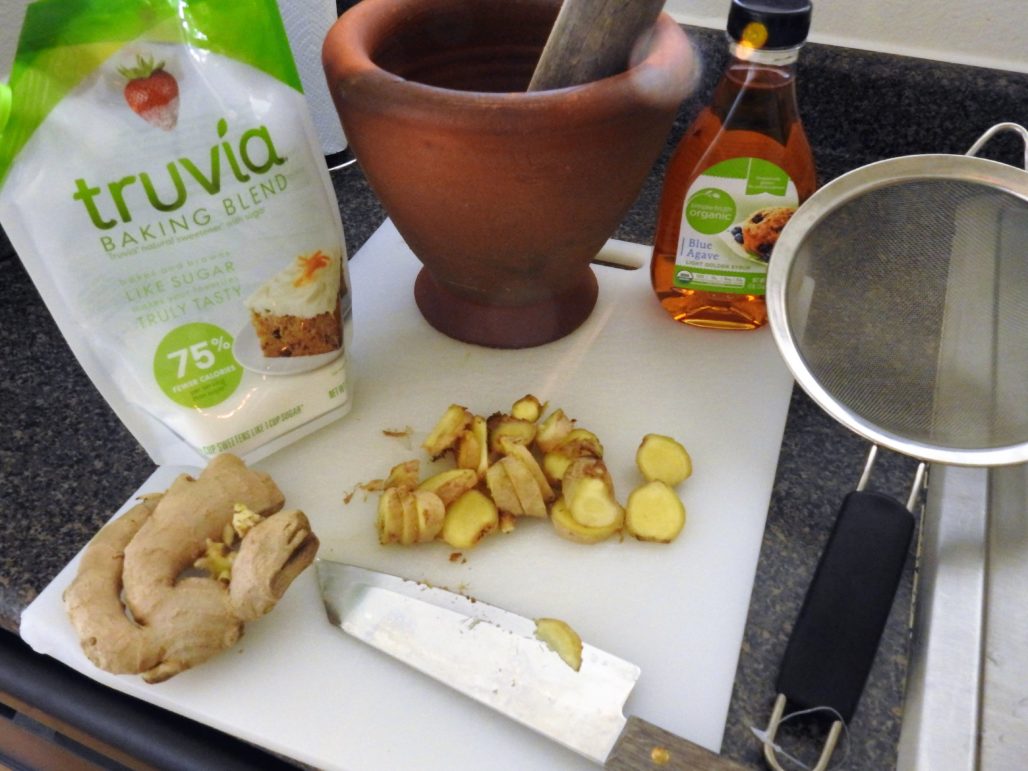 1-2 Pieces of ginger root scrubbed clean and sliced
Stevia or your  sweetener of choice and a lemon slice if you want one
6 cups of water
Directions
Clean and slice the ginger into thin slices.
Pound the ginger with a mortar and pestle or whatever you have available.
Place the ginger in a pot and add the water and bring to a boil
Pour the contents into a mug with sweetener using a strainer
Add lemon juice and sweetener as needed
There is a printable version of this recipe below at the bottom of the page.  If you want to learn about the healthy properties of ginger or another ginger drink recipe you might like the ginger matcha recipe below.
The Super Health Benefits of Ginger in a Ginger Matcha Latte with Creatine and GlycoMaize Energy Cocktail
I also want to give credit to this other Thai/white mixed couple who I read as I was forming up my recipe at their blog.  Give them a little lovin if you liked this recipe, they seem like they're really providing some good content.  http://www.rachelcooksthai.com/hot-ginger-tea
Homemade Hot Ginger Tea
Author:
Prep time:
Cook time:
Total time:
This is a super easy drink with just a few ingredients chosen for their healthy properties.
Ingredients
1-2 Pieces of ginger root scrubbed clean and sliced
Stevia or your sweetener of choice and a lemon slice if you want one
6 cups of water
Instructions
Clean and slice the ginger into thin slices.
Pound the ginger with a mortar and pestle or whatever you have available.
Place the ginger in a pot and add the water and bring to a boil
Pour the contents into a mug with sweetener using a strainer
Add lemon juice and sweetener as needed
Serving size:
1 serving
Calories:
31
Fat:
0
Saturated fat:
0
Unsaturated fat:
0 mg
Trans fat:
0
Carbohydrates:
8
Sugar:
8 g
Sodium:
0 mg
Fiber:
0 g
Protein:
0
Cholesterol:
0